Maria Emmerich has made a name for herself as the author of go-to cookbooks for people on the ketogenic diet, a way of eating that focuses on foods high in fat and low in carbohydrates.
Emmerich, a mom of 2, started following a ketogenic, or keto, diet more than 20 years ago when she experienced health troubles. She taught herself how to cook so she could transform her favorite foods into low-carbohydrate options.
"I didn't want to live off of chicken breasts and broccoli," Emmerich told "Good Morning America." "So I just started experimenting in the kitchen."
Today, Emmerich is the author of 14 keto-friendly cookbooks and the go-to cookbook author for Oscar winner Halle Berry, who follows a keto diet.
"She bought [Emmerich's cookbook Quick & Easy Ketogenic Cook'] and started tagging me on Instagram in recipes she'd made," Emmerich said of Berry. "We just continued to talk and collaborate together."
The keto diet -- designed to get your body into a state called ketosis, whereby your body is so low on carbohydrates it starts burning fat for fuel -- has experienced a spike in popularity in recent years, earning a spot as one of the most-Googled diets in the United States last year.
Emmerich started on the diet long before keto-friendly foods were on grocery store shelves, as they are now. She said she has stuck with this way of eating because of the results she's seen in herself.
"I'm so passionate because it's made me become a new person," she said. "I'm more energetic now than I was when I was a teenager."
Emmerich's tips for finding success on the keto diet are to give the diet time to work in your body, as long as a few months, and to follow the diet in a healthy way, choosing low-carb options like fresh vegetables and proteins that are good for your body.
It also helps to be able to stick with it if you're eating foods that you love and are familiar with, according to Emmerich.
Here are four of her recipes from Berry's favorite "Quick & Easy Ketogenic Cooking" cookbook that are great summer treats to try.
Tomato tulips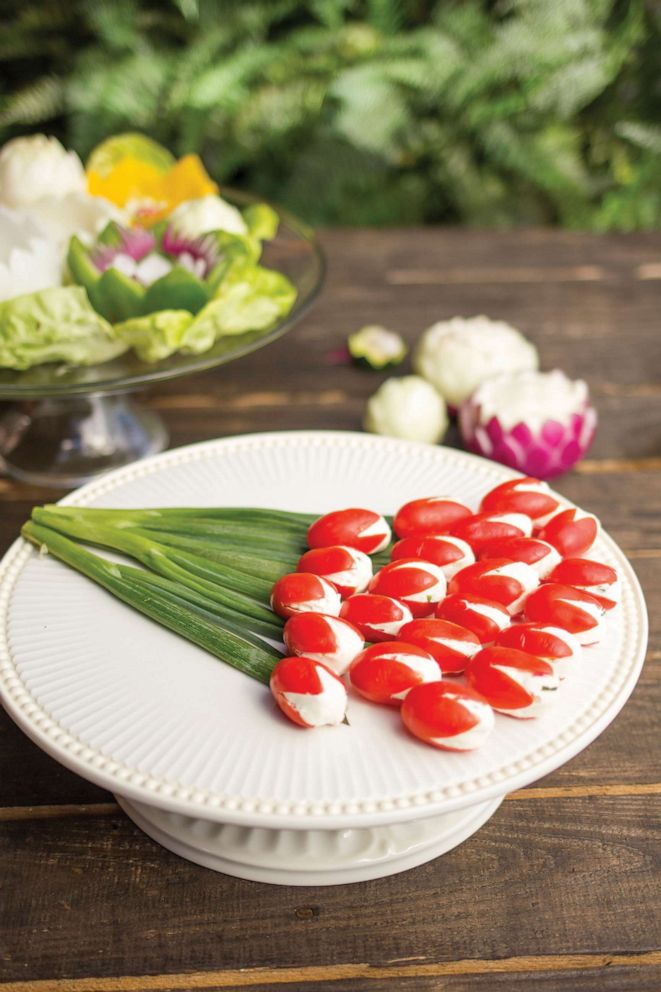 Prep Time: 8 minutesYield: 12 servings
This is a great way to make veggies fun! My kids don't always love veggies. Micah jokes that he is a carnivore, like a T. rex! But I tell him that even in his meatloaf and chili, there are plants like parsley and oregano, as well as tomato sauce or salsa. He laughs and agrees, but that conversation got me to thinking that we eat with our eyes. So I decided to serve fun-shaped veggies at Easter.
Ingredients:
1 pint grape tomatoes
1 (8-ounce) package cream cheese, softened, or creamy goat cheese
1 tablespoon finely chopped green onions
1 tablespoon finely chopped fresh basil
1/2 teaspoon lemon juice
1/4 teaspoon fine sea salt
3 green onions, root ends trimmed, for assembly
Directions:
Trim the stem end off each tomato with a sharp knife. Then slice each tomato from the top to about three-quarters of the way down (don't cut all the way through or it won't stay together as a flower).
Turn the tomato and slice it again about three-quarters of the way down so you have four quartered cuts in each tomato. Remove the guts of the tomatoes.
In a medium bowl, combine the ingredients for the filling. Stir together until well blended.
Place the filling in a piping bag or plastic bag with a small hole cut in one corner. Squeeze the filling into each tomato shell.
To assemble, place the trimmed green onions on a serving platter in a fan shape.
Place the filled tomatoes at the top part of the green onions to resemble an arrangement of tulips. Enjoy!
Tip: If you prefer to skip the step of cutting the tomatoes into flowers and filling them, serve the filling as a dip in a serving bowl with the tomatoes placed around it.
Taco bar night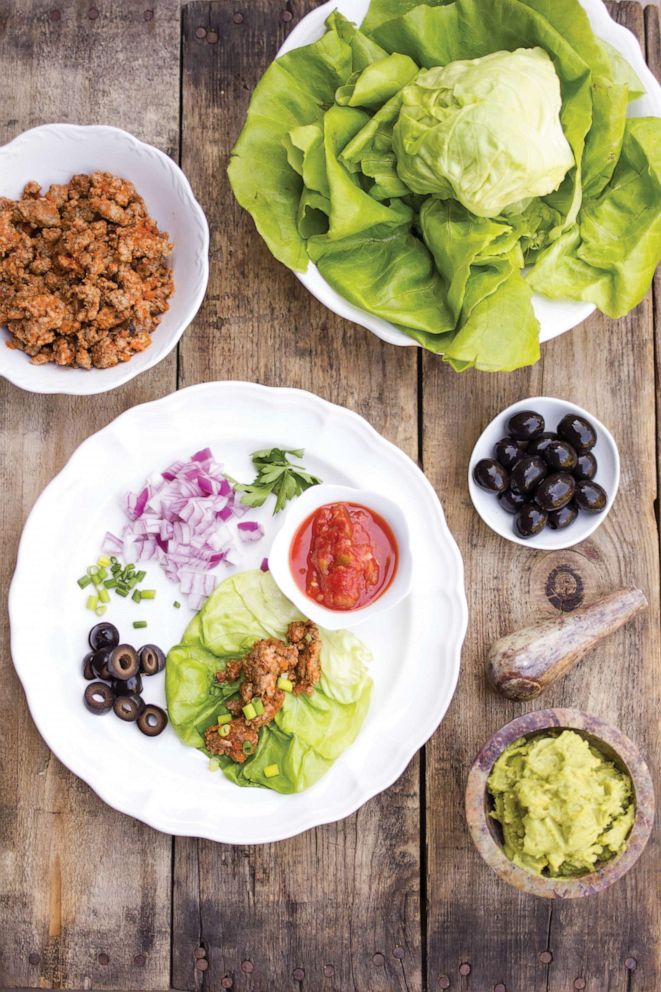 Prep Time: 10 minutes, plus 13 minutes for the taco shells
Cook Time: 6 minutes
Yield: 4 servings
We adore taco bar night! One of my strategies for pulling our taco-themed dinner together quickly is to prepare the taco fixings the night before while my husband, Craig, cleans up the dinner dishes. That way all I have to do is take the bowls of prepared fixings out of the fridge and fry up the taco meat. Dinner is ready in minutes, and it takes so much stress out of my day!
Ingredients:
1 pound 80% lean ground beef
1/4 cup Taco seasoning
8 taco shells (opposite) (or 1 head Boston lettuce, separated into leaves, for dairy-free)
1/2 cup salsa
1/2 cup guacamole
Optional additional toppings:
About 1/3 cup chopped green onions
About 1/3 cup chopped red onions
About 1/3 cup fresh cilantro leaves
About 1/4 cup sliced black olives
Directions:
Place the beef in a large skillet over medium heat. Sprinkle on the taco seasoning and brown the beef, stirring to break up the meat as it cooks. When the meat is cooked through, transfer it to a serving dish.
While the beef is browning, place the taco shells or lettuce leaves in a bowl and place the salsa and guacamole in serving dishes. Gather any additional toppings for your taco bar.
Assemble the tacos by filling the taco shells or lettuce leaves with a spoonful of the cooked meat and the toppings of your choice.
Tip: Skip the taco shells and just use lettuce leaves for wraps!
Paletas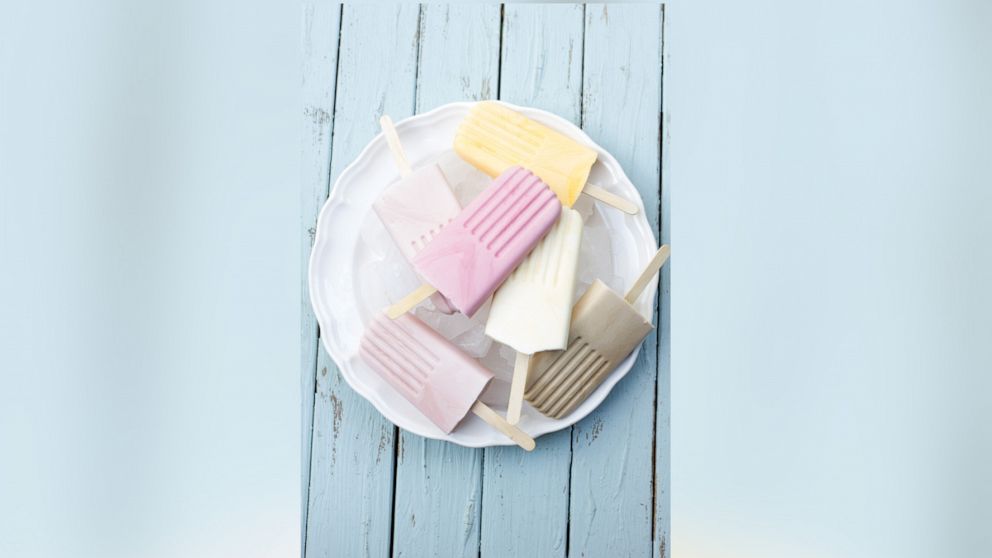 Prep Time: 5 minutes, plus 2 hours to freeze
Yield: 4 pops (1 per serving)
Paletas are Latin American ice pops that are traditionally made with fruit juice and chunks of fruit. They can also be made with cream or milk—here, I've used coconut milk and almond milk, which give them a delicious creaminess.
Ingredients:
1 cup full-fat coconut milk (or heavy cream if not dairy-sensitive)
1 cup unsweetened (unflavored or vanilla) almond milk, store-bought or homemade (page 131) (or unsweetened [unflavored or vanilla] hemp milk for nut-free)
1/4 cup Swerve confectioners'-style sweetener or equivalent amount of liquid or powdered sweetener
1 teaspoon strawberry, orange, or vanilla extract (or other flavor of choice)
1 teaspoon Stur liquid water enhancer (fruit flavor of choice), or more to desired sweetness (optional)
Special equipment: 4 popsicle molds
Directions:
In a blender, blend all the ingredients until well combined. Pour the mixture into 4 Popsicle molds.
Place in the freezer for at least 2 hours before serving. Store covered in the freezer for up to 1 month.
Orange cream shake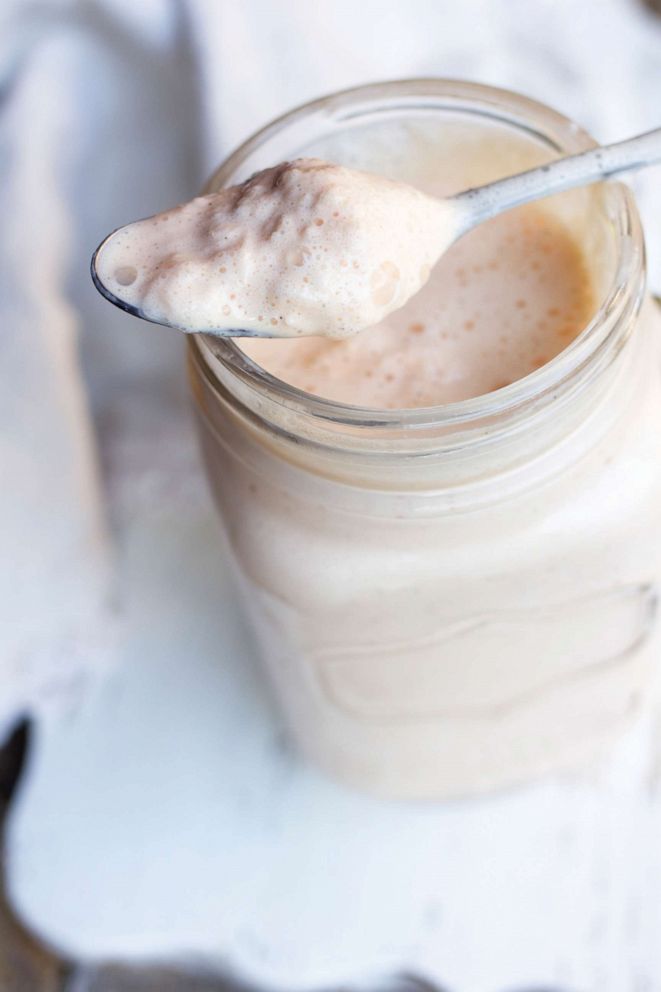 Prep Time: 5 minutes
Yield: 4 servings
This is my go-to quick breakfast. To make an already simple breakfast recipe even simpler, I do most of the work the night before. This keto-friendly smoothie inspired by Orange Julius is also a great way to sneak in some immune-boosting and gut-healing nutrients, such as aloe vera and l-glutamine, which help heal the intestinal lining. I also add l-glutamine to my drink after a hard workout to help repair my muscles faster. Adding gelatin helps with hair and nail growth, joint pain, or other ailments you may be suffering from, especially when you don't want to drink a glass of homemade bone broth.
Ingredients:
1 (8-ounce) package cream cheese
1 1/4 cups unsweetened (unflavored or vanilla) almond milk, store-bought or homemade (or unsweetened [unflavored or vanilla] hemp milk for nut-free)
1/4 cup Swerve confectioners'-style sweetener or equivalent amount of liquid or powdered sweetener
1 teaspoon vanilla extract, or seeds scraped from 1 vanilla bean (about 6 inches long)
1 teaspoon orange extract
1 cup crushed ice
Optional add-ins:
1 tablespoon pure aloe vera juice
1 tablespoon l-glutamine powder
1 tablespoon grass-fed powdered gelatin (omit for vegetarian)
Directions:
Place all the ingredients in a blender and blend until smooth.
Tip: I make this drink while I'm cleaning up the kitchen after dinner but leave out the crushed ice. I store it in the blender jar in the fridge overnight, and when I'm ready to serve it the next morning, I add the crushed ice and pulse until smooth.
Recipes reprinted with permission from "Quick & Easy Ketogenic Cooking: Meal Plans and Time Saving Paleo Recipes to Inspire Health and Shed Weight" by Maria Emmerich, published by Victory Belt Publishing Inc.