The Food and Drug Administration (FDA) banned the sale of flavored e-cigarettes with refillable cartridges, but some teens have found a way to still get their vaping fix.
A loophole in the FDA's new rule, which went into effect in February, allows disposable e-cigarettes, which come in flavors like watermelon and blue raspberry, to remain on the market. The disposable e-cigarettes are as potent and dangerous as your average vaping products, experts say.
"If you smell it, you'll realize what it is," Matt Meyers, the President of the Campaign for Tobacco-Free Kids told "Good Morning America" about disposable e-cigarettes.
The disposable products contain just as much nicotine as a pack of cigarettes and even higher nicotine levels than Juul, according to the Campaign for Tobacco-Free Kids.
Juul voluntarily stopped selling flavored vaping cartridges in 2019, shortly before the FDA's ban on all flavored e-cigarettes with refillable cartridges was announced.
High school sophomores Niki McClure and Nate Albritten, of Paducah, Kentucky, know all too well the negative effects of disposable e-cigarettes.
"You saw them everywhere," Albritten told "GMA." "That's what everyone was talking about."
The two friends started using Puff Bars but quickly realized the one-time use quality of the products was burning a hole in their wallets.
"I calculated all the money that I've used on Puff Bars in the last two months, and it was like $300," said McClure. "It just makes me mad at myself almost, because I hate that. And I don't want to be addicted."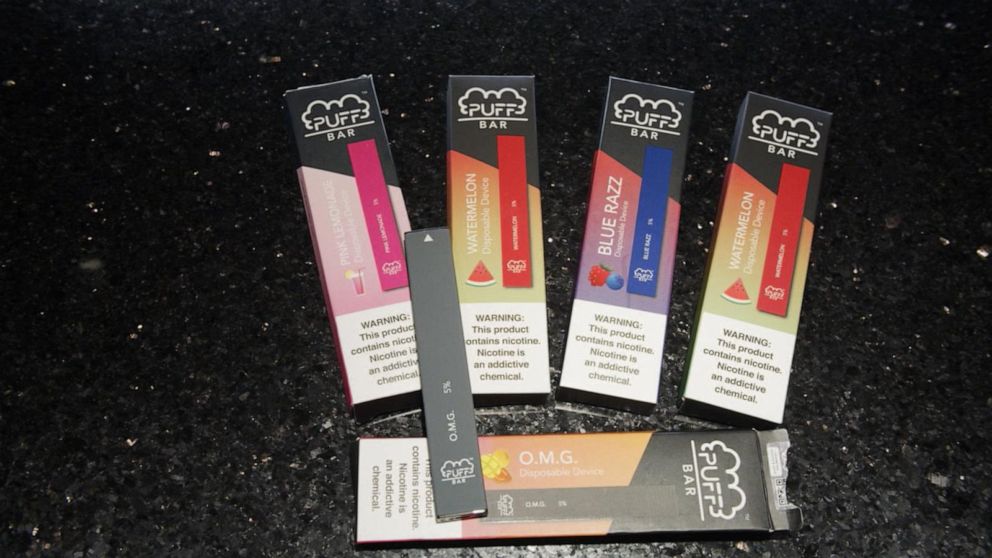 After realizing how dangerous the outcome could be after using disposable e-cigarettes, the two teens are urging Congress to close the loophole.
Last week, McClure and Albritten attended House Speaker Nancy Pelosi's press conference ahead of the vote on H.R. 213-195, the Reversing the Youth Tobacco Epidemic Act, to support the bill, which will work to ban traditional flavored tobacco products, flavored cigars and reduce youth tobacco use. The House approved the bill, 213-195, and it will now move to the Senate.
"Tobacco companies will not give up, but we will not, either," said Rep. Donna Shalala, D-Fla., a former Health and Human Services secretary who co-sponsored the bill and said that younger people would not use e-cigarettes without the assorted flavors.
Cool Clouds, the company that owns Puff Bar, told ABC News it is "vehemently opposed to illegal use of the Puff Bar by minors, has not engaged in any marketing, and does not operate any e-commerce websites or social media."
The company also said it is no longer distributing Puff Bar products in the U.S.
But McClure and Albritten hope that the bill will prevent other teens from becoming addicted and struggling to quit.
"It's just the hardest thing to do," said Albritten. "Because once you finally feel like you're getting somewhere, it just pulls you back in."