This vegan Filipino spring roll will have you hungry
Plant-based diets are a major wellness trend.
Burger chains from McDonald's to Burger King are now offering plant-based burgers, more options are now available in grocery stores and many restaurants have developed plant-based menus.
The term plant-based is everywhere, but what does it really mean and how can the diet affect your health?
"Good Morning America" went to four experts for answers.
What is a plant-based diet?
A plant-based diet is a way of eating that consists mostly or entirely of foods derived from plants, including vegetables, grains, nuts, seeds, legumes and fruits.
Thomas Colin Campbell, a Cornell University biochemist, claims responsibility for giving the plant-based way of eating its name. He said he coined the term in 1980 to "help present his research on diet to skeptical colleagues at the National Institutes of Health," according to The New York Times.
"I wanted to emphasize that my work and ideas were coming totally from science and not any sort of ethical or philosophical consideration," he told the newspaper.
Is a plant-based diet different from a vegan diet?
Yes, a plant-based diet consists of eating few to no animal foods, while a vegan diet eliminates all animal foods and products -- everything from meat and leather products to eggs and cheese, according to Fatima Cody Stanford, MD, an obesity medicine physician scientist at Harvard Medical School.
Plant-based diets are also different from vegetarian diets, which eliminate all meat, fish and poultry, according to Stanford.
While religious, cultural, or ethical reasons often motivate veganism and vegetarianism, plant-based diets are often done for health and environmental reasons.
Plant-based diets also often place an emphasis as well on whole foods.
"There is a way to be healthy in any of those," said Stanford. "What I say to my patients is to find the best right thing for them because everyone's body is different and everyone's body responds differently."
What are the benefits of plant-based eating?
Everything from better blood pressure to better skin, according to Maya Feller, a New York-based registered dietitian.
"Those who follow a whole foods plant-based diet tend to have better metabolic profiles, like improved fasting blood sugars, lower circulating blood lipids and better blood pressure, as well as a reduced risk of developing chronic illnesses," she told "GMA" . "Plus, many of the vitamins, pigments and phytochemicals in fruits and veggies contribute to healthy skin, like the lycopene in tomatoes that helps protect skin from sun damage, and vitamin C in sweet potatoes, which smooths wrinkles by stimulating the production of collagen."
"Cutting back on animal products also means skipping much of their saturated fats, which are notorious for clogging pores," she added. "On top of the health benefits, eating plant-based cuts down on animal products, which helps combat climate change."
Why is there so much interest in plant-based diets?
Plant-based diets have been steadily gaining acclaim for the last several years, often landing atop the annual best diet rankings from U.S. News & World Report.
The 2011 documentary "Forks Over Knives" also really put plant-based diets into the mainstream. The documentary was made by Brian Wendel, who attended a conference on nutrition in 2001, began to follow a plant-based diet and then brought the idea to the masses with the documentary and a best-selling book.
"The information has been there for a long time, at least from a health perspective, and we've just helped bring it to a mass audience," Wendel told "GMA." "I became convinced of the health argument back in 2001 and just did it overnight. Up until that point, I had been eating animal products every day."
More recently, another documentary, "The Game Changers," has pushed plant-based diets into the spotlight. The 2019 documentary, produced by James Cameron and Arnold Schwarzenegger, shows the journey of a former MMA fighter who gives up meat.
Another factor is the argument that eating plant-based is better for the environment, according to Deirdre K Tobias, assistant professor in the department of nutrition at Harvard School of Public Health.
"We see how much land it takes to supply and grow a single hamburger, for example," she said. "I think that awareness has been really eye-opening for a lot of people who may have disregarded the dietary advice for health reasons."
What are good things to eat on a plant-based diet?
Wendel, of Forks Over Knives, places an emphasis on eating whole, minimally processed foods within a plant-based diet.
"For me the best guide is does the food still look somewhat like it does when you take it out of the ground? When you cook a potato, it still looks like a potato," he said. "The more a food is like that the more you can lean on that in your diet and lifestyle, for health benefits."
Of course fresh vegetables and fruits are a big part of a plant-based diet, as well as nuts, whole grains and legumes. Seafood and meat products can also, on occasion, be part of a plant-based diet.
Wendel emphasizes eating more than just vegetables on a plant-based diet to ensure you are taking in enough calories.
"Make starchy foods -- beans, rice, sweet potatoes, quinoa, chickpeas –- the center of the plate because that has the energy to sustain you," he said. "And then surround it with vegetables."
What about all the packaged foods advertised as 'plant-based'?
The emphasis on eating whole foods on a plant-based diet raises the question of what to make of all the packaged plant-based products on the market, from kale chips to meat-free burgers.
"So many diets that are restrictive or have a buzz name have nothing in their description about the quality of their food, and that's something that is really important," said Tobias. "A lot of these plant-based products might still be highly processed and have a lot of sodium and saturated fats."
"Be careful about plant-based being used as a marketing tool," she said.
Tobias recommends being a "savvy shopper" and shopping for your plant-based diet in part of the grocery store where fruits and vegetables live, the produce aisle.
"Make your own plant-based foods because vegetables are there for you," she said. "You don't have to be purchasing packaged, processed foods."
Are there any downsides to a plant-based diet?
Not really, according to the experts.
"For heart disease, diabetes, cancer, all of the major chronic diseases, there are no downsides to eliminating meat products from your diet for any of those," said Tobias. "If anything, the evidence shows that by going plant-based you would be benefiting your long-term survival and reducing the risk of those diseases."
"Fruits and vegetables, fiber, nuts and legume have also all been proven to be good for weight loss and to keep weight off long-term," she said.
Is there a way to be plant-based but still eat some meat?
Yes, the definition of plant-based is that your diet is based on plants but allows room for other foods from time to time.
"If you're not ready to give up meat entirely, still even reducing it to once in a while would have a lot of great benefits," said Tobias. "The science isn't there to say a steak or a burger once in a while is horrible for you, it's the daily consumption that's problematic."
One option is the flexitarian diet which encourages people to try alternative meat options, like tofu, but leaves room for flexibility if you can't quite fully give up meat. The diet was promoted by dietitian Dawn Jackson Blatner in a 2009 book that says you can reap the benefits of a plant-heavy diet even if you eat meat occasionally, according to U.S. News and World Report, which ranked the diet number two on its 2020 best diets list.
This plant-heavy diet focuses on adding five food groups -- "new meat," fruits and vegetables, whole grains, dairy and sugar and spices -- to your diet, instead of taking foods away.
The "new meat" food group includes tofu, beans, lentils, peas, nuts, seeds and eggs, according to U.S. News and World Report.
Do I need to take supplements on a plant-based diet?
One of the biggest questions around a plant-based diet is whether it can provide enough protein, according to Wendel.
His take is that, yes, it absolutely can.
"I think anyone on a plant-based diet will tell you that getting protein is not hard to do," he said. "And there really is no evidence that you need a concentrated source of protein as long as you are eating enough calories and eating whole, healthy foods."
"We [at Forks Over Knives] talk about just eating the right kinds of foods, just getting enough calories in and from there nature has it figured out," Wendel added.
Plant-based sources of protein include everything from legumes and vegetables to nuts, hemp seeds and grains like lentils, beans and quinoa.
Further down the spectrum from plant-based, if you are following a strict vegan diet it is necessary to take vitamin B12, according to Stanford.
Vitamin B12 is not made by the body and is found in animal-based foods, which is why a supplement is needed, she explained.
How do I know if a plant-based diet is right for me?
All the experts agreed that you'll know a plant-based diet is working for you if you feel well and you are able to stick to it long-term.
"Your body has the answers," said Stanford. "Pay attention to your body and don't pay attention to someone else and how they say their body responded."
The experts also noted there may be some trial and error involved so stay open to finding what works best for you.
What if I think eating vegetables seems so boring?
All the experts also dispelled the myth that a plant-based diet is boring or tasteless, citing the availability now of creative and unique plant-based recipes online and in cookbooks.
"If you're new to eating vegetables, there are a lot of ways to make them delicious other than the steamed broccoli that you might think of," said Tobias. "There are so many ways to make vegetables and fruits and grains delicious."
Try these two recipes for some flavorful, plant-based meal options.
Fork Over Knives' Tex-mex polenta bowls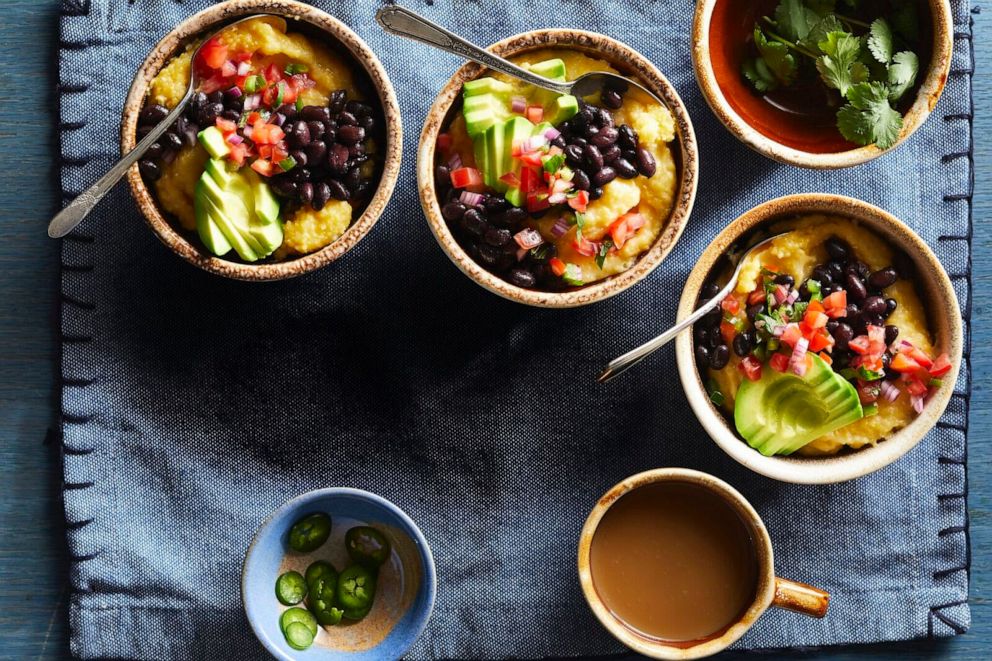 A hint of cumin and sea salt dial up the flavor of a simple polenta porridge. Black beans and avocado add extra heartiness. Tex-Mex toppings make it a well-rounded savory breakfast or anytime meal.
Makes 4 bowls.
Ingredients:
1 cup dry polenta
1 teaspoon ground cumin
Sea salt, to taste
1 15-oz. can black beans, rinsed and drained (1½ cups)
1 cup purchased pico de gallo
1 small avocado, halved, seeded, peeled, and sliced
2 tablespoons finely chopped fresh cilantro
1 fresh jalapeño pepper, seeded and finely chopped (optional)
Directions:
In a medium saucepan bring 4 cups water to boiling. Gradually whisk in polenta and cumin. Reduce heat to low; cook about 20 minutes or until mixture is thick and creamy, stirring occasionally.
Remove pan from heat. Season with salt.
In a small saucepan warm beans over low heat. Divide polenta among four individual bowls. Top with beans, pico de gallo, avocado, cilantro, and jalapeño (if using).
Recipe reprinted with permission from ForksOverKnives.com.
Fork Over Knives' harvest vegetable instant pot minestrone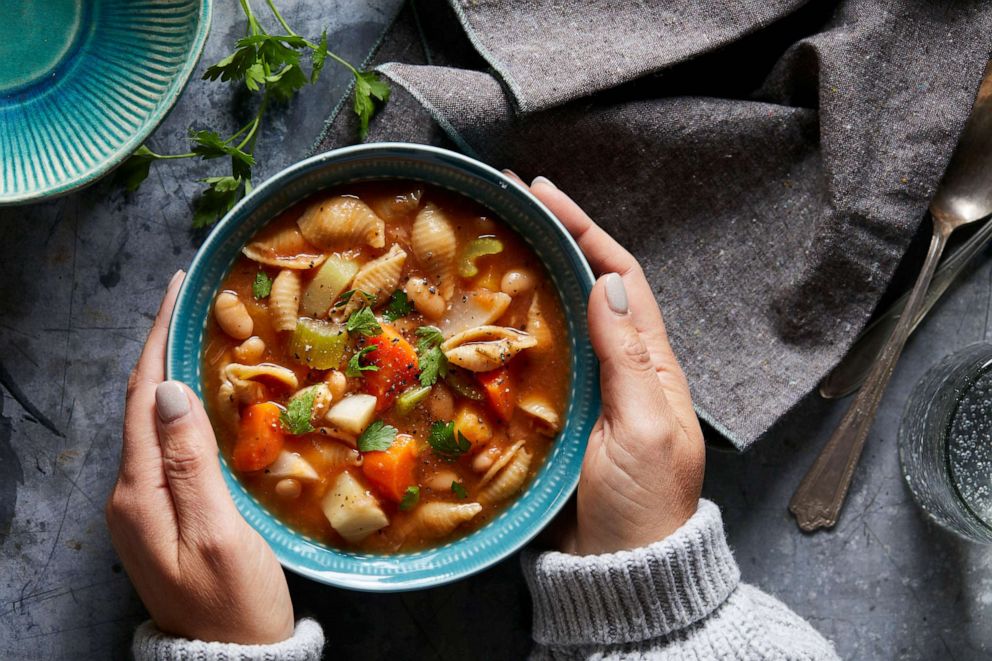 This hearty minestrone soup is not only easy to make but also kid-friendly. Harness the power of your Instant Pot or other multicooker to cook dried beans without having to soak them overnight, and to infuse the broth with loads of flavor in a short period of time.
Makes 7 cups.
Ingredients:
2 cups chopped onions
1 cup dried white beans (any variety), rinsed and drained
4 cloves garlic, minced
1 cup ½-inch pieces carrots
1 cup 1/2-inch pieces celery
1 cup 1/2-inch pieces parsnips
1 cup 1/2-inch pieces turnip
1 cup 1/2-inch pieces rutabaga
1 teaspoon dried basil, crushed
1/2 teaspoon dried thyme, crushed
1/2 teaspoon dried rosemary, crushed
1/4 teaspoon dried oregano, crushed
3 cups dried shell pasta
1 6-oz. can no-salt-added tomato paste
Sea salt and freshly ground black pepper, to taste
Directions:
In a 6-qt. Instant Pot multicooker combine onions, beans, and garlic. Stir in 3 cups water.
Lock lid in place; set pressure valve to Sealing. Set cooker on Bean setting and cook 35 minutes. Let stand to release pressure naturally (about 20 minutes). Open lid carefully.
Stir in the next nine ingredients (through oregano). Set cooker on sauté setting and low temperature. Cook, uncovered, 10 minutes. Stir in pasta, tomato paste, and 3 cups hot water. Cook, uncovered, 10 minutes more or until pasta is tender but still firm (add 1 cup hot water if necessary). Season with salt and pepper.
Recipe reprinted with permission from ForksOverKnives.com.
Editor's note: This was originally published on Jan. 27, 2020.