"Good Morning America" celebrates the heroes who rose to challenges on the front lines, in the classroom, in their communities and beyond, amid the COVID-19 pandemic of 2020.
As the coronavirus pandemic rages on, one couple is helping to save lives one plasma donation at a time.
Brian and Dina Murphy of San Antonio, Texas, have made it their mission to help others by donating plasma to 68 people after both fell ill with the virus in March.
"I felt that really, God really saved me and to be a survivor," Dina, 60, told "GMA." "I felt that this is really what he wants me to do -- to help others."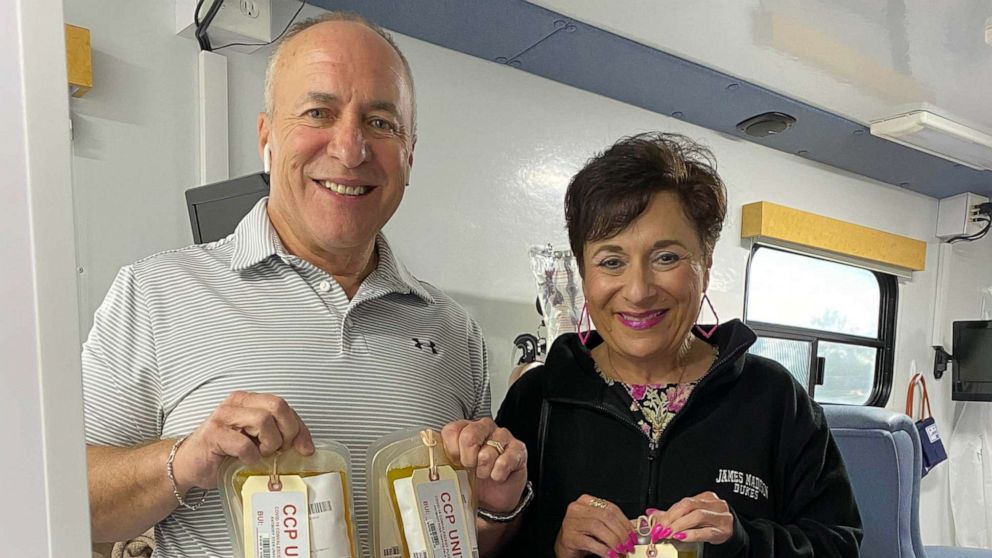 Like so many who contracted coronavirus when the pandemic first began, they didn't have all the answers at first to confirm that they had the disease.
Brian, 59, who is prone to sinus infections, said he felt a sickness coming on in early March. But because he didn't have all the symptoms of COVID-19 at the time, he said doctors diagnosed him with the normal headache and stuffiness that he frequently had with a sinus infection.
"It really was a glorified sinus infection, because I was really tired most of the time, lethargic, if you will," he told "GMA." "And then the last four days of my illness, I was really in bed, just down and out and just didn't want to do anything -- everything was so different."
For Dina, the disease hit differently.
"I started getting a fever," she said, noting she saw the doctor after about five days of experiencing symptoms. "They checked my lungs and they said, 'You know, I just don't think you have it.'"
Doctors gave Dina strep and flu tests, but after those came back negative they administered a COVID-19 test, which came back positive five days later.
Some symptoms Dina had included an amplified sense of taste and nausea -- certain scents would make her feel sick.
Although Brian was never tested for the disease, Dina believes she caught coronavirus from her husband. It wasn't until she started donating plasma at the South Texas Blood and Tissue Center that Brian's blood work was done and he found out that he also had coronavirus.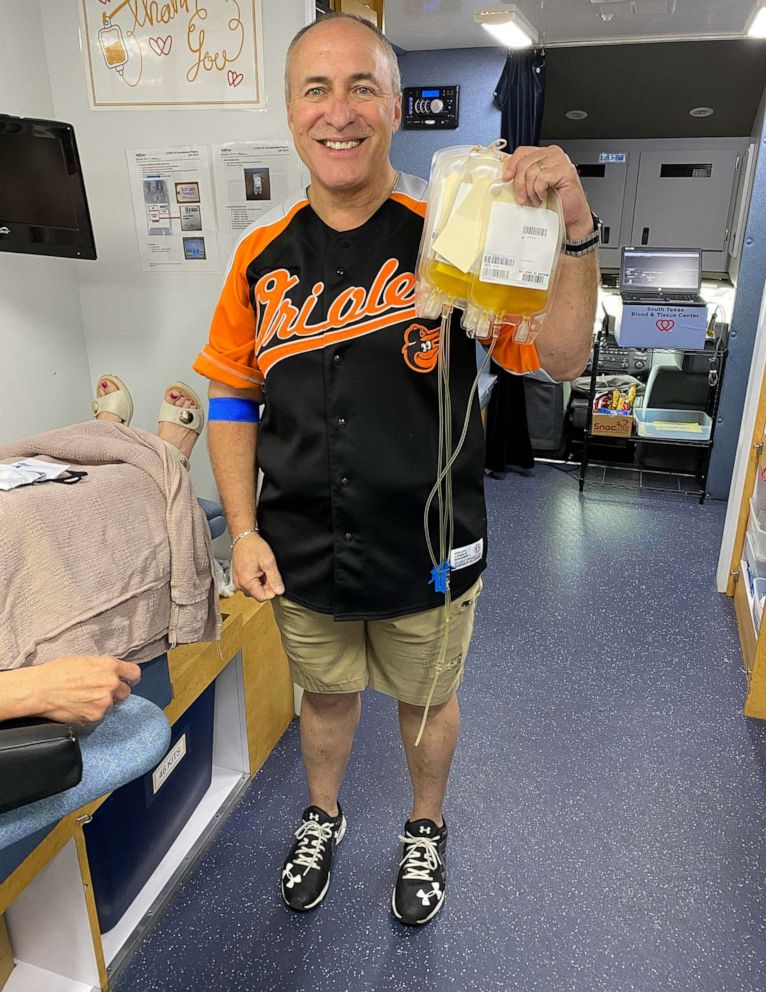 "He had high antibody levels," said Dina. "So he's the one who gave it to me because he had what he thought was a sinus infection."
According to experts, people who have been infected with the coronavirus can begin to form antibodies shortly after being infected. Antibodies are "tailor-made by the immune system to fight the novel coronavirus and are felt to be a key component of recovery," Dr. Mark Abdelmalek, a medical investigative reporter for ABC News, said. "Antibodies are believed to work by neutralizing the virus."
Since then, they've both been donating plasma ever since. Dina started mid-April as soon as she started feeling better and Brian began donating in June.
Together with their donations, they've been told that they've been able to help 68 people.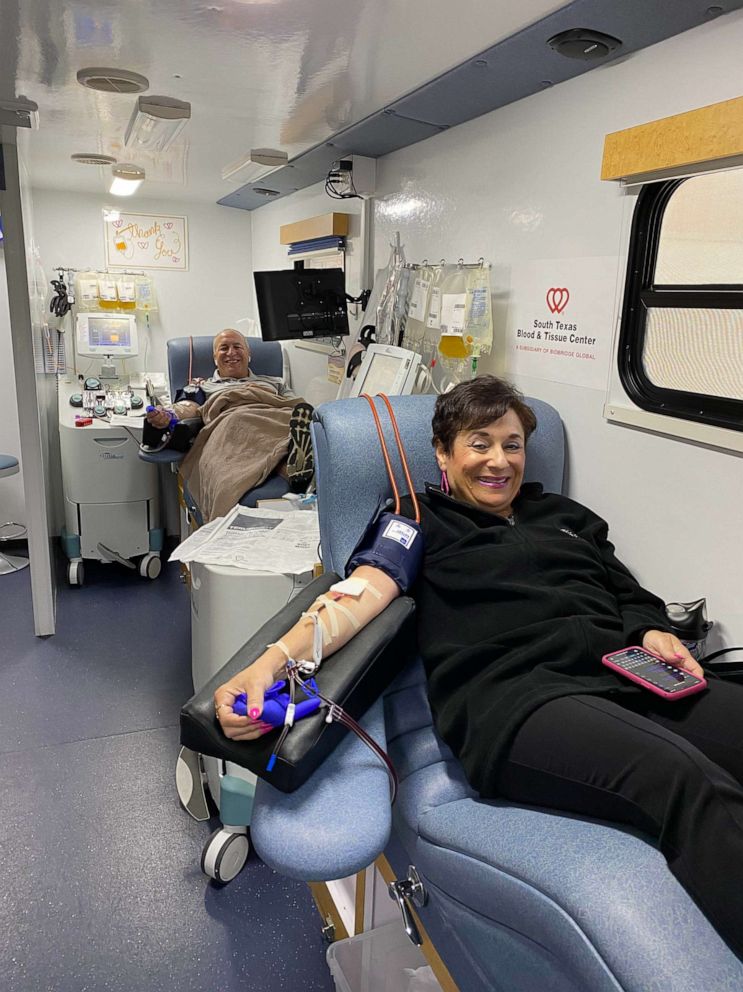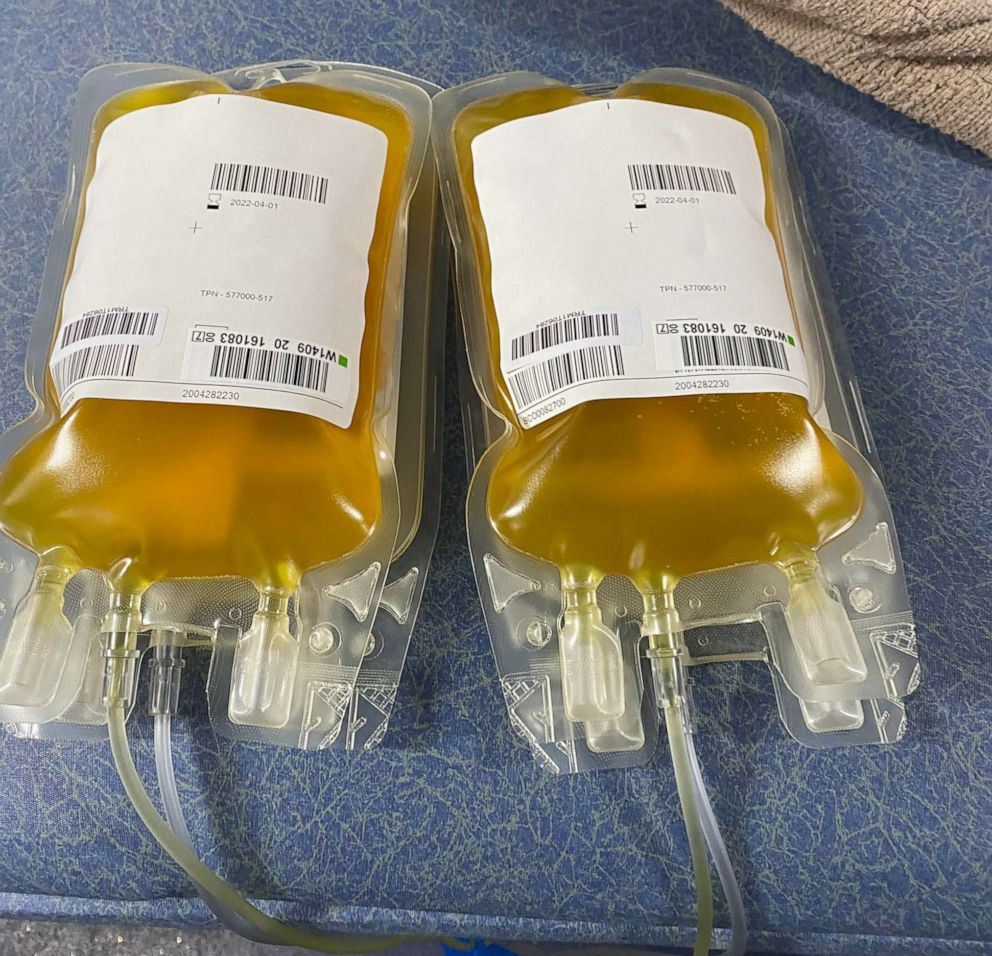 "We want to give back, I mean that's who we are," Brian said. "We were raised that way and to do work in the community."
With their mission to help those in need during the pandemic with plasma donations, they also want to let others know that the process is easier than many think. All it takes is a prick of a small needle, Dina said, which is done by highly trained phlebotomists.
"Giving them plasma is really -- it's a lot easier than believe it or not, donating blood," Dina said. "They pull the plasma out of your blood and then they put your blood back in you. You don't feel it, you just feel a little coolness when it's going back in. So it's pretty simple and it takes a little bit more time."
For those who still need a reason to donate, Brian and Dina urge those who can donate to think of others in need during these challenging times.
"It's a critical time for everybody to be providing [plasma] because there are so many more people in the hospital right now that could use plasma donations," Brian said.
"We just really hope that people will realize that this is something that if they're a survivor, they just need to do it," Dina added. "It's so important and you're saving mankind. That's what's really important."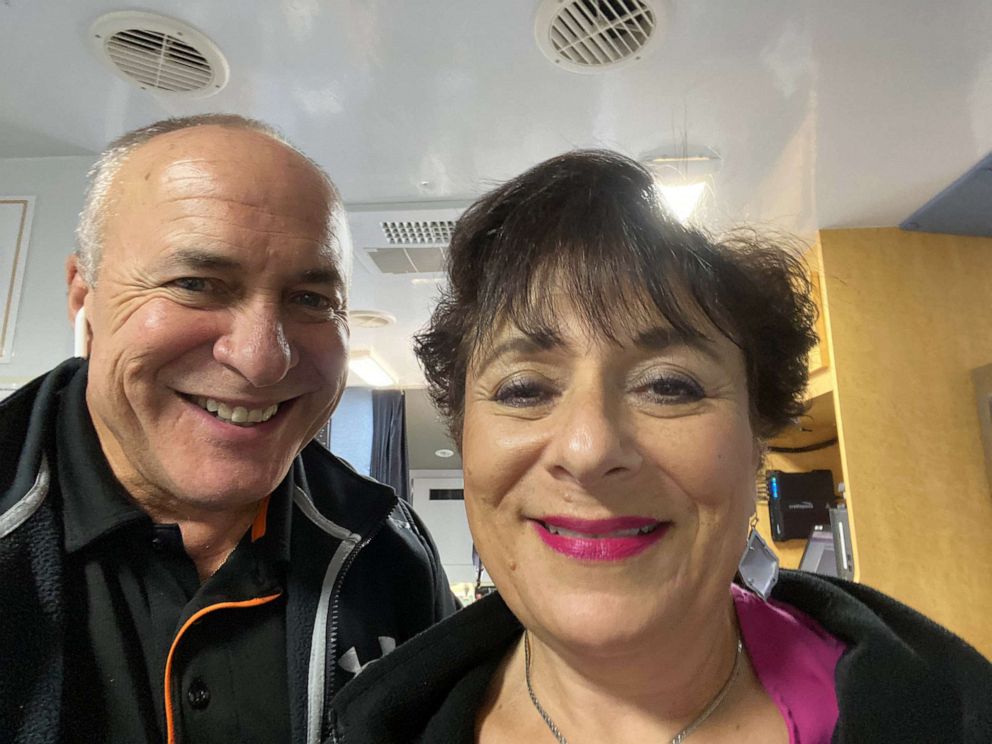 If you'd like to donate plasma and think you're a candidate, visit The American Red Cross' website to find a donation center near you.
Editor's note: This was originally published on July 30, 2020.