Twin sisters give birth on same day
Courtesy Lauren Kozelichki/Lisa Boyce
Lauren Kozelichki and Lisa Boyce are fraternal twin sisters who live 10 minutes apart from each other in St. Louis, Missouri, and share nearly everything, including, of course, a birthday.
Now their three children also share a birthday.
Kozelichki and Boyce, 35, gave birth to their kids on the same day, Nov. 7.
Boyce gave birth to a son named Benjamin, her first child, via cesarean section at 1:39 a.m., after two days of labor.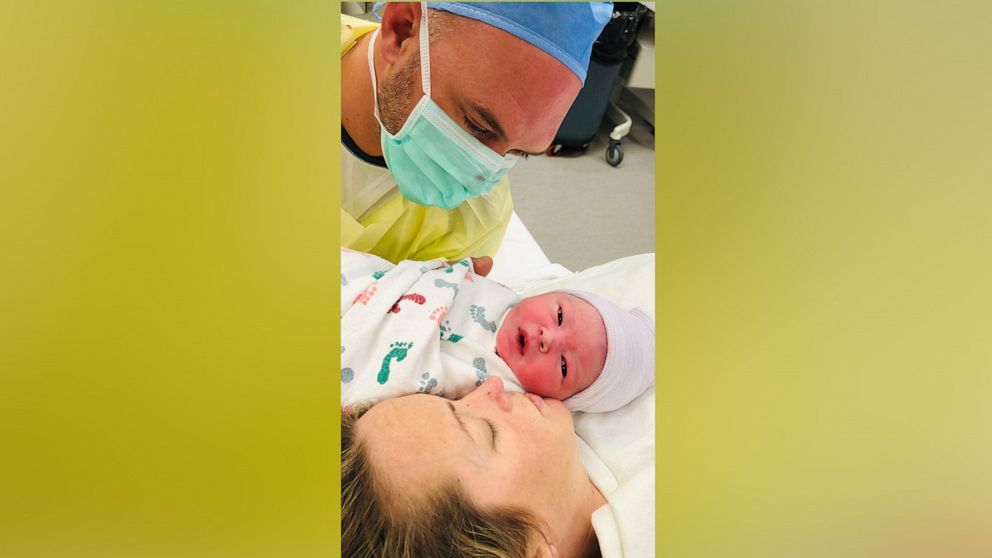 Kozelichki gave birth to fraternal twins Vada and Cooper, her third and fourth children, in a scheduled C-section 10 hours after her sister's.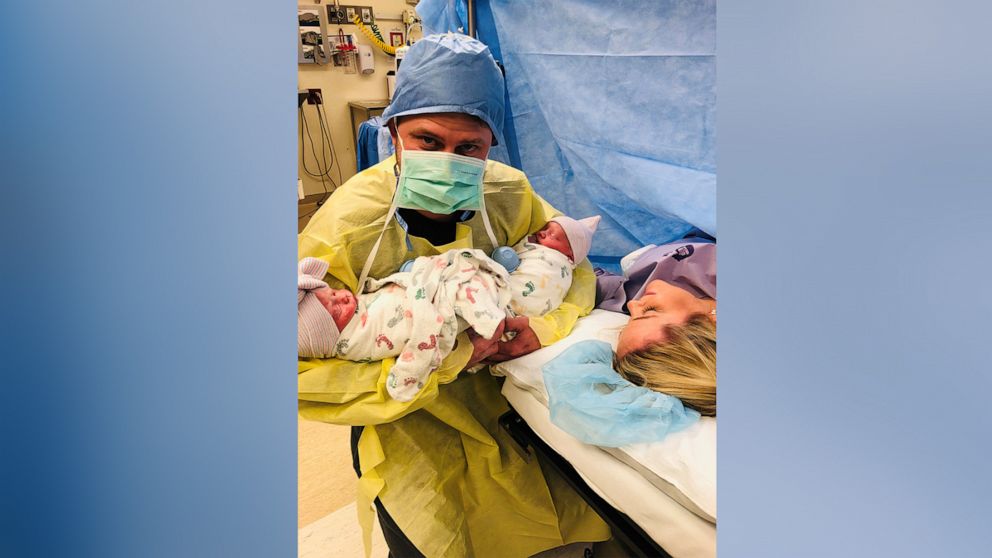 Vada and Cooper were born one minute apart, just like Boyce and Kozelichki. The siblings and their cousin were all delivered by the same OBGYN.
The hospital where sisters gave birth, Mercy Hospital in St. Louis, said it is the first time it's had twin sisters give birth on the same day in its history.
"I don't think we realized it was even that big of a deal because we're so used to sharing everything," said Boyce. "We just thought, 'Oh this will be fun.'"
"We didn't even think it was that crazy of a deal because we're used to having everything together," said Kozelichki.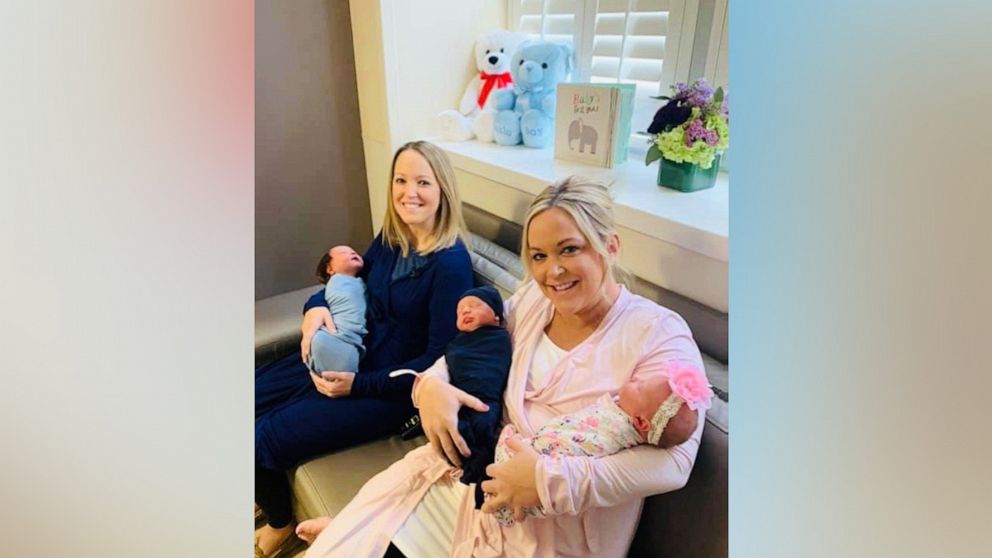 Kozelichki, already mom to a nearly 3-year-old and 1-year-old, said she and her family celebrated when Boyce and her husband told them they were expecting their first child.
Around one week later, Kozelichki found out she was pregnant and she and her husband went to Boyce's home and told them their happy news.
"We kind of figured Lisa would deliver about three weeks earlier because at the time we didn't know we'd have twins," said Kozelichki. "It didn't cross our minds at all that we'd ever have babies on the same dates."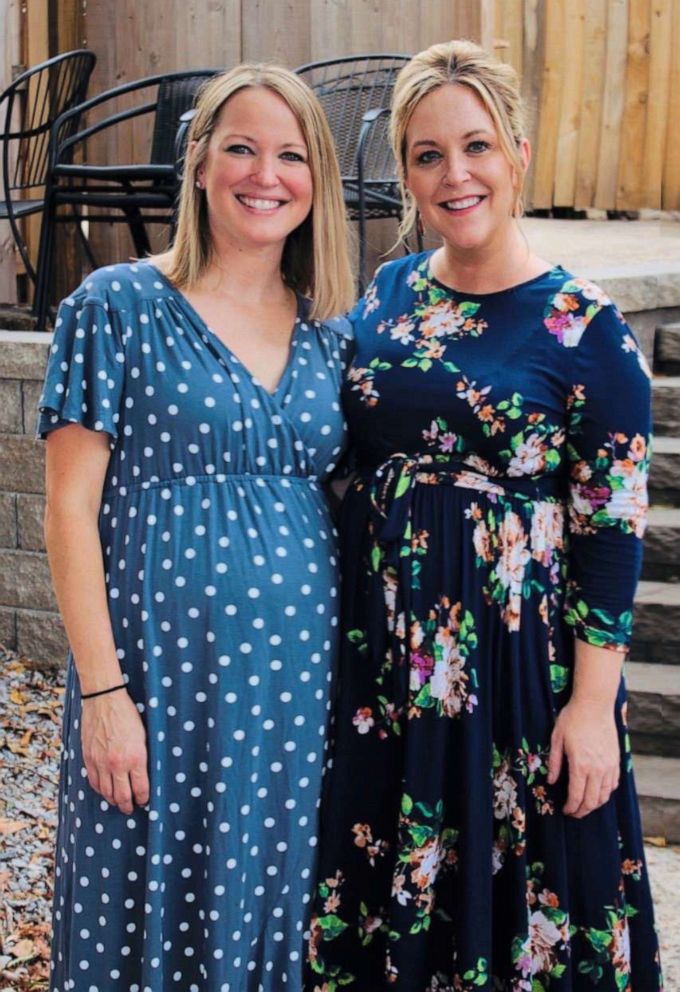 Fast forward nine months and Kozelichki was prepared for a scheduled C-section on Nov. 7, 38 weeks into her pregnancy, because her twins were in a breech position.
Two days before, on Nov. 5, Boyce was admitted to the hospital. The sisters' family, Kozelichki included, waited as Boyce remained in labor for two days.
"I kept looking at the clock on Nov. 6 and watching it go to 11 p.m., then 11:30 p.m. and once it hit midnight I thought, 'Well they're going to be born on the same day," said Kozelichki. "I left and had to be back at the hospital the next morning to be induced for my C-section."
The sisters eventually ended up with rooms across the hall from each other in the hospital as they recovered.
"When I would go see Lisa, Lauren would be walking in and I'd be like, 'Of course you're making it easier on me so I can see you both at the same time,'" said the sisters' OBGYN, Dr. Christi Menges. "The fact that they both were pregnant at the same time and then to deliver at the same time, we didn't plan it that way."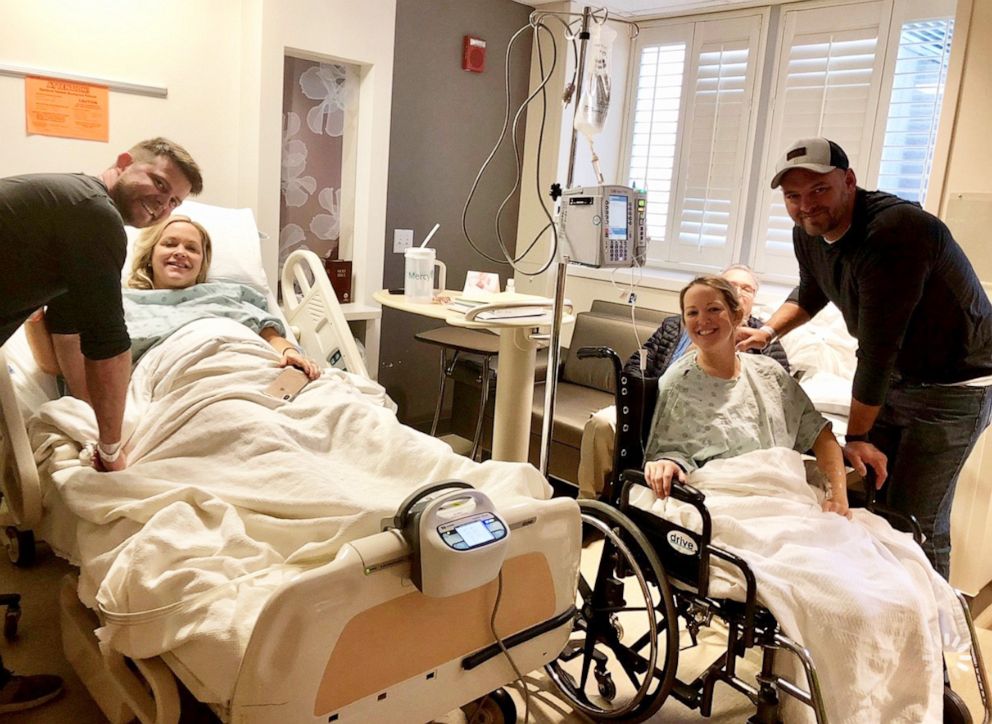 Boyce and Kozelichki, two of five sisters in their family, expressed special thanks to Mercy Hospital and their caregivers for their patience when the hospital hall would turn into a block party for their family of 26 immediate relatives, who all live in the St. Louis area.
"My kids were runnin--g back and forth to see Aunt Lisa and cousin Ben," said Kozelichki. "Lisa would just wheel over with Ben and everyone would come over to my room or I'd wheel into hers and everyone would move there."
Boyce and Kozelichki made sure their two sons share an additional bond. Ben and Cooper both have the same middle name, Corkery, which is their moms' maiden name.
All three babies and both moms are now home and healthy and happy, already looking ahead to shared birthday parties.
"We're for sure already envisioning them," said Kozelichki. "And seeing me being the one to plan the joint birthday parties and Lisa being happy that I'm the one to plan them."