Everything you need to start keto
Summer is here -- which means it's time to ditch the recipes with warm, winter foods for more summer-friendly fare like salads and grilling.
Suzanne Ryan a cookbook author from the San Francisco area, has all the inspiration we need to kick off a summer of great meals.
Ryan lost more than 100 pounds by following the popular ketogenic diet, a diet focused on foods high in fat and low in carbohydrates.
Her first cookbook, "Simply Keto," has dozens of delicious keto-friendly recipes. She has another book coming out this fall focused on mindset, self-love and the lifestyle changes that have helped her maintain her weight loss.
Here are four must-try recipes from Ryan's "Simply Keto" cookbook that can become your summer go-to dishes.
Better yet, these recipes are delicious whether you and your guests are on the keto diet or not.
Caprese skewers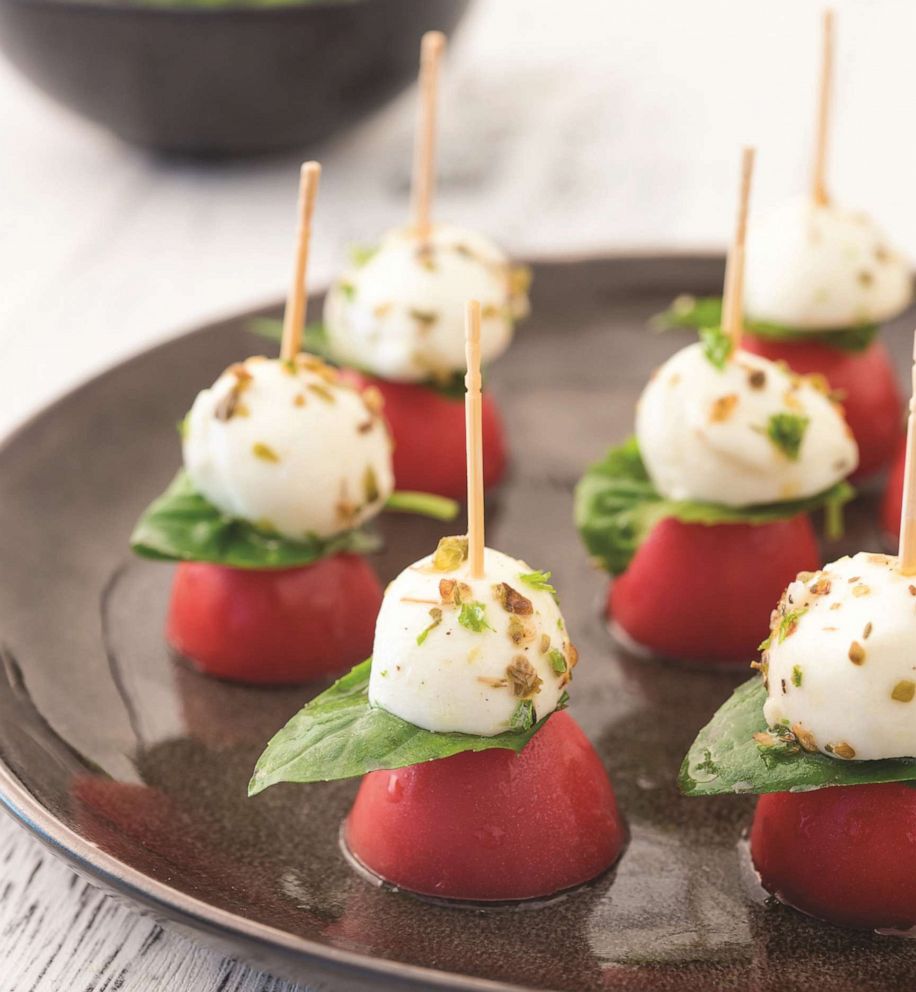 Yields 6 servings
Ciliegini are Italian fresh mozzarella cheese balls that are the size of small cherry tomatoes and packaged in water or a seasoning marinade. The tiny balls are perfect for salads, snacks, and a variety of appetizers, including this one. These caprese skewers are fresh, colorful, and great for picnics or cookouts!
Ingredients:
8 ounces ciliegini mozzarella balls, drained and halved
9 grape tomatoes, halved
18 small to medium fresh basil leaves
Marinade ingredients:
1/4 cup extra-virgin olive oil
1 small to medium clove garlic, pressed or minced
1 tablespoon chopped fresh parsley
1 tablespoon dried ground oregano
1 tablespoon fresh lemon juice
Kosher salt and ground black pepper, to taste
Directions:
In a medium-sized bowl, combine the mozzarella balls with the marinade ingredients. Stir well and cover; place in the refrigerator to marinate for 1 hour.
To assemble, place a mozzarella ball, a basil leaf (folded in half lengthwise if needed), and a grape tomato half on a toothpick. (Tip: If you want the skewers to stand up on a plate, place the tomatoes cut side down.)
Serve right away or store in the refrigerator until ready to serve.
Sunny-side-up burgers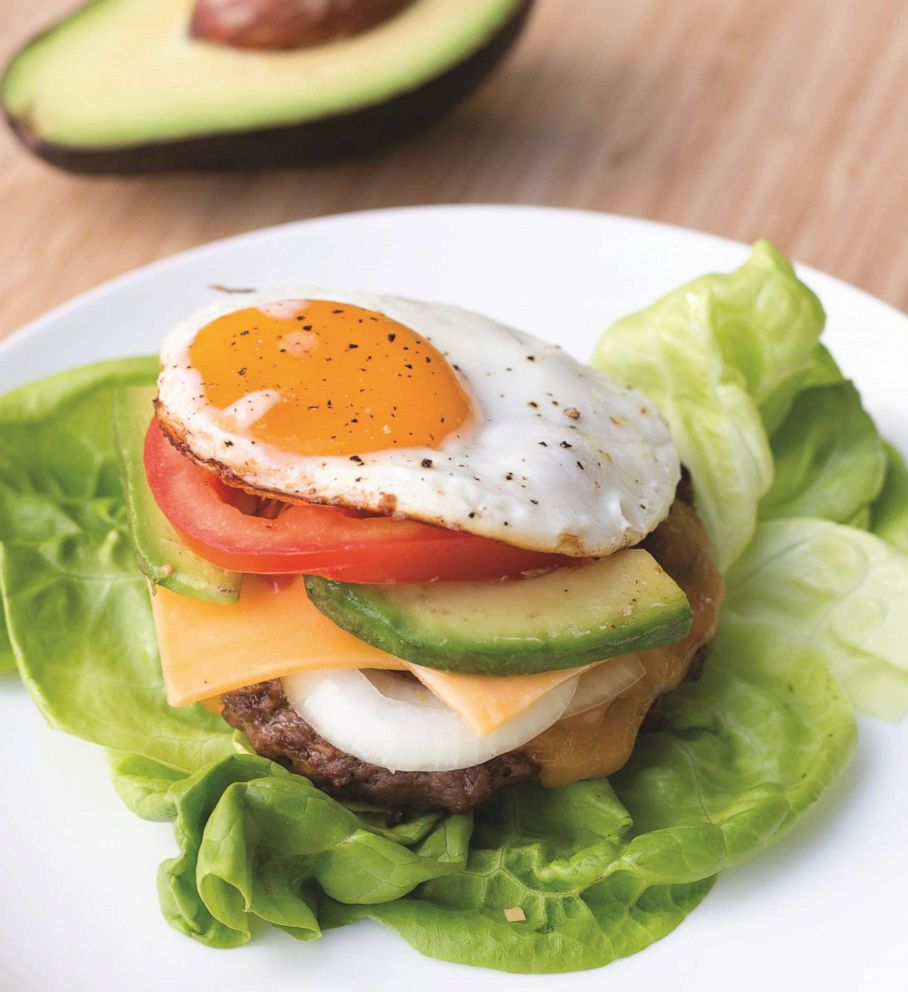 Yields 4 servings.
Bunless burgers are a common choice for keto-ers on the go and at home. Adding a fried egg and some sliced avocado gives these burgers additional fat and flavor to complete your meal!
Ingredients:
1 pound ground beef
2 teaspoons garlic powder
Salt and pepper
4 slices cheddar cheese
1 tablespoon unsalted butter
4 large eggs
1 medium avocado, sliced
1 small tomato, cut into 4 slices
1/2 small yellow onion, sliced
4 butter lettuce leaves, for serving (optional)
Directions:
Preheat a grill or grill pan to medium-high heat.
In a bowl, combine the ground beef and garlic powder. Season generously with salt and pepper and mix well. Use your hands to form the mixture into four 1/2-inch patties.
Grill the patties for 3 to 4 minutes on each side for medium-done burgers, flipping once. After flipping the patties, top each patty with a slice of cheese and allow to melt while the other side cooks.
In a skillet over medium heat, melt the butter. Crack the eggs into the pan and fry until cooked to your liking. (I recommend sunnyside up or over easy.)
Place the burgers on a plate and top each burger with a slice of tomato, onion slices, avocado slices, and a fried egg. Season to taste with salt and pepper. Eat as is or enjoy wrapped in a butter lettuce leaf.
Cucumber salad with feta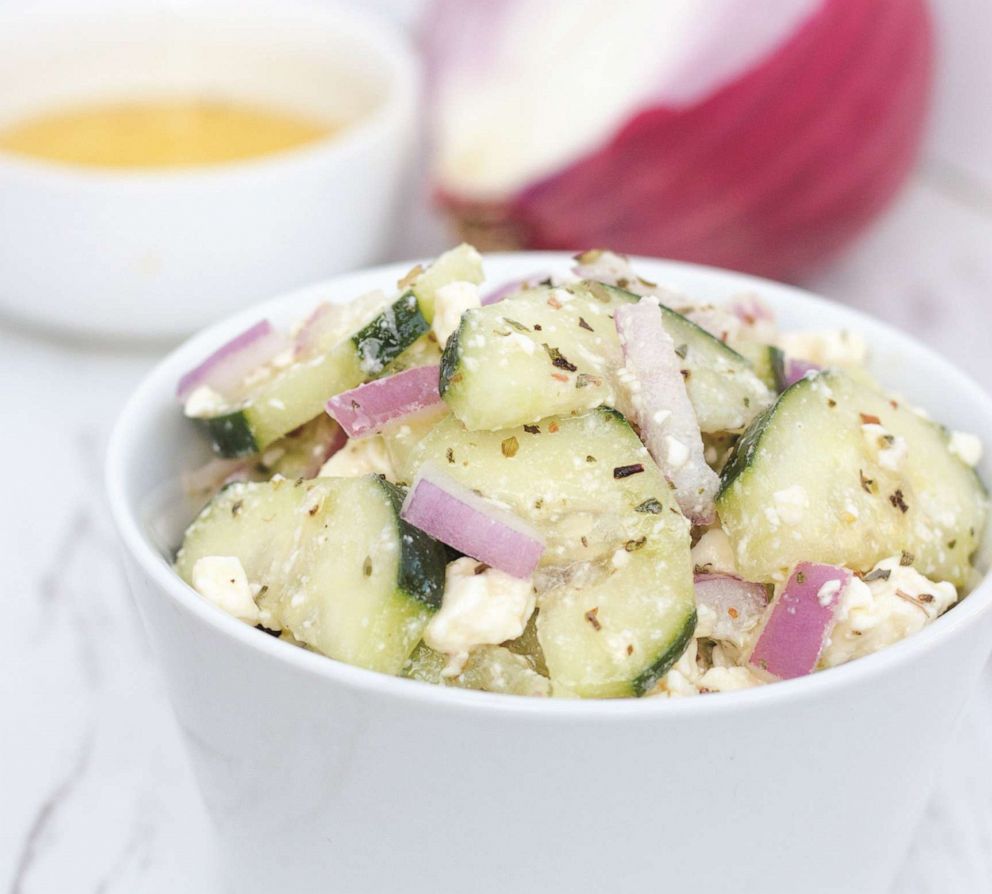 Yields 5 servings.
Our good friend Mike always prepares this fresh and delicious cucumber salad at his barbecues. I love that it's quick and simple to make, and it pairs perfectly with a variety of proteins, like chicken, burgers, or steak!
Ingredients:
2 medium-large cucumbers
1/2 cup thinly sliced red onions
4 ounces feta cheese, crumbled
Salt and pepper
Dressing ingredients:
1/4 cup extra-virgin olive oil
1 tablespoon red wine vinegar
1 tablespoon Swerve confectioners'-style sweetener
1/2 teaspoon dried ground oregano
Directions:
Peel the cucumbers as desired and cut in half lengthwise, then slice.
In a medium-sized bowl, toss the cucumbers with the onions. Add the feta and gently toss to combine.
Make the dressing: Place all the ingredients in a small bowl and whisk to combine.
Serve right away or place in the refrigerator to chill before serving. To serve, gently toss the salad with the dressing and season to taste with salt and pepper.
Mini cheesecakes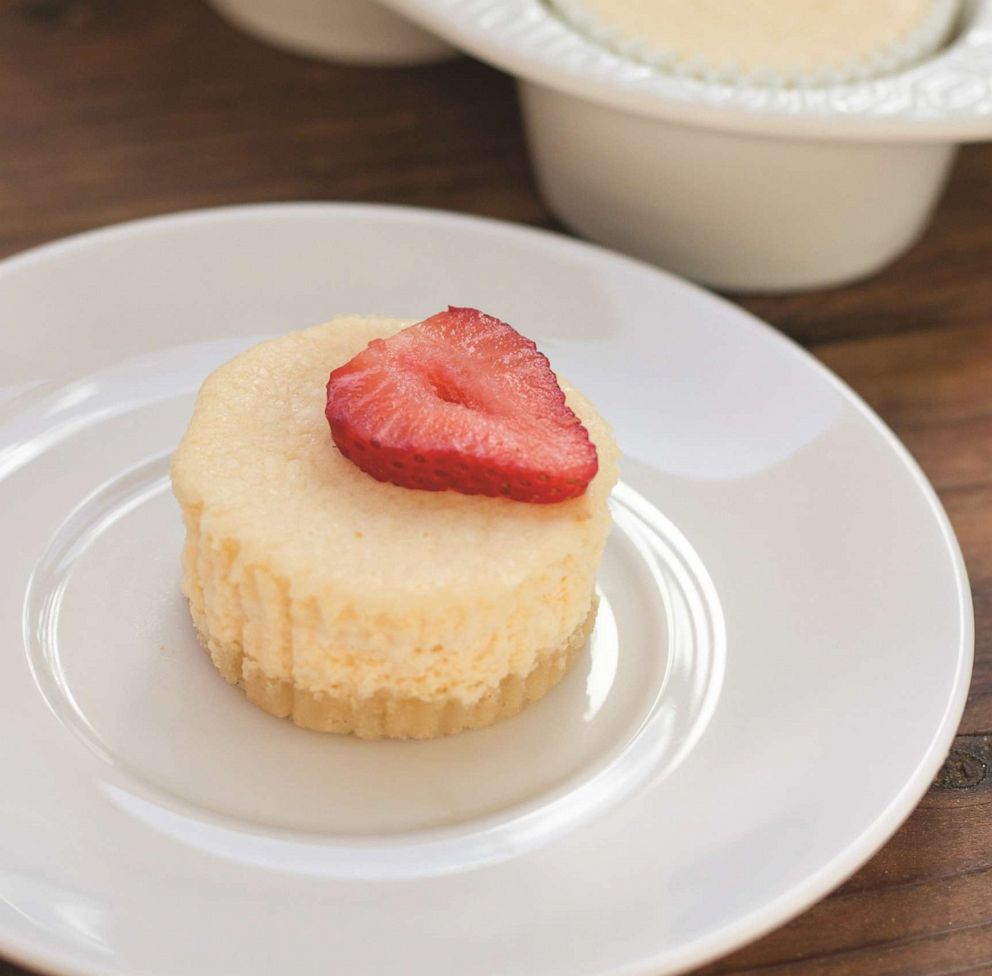 Yields 8 mini cheesecakes, 1 per serving
Cheesecake is one of the simplest and most delicious desserts to prepare on a low-carb, high-fat diet. These mini cheesecakes are the perfect size for a sensible treat. Enjoy as is or top them with fresh berries or keto whipped cream.
Crust ingredients:
1/2cup plus 2 tablespoons almond meal1 tablespoon Swerve confectioners'-style sweetener1 tablespoon unsalted butter, melted
Cheesecake filling ingredients:
1 (8-ounce) package cream cheese, softened
1/3 cup Swerve confectioners'-style sweetener
1 large egg
1 1/2 teaspoons fresh lemon juice
1 1/2 teaspoons vanilla extract
Sliced strawberries, for garnish (optional)
Directions:
Preheat the oven to 350°F. Place 8 paper liners in a standard-size muffin pan.
In a small bowl, combine the crust ingredients and mix by hand until well blended. Sprinkle a thin layer of the crust mixture into each paper liner or tartlet pans and press until smooth and even.
In a medium-sized bowl, combine the cheesecake filling ingredients and blend with a hand mixer until smooth. Pour the filling evenly into the paper liners, on top of the crust, filling the liners almost to the top.
Bake for 15 to 18 minutes, until the cheesecakes are set. Remove from the oven and let cool to room temperature in the pan before removing. Refrigerate for 1 to 2 hours before serving.
Serve garnished with sliced strawberries, if desired.
Recipes reprinted with permission from "Simply Keto," courtesy Suzanne Ryan.