Zibby Owens is a podcaster, publisher, author and contributor to "GMA".
War. Invasion. Global instability. The tail-end of omicron. Financial tremors.
These are not the ingredients for a relaxing afternoon spent reading on the couch.
However, with so much collective anxiety bouncing about like ping-pong balls, sometimes the only thing to do is read. To escape. To learn about other people and other cultures.
The unifying power of storytelling is the balm our tired souls need to ward off more bad news.
So, fall into these March reads. Crack open the spines. Forget. These 15 books will transport and delight. Go for it.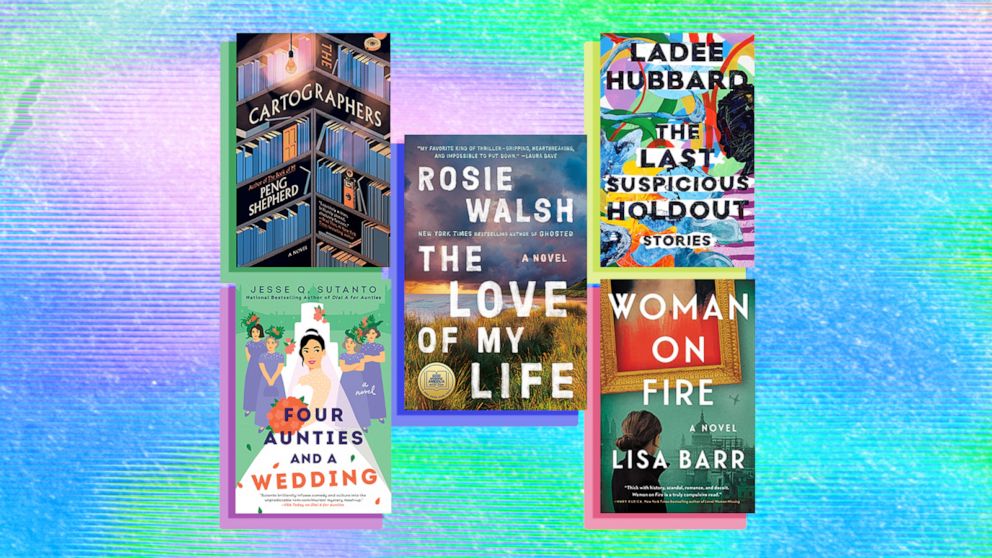 March 1
'The Love of My Life' by Rosie Walsh
U.K. writer Rosie Walsh's debut novel "Ghosted" was fantastic: emotional, gripping, cautionary and moving. No wonder it sold more than 1.5 million copies. Now she's back with another thrilling read, "The Love of My Life." Emma, a marine biologist, has lied to her husband and daughter about almost everything, but they don't know this until she falls ill and her husband starts researching her life. What does he find out?
"The Love of My Life" is also the "Good Morning America" Book Club pick for March. Read an excerpt here .
Listen to my podcast with Rosie Walsh here. Join our Instagram Live on @gmabookclub on Monday, March 7th at 9:00 am ET.
Read along with us and join the conversation all month long on our Instagram account -- GMA Book Club and #GMABookClub
'All My Rage' by Sabaa Tahir
The bestselling author of the "An Ember in the Ashes" series, Sabaa Tahir, took 15 years to write this contemporary novel based loosely on her own upbringing at her family's motel in the Mojave Desert. A referendum on intergenerational trauma and female friendship, the navigation of alcoholic parents and courthouse dramas, "All My Rage" is raw and powerful, just like the title.
Listen to my podcast with Sabaa Tahir here.
'The Invisible Kingdom' by Meghan O'Rourke
A literary take on chronic illness, "The Invisible Kingdom" starts with author Meghan O'Rourke's own experience with pain starting after college and flaring with her mother's death. A rash that looked like Braille that she noticed while on the beach with her husband gave clues of the strangeness to come, an undiagnosable series of possible symptoms: Lyme? Epstein Barr? Now with COVID-19, autoimmune diseases and other illnesses making pain a daily occurrence for so many, O'Rourke shows us the way through.
My podcast with Meghan O'Rourke is coming soon.
'Run Towards The Danger: Confrontations with a Body of Memory' by Sarah Polley
Academy Award-nominated screenwriter, director and actor Sarah Polley has written an absolutely beautiful collection of essays: a cat's cradle of emotion around the ways in which her body lives in the world. Memories surrounding anxiety, scoliosis, trauma, child acting, pressure, surgery and repair coalesce in this brilliant, incisive, literary leap through Polley's mind.
Listen to my podcast with Sarah here.
'Never Simple: A Memoir' by Liz Scheier
Right before Liz Scheier was going to get her driver's license, her mother confessed that she had never actually registered Scheier's birth officially, as she was married to another man at the time. As a native New Yorker from the Yorkville neighborhood, Scheier started her career in publishing. Taking us through relationships, her Jewish faith and her complicated relationship with her mother, Scheier's relatable, conversational style is inviting and friendly as we experience life in her shoes.
My podcast with Liz Scheier is coming soon.
'Woman on Fire' by Lisa Barr
Newly optioned by superstar Sharon Stone's production company, "Woman on Fire" by author Lisa Barr of "The Unbreakables" is a breathtaking, smart and propulsive read. Jules Roth, an aspiring young journalist modeled, in part, after Barr herself, scores herself a job with a top investigative reporter after a #MeToo incident derails her other job trajectory. When an elderly man is killed in Berlin, his home packed with famous canvases stolen from the Nazis, Jules's path collides with others in this fast-paced book.
Listen to my podcast with Lisa Barr here. A second episode is coming soon.
'The Beauty of Dusk' by Frank Bruni
New York Times columnist Frank Bruni lost his vision in his right eye overnight due to a rare stroke. His beautifully written, reflective memoir is riveting. "I went to bed with more grievances than I could count. I woke up with more gratitude than I can measure," Bruni writes. So starts the journey of his tumbling through time that he calls "the testimony of a damned fool."
March 8
'Girls Can Kiss Now: Essays' by Jill Gutowitz
Queer social media icon Jill Gutowitz weaves pop culture, relationships and humor together in a memorable, enjoyable collection of essays for today. The Disney Channel, "When Harry Met Sally," lesbianism and shame intersect in an entertaining, thought-provoking way in these irreverent stories.
My podcast with Jill Gutowitz is coming soon.
'The Golden Couple' by Greer Hendricks & Sarah Pekkanen
No. 1 New York Times bestselling author duo Greer Hendricks and Sarah Pekkanen take their career co-writing extremely seriously, rarely letting each other take breaks on writing days. Their intensity and focus are apparent in the superior prose and intricate plot lines in their psychological thrillers, such as "The Wife Between Us." In this riveting story, a blond, beautiful DC-based couple hires a maverick therapist who promises to cure the wounds of infidelity in just 10 sessions. But is it only the marriage that's at risk? Told in alternating viewpoints, "The Golden Couple" will suck you in.
Listen to my podcast with Greer Hendricks & Sarah Pekkanen here. A second episode is coming soon.
'The Last Suspicious Holdout: Stories' by Ladee Hubbard
Ladee Hubbard's previous novel, "The Rib King," was brilliant. Now, these 13 stories feature characters who weave in and out, as heftier issues of race and identity course through. The opening story, "Flip Lady," takes place in 1992 and tracks a girl from Grenada navigating the Kool-Aid-filled stressful world back in the U.S., a multi-part story that draws the reader right in.
Listen to my podcast with Ladee Hubbard here.
'The Last Confessions of Sylvia P.' by Lee Kravetz
When a handwritten copy of "The Bell Jar" is discovered by two bargain hunters in a discarded attic, the history of Sylvia Plath, her contemporaries and her mental illness unspools in the hands of an auction house curator. With multiple narratives from the present and into the past, we get a glimpse into what Sylvia -- the woman, the patient -- was like and how her confessional poetry ended up starting a movement rippling into songwriting, memoirs and all pop culture today.
My podcast with Lee Kravetz is coming soon.
March 15
'In the Margins: On the Pleasures of Reading and Writing' by Elena Ferrante
The Academy Award-nominated film "The Lost Daughter" is based on Elena Ferrante's book, as is HBO's "My Brilliant Friend." Then came her instant New York Times bestseller "The Lying Life of Adults." Now, this enigmatic masterclass author shares four original essays about writing itself that starts with the distinction between "compliant" and "impetuous."
'The Cartographers' by Peng Shepherd
It's not easy to be fired by your dad. But Nell Young, a cartographer whose father was the be-all-end-all in the field, got into a fight with him over a gas station map, which ended their working relationship. When her dad is later found dead at the New York Public Library with the map nearby, Nell vows to figure out what happened.
My podcast with Peng Shepherd is coming soon.
March 22
'Illogical: Saying Yes to a Life Without Limits' by Emmanuel Acho
New York Times bestselling author of "Uncomfortable Conversations with a Black Man" and Emmy-winning sports commentator Emmanuel Acho is back with a personal reflection on success and inspiration. Acho takes stories from his own life, including training sessions, injuries, Pro Bowl moments and those of other "illogical pioneers" to open up worlds of possibilities for anyone reading. As Acho writes, "The key to changing your life is to use your skills, your talents, your gifts. WE ARE ALL GIFTED IN SOMETHING."
Listen to my podcast with Emmanuel Acho here.
March 29
'Four Aunties and a Wedding' by Jesse Q. Sutanto
The continuation of the charming "Dial A for Aunties" series, "Four Aunties and a Wedding" follows Meddy Chan as she embarks on her own wedding after planning countless others with her mother and aunts. But when the aunties and Meddy realize that Staphanie, the wedding photographer, is really in the mafia and using Meddy's wedding to take out a target, they won't take that sitting down. Escapist, a bit absurd and utterly hilarious, Jesse Q. Sutanto's novel is just what we need now.
Listen to my podcast with Jesse Q. Sutanto here.