Britney Spears emotionally acknowledged the #FreeBritney movement Monday, thanking her fans for their tireless support over the years.
Sharing a video of her posing in a white off-the-shoulder crop top -- her signature style -- the 39-year-old Grammy winner wrote that she has "no words" to describe her gratitude.
"Because of you guys and your constant resilience in freeing me from my conservatorship … my life is now in that direction !!!!!," she added.
The "Toxic" singer added that she is overwhelmed by her fans' passion, adding, "I cried last night for two hours cause my fans are the best and I know it … I feel your hearts and you feel mine … that much I know is true."
She concluded the sentimental post with two twirling pink heart emojis.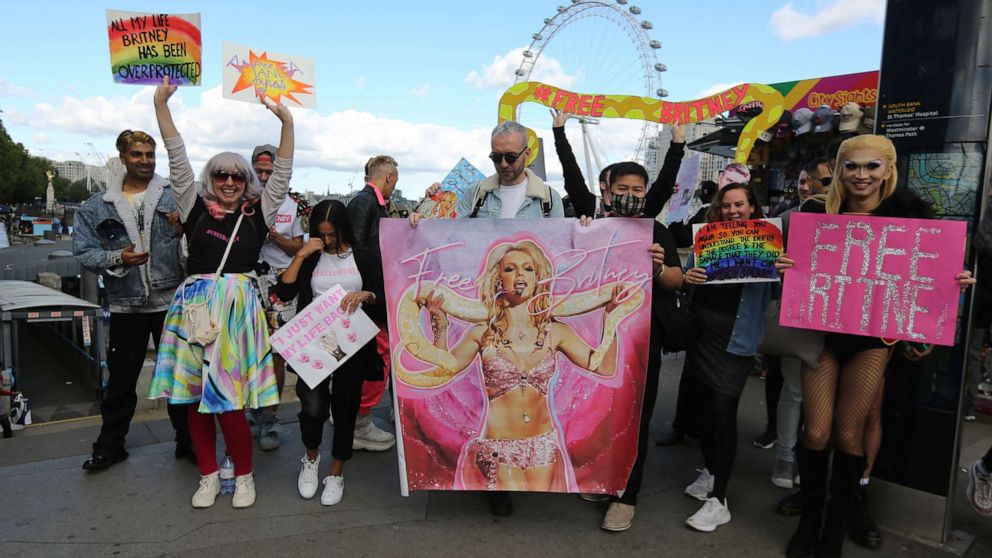 Britney's fiancé, actor Sam Asghari, also gave a shoutout out his bride-to-be's fans in the comment section of the post, asking them, "From a scale of 0-Britney how free are you?"
Britney, 39, has had her life governed by a conservatorship since 2008. Her father, Jamie Spears, acted as the conservator of her personal affairs until 2019, when he stepped down, citing health issues. At that point, professional fiduciary Jodi Montgomery assumed the role. However, the pop star's father still maintained control over her finances until last Thursday, when Judge Brenda Penny suspended him, citing a "toxic environment."
Certified public accountant John Zabel has been appointed as the temporary conservator of Spears' estate, as requested by her attorney, Mathew Rosengart.
Jamie Spears issued a statement through his attorney, Vivian Thoreen, in which he said he loves his daughter "unconditionally" and has "tried to do what is in her best interests" for the past 13 years, "whether as a conservator or her father."
"For anyone who has tried to help a family member dealing with mental health issues, they can appreciate the tremendous amount of daily worry and work this required," the statement continued, alleging Jamie helped Britney "revive her career and re-establish a relationship with her children."
"For Mr. Spears, this also meant biting his tongue and not responding to all the false, speculative, and unsubstantiated attacks on him by certain members of the public, media, or more recently, Britney's own attorney," the statement read.
Rosengart, a former federal prosecutor, filed in July to remove Jamie from the conservatorship, calling his involvement a "Kafkaesque nightmare" that has "grown increasingly toxic and is simply no longer tenable." He has also labeled Jamie's actions "a desperate effort to deflect attention from his egregious incompetence [and] gross misconduct including dissipation of funds."
One reason Rosengart and his legal team wanted Jamie removed was because of Britney's recent engagement. Lawyers for the pop star wanted to put into place a prenuptial agreement and Rosengart was concerned that Jamie could "impede" that plan.
Monday on Instagram the singer hinted that she is getting ready to walk down the aisle. In a post caption she asked her fans where she should get married: Italy, Greece, Australia or New York City.
"Psss don't get me started on the concept of NOW," she wrote in the caption. "GOD BLESS YOU ALL!"