'Dancing With the Stars' finalists reflect on Season 30 finale
Iman Shumpert and Daniella Karagach are officially "Dancing With the Stars" winners.
The duo were announced as the newest Mirror Ball Trophy champions on Monday's season 30 finale, beating fellow celebrities JoJo Siwa, Cody Rigsby and Amanda Kloots, who were paired with pro partners Jenna Johnson, Cheryl Burke and Alan Bersten, respectively.
Shumpert's victory is historic, as he is now the first NBA player to ever compete in the "DWTS" finals and ultimately win it all. Karagach is also a first-time winner, having joined the series just last season.
The athlete told "Good Morning America" on Tuesday that he feels "accomplished" to have won, adding, "I felt like the whole season I was like telling Daniella, 'Man, you just are great at what you do,' and everybody was saying she didn't have a Mirror Ball yet, so I'm really happy she got one now."
Iman Shumpert and Daniella Karagach talk historic "Dancing With the Stars" win
Karagach praised Shumpert's tremendous improvement over the season, noting that he was one of the few competitors who "never danced a day in [his] life" and but worked hard to defy all expectations by making it to the finale.
Shumpert said being this season's underdog fueled his desire to come out on top, which saw him perform never-before-seen stunts on the ballroom floor with perfect execution.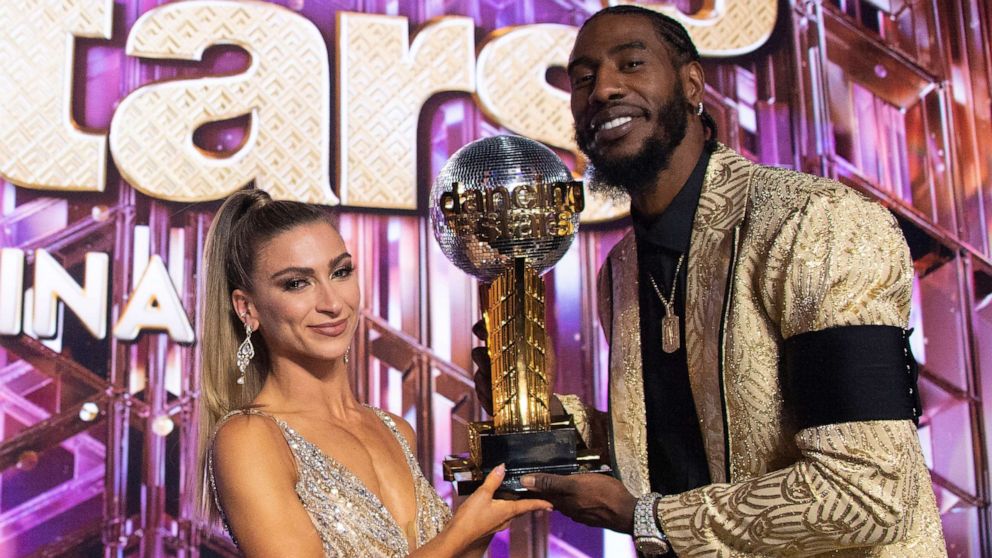 Aside from a glittering new trophy -- which he told "GMA" will ultimately live in his parents' home -- Shumpert ended his "DWTS" journey with two perfect scores: one for a foxtrot/cha-cha fusion, which saw judge Bruno Tonioli declare him the "king of the ballroom," and one for a Chicago-themed freestyle that was deemed one of the best in show's history.
Even Missy Elliott, whose song they performed to, was a fan, tweeting at him, "They Worked dat ... & Congratulations @imanshumpert You SNAPPED hard on dat FootWork see I told yall music make you 'Lose Control.'"
Siwa, who also made history by becoming the first contestant to compete with a same-sex partner, came in second. Rigsby ended the season in third and Kloots took fourth place.
"It meant the world to me," Siwa told "GMA" of her time on "DWTS" alongside pro Jenna Johnson.
"Getting to do this for myself, but for so many little kids and adults who are part of the LGBTQ community to just see that dancing with the same sex as you -- just as loving the same sex as you -- isn't weird. It's not unaccepted. It's celebrated and it's accepted and it's so awesome," she continued. "I feel like this just got to show that in such a bright, smiley, happy way, and every week was better than the last."
Siwa also said she was tempted to sign up for private ballroom lessons at studios near her house, calling performing "so fun" and "addicting."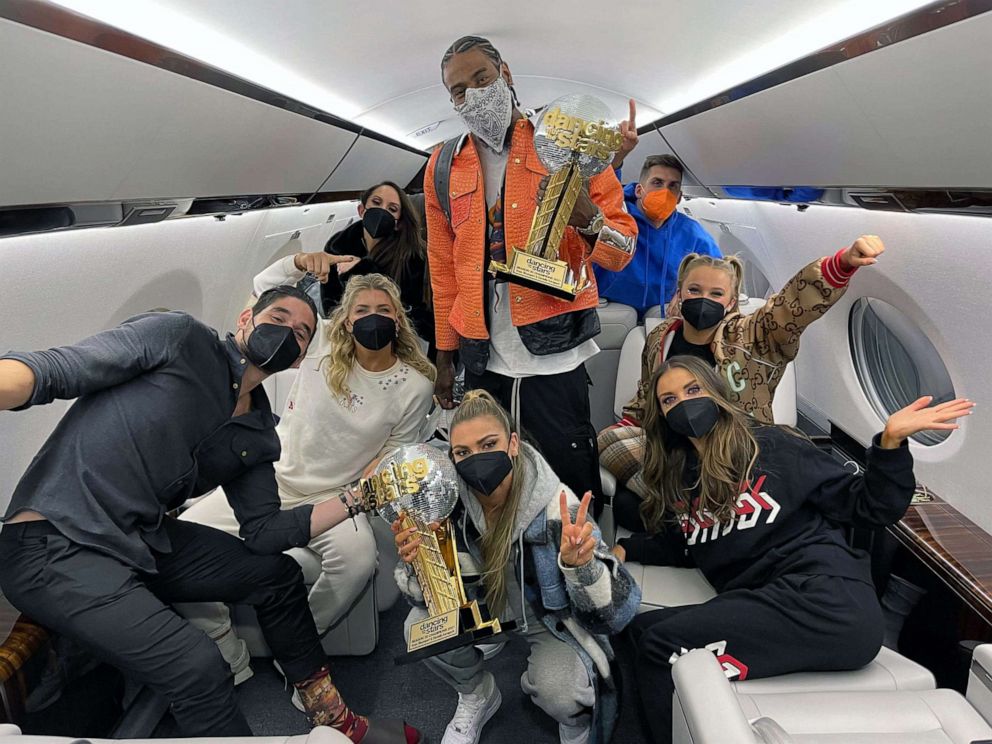 Pro Cheryl Burke told "GMA" that Rigsby was her "COVID buddy," as the two were both diagnosed with breakthrough cases this season and were forced to perform from quarantine. Burke called it "challenging" to have just met and then have to continue their relationship -- and teach dance -- via Zoom, but they overcame that and made it to the end.
Kloots said she learned "so many things" about herself during "DWTS" alongside pro Alan Bersten because it gave her "a new friend" and someone she could "trust" and "rely on every day."
Her husband, Nick Cordero, died in 2020 from COVID. The two had met working on Broadway together and married in 2017, welcoming a son named Elvis into the world in 2019.
Kloots also said it was nice to be on the show and dance because it gave her something to do for herself every day.
"It sounds a little selfish, but as a mom -- as a single mom -- and I work like five jobs, just to be able to go dance every day for three hours for myself, it brought so much joy back into my life," she told "GMA."
"Dancing With the Stars" finalists talk biggest moments from season 30
The finale also saw a small change at the judges' table. After Derek Hough tested positive with a breakthrough case of COVID-19 last week, sister and a former "DWTS" pro dancer Julianne Hough rose to the occasion to fill in for her big brother.
The two-time Mirror Ball champion enjoyed doling out advice and praise to the competitors because, as she said, "I'm so excited to be here in person, so I don't have to yell at the TV anymore!"
That wasn't the only welcome return to the ballroom. Spice Girls' Melanie C belted out an emotional rendition of the girl group's pop ballad "2 Become 1" as the show revisited some of the season's most memorable and tearjerking moments.
Country star Jimmie Allen also took the floor to help bring the season to a close, performing "Good Times Roll."
"Dancing With the Stars" finalist play game of "Funky Fall Getdown"
While another season of "Dancing With the Stars" complete, fans can relive the magic of season 30 when the cast hits the road on a nationwide tour, which kicks off Jan. 7, 2022 in Richmond, Virginia. Allen, Kloots and last year's champion, "Bachelorette" star Kaitlyn Bristowe, will also be part of the fun.
Tickets are on sale now on the official live tour website.