Tory Burch celebrates new edition of classic design book, 'What Shall I Wear?
ABC News Photo Illustration
Zibby Owens is the creator and host of podcast "Moms Don't Have Time to Read Books," a publisher, and the author of "Bookends: A Memoir of Love, Loss, and Literature." She is a regular contributor to GMA.
Back to school. Back to life. Back to…. reading!? No, usually September isn't the month with endless amounts of free time (at least, not for me). And yet so many good books make their debut in the fall, right around this time every year.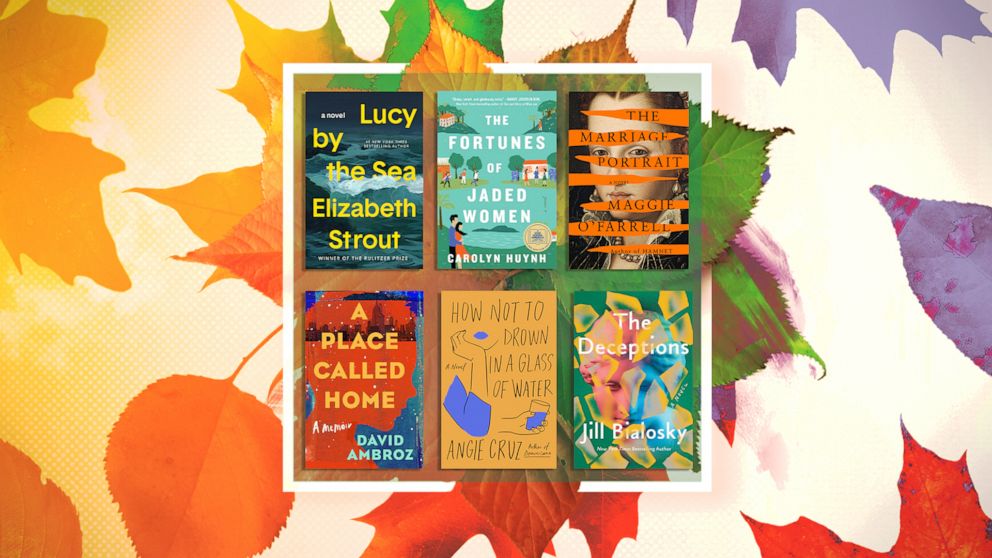 This year is no different. I might have to play hooky from work and school pick-ups just to squeeze in all these titles. Failing that, I know I'll be reading in all the stolen moments of the day, listening to audiobooks as I zoom -- literally -- from place to place and crawling into bed at night with a story that will transport me elsewhere as I drift into dreamland.
Join me! These 15 books are certainly worth your time.
"The Fortunes of Jaded Women" by Carolyn Huynh
Years ago, when Oanh left her marriage to pursue true love, a witch put a curse on her and her descendants: They would never find love or happiness and would only bear daughters, not sons. In Orange County's Little Saigon today, descendant Mai is divorced with three grown daughters and two younger sisters from whom she is estranged. Yet Mai finds contradictory evidence in a Hawaiian psychic who predicts that year would see a marriage, a funeral, and the birth of a son. An incisive look into culture, family, communication, and charisma, this novel shows what it takes to really break a curse.
"The Fortunes of Jaded Women" is also the "Good Morning America" Book Club pick for September. Read an excerpt here.
"A Place Called Home: A Memoir" by David Ambroz
Child welfare advocate David Ambroz was recognized by former President Barack Obama as an American Champion of Change. But you might not know that he grew up homeless for 11 years and was then in foster care. As the horrors of David's childhood unfold in his brilliant narrative -- his mother's battle with mental illness, bathing in public restrooms, stealing food, coping with abuse in foster homes -- his only salvation is the library. It's hard to sit still and not leap up to help solve societal problems after reading Ambroz's tale of bravery and resilience.
"The Deceptions" by Jill Bialosky
The unnamed narrator in "The Deceptions" is dealing with a lot: a strained marriage, a child who has left home, a poetry collection about to come out, and her job teaching at an all-boys school in New York City. She takes to the Metropolitan Museum of Art to center herself and remembers a long-lost friendship circling around the gods and statues, who take on real characteristics as she revisits her past. But what is real? And who can she turn to when something terrible happens?
"How Not to Drown in a Glass of Water" by Angie Cruz
Author of "GMA" Book Club pick "Dominicana," Angie Cruz is back with the intimate tale of Cara Romero who loses her factory job in her 50s and must pivot to something new. When she consults a job counselor to regroup, she starts sharing her life history. In a series of 12 sessions, divided in the book itself, Cara's life unspools as we learn about her life and relationships in this creative novel.
"The Power of Unwavering Focus" by Dandapani
Sometimes it takes a Hindu priest to really get us to relax and reevaluate. Renowned speaker Dandapani reveals that focus is salvation from anxiety and fear. After spending 10 years in a monastery, Dandapani learned how helpful and essential the power of concentration really was. In his book, he shares specific tips and techniques to having better relationships, energy, productivity -- and a better life.
"If I Survive You" by Jonathan Escoffery
A series of interconnected short stories, "If I Survive You" is a powerful new narrative set in the 1970s about a Jamaican family in Miami. Going through Hurricane Andrew, the recession and even a cursed house only strengthened this family's resolve. One son, Trelawney, even ends up homeless. And yet, as the family confronts racism, capitalism, and exclusion as immigrants, they learn to navigate the white world into which they've fallen.
"One Hundred Saturdays: Stella Levi and the Search for a Lost World" by Michael Frank
One hundred Saturdays. That's how long it took for gifted author Michael Frank to get to the heart of Stella Levi's Holocaust story and her life history, which began in Jewish Rhodes. The Jewish community in Rhodes earned the distinction of being the group forced to travel the farthest to be executed under Hitler's rule. But Stella's story isn't just about survival, it's also about family, reinvention and faith. Told from the author's point of view over the course of 100 meetings, each with its own short chapter, this story is a unique glimpse at a forgotten history that we all must learn.
"The Mean$" by Amy Fusselman
Oh, this is delicious. Memoirist Amy Fusselman's debut novel focuses of Shelly Means, the Midwestern-born, wealthy, stay-at-home mom who is determined to land a beach house in the Hamptons -- even if it is a shipping container style home in the least glamorous part of town. But when her thrifty husband loses his job, her plans start to fall apart. Shelly refuses to let that happen in this family tale of striving and real estate dreams.
"The Black Period: On Personhood, Race, and Origin" by Hafizah Augustus Geter
Acclaimed poet and literary agent Hafizah Augustus Geter tells her history of growing up the queer daughter of a Muslim Nigerian immigrant and a Black American visual artist. After the tragic death of her mother from a stroke when Hafizah was 19 and her father's subsequent triple bypass, Hafizah's real pain began. As she deconstructs pain, race, disability, and identity, Hafizah uses beautiful language to paint a picture of her unique voyage.
"Drunk on Love" by Jasmine Guillory
New York Times bestselling author Jasmine Guillory knows how to manufacture passion and heat. In her latest novel, protagonist Margot Noble runs the family winery in small town Napa, where a stranger named Luke arrives just in time for a one-night stand. But the next day, Margot finds out he's the new hire. Luke, a Silicon Valley dropout is hiding out (even from his mom's expectations) at the winery. Finding passion so quickly wasn't in his plans. The ensuing flirtations, consummations and more make this an irresistible book club read, complete with a bottle of vino.
"The Matchmaker's Gift" by Lynda Cohen Loigman
Sara Glikman is a Lower East Side matchmaker; she knew she was blessed with the gift even as a child in 1910. But a woman matchmaker? The devout older men who saw matchmaking as their job were not pleased with her intervention. Two generations later, Abby, Sarah's granddaughter, ends up a divorce attorney to the rich and famous -- not quite the same gift. When Abby inherits her grandmother's journals, she discovers a mysterious promise to a stranger that throws her entire career into question. Which end of the equation does she really want to be on?
"The Marriage Portrait" by Maggie O'Farrell
I was obsessed with the novel Hamnet. Brilliant, original and memorable, Hamnet is unforgettable. I still feel like I'm wandering in the woods, running for the doctor, and learning about Shakespeare. Now Maggie O'Farrell has returned with another novel, this one a dazzling delight about a duchess in 16th century Florence. The young Lucrezia is forced to marry her older sister's betrothed after her sister's sudden death, but once she's ensconced in the new court, her very survival depends on her ability to provide an heir.
"The Gospel of Wellness: Gyms, Gurus, Goop, and the False Promise of Self-Care" by Rina Raphael
Okay, now I don't feel so bad about not working out that often. Wellness has become a giant industry designed to have women part with what's in their wallets, journalist Rina Raphael concludes in this examination of the wellness business. Can eating right, exercising and follow all the steps actually make over-programmed, stressed women feel better -- or not? For anyone who has ever sipped a green juice, eaten kale, tried a new workout or decided to do none of the above, this book is a must.
"May Cause Side Effects: A Memoir" by Brooke Siem
This book is so good. You may know Brooke Siem from her one episode of "Chopped" in which she mastered chocolate, caviar, seaweed, and crabs, or from her many articles and essays. But now you'll know her as a truly talented memoirist and observer, one who has undertaken the under-documented act of getting off antidepressants. The withdrawal symptoms Brooke experienced were themselves like a psychotic break, but she was determined to get off the meds prescribed to her at age 15 after the sudden death of her father. Brooke takes us from teetering over the edge of a 30th floor high-rise window -- contemplating jumping -- to being stung by swarms of jellyfish while scuba-diving; from the cameras of the Food Network to the streets of Reno, Nevada. A fresh new voice, Brooke is now an advocate for mental health awareness.
"Lucy by the Sea" by Elizabeth Strout
Pulitzer Prize winner and #1 New York Times bestselling author Elizabeth Strout blasts back on the scene this fall with a timely story about a divorced couple stuck together during lockdown. Taking her heroine from "My Name is Lucy Barton" to the beginning of the pandemic, Elizabeth writes about a seaside town in Maine where Lucy -- and William -- must stay. An ode to love and loss, this novel will resurface feelings of isolation, yet bolster them with love.