To the world Queen Elizabeth II was Her Majesty, but to the youngest members of her family, she was simply "Granny."
At the time of her death at age 96, the queen was a grandmother of eight and great-grandmother of 12.
'Thinking big about Granny's quite easy because she's this incredibly passionate lady who has sort of transcended every generation," Princess Beatrice, a granddaughter of the queen, told ABC News in 2012, when the queen marked her 60th year on the throne. "And we're very lucky that not only do we think about her as an incredible queen, and an incredible leader but also as an incredible grandmother."   
Elizabeth, who had four children with her husband, the late Prince Philip, first became a grandmother in 1977 with the birth of Peter Phillips, the son of her daughter, Princess Anne.
She went onto welcome seven more grandchildren over the next three decades: Zara Phillips Tindall, Princes William and Harry of Wales, Princesses Beatrice and Eugenie of York and Lady Louise Windsor and James, Viscount Severn.
Those grandchildren also made her the great-grandmother of 12, including Prince Harry's daughter, Lilibet, who made history as the first great-grandchild of the queen to be born outside of the United Kingdom.
Despite all the pageantry of the royal family, her grandchildren have said that behind palace walls, she was no different than any other grandmother.
"She loves those little moments where we can be just us, a very small family, just doing little things like playing cards or whatever we do," said Princess Beatrice. "And she likes just having her time to do that because it's the time when we all can just kind of hang around together and it's quite nice."
"We look up to her like any granddaughter would to their grandmother, with a little bit of added something," Beatrice's sister, Princess Eugenie, also told ABC News in 2012.
In June, Elizabeth was seen in action as great-grandmother while talking with 4-year-old Prince Louis, the youngest child of Prince William and Kate, the Duchess of Cambridge, during the annual Trooping the Color.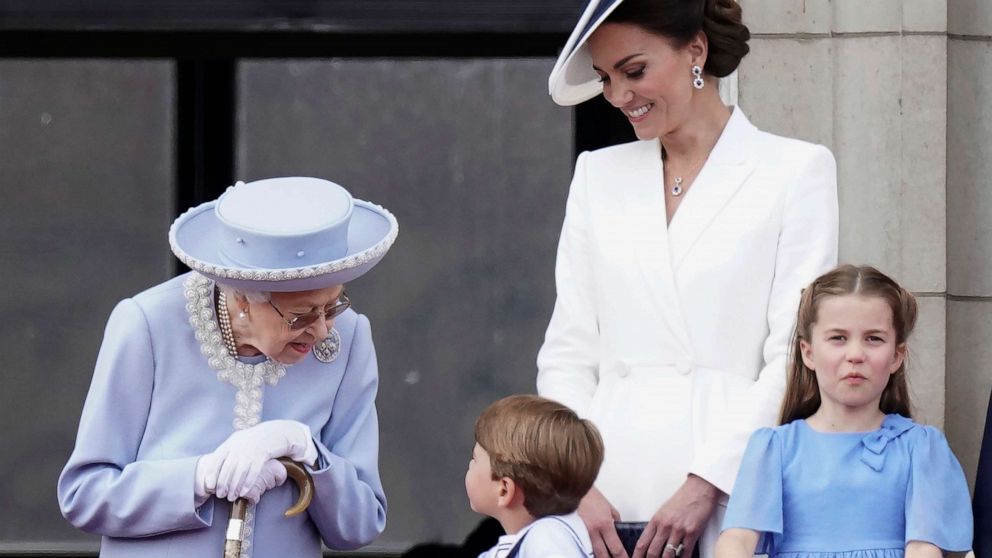 The queen's grandchildren have also spoken of the example she set for them with her sense of duty and service to the country.
"She set an incredible example to me, to others, to follow her leadership, her duty, her sacrifice, her selflessness, her love of country," Prince William said in 2012. "I think they really, really shine through."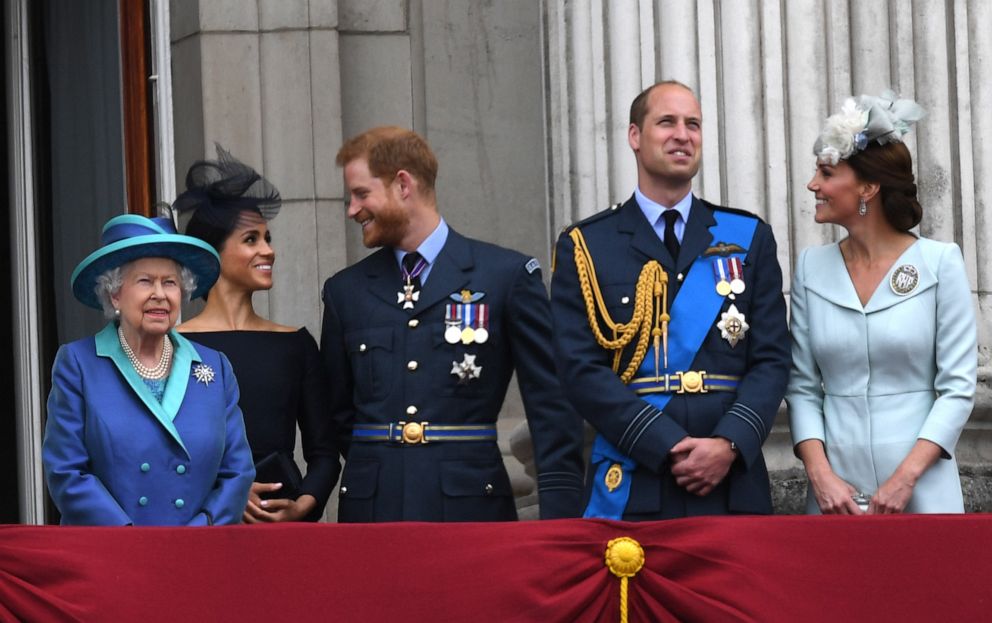 Prince Harry, who, like William, served in the British military, said he has also looked up to his grandmother as his commander-in-chief.
"Because of my time in the service, the utmost of respect that I have not just as a grandmother, she was my boss for 10 years," Harry told "Good Morning America" co-anchor Robin Roberts in 2016. "And I viewed her very much like that."
The prince later added of his relationship with the queen, "It's really nice because I can go to her for advice and bend her ear with all the experiences she's had."
Here is a look back at 10 memorable moments the queen has shared with her grandchildren and great-grandchildren.
1. Young Prince William during a photo session for Prince Harry's christening
Prince William made everyone crack a smile in this family portrait session for his brother's christening in 1984. You can see Queen Elizabeth in the background smiling at William's antics.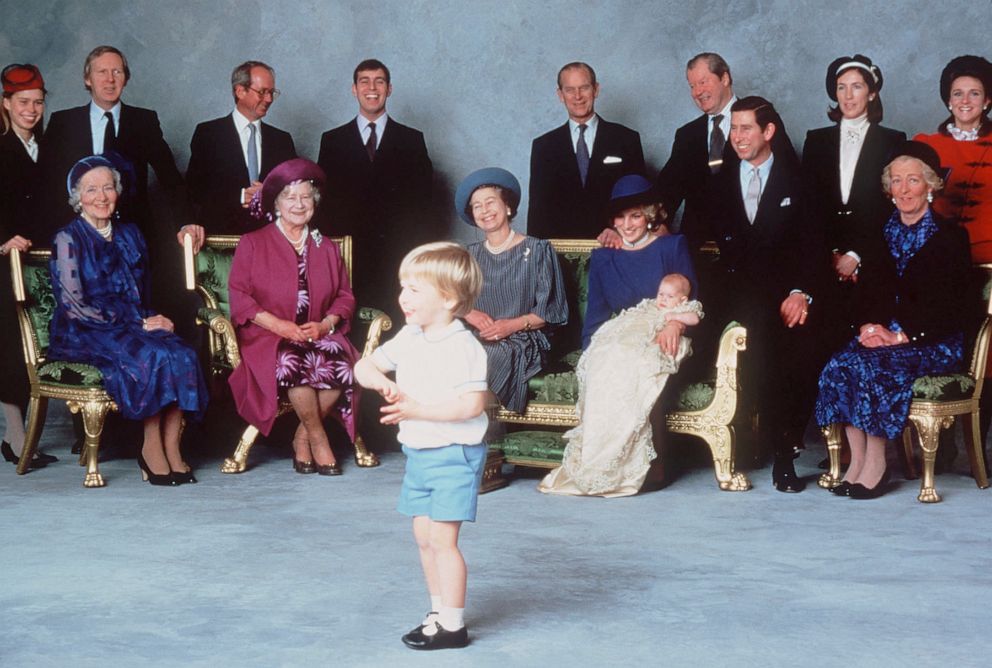 2. Quality time at a polo match
This sweet moment of Elizabeth talking to her grandsons was captured in 1987. In this photo, William and Harry watch a polo match.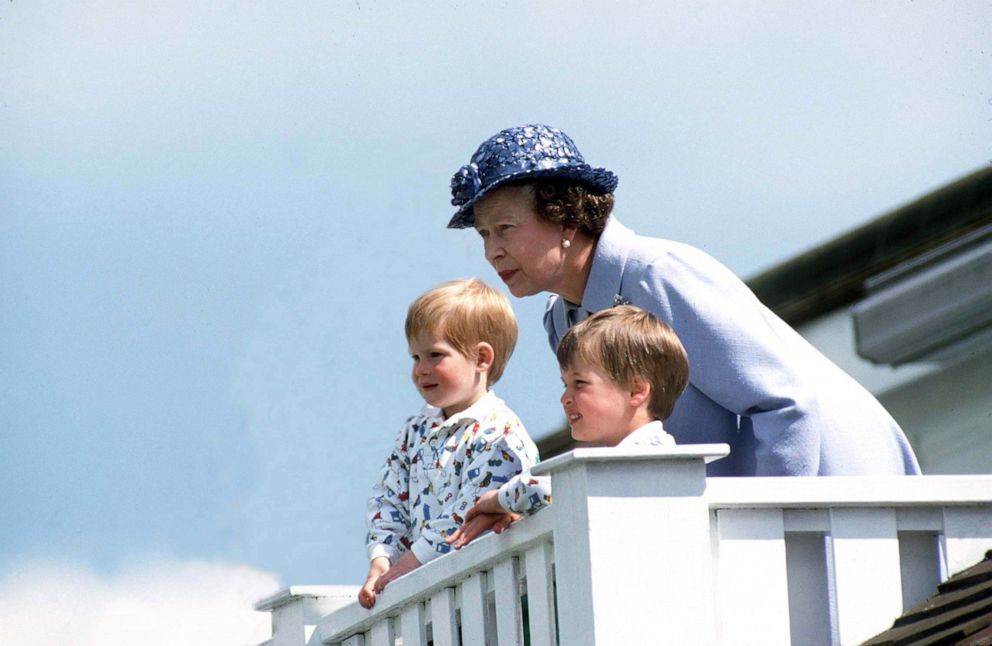 3. Reading with the queen
A young Zara Tindall reads with the queen at an event in 1987. Zara Tindall is the eldest granddaughter of the queen and the daughter of Princess Anne.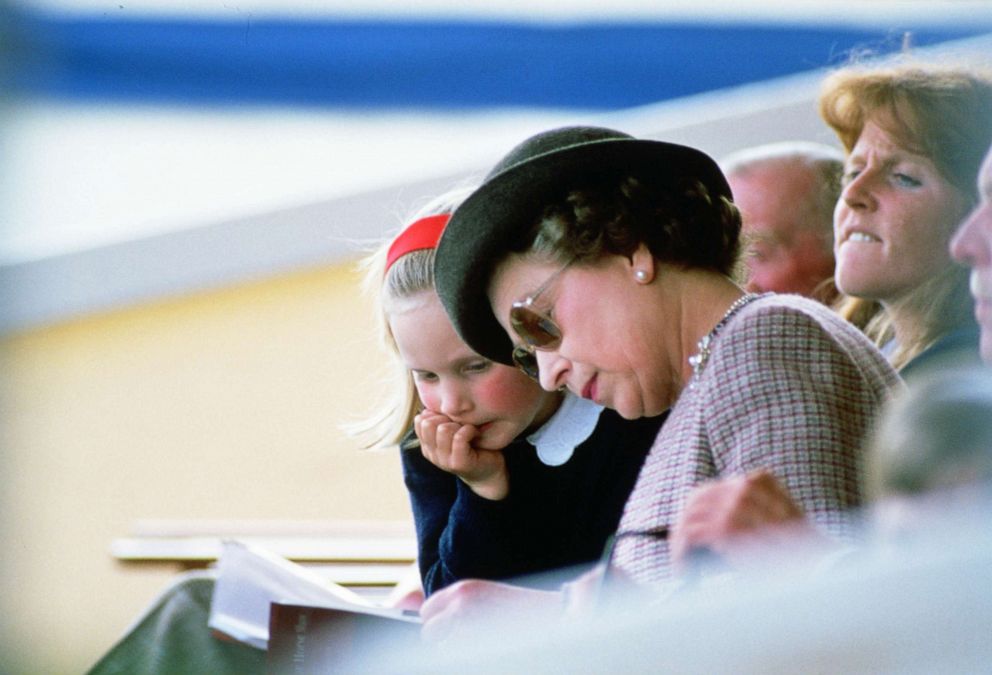 4. Grandmotherly inspection
Prince Harry holds in his laughter in this photo as Elizabeth inspects soldiers during the Sovereign's Parade at Sandhurst Military Academy.
5. Taking a walk with the queen
In this rare photo, young Prince George captures the attention of his great-grandmother while leaving the Church of St. Mary Magdalene after Princess Charlotte's christening in 2015.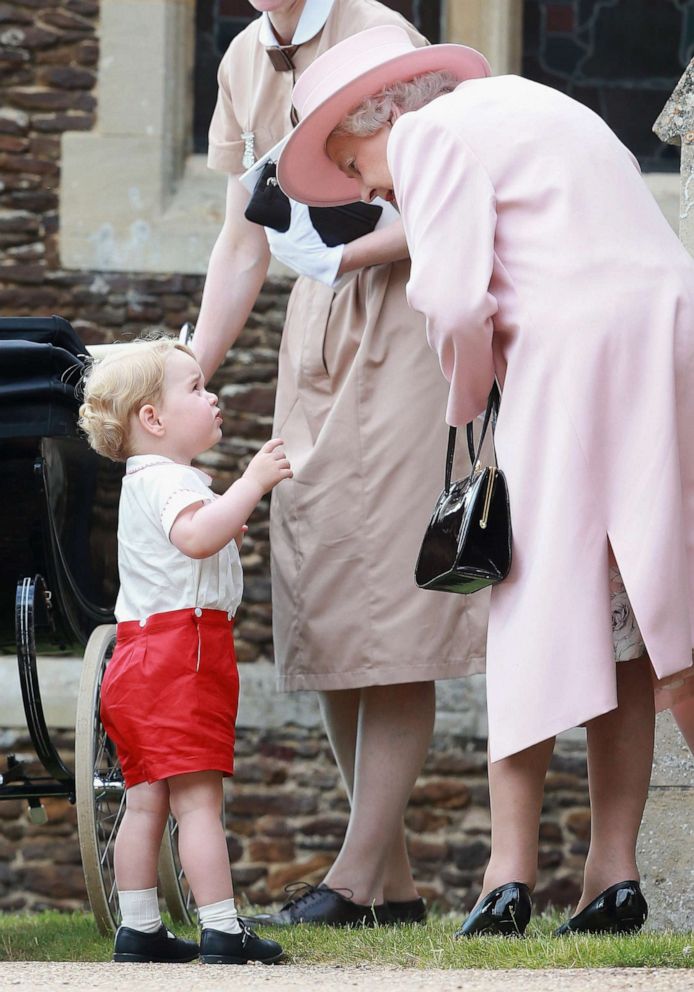 6. All fun at the Invictus Games
In 2016, Kensington Palace shared a video on Twitter of the queen and Harry responding to an Invictus Games challenge by former President Barack Obama and former first lady Michelle Obama. After Michelle Obama challenged the prince, the queen quipped, "Really? Please!"
7. Sharing a passion for horses
The queen and Peter Phillips watch the horses at Royal Ascot on June 20, 2014 in Ascot, England.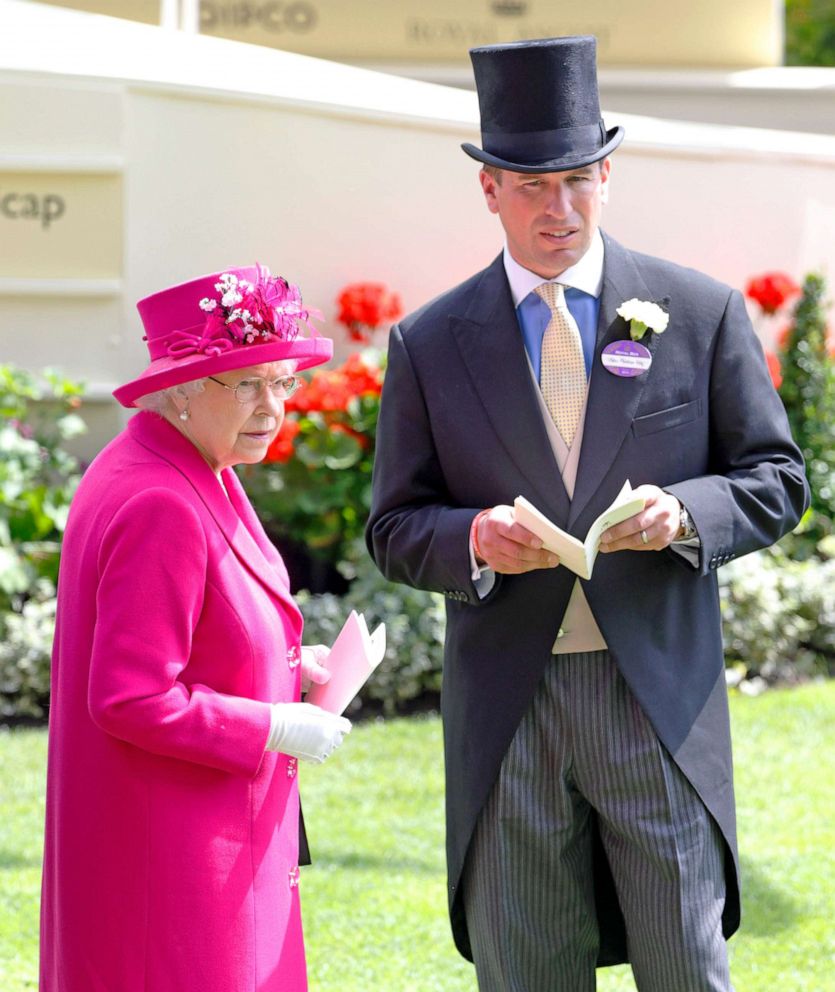 8. Enjoying a wave with the queen
The queen's youngest grandchildren, Lady Louise Windsor and James, Viscount Severn, join her and other family members after Prince Harry and Meghan's wedding in 2018.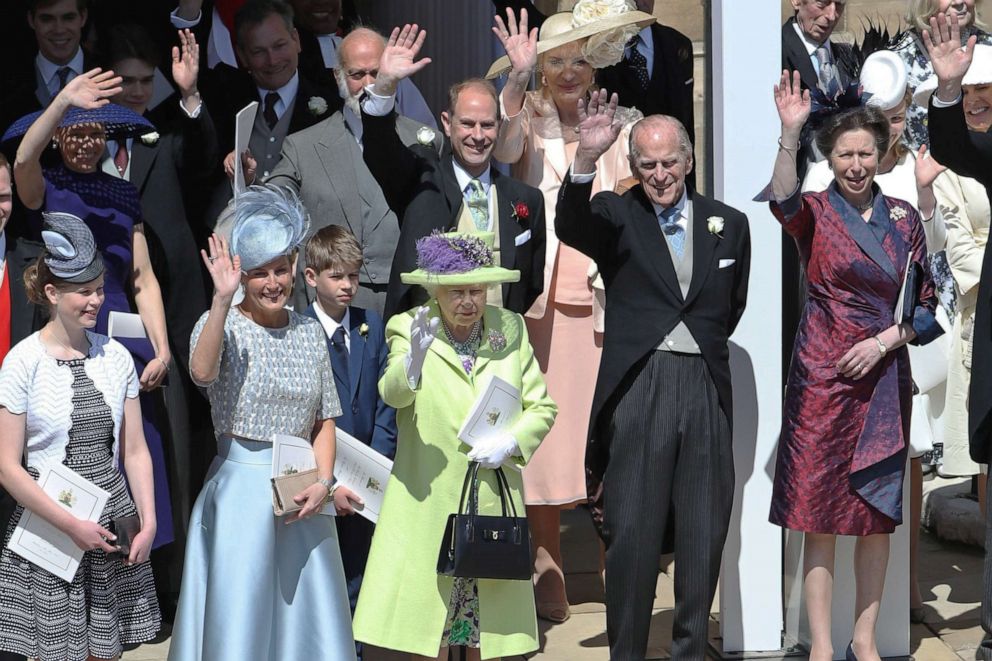 9. Celebrating at a garden party
Prince Harry and Princesses Beatrice and Eugenie join their grandmother at the Royal Garden Party at Buckingham Palace in 2019.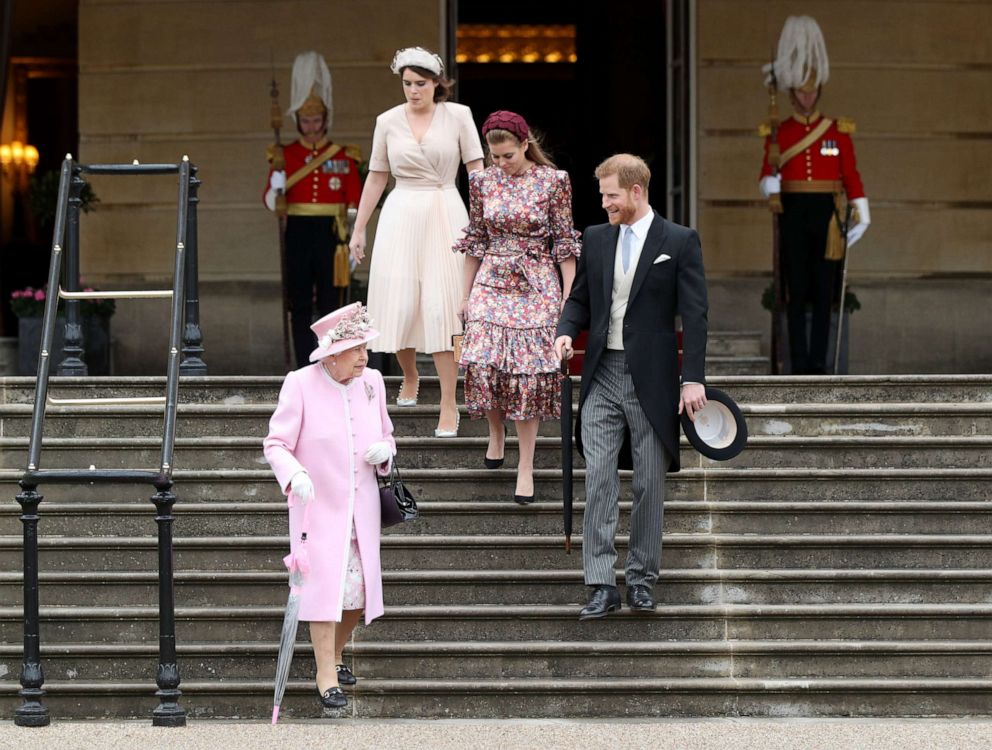 10. Celebrating her Platinum Jubilee
The queen proved to be a good sport while standing next to Prince Louis, 4, on the balcony of Buckingham Palace during Trooping the Color, which kicked off her Platinum Jubilee celebration on June 2, 2022.