Prince Harry and Meghan, the Duke and Duchess of Sussex, welcomed their second child, a girl, on Friday, and gave her a name full of meaning for the couple.
The American Royal Baby
An insider's look at the life of Prince Harry and Meghan Markle's new daughter has as the first American born into the senior British Royal family in the U.S.
Harry and Meghan's daughter, Lilibet "Lili" Diana Mountbatten-Windsor, is named after Harry's grandmother, Queen Elizabeth, and his mother, the late Princess Diana.
"Lili is named after her great-grandmother, Her Majesty The Queen, whose family nickname is Lilibet. Her middle name, Diana, was chosen to honor her beloved late grandmother, the Princess of Wales," the Sussexes' press secretary said in a statement Sunday announcing the baby's birth.
Lili would be Princess Diana's fifth grandchild, joining her brother, Archie, 2, and cousins Prince George, 7, Princess Charlotte, 5, and Prince Louis, 3, the children of Prince William and Kate.
Diana died unexpectedly in 1997, following a car crash in Paris. Her sons, William and Harry, were just 15 and 12, respectively, at the time.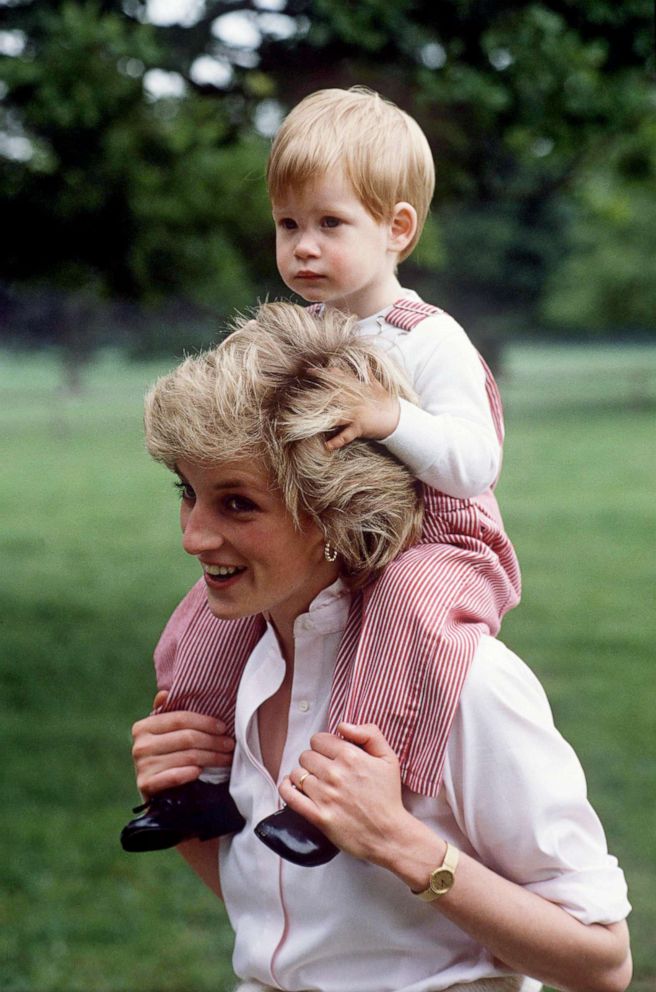 In a 2016 interview with "Good Morning America" co-anchor Robin Roberts, Harry spoke about his mom and his work to keep her legacy alive.
"We will do everything we can to make sure that she's never forgotten and carry on all the special gifts, as such, that she had and that she portrayed while she was alive," Harry said of Diana, whom he has described as "resilient, brave and unquestionably honest."
"I hope that a lot of my mother's talents are shown in a lot of the work that I do," he reflected. "I hope she's looking down, you know, with tears in her eyes, being incredibly proud of what we've established, I suppose."
Harry, who at the time was years away from meeting his future wife, Meghan, also said, "I'm sure she's longing for me to have kids so she can be a grandmother again."
Harry has more recently discussed the grief he has experienced in the decades since Diana's death, and the role her death played in his and Meghan's decision to step away from their roles as senior members of Britain's royal family.
The Sussexes now live in Meghan's home state of California, where Lili was born at Santa Barbara Cottage Hospital in Santa Barbara on June 4.
"We chose to put our mental health first. That's what we're doing and that's what we will continue to do," Harry said in "The Me You Can't See," the mental health documentary he co-executive produced with Oprah Winfrey. "Isn't this all about breaking the cycle and isn't this all about making sure that history doesn't repeat itself?"
Harry and Meghan have faced tensions in the royal family since their departure last year, but Harry has continued to speak fondly of his grandmother, Queen Elizabeth.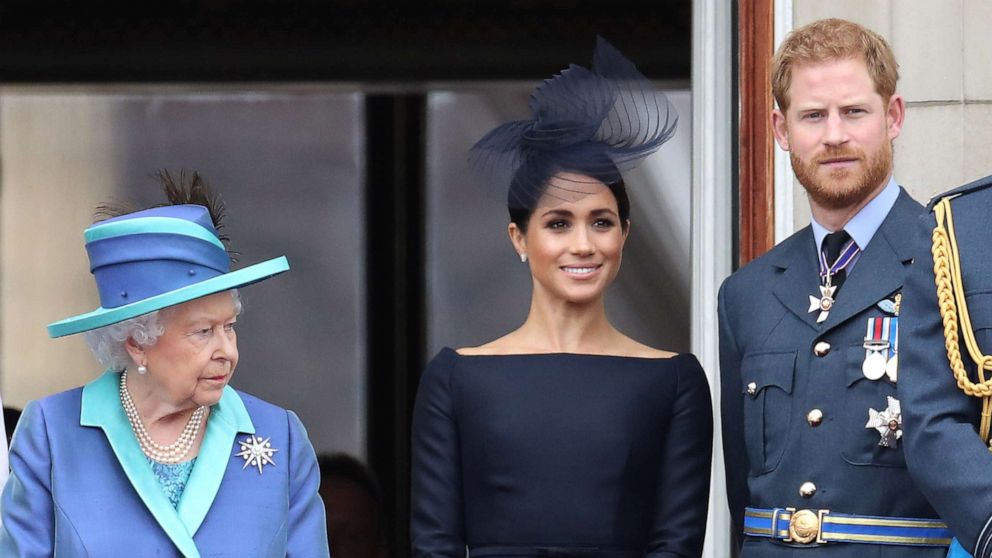 "My grandmother and I have a really good relationship and an understanding, and I have a deep respect for her," Harry said in an interview with Winfrey earlier this year.
Harry also told Winfrey the queen has been "amazing throughout" his relationship with Meghan, a sentiment echoed by Meghan, who said the queen was one of the first family members she met in her relationship with Harry.
"The Queen, for example, has always been wonderful to me," the duchess said. "I mean, we had one of our first joint engagements together. She asked me to join her."
"I just really loved being in her company," said Meghan, who added the queen gave her pearl earrings and a matching necklace for their June 2018 joint engagement. "And I remember we were in the car ... going between engagements, and she has a blanket that sits across her knees for warmth, and it was chilly and she was like, 'Meghan, come on,' and put it over my knees as well."
"It made me think of my grandmother, where she's always been warm and inviting and really welcoming," Meghan said.
The Sussexes' newborn daughter is the 11th great-grandchild for Queen Elizabeth and Prince Philip, who passed away in April.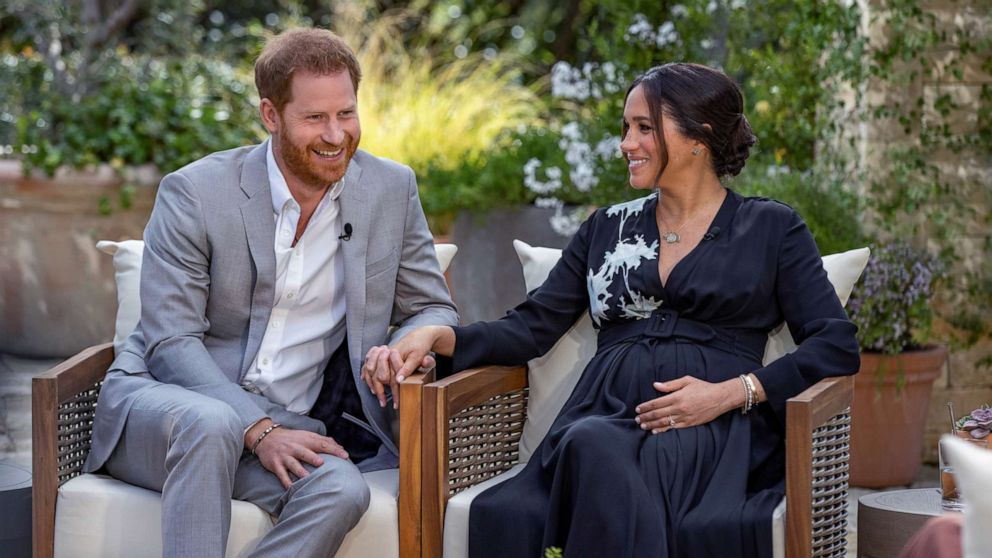 "I think it certainly shows how close they have always been with the queen," said Omid Scobie, ABC News royal contributor and the co-author of "Finding Freedom." "They've both spoken so warmly about that close relationship, and of course naming their daughter Lilibet, or Lili for short, is such a sweet nod to the queen. It shows how close they are and how continually close they will be with the queen moving forward."
Speaking of the excitement around Lili's birth, Scobie added, "We've had a year of a lot of tension and ups and downs with the royal family, particularly after the sad news of Prince Philip's death, so I think celebrating the arrival of new life has everyone very excited and perhaps forgetting about some of those darker moments that the Sussexes went through over the past year."
Buckingham Palace issued a statement following Lili's birth, saying, "The Queen, The Prince of Wales and The Duchess of Cornwall, and The Duke and Duchess of Cambridge have been informed and are delighted with the news of the birth of a daughter for The Duke and Duchess of Sussex."
Lili, who weighed 7 lbs, 11 oz at birth, is the first senior royal baby born in the United States, and the first great-grandchild of the queen to be born outside of the United Kingdom.
"On June 4th, we were blessed with the arrival of our daughter, Lili," Harry and Meghan said in a statement on the website of their Archewell organization. "She is more than we could have ever imagined, and we remain grateful for the love and prayers we've felt from across the globe. Thank you for your continued kindness and support during this very special time for our family."