Queen Elizabeth issued a statement Tuesday in response to Prince Harry and Meghan's bombshell interview with Oprah Winfrey, making it clear any fallout from the interview will be handled privately, as a family.
"The whole family is saddened to learn the full extent of how challenging the last few years have been for Harry and Meghan," Buckingham Palace said in a statement released on behalf of the queen. "The issues raised, particularly that of race, are concerning. While some recollections may vary, they are taken very seriously and will be addressed by the family privately."
"Harry, Meghan and Archie will always be much loved family members," the statement read, referring to Harry and Meghan's nearly 2-year-old son, Archie, a great-grandson of the queen.
Harry and Meghan, who are expecting their second child, appeared to take great pains in their interview with Winfrey to praise the queen, even as they revealed Meghan's serious mental health struggles as a royal, made allegations of racism within the royal family and claimed they were cut off financially and denied security protection.
After claiming that conversations were had with Harry ahead of Archie's birth about "how dark" his skin might be, Harry later made clear to Winfrey that Queen Elizabeth and Prince Philip were not involved in the alleged conversations about Archie's race.
Harry also told Winfrey the queen has been "amazing throughout" his relationship with Meghan, a sentiment echoed by Meghan, who said the queen was one of the first family members she met in her relationship with Harry.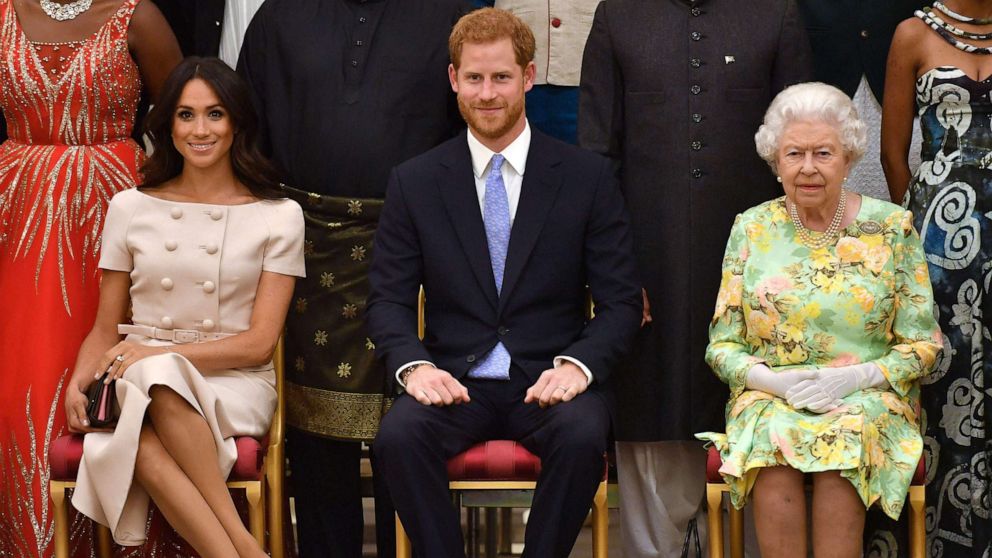 "The Queen, for example, has always been wonderful to me," the duchess said. "I mean, we had one of our first joint engagements together. She asked me to join her."
"I just really loved being in her company," said Meghan, who added the queen gave her pearl earrings and a matching necklace for their June 2018 joint engagement. "And I remember we were in the car ... going between engagements, and she has a blanket that sits across her knees for warmth, and it was chilly and she was like, 'Meghan, come on,' and put it over my knees as well."
"It made me think of my grandmother, where she's always been warm and inviting and really welcoming," Meghan said.
Harry told Winfrey of his current relationship with the queen, "I've spoken more to my grandmother in the last year than I have done for many, many years. My grandmother and I have a really good relationship and an understanding, and I have a deep respect for her," he said. "She's my commander-in-chief, right? She always will be."
Despite their praise for the 94-year-old queen, Harry and Meghan in the interview painted a portrait of the royal institution as an environment that left them no choice but to step down last year as senior, working members of the royal family.
Harry, sixth in line to the throne, described the situation as "toxic" and said a "lack of support" and "lack of understanding" led to his and Meghan's rocky departure from their royal roles. He also described his father, Prince Charles, and brother, Prince William, first and second in line to the throne, respectively, as "trapped" within the system.
"My father and my brother, they are trapped. They don't get to leave," Harry said. "And I have huge compassion for that."
Harry's father, Charles, the oldest of Queen Elizabeth's and Prince Philip's four children, made his first public appearance since the interview shortly before the queen's statement was released.
While visiting a COVID-19 vaccine clinic in north London on Tuesday, Charles did not respond to a reporter who asked him for his reaction to his son and daughter-in-law's interview.
One potential conflict still faced by Buckingham Palace in the interview's fallout is the palace's announcement last week that it plans to open an investigation into allegations of bullying made against Meghan by former staff members.
Meghan told Winfrey that she reported her serious mental health struggles to the palace's human resources department and was denied help.
"I went to human resources, and I said, 'I just really, I need help,' because in my old job there was a union, and they would protect me," Meghan, a former actress, told Winfrey. "And I remember this conversation like it was yesterday because they said, 'My heart goes out to you because I see how bad it is, but there's nothing we can do to protect you, because you're not a paid employee of the institution.'"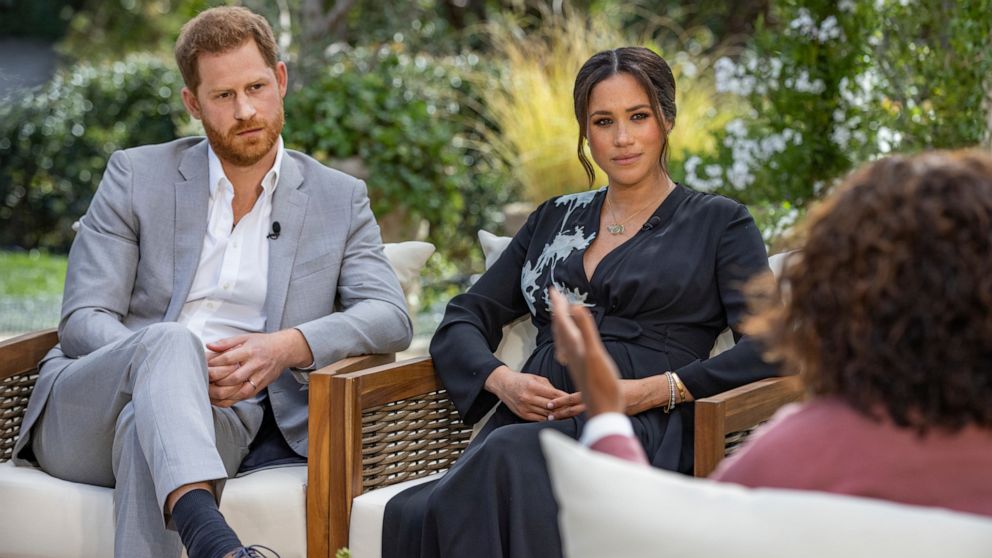 The allegations are something Buckingham Palace aides will have to take into account as they continue to deliberate how to move forward, according to Chris Ship, royals editor for ITV, the U.K. television channel where around 12 million viewers watched the Winfrey interview Monday night.
"How can it be that the system can't help someone who is the wife of a senior royal, but it could help someone if [they were] a paid employee of the palace?" Ship said Tuesday on "Good Morning America." "None of it makes sense. That's why the palace has got to sort of look at its inner workings and decide what went wrong."
The queen's statement on Tuesday was the first official comment from a member of the royal family about the interview.
Harry and Meghan have not commented on the queen's statement.
Alastair Bruce, ABC News' royalty consultant and a longtime royals reporter, put Queen Elizabeth's statement in context, saying it represents her "classic, measured and minimalist tone," in contrast with "the more public declarations by Harry and Meghan."
"Gone are the titles that traditionally grace a royal statement, in respect of the new life chosen by Meghan and Harry, said Bruce. "The damaging claim over race is acknowledged and the implication is that this will be addressed 'privately' within the family."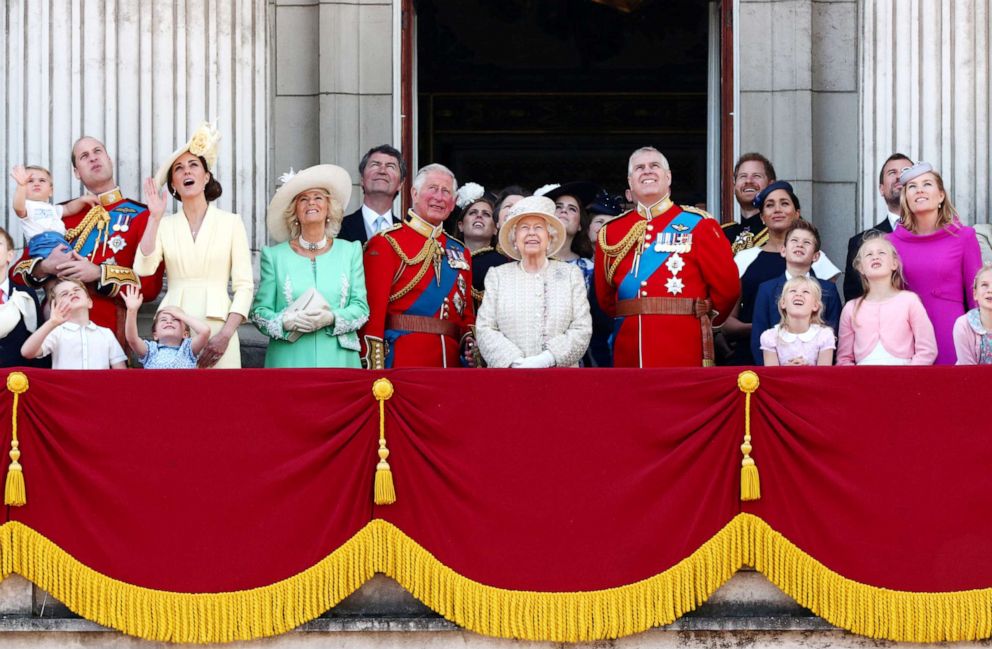 "But, note the reference to recollections: here is the nub, and this is what may be at the heart of the sadness declared," he said. "The allegations were many and they may float for decades but this is not a family that will invite Oprah [Winfrey] in to solve the matter, or raise the stakes."
"The conclusion is one of love," Bruce added. "Love is the principal Christian virtue by which the queen enfolds her family, in the full awareness that public service to the U.K. and the Commonwealth is not easy. In that love is always the promise - and hope - of forgiveness. The queen has offered balm here."
Meghan speaks out on 'right to privacy,' father's tabloid scandals
In a previously unaired clip from the interview, released Monday, Meghan opened up about her estrangement from her father, Thomas Markle, who spoke out to tabloids ahead of Harry and Meghan's 2018 wedding.
Thomas Markle did not attend the couple's wedding, citing health concerns at the time. Prince Charles walked Meghan down the aisle at St. George's Chapel in place of her dad.
"There was such an obsession about anything in my world, including tracking down my parents. And I did everything I could to protect both of them in that media frenzy," Meghan told Winfrey. "But for over a year, the U.K. tabloids were trying to find my dad, offering people so much money to try to find his address. Once they did, I remember being told there was a huge headline like, 'We found him' or 'We've got him.'"
"You're talking about someone's father. And from that point, the tabloids, they moved into the apartment next door and across from him. Descended on this small town, which is giving him gifts," she said. "The whole thing brings us to where we are today."
Asked if she felt betrayed by her father, Meghan -- who recently won a privacy lawsuit against a U.K. tabloid that published portions of a letter she wrote to him -- said she did not know if she was comfortable "even talking about that."
"If we were going to use the word betrayal, it's because when I asked him, when we were told by the [communications] team, this is a story that was going to be coming out, which, by the way, the tabloids had apparently known for a month or so and decided to hold until the Sunday before our wedding because they wanted to create drama, which is also a really key point in all this," she said, adding that tabloids "create the news." "We called my dad, and I asked him, and he said, 'No, absolutely not.'"
"I said, 'You know, the institution has never intervened for anything for us, but they can try to go in and kill this story, but if they do this once, we're not going to be able to use that same leverage to protect our own kids one day,'" Meghan recalled. "I said, 'So I just need you to tell me and if you tell me the truth, we can help,' and he wasn't able to do that."
"That for me has really resonated, especially now as a mother," she said, later adding of her nearly 2-year-old son Archie, "I think about this child and I go I can't, I genuinely can't imagine doing anything to intentionally cause pain to my child."
Speaking of her mother, Doria Ragland, who was Meghan's only family member to attend her wedding, the duchess said, "You've never heard her say a word. She's remained in silent dignity for four years watching me go through this."
Thomas Markle responded to his daughter's interview with Winfrey in an appearance Tuesday on "Good Morning Britain," claiming he has apologized to the Sussexes "at least 100 times or so."
"Bottom line, I've never heard back from Meghan and Harry in any way shape or form. What I do if I don't hear from them is I'll do another story for the press," he said. "I've yet to hear from them. I would love to hear from them. They're not talking to me. When they decide to talk to me, I'll stop talking to the press."
"I've been pushed around and knocked down for one big mistake I made," he added.
As her father spoke to the press, a second released clip showed Meghan speaking to Winfrey about her "basic right to privacy," even as she is in the public eye because of her relationship with Harry.
"I think everyone has a basic right to privacy. Basic," she said. "And we're not talking about anything that anybody else wouldn't expect."
Meghan, who, with Prince Harry, has been a fierce opponent of British tabloids, added that she has never talked about privacy, calling it "just a basic understanding."
"I think life is about being able to share our stories and share parts of our lives that you're comfortable with," she said. "There's no one who's on Instagram or social media that would say, 'Because I shared this one picture, that entitles you to have my entire camera roll. Go ahead, look through it.' No one would want that, so it's about boundaries and it's about respect."