Amanda Gorman, the poet who captivated the country's attention at the inauguration of President Joe Biden and Vice President Kamala Harris, can add another title to her resume: model.
The 22-year-old Los Angeles native has signed with IMG Models, the same agency that represents supermodel sisters Gigi and Bella Hadid.
IMG Models confirmed in a tweet that they are now representing Gorman, but have not yet released further details on partnerships or deals for the Harvard graduate.
Gorman became the breakout star of the inauguration with her poem, "The Hill We Climb," earning praise from the likes of Oprah Winfrey, who gifted Gorman her inauguration jewelry, Lin-Manuel Miranda, former first ladies Hillary Clinton and Michelle Obama, and former presidents Bill Clinton and Barack Obama.
In the week since her inauguration performance, Gorman's stardom has skyrocketed.
She has gained millions of followers on Instagram and Twitter and watched as her upcoming books soared to the top of Amazon's bestseller lists ahead of their release dates.
Her book, "The Hill We Climb: An Inaugural Poem for the Country" will be published on March 16, 2021, and "Change Sings: A Children's Anthem" and "The Hill We Climb and Other Poems" will be published on Sept. 21, 2021.
The books' publisher, Penguin, announced Thursday it has ordered a first printing of one million copies for each of Gorman's three books.
Gorman, the youngest poet to read at a presidential inauguration, also has been chosen to play a role in next month's Super Bowl in Tampa, Florida, alongside superstar musicians Miley Cyrus, H.E.R., The Weeknd, Eric Church and Jazmine Sullivan.
"Good Morning America" confirmed on Wednesday that Gorman will be taking part in Super Bowl LV as part of the pregame show.
Gorman, who was raised by a single mom and who worked to overcome a speech impediment in her youth, was handpicked to read at the inauguration by first lady Jill Biden.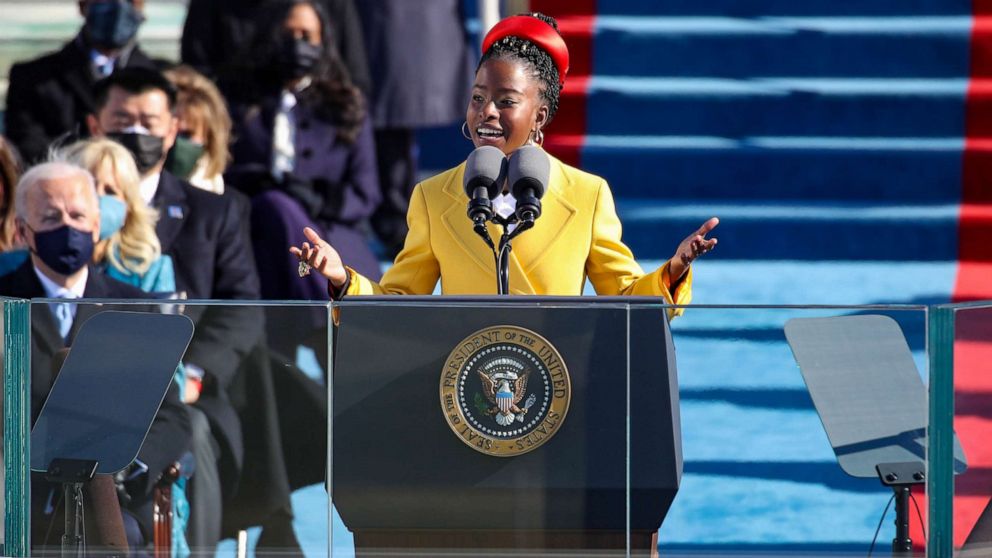 She told "GMA" the day after the inauguration that she was "honestly shocked" at the invitation.
"I had not been expecting at 22 that they would trust me with such an honor," she said. "I was also daunted at the same time. I was honestly scared of writing such a poem. I wasn't sure that I could even do it justice, but I'm so glad that I put my best foot forward and did it."