'The Maid' by Nita Prose is 'GMA's' Book Club pick for January
ABC News Photo Illustration
Zibby Owens is a contributor to "Good Morning America." She is the creator and host of award-winning podcast "Moms Don't Have Time to Read Books™️," an author and a mother of four.
New year, new you? Um, more like: Are we sure this won't be a repeat of 2020? With the COVID-19 omicron variant spreading like wildfire around the world, it's hard to feel anything but cautious when approaching 2022. Luckily, books can help us get through anything -- they always have. They'll delight us, distract us, entertain us and improve us.
Below are a few key titles coming out in January, so, grab a book, settle in and say a prayer that things will be looking up soon. Also, be sure to listen to my podcast, "Moms Don't Have Time to Read Books™️" for more conversations with the authors.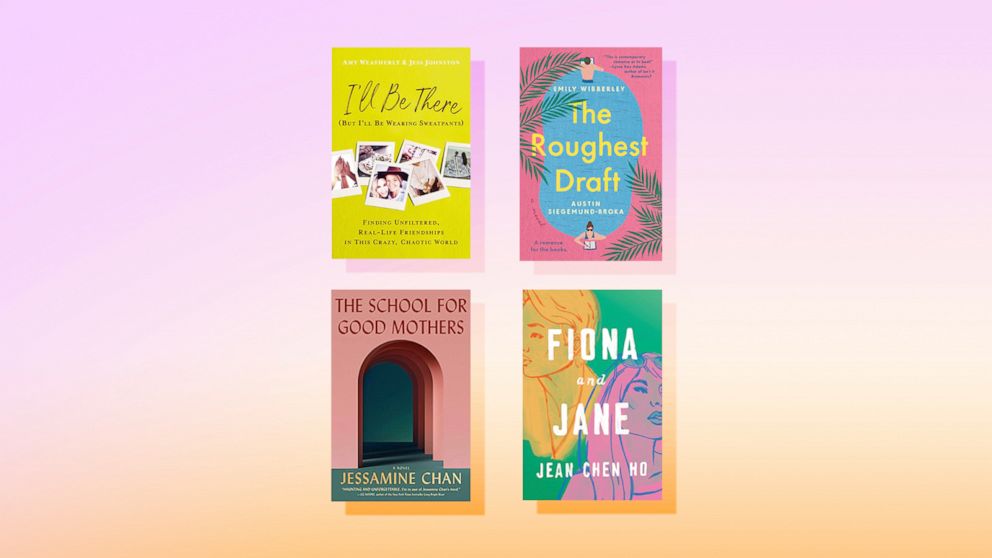 Jan. 4
"I Am Because We Are: An African Mother's Fight for the Soul of a Nation" by Chidiogo Akunyili-Parr
If you need a dose of courage, read this true story. You'll be incredibly inspired by Chidiogo Akunyili-Parr who, like Erin Brokovich, took on a massive, male-dominated industry as a female. In her book, Parr tells the story about the fraudulent drug manufacturers whose products killed millions of people, including her own sister. She was elected a cabinet minister and faced assassination attempts. Her own marriage and family suffered. This heroine tells a truly captivating and inspirational story that you won't believe isn't a novel.
"How to Raise an Intuitive Eater: Raising the Next Generation with Food and Body Confidence" by Sumner Brooks and Amee Severson
Help your kids have a healthy relationship with food, and maybe, change your own outcome as well. It's time to slough off the diet culture cloak and embrace the intuitive eating children are born with. This is what parents need to teach their kids -- and themselves -- especially those who want their kids to be confident, healthy adults. Don't we all?!
"The School for Good Mothers" by Jessamine Chan
In this debut novel, the protagonist, Frida Liu, is the daughter of Chinese immigrants. Her husband is cheating on her. Things seem pretty bleak. But at least she has her daughter. But when the government intervenes, she has to prove that she is, in fact, a good mother. This thought-provoking commentary on the pressures of modern motherhood and the lack of community support will entertain and make you think deeply about taking that next phone call when your little one is on the playground.
"Fiona and Jane" by Jean Chen Ho
Two young Taiwanese women navigate friendship and sexuality in this 20-year narrative. Living in New York and Los Angeles, Fiona and Jane tell alternating stories about what it's like to be Asian in America, the bonds of friendship as girls become women and what loyalty truly means.
"Let's Get Physical: How Women Discovered Exercise and Reshaped the World" by Danielle Friedman
As a die-hard Olivia Newton-John fan (Sandy!!), I couldn't wait to dive into this hot pink tome. I learned so much from Danielle Friedman's own story and the reporting she included. Did you know women sweating used to be frowned upon until very recently? The birth of the fitness movement is told in these pages including highlights of some pioneers in the industry and Danielle's own story. Now excuse me while I hop back on the Peloton.
"Seasonal Work: Stories" by Laura Lippman
A psychological novella: These captivating, gripping short stories are about family, marriage and work. This collection by crime master author Laura Lippman has all the ingredients for a decadent, edge-of-your-seat treat.
Jan. 18
"The Win-Win Diet: How to be Plant-Based and Still Eat What You Love" by Julie Wilcox
It's a new year, so I had to include one health/diet book. But really, Julie Wilcox's book is definitely not a diet in the way our mothers might have labeled it. It's a foundation for plant-based eating designed to strengthen and improve our health for the long term.
Jan. 11
"The Stars Are Not Yet Bells" by Hannah Lillith Assadi
As Elle descends into Alzheimer's, she reflects on the haze of questions that seem unanswered. How was her husband successful when he never found what he was looking for on their magical island? Whatever happened to that other gorgeous man? This matron, in Lyra since WWII, flashes back and contemplates the lives not lived. Or, perhaps, they did.
"Wahala" by Nikki May
If you've been obsessively watching "And Just Like That" like I have and crave stories about female friendships, this book is for you. "Wahala" is a debut novel that follows three Anglo-Nigerian best friends as they cope with impostor syndrome, marriage, life satisfaction, motherhood and more, all of which comes to light when a fourth friend breaks into their triad. (Samantha?!)
Jan. 15
"A Dream Life" by Claire Messud
Did anyone else love "The Emperor's Children"? This is a new novel by the author of that beautiful work of fiction. Alice Armstrong moves from New York City to Australia in the 1970s and feels massively out of place. An interior tale of relationships, deception and characters living in their own dream lives, this beautifully written slim book will not only transport you around the world but will remind you that wherever you go, there you are.
Jan. 18
"Manifesto: On Never Giving Up" by Bernadine Evaristo
It won the Booker Prize. Former President Barack Obama loved it. It was one of Roxane Gay's favorite books of 2019. "Girl, Woman, Other," Bernadine Evaristo's bestselling book, reached over 1 million readers. Now, she's back with a humorous memoir about growing up one of eight siblings with a Nigerian father and white Catholic mother, her queer relationships and how she founded Britain's first Black women's theater company.
"The Good Son" by Jacquelyn Mitchard
#1 New York Times bestselling author Jacquelyn Mitchard follows the agony of a mother after her son is convicted of a crime and what happens when he is released from prison years later. As she deals with community outrage and backlash against him, she starts to uncover more and more, giving her too many questions rather than answers.
Jan. 25
"Good Rich People" by Eliza Jane Brazier
In this twisty psychological thriller, a wealthy Hollywood Hills couple takes pleasure in conspiring to ruin the lives of inhabitants of their guest house … just for fun. Demi is the target of their little experiment. But what happens is something none of them expected.
"I'll Be There (But I'll Be Wearing Sweatpants): Finding Unfiltered, Real-Life Friendships in This Crazy, Chaotic World" by Amy Weatherly and Jess Johnson
This hilarious book is a primer on how to sustain and create friendships in today's messy reality. Co-creators of the popular community "Sister, I Am With You," Amy and Jess encourage us all to ditch the relationships that don't work for us and make true friendships a real priority -- an excellent new year's resolution!
"The Roughest Draft" by Emily Wibberley and Austin Siegemund-Broka
Katrina and Nathan are bestselling co-authors who have a falling out after their book's massive success. And yet they are bound by a contract to produce another book together. Against their wishes, they head back to the same small Florida town where they wrote the first book and end up learning more about themselves, each other and what it takes to create a final draft.