Meghan Trainor reveals that she has something up her sleeve on Oscars night
Presley Ann/FilmMagic via Getty Images
For Meghan Trainor, being pregnant with her first child during the COVID-19 pandemic has been full of ups and downs.
The pop star told "Good Morning America" she is feeling "super pregnant," "super happy" and "super blessed" these days and overall "like a super woman," despite sometimes having her "meltdowns."
The 26-year-old said the biggest con of the experience has been going to check-up appointments alone and without her husband, Daryl Sabara. Ever since the first ultrasound, she has been going to them solo and recording everything for him to watch later -- a reality she isn't a fan of since "it's his first baby, too."
On the flip side, Trainor noted the biggest pro was how she "didn't have to worry about leaking the news with a paparazzi pic" and stress about if an outfit would tip others off about her pregnancy before it was officially announced.
"I guess because I'm a bigger gal … I always got asked, 'Is that a baby bump?' And I'm like, 'No, that's just me,'" the Grammy winner said.
Trainor revealed her pregnancy on her own terms with an Instagram post of an ultrasound photo placed in a Christmas tree on Oct. 7. Later that same month, she confirmed she was expecting a boy.
The "Lips Are Movin'" singer admitted it's been "bizarre" having people ask her if she had a preference for which sex she wished her baby was -- especially when you consider she has picked out a name that works for either sex.
"If he changes his mind and wants to be any gender, that's great with me; that's fine," Trainor continued. "I just want him to be happy and live the best life."
As for what's got her most excited to become a mom, Trainor said it's "having another new best friend in my life that I love so much."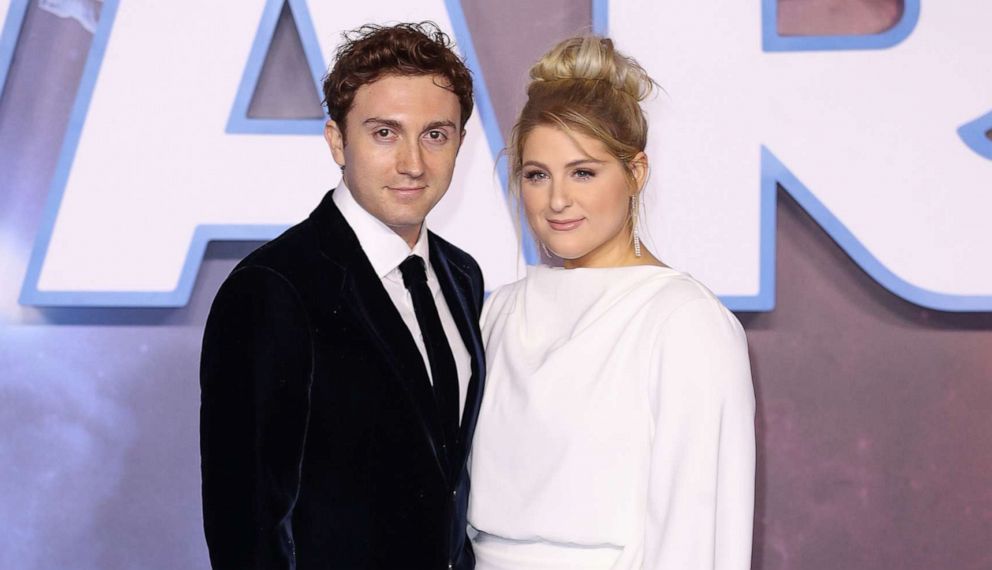 "I already love this kid so much it's insane," Trainor gushed, adding she has a lot to teach Sabara since he hasn't changed a diaper before.
That said, the "No" singer knows he'll be a good father because "he's already obsessed" with their bundle of joy and "has terrible dad jokes" ready when he arrives. Trainor even said Sabara asked for "dad swag."
Aside from preparing for first-time parenthood, Trainor said she has learned during the COVID-19 pandemic she can "help more" and "do more with my platform" even while "trapped at home."
One way she is doing so is by partnering with T.J. Maxx, Marshalls and HomeGoods for their #CarolForACause campaign benefitting Feeding America.
Through Dec. 27, folks are encouraged to record their own Instagram Reel of themselves performing their favorite holiday song -- however they want to, from lip syncing to dancing or singing. For each video with the hashtag #CarolForACause, the brands will donate $10 to Feeding America -- the equivalent of 100 meals -- to help provide food for those who need it most.
Trainor kicked things off with her family's version of "Jingle Bells" and each week will see another famous singer offering their own Instagram Reels for the cause.
The Massachusetts native said giving back is "everything" to her and is a part of who she is down to the music she creates.
"I don't want to just write a love song, I want to write a song that helps," she said, pointing to her biggest hit as a prime example. "Like with 'All About That Bass,' a lot of people said, 'Your song saved my life.' And I was like, 'Oh, OK, I have a superpower and I gotta use it.'"
"Having a platform is kind of your superpower," Trainor added, "so I want to use that -- I sound like a lame superhero -- I wanna use that for good."