9-year-old boy in foster care receives thousands of adoption submissions
Michael Robison has the definition of a modern family.
Not only does Robison, 40, have a loving spouse, he also has seven children -- three biological, two adopted and two foster -- some of whom are of different races and national origins.
One thing they all have in common is their love for each other. But the story of how they came together is quite unique.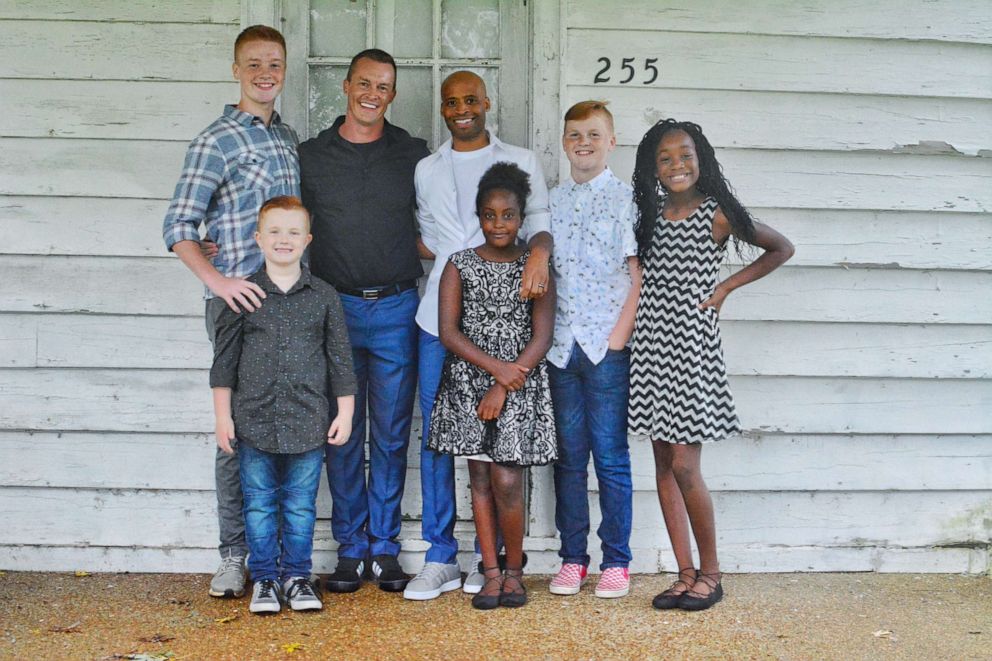 November is National Adoption Month and, according to the U.S. Department of Health and Human Services, there are more than 120,000 children in the U.S. waiting to be adopted. Robison hopes that his family's story will shed some light on the adoption process.
"My strongest suggestion to folks considering is to look in your own backyard," Robison says. "Foster to adopt is, to me, the greatest need we have in this country."
He also says that while his family is full of love, adoption wasn't always an easy path.
Forming a family
Robinson says adoption had always been in his heart from a young age and he knew when he had a family of his own that adoption would be a part of it.
"From a young age, I traveled a lot around the world. And a lot of that was in developing countries. So, I had this awareness of [the] orphan crisis," Robison says. "I knew before I got married that somewhere in my story, [adoption] was a part of it."
Robison married his high school sweetheart when he was 21. In 2005, while serving as a pastor, Robison and his wife took in a 14-year-old church member named Jessica, who had immigrated to the U.S. from Uruguay and whose mother had died of cancer.
"We were in our early 20s and had no clue what we were getting ourselves into," Robison says. "Thankfully, she shared the sentiment that if we were capable, we wanted our home to be open."
Just six months after taking in Jessica, Robison and his wife had their first biological child, named Evan. Two years later, they had a second son, Noah.
In 2008, the couple began the adoption process for a young girl named Kaia in Ethiopia. After a year and a half, they finally were able to adopt Kaia and bring her to their home in February 2010.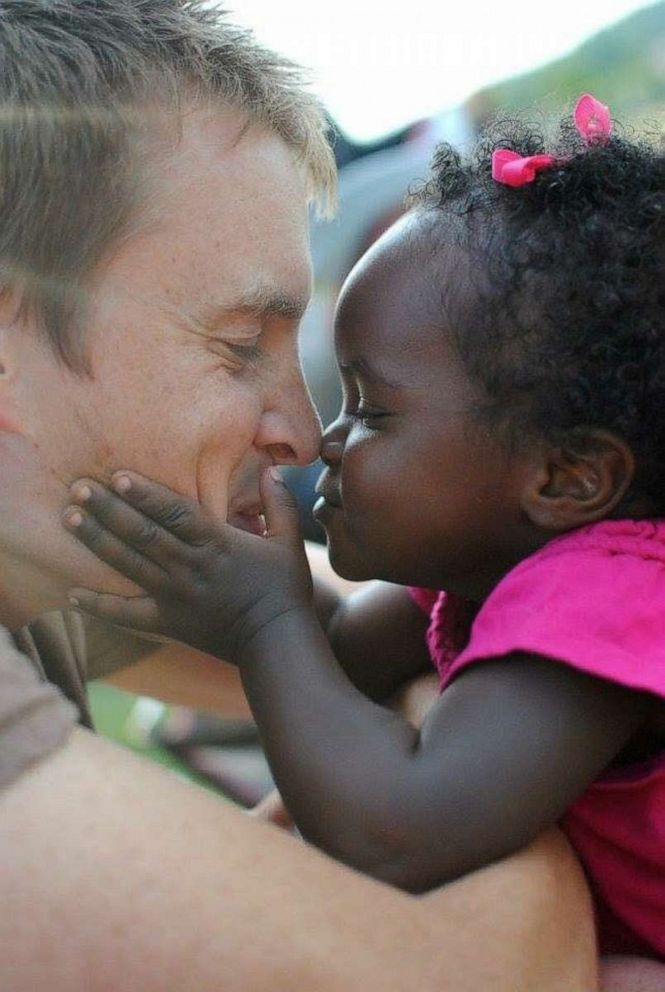 After adopting Kaia, they realized they wanted to adopt another child internationally -- this time from Haiti. They began the process of adopting their daughter Karis in 2011 and by the time her adoption was finalized in 2014, the couple had taken in another foster child, Shay, in 2012, and had another biological son, Judah, in 2014.
The family they dreamed of, with a total of seven children, was complete.
"I was raised in a family with a high value of serving those in need," Robison says. "To me, the highest expression of being able to live that value that was taught to me would be through adoption and the ability of being able to open my home to a child."
Living his truth
Robison grew up in a conservative town in Alabama where he was the son of a preacher. Although he loved his wife, he carried a secret with him from a young age that him and his wife would ultimately both share -- that he was gay.
"We were best friends in high school," Robison says. "Our progression towards getting married just came out of, 'We do all of life together, why wouldn't we get married?' We always protected that information. It wasn't public knowledge."
Robison and his wife decided after building the family of their dreams that it was time for each of them to be truly happy. They told their children they would be getting a divorce. During this time, Robison met his now-husband, Cameron Williams, and began to bring him around the kids as a friend. When things began to get serious, he knew he had to come out to them.
"My ex-wife and I had the conversation with them. They took it well," Robison says. "With the younger kids, especially, they're so intuitive. It was just a pure response of, 'Of course, you love each other. Yeah, totally.' It was an incredibly beautiful thing."
Robison says he maintains an excellent relationship with his ex-wife and Williams helps him raise his children as well.
"When I first met Cameron, I thought he would go running for the hills. Who in their right mind wants to step into this crazy circus?" Robison jokes. "He's amazing. I think what's been really incredible is to watch my kids and my husband just jump right into a relationship and trust together."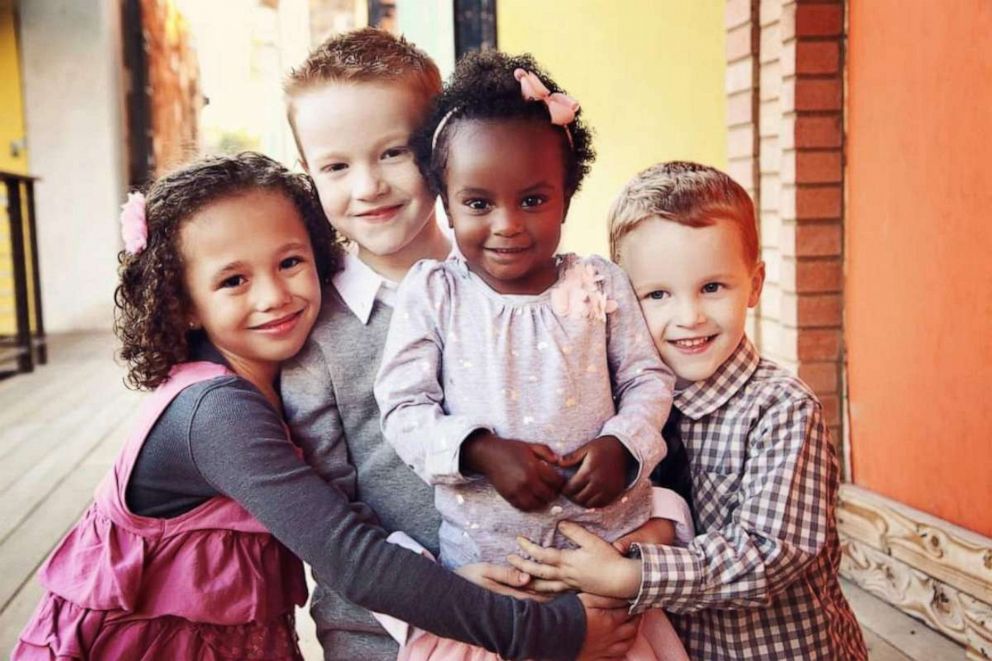 "I do think part of the success of that is because I do have a healthy and good relationship with my ex-wife and because she has a good relationship with my husband," Robison said. "I believe that is a key component of the successful relationship that my husband and my kids have."
How love fuels their family
His children have different backgrounds, but Robison says with his family, their differences are their strengths.
"Their relationships with each other are amazing. Sometimes, I'm still amazed," Robison says. "I love the fact that they have each other at all ages to walk through a lot of those developmental stages together."
Robison says his children often get asked how they are all siblings because they don't look alike.
"They stand up for each other. They address those awkward conversations in school, when somebody tries to figure out, 'How are you siblings?'" Robison says. "They really just lean into each other. They are each other's protectors."
"You learn to see the value in individuals that, you know, they don't come from your story, they don't come from your culture, they don't come from your race, and you find out [that] so much of what unconditional love is a choice we make," Robison adds.
Bringing awareness during National Adoption Month
Robison says that people have to remember children who are adopted often have difficult backgrounds and that fostering is often the best education one gets before adopting.
"There's a lot of things that come with adoption that don't get talked about," Robison says. "When you do [adopt], you often put mixed races in a family, mixed culture in a family, children that come from hard backgrounds who have behavioral issues or attachment issues, special needs that often aren't understood fully."
"You have to do life for that child first," he says. "You have to figure out, 'Are you really equipped? And are you emotionally ready for the roller coaster that comes with adoption?'"
Although adopting isn't always easy, Robison says it's absolutely worth it.
"I look at a family that works together, regardless of how your family's constructed," Robison says. "Whether it's some modern family, like mine, or traditional family, open communication and honesty with everybody will keep everybody healthy, happy at home."