A Mississippi mom is overjoyed to celebrate her first Mother's Day at home after her quintuplets were all finally discharged from the hospital after over two months.
Haylee Ladner of Purvis, Mississippi, told "Good Morning America" she's "really looking forward" to spending the special Sunday with her quintuplets.
"I was prepared to spend Mother's Day in the hospital," Ladner said.
"I'm just lucky that I get to be here, in my own home, with my babies and get to spend that day and look back at all the things that I've been through and that they've been through to get to where we are now," the 26-year-old mom continued.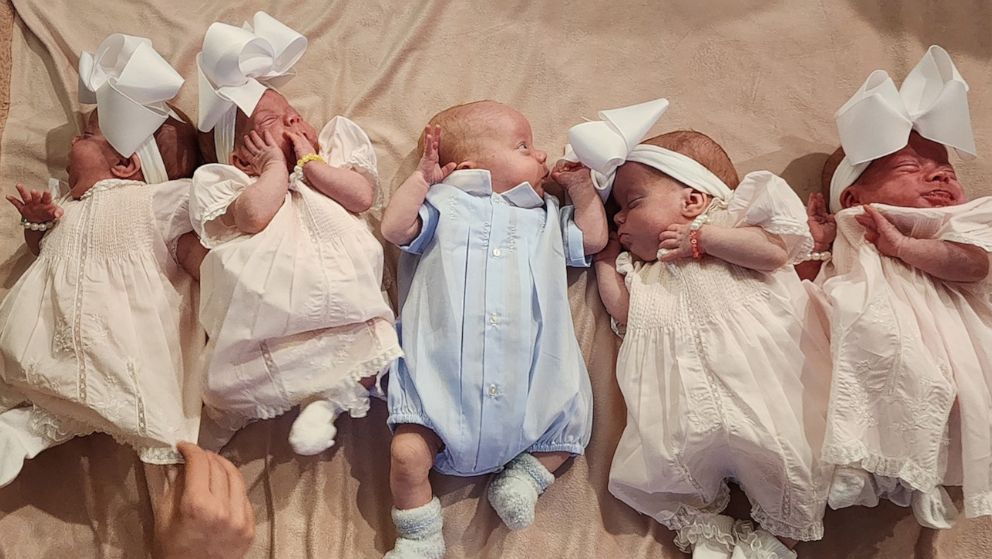 They're my biggest blessing that I have.
The first to go home back on April 27 was the youngest of the bunch, son Jake, according to Ladner. He was followed by his older sister Magnolia on May 1. Their oldest sister Adalyn went home May 2 and finally, on May 5, Everleigh and Malley Kate were well enough to be released from Children's of Mississippi Hospital in Jackson.
The Ladner quintuplets had been in the hospital since they were born at 28 weeks and one day on Feb. 16. Incredibly, they've grown in leaps and bounds and can now be cared for at home by Ladner and her husband Shawn, who have been supported by their extended family and church community.
"My babies all came home before my due date [of May 10] so everybody in the NICU was super surprised. They're like, 'Oh, my goodness, that's amazing.' Most of the time, babies don't go home until their due date and so our babies coming home before then is a good thing," Ladner said.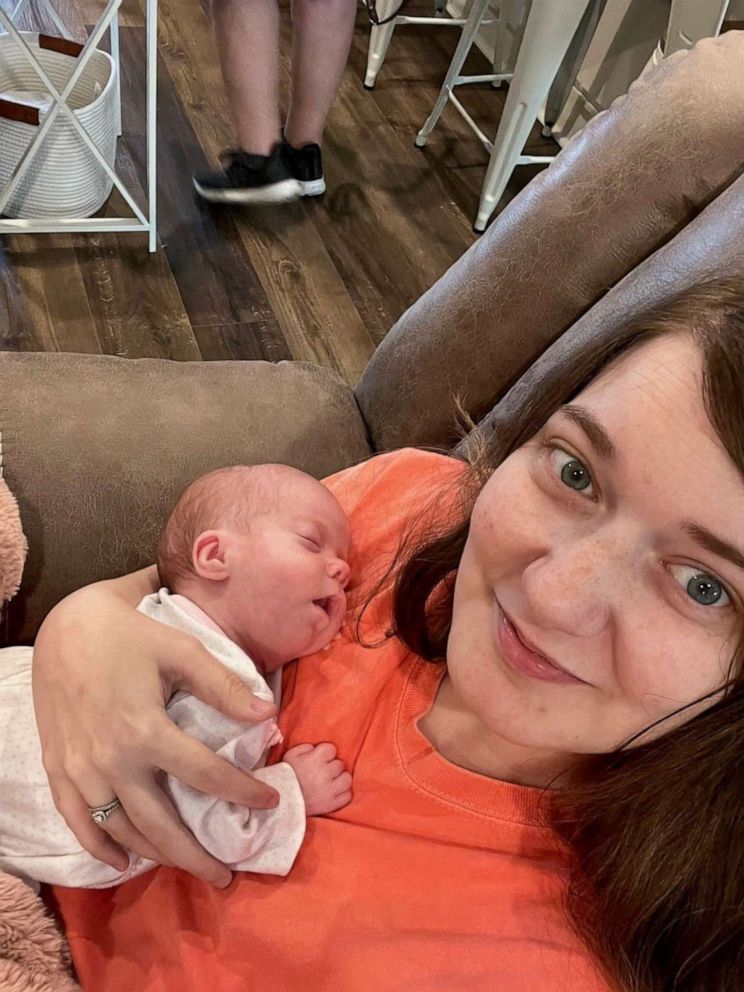 The proud mom said amid the sleeplessness and screams, she has nevertheless been relishing in new motherhood
"I know that a lot of people are probably like, 'How are you doing this? How are you not going crazy?' It's because I've wanted to have a baby my entire life and then now that I have these babies, they're my biggest blessing that I have and so I don't mind it. I don't mind the chaos," she told "GMA."
For Ladner and her husband, who married in September 2019, it's been a long road to get to where they are today. They experienced two miscarriages and went through three intrauterine insemination cycles before Ladner became pregnant with their quintuplets.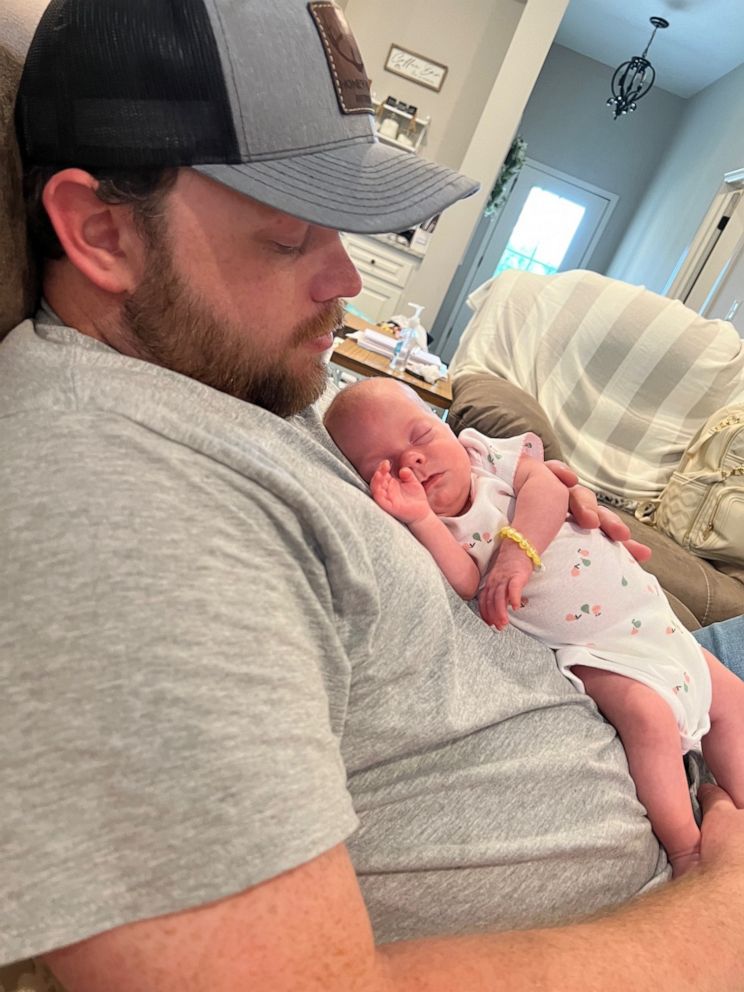 She said they never thought they would be parents of five kids all at once so even today, they look at each other sometimes in awe.
"We both agree it's the greatest thing that we could have ever been given and so we're enjoying it," Ladner said.
"Every day that I get to spend with them and look at them, I just think about all those years I spent wanting a baby and crying and going through loss and all of those things and just wondering, 'Why isn't this happening for me? Why isn't this happening for me?' And then I look down at these beautiful babies and I'm like, 'You were meant to be mine. You were worth every single step that I had to take to get here and if I had to do it all over again, I would do it in a heartbeat,'" she added.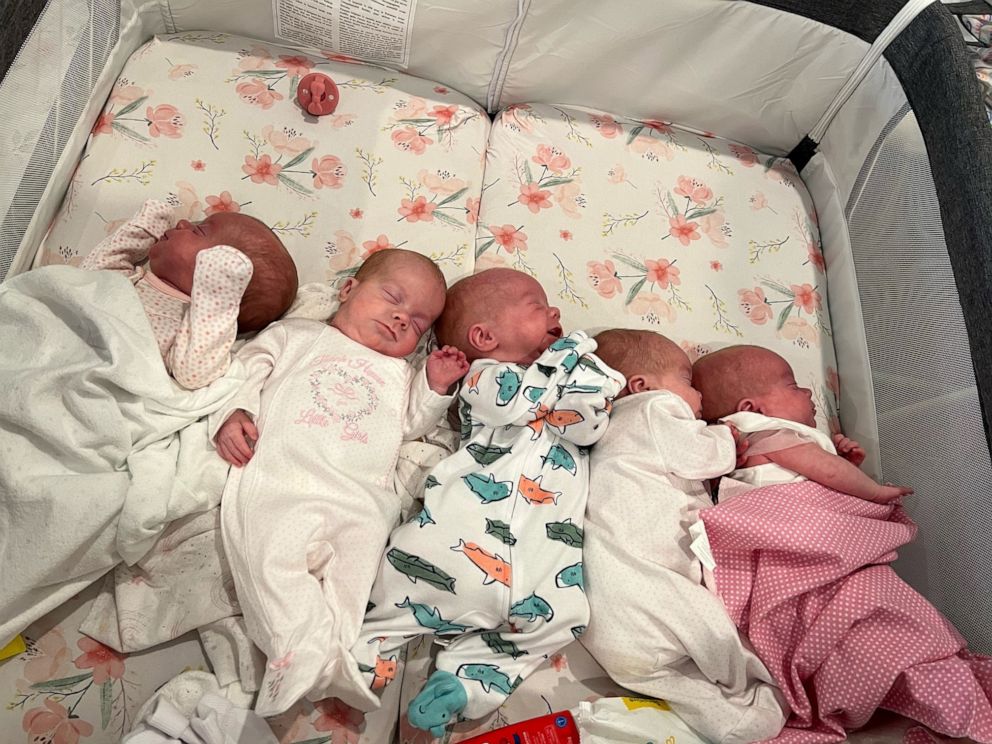 They're adjusting to their "new normal" and for the upcoming Mother's Day, Ladner said she suspects her husband is planning a surprise.
"He's probably definitely got something up his sleeves because I've told him many times, 'We don't have to do anything big.' And he's like, 'It's your first Mother's Day. We're gonna do something,'" she said.
As she embarks on her new motherhood journey, Ladner said she encourages other mothers to stay present.
"Even though there are challenges at times, where they're screaming at 2 and 3 o'clock in the morning and you just want to get some sleep, just take a breath and enjoy the moment because they're only little for so long. And one day, they'll be grown up and have their own lives. So soak in every minute that you can," Ladner said.
And as for her "miracle" kids, who Ladner calls "perfect" as they are, she said, "I just want them to know how special they are. And it's not even just about them being ... [a] rare orientation of quintuplets, I just want them to know how much I love them and how special they are ... how it took a lot of work and a lot of prayer and a lot of just hoping to get them here."