How to keep your kids safe when they play multiplayer games
A Pennsylvania mother is speaking out after she said her 7-year-old child got 150 toys called "Bunchems" stuck in her hair.
The toy's parent company, Spin Master Ltd, tells "Good Morning America" it's "no longer producing this item."
Lisa Hoelzle, a resident of Churchville, said she asked Spin Master for stronger warning labels on its packaging since it took roughly 20 hours to remove the toys from her daughter Abigail's hair.
Hoelzle shared her experience in a public Facebook post, which was shared 224,000 times.
"I'm just trying to get awareness out there," Lisa Hoelzle, a mom of two, told "Good Morning America" Wednesday. "I'm not that mom [who's] going to blame the toy company and [say], 'Poor me' ... this has happened to a lot of other people."
In a statement to "GMA," Spin Master said they've spoken to Hoelzle about the incident.
"We have been in contact with this customer and have expressed our sincere apologies for the inconvenience this has caused for both her and her daughter," Spin Master said. "While the packaging clearly indicates that Bunchems should be kept away from hair, we recognize that accidents like this may happen. We are no longer producing this item and encourage parents who may have the item in their home to read the directions carefully and leverage our online resources to help guide play with the product."
Hoelzle said that on Jan. 8, her twins, Noah and Abigail, had finished up virtual learning and headed downstairs to play in the basement.
Hoelzle said she has several activity toys from her days as a preschool teacher and one is Bunchems -- small, plastic balls that stick to each other. She said she had no idea that if children played with Bunchems, they should be closely supervised -- especially children who are in the same age group as her kids.
Bunchem toys have thin legs that can be bunched, connected, coiled or stacked, according to Spin Master, which is located in Canada. Some creation packs are targeted to ages 4 and up, while other kits are recommended for ages 6 and up.
Spin Master's website has a page dedicated to Bunchems. Under the page's general information section, the company lists safety warnings including, "do not put Bunchems in hair," "keep Bunchems away from pets" and "do not eat Bunchems."
And printed on the front of Bunchem boxes is: "Caution: Keep away from hair. May become entangled. Keep away from pets."
Hoelzle said that while she was cleaning up the kitchen, Noah and Abigail came upstairs to show her that Abigail had gotten Bunchem toys stuck in her hair.
"I kind of was in a state of shock," Hoelzle said. "I was looking at it like, 'How am I going to get these out?'"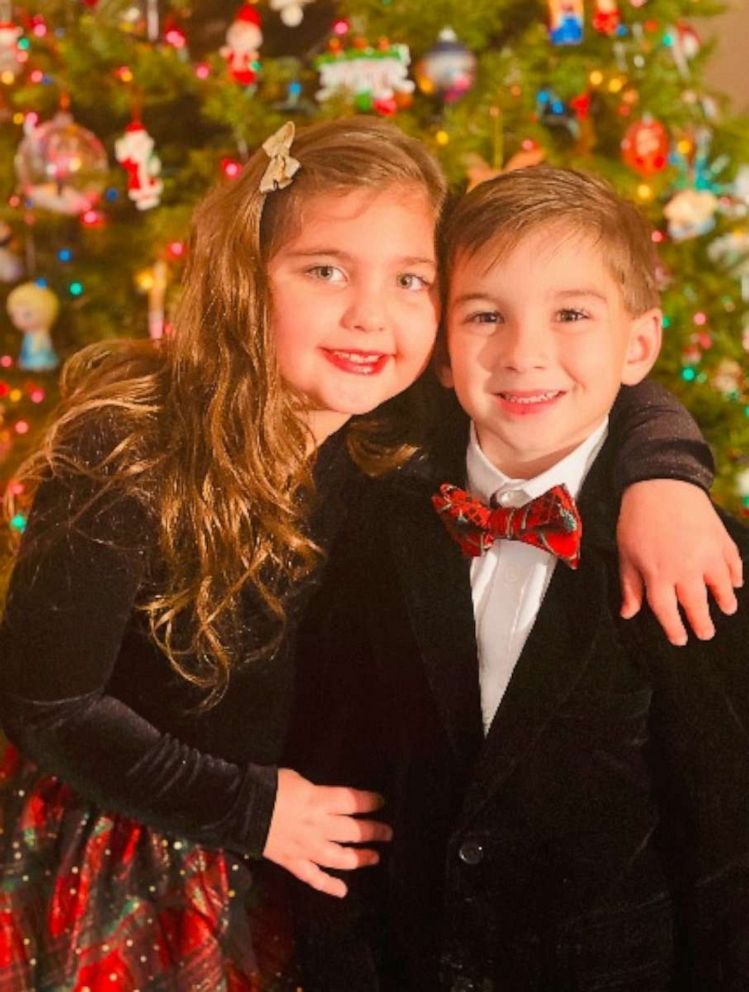 Hoelzle said the kids told her that Noah was joking around and dumped the bucket of Bunchems over his sister's head.
According to Hoelzle, the toys were matted in Abigail's hair and the kids said they attempted to remove the Bunchems themselves before asking Hoelzle for help.
Spin Master told "GMA" it stopped manufacturing the item in 2019. The company did not specify if and when the toy will be pulled off store shelves where it's currently still being sold as well as on e-commerce sites.
Hoelzle said that immediately after the incident she called Spin Master and filed a customer complaint. She said she later received an email apology and then a phone call from a company representative.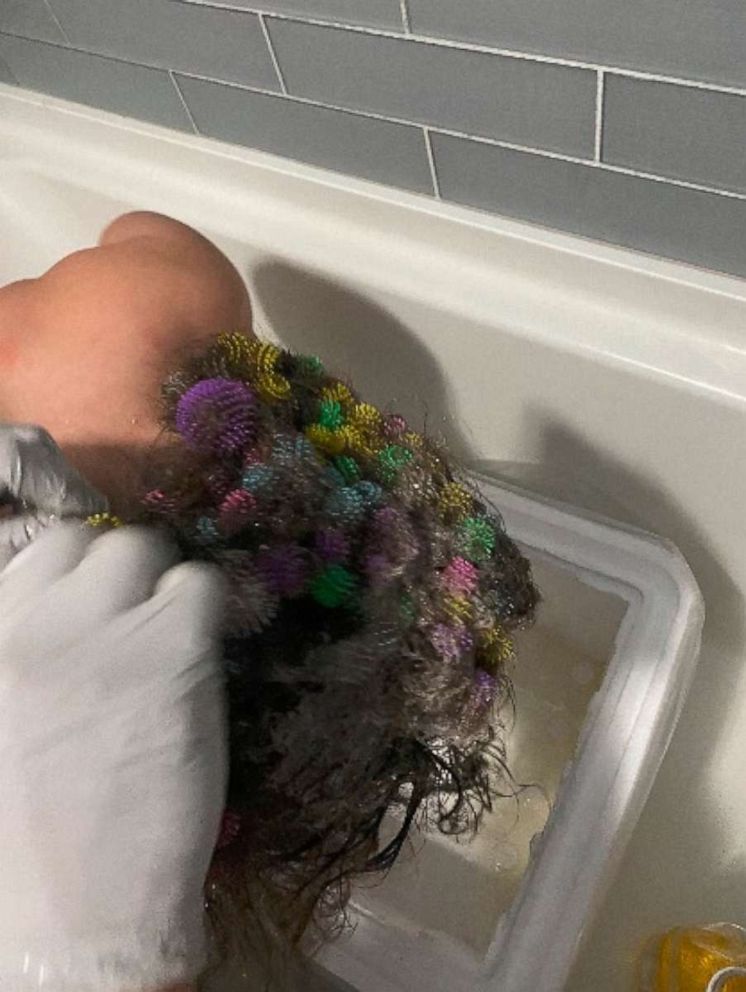 "She was super nice on the phone, took down my name and I suggested as a mother, 'Maybe you want to talk to a group of moms on how to market it better,'" Hoelzle said. "There's warning labels on the front and I know that covers you legally, but not morally."
Spin Master's site also has a link which reads, "How do I untangle Bunchems from hair?" That link leads to a video tutorial on how to remove Bunchems from hair.
"We recommend using conditioner or vegetable oil, and combing directly below the Bunchems to help them slide down the hair," Spin Master's site says. "The time required for this process can vary in length depending on the hair texture."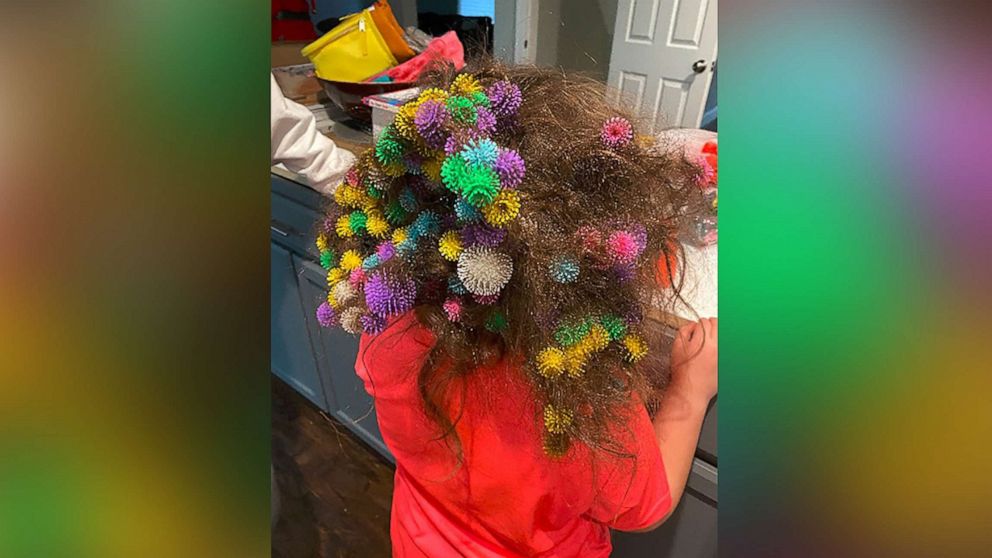 Hoelzle said she attempted the demonstration, though it did not work on Abigail's hair.
After Hoelzle posted her story on Facebook, some as far as Australia and New Zealand sent her photos of Bunchems stuck in their own hair and in their pets' hair, she said.
Hoelzle said her husband Dan Hoelzle and mother Jean Tschirlig both helped trying to remove the Bunchems. It was ultimately a hairdresser's suggestion of mineral oil and a shower cap with a towel wrapped around Abigail's head for 25 minutes that eventually did the trick.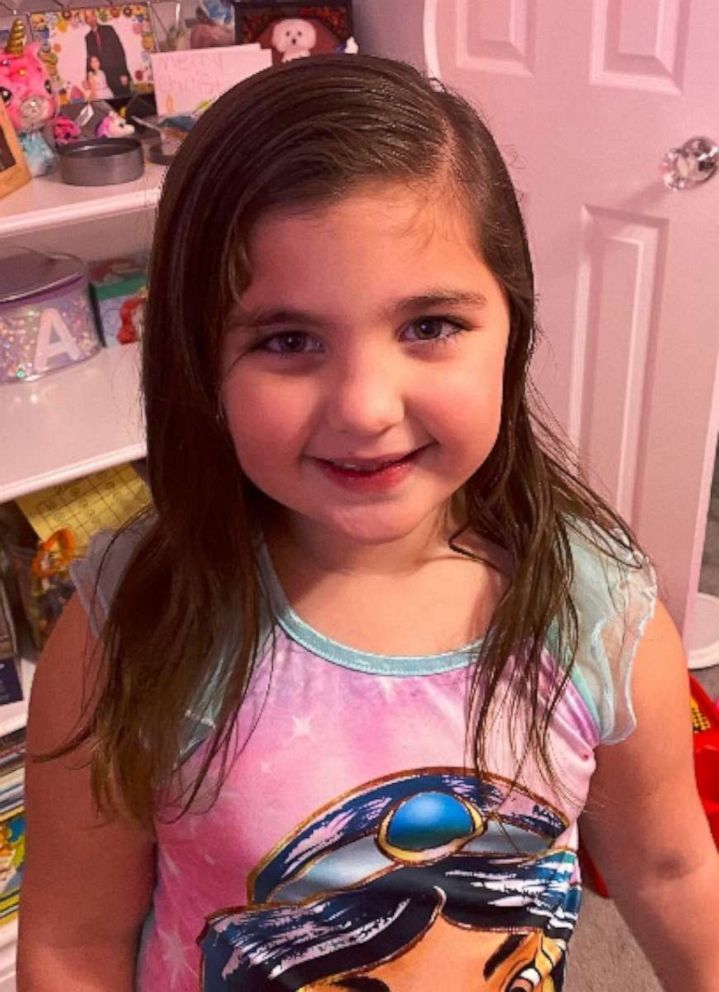 Hoelzle said she used a large de-tangling comb and eventually all the Bunchems were removed.
Hoelzle said she took Abigail to a hair salon for a cut. There, professionals determined there wasn't any serious damage to the little girl's hair.
As for Abigail, Hoelzle said she was a trooper throughout the process.
"That's all part of miracle with this," Hoelzle added. "She was so great about it and she is the kid that doesn't like to get her hair brushed."