As the United States faces an unprecedented youth mental health crisis, new data shows that parents are suffering too.
A recent major survey led by researchers at Harvard University found that parents reported roughly the same rates of anxiety and depression as their teenage children.
Meanwhile, many teens expressed concern over the mental health of at least one of their parents.
"Teens are deeply impacted by their parents' emotional states in big and small ways," Richard Weissbourd, lead author of the report and faculty director of Harvard's "Making Care Common" project, told ABC News. "If we really want to understand what is going on with teens, we have to understand them in the context of their families. One crucial way we can support teens is by supporting their parents."
Weissbourd and his colleagues analyzed two nationally representative surveys in the U.S., one with teens and young adults and the other with parents or caregivers.
The results showed that while 18% of teens reported suffering from anxiety, approximately 15% of fathers and 20% of mothers reported anxiety. While 15% of teens reported depression, 10% of fathers and 16% of mothers did as well.
Over one-third of teens reported having at least one parent who reported anxiety or depression.
"When there is an ill child in the home, whether that be physical or mental illness, the child's needs usually take precedence over anything else," Dr. Yalda Safai, a New York City-based psychiatrist, told ABC News. "Parents' needs are often left unmet and neglected."
"Some parents even fall prey to feeling a sense of shame or guilt in spending time on their own needs," added Safai, who was not involved in the Harvard University survey. "Unfortunately, the mental health issues of parents of children with complex medical conditions are a subject that has been largely unexamined and neglected."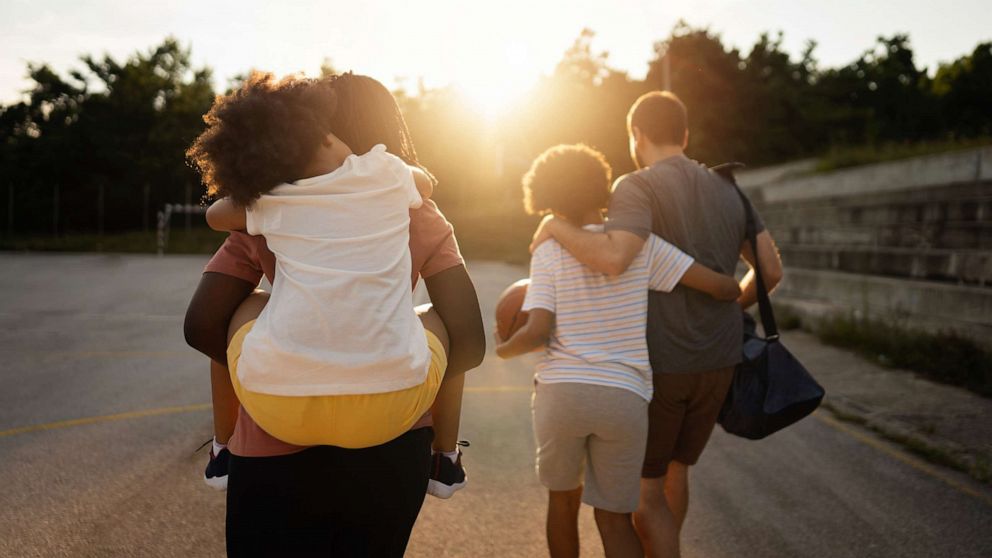 Adults might experience burnout when caring for anyone with complex health needs, from teens to elderly parents, according to Dr. Panagiota Korenis, a psychiatrist and associate professor of medicine at Albert Einstein College of Medicine.
"It's really hard for parents that work, or even parents that don't work but have other obligations and other children, to navigate caring for a child with mental health issues," said Korenis, who was also not involved with the survey.
Researchers say there are concrete steps parents can take to manage their own mental well-being and help children who may be experiencing similar issues.
Here are five tips.
1. Listening to teens may reduce stress for the whole family
According to the Harvard survey, 40% of teens reported that they wanted their parents to reach out more, ask how they're really doing and really listen.
"Teens are far more likely to do better if instead of judging or trying to fix, [parents] listen with openness and curiosity," said Weissbourd. "It can also help you become closer and really strengthen your relationship with your teen."
"You know your child best," added Safai. "If you sense their behavior is different from baseline, always investigate. Teens won't always be forthcoming about their problems so learn to recognize nonverbal signs of trouble."
2. Learn more about common mental health issues
Parents should have a basic understanding of facts regarding anxiety and depression, causes, what is considered normal and what signals significant anxiety and depression requiring professional treatment, the experts said.
Weissbourd recommends parents also learn about coping strategies such as cognitive behavioral practices, healthy sleeping and healthy eating habits, so they can best handle when their teens are struggling mentally.
3. Invest in their own mental health wellness
Parents need to address their own mental health issues and seek support from their communities, including from school counselors, and faith-based organizations, according to Korenis.
"You can't help anyone if you yourself are not well," Korenis said. "Do your best to prioritize your health despite the challenges and struggles. Parents should be encouraged to ask for help, be open to accepting help whether it's from family members or community agencies."
4. Normalize speaking about mental health struggles
Experts say it's important for parents to talk about their own mental health struggles so that kids don't internalize the negative moods of their parents.
"I think parents need to reassure their kids that they have a mental health care plan, that they are dealing with their anxiety and depression," Weissbourd said.
"Storytelling is extremely powerful in shattering stigmas. By sharing our own stories and struggles with mental health, albeit uncomfortable, we are creating a culture where we are encouraging our teens to speak up and come to us with their own stories and struggles," said Safai.
5. Help teens cultivate their own sense of purpose
In the Harvard survey, 36% of surveyed teens reported little or no "purpose or meaning of life." This sentiment was strongly correlated with depression and anxiety.
"We live in an age that is often very self-focused, and I think a lot of kids need relief from this intense focus on the self," said Weissbourd. "Focusing on other people can give them relief and can be a vital source of meaning and purpose."
Safai recommends encouraging teens to do something meaningful, and cultivate their personal beliefs and values, which can lead to healthy development and a sense of purpose.
The report acknowledges the role of government and community in educating parents about mental health issues, as well as allocating resources to help struggling parents.
Despite the high rates of anxiety and depression among parents and teens, experts say there is a silver lining to be found.
"I think this generation of teens is maybe the most psychologically aware and emotionally articulate generation in our history," Weissbourd said. "Out of suffering can come real wisdom and coping strategies too."
If you or someone you know are experiencing suicidal, substance use or other mental health crises, please call or text 988. You will reach a trained crisis counselor for free, 24 hours a day, seven days a week. You can also go to 988lifeline.org.
Shalini Dutta, M.D., is a psychiatry resident physician from BronxCare Health System and a member of the ABC News Medical Unit.