Meet Team USA at the Women's World Cup
Brad Smith/Getty Images for USSF
As the U.S. Women's National Team tries for a history-making third consecutive World Cup, the team's focus will also be on a critically important cause, mental health.
The cause is a personal one for two of the team's players, defender Naomi Girma and forward Sophia Smith, whose former teammate at Stanford University, Katie Meyer, died by suicide last year.
Girma and Smith have dedicated this year's Women's World Cup tournament to Meyer, a goalkeeper who helped Stanford win the national championship in 2019.
In an essay published last week on The Players Tribune, Girma described Meyer, who was 22 when she died, as both the "truest friend I ever had," and "the last person you'd think would take her own life."
"Her death shocked the entire Stanford campus, and the entire soccer world," Girma wrote. "For me, and for the rest of her close friends, it left a void in our lives that is so deep that it's impossible to put into words."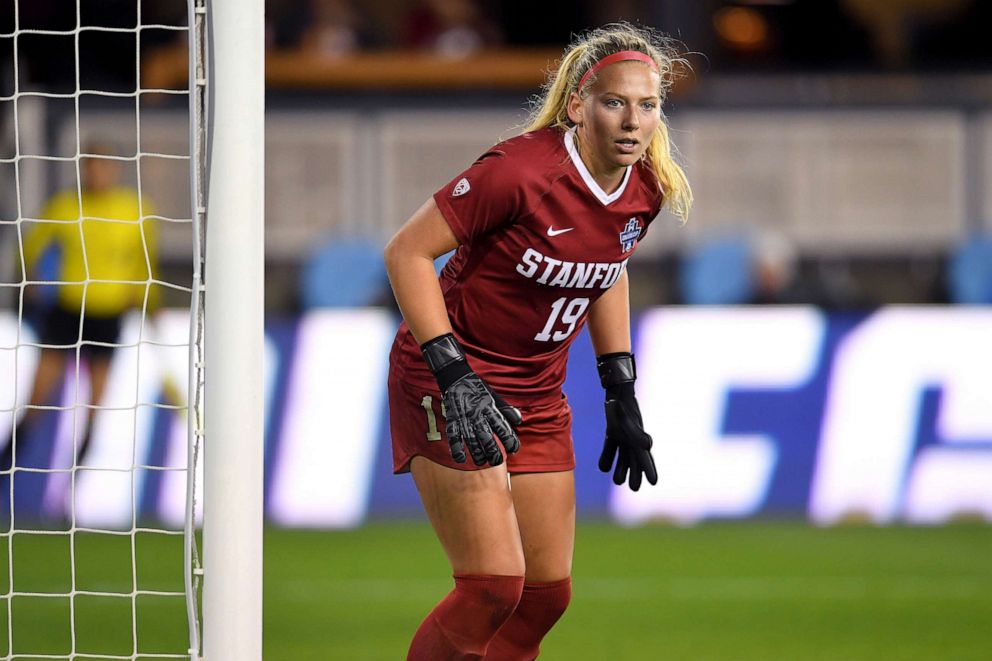 In her essay, Girma announced that with Meyers as their inspiration, the USWNT is launching a new mental health initiative in partnership with Common Goal, a nonprofit organization focused on using soccer to help provide a "more sustainable and equitable future for all," according to the organization's website.
"We know first-hand how many people, especially student athletes, are struggling in silence, and we want to use our platform in this huge moment for something bigger than soccer," Girma wrote. "It's exactly what Katie would have done. But she never would have stopped there."
As part of the initiative, Fox Sports, the broadcaster airing the 2023 FIFA Women's World Cup in the U.S., will dedicate 1% of its coverage to "spotlighting the importance of mental health," according to Common Goal and Girma.
Following the tournament, taking place this year in New Zealand and Australia, Common Goal said it plans to provide mental health training to youth sports coaches in under-resourced communities in the U.S.
"It's long overdue that our soccer communities put mental health at the forefront when we discuss player care," Lilli Barrett-O'Keefe, executive director of Common Goal USA, said in a statement. "We are determined to create a culture shift, at all levels of the game, following this summer's World Cup. We are grateful for the players that are pushing this narrative forward and holding us all accountable to not only talk but act."
Girma wrote that extending the mental health initiative beyond the World Cup is part of the team's goal to do more than just raise mental health awareness.
"We want to make sure that young people have the tools to cope with depression, anxiety, stress, and the very bad days, when it feels like the weight of the world is on their shoulders, and it can never get better," she wrote. "It can always get better."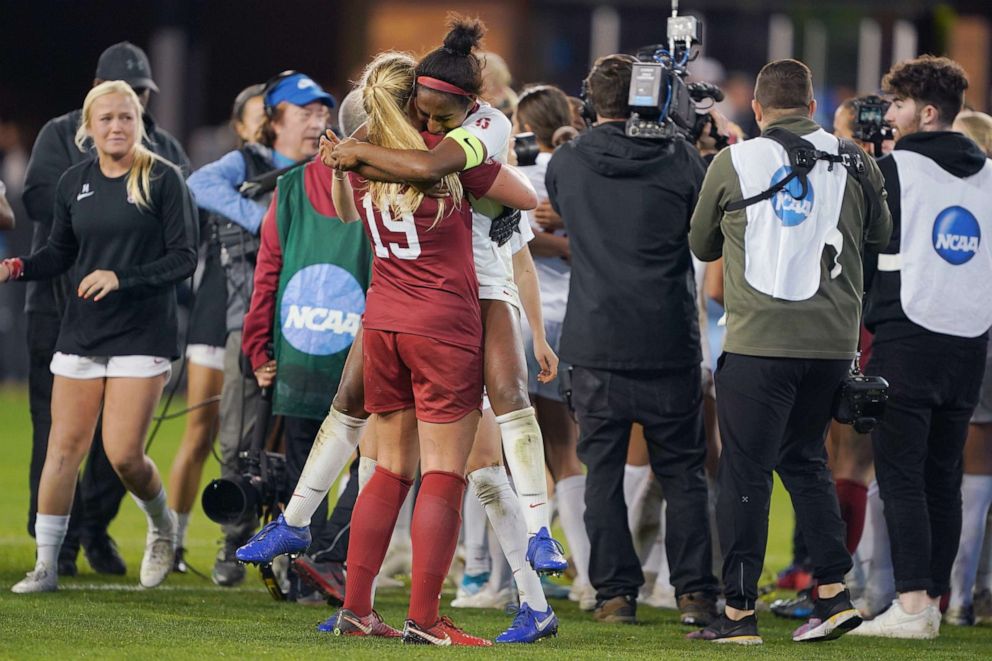 The USWNT's effort to focus on mental health during their World Cup run comes amid a growing mental health crisis in the U.S., especially among young people.
Last year, nearly 24% of female high school students and nearly 12% of male students in the U.S. reported making a suicide plan, according to the latest results of the Youth Risk Behavior Survey, published last month by the Centers for Disease Control and Prevention.
Although suicide is the 11th-leading cause of death overall in the United States, it is the third among U.S. high school students between the ages 14 and 18, accounting for one-fifth of all deaths among this age group, according to the report.
And while the past three years of the coronavirus pandemic put a spotlight on teens' mental health struggles, particularly when it comes to suicide, the issue has been a concern for many years, data shows.
"In the decade prior to the pandemic, there was a 57% increase in the suicide rate among young people," U.S. Surgeon General Dr. Vivek Murthy said in an April 30 interview with "GMA." "And today, nearly half of high school students are telling us that they feel persistently sad or hopeless."
Common risk factors for suicide include a history of depression and other mental illness, bullying, loss of relationships and social isolation, according to the CDC.
The USWNT's willingness to spotlight mental health also comes as more and more professional athletes are willing to publicly talk about their mental health and the pressures they face.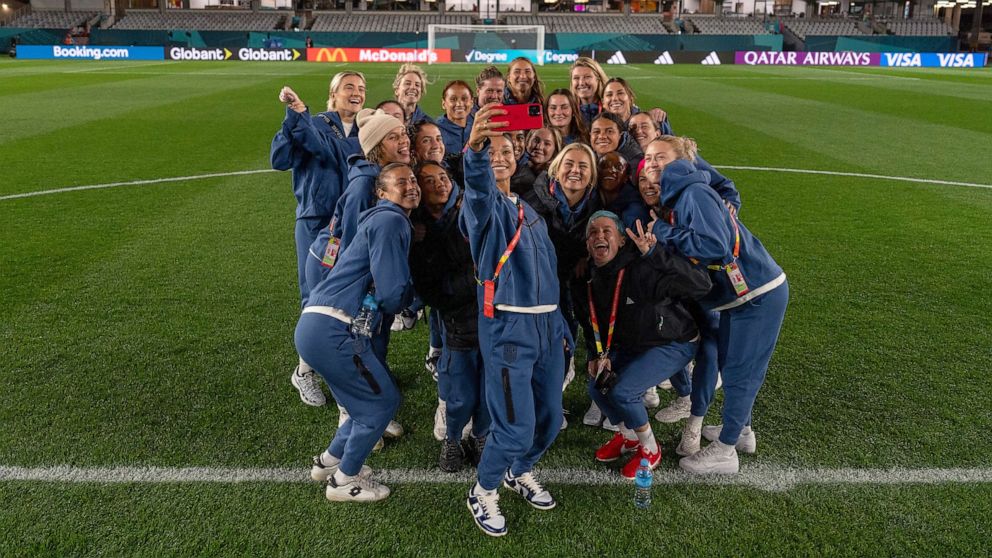 At the Tokyo Summer Olympics, held in 2021 due to the pandemic, gymnastics superstar Simone Biles withdrew from three of her event finals, citing her mental health.
In an interview following the Olympics, Biles said she "learned a lot" about herself in the process.
"I wouldn't change anything because everything happens for a reason," she told New York Magazine. "And I learned a lot about myself — courage, resilience, how to say no and speak up for yourself."
Just months prior to Biles' experience in Tokyo, tennis star Naomi Osaka withdrew from two Grand Slam tournaments -- the French Open and Wimbledon -- in order to preserve her mental health.
Both Biles and Osaka have joined other athletes in continuing to speak out about mental health ever since.
Smith, the USWNT forward, said as the team moves forward in this year's World Cup, she and her teammates are supporting each other's mental health.
"I think a big thing is leaning on your teammates and knowing that we're all in this together, whatever those emotions may be," Smith said, according to ESPN.
If you or someone you know is experiencing suicidal thoughts, substance use or other mental health crises, please call or text 988. You will reach a trained crisis counselor for free, 24 hours a day, seven days a week. You can also go to 988lifeline.org or dial the current toll free number 800-273-8255 [TALK].
The Walt Disney Co. is the parent company of ABC News and ESPN.