Learning to swim can be an intimidating feat for anyone, especially young kids.
One swim instructor in Florida has developed a way to help his youngest students gain confidence, teaching them what he calls a "mermaid mantra."
"Especially for my little mermaids, I always say, 'I'm big. I'm brave. I'm beautiful,' and I have them repeat after me," Tyler Reed, the owner of Triton Aquatic Training in Tampa, told "Good Morning America." "I think a lot of people look at 2-year-olds and babies as children that are incapable of being able to swim or save themselves and I'm trying to kind of erase that psyche from them, that they can they really can do this."
Reed recently shared a video on social media that quickly went viral, showing a 2-year-old student who had just finished a swim lesson shakily repeating the phrase, "I'm big. I'm brave. I'm beautiful."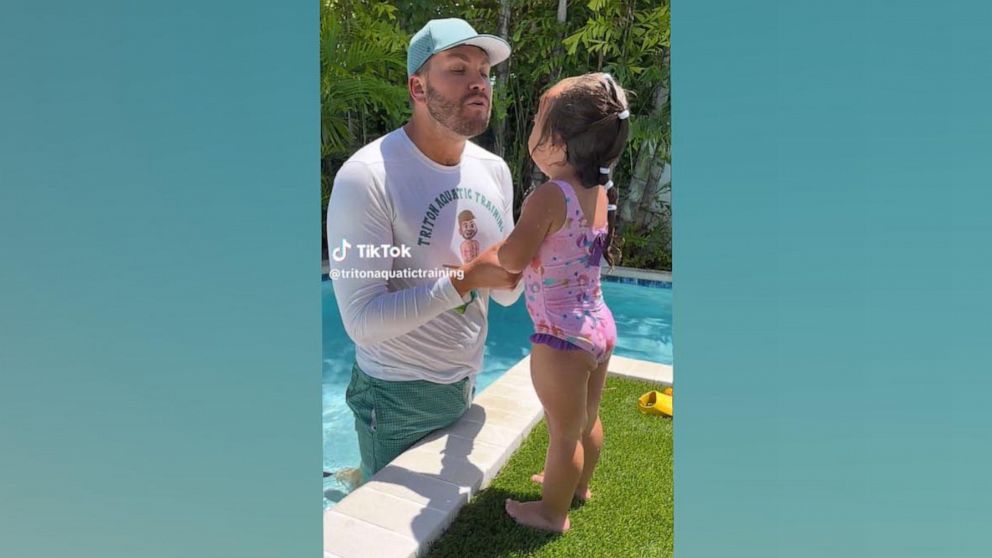 The video has over 39 million views on TikTok, and over 24,000 comments.
"I hate to see them upset but it's so important to learn water safety especially at this young age what a brave big girl," wrote one commenter.
"It's so scary as a little person to learn these kinds of things but I'm sure she's doing great," wrote another commenter.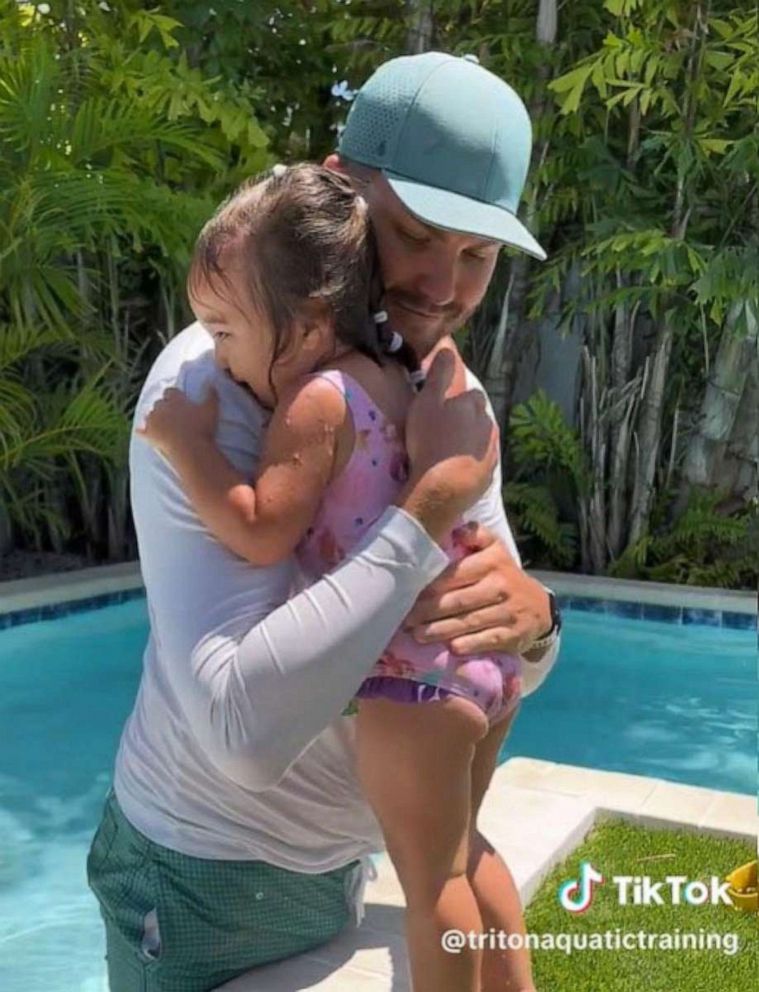 Reed said he is glad the video is reaching so many people who can see the importance of teaching water safety to young kids, noting, "These little ones are capable."
"Getting them [in swim lessons] at a younger age is so important," Reed said. "The reality is, the longer that you keep a child in floaties, from ages 2 to 5 or even older, they're developing a false sense of their ability to swim."
Reed said that even if a child is not in swim lessons, he recommends that parents keep their kids out of flotation devices and instead hold them in the water themselves.
"Learn to keep them in the water without the floaties and hold underneath their arms and have your child be able to to feel and understand weightlessness," he said. "You're not giving that giving them that false sense of security, because that's where these drownings come into play."
In the United States, drowning is a leading cause of death for children between the ages of 1 and 4, according to the Centers for Disease Control and Prevention.
Less than two months ago, the youngest daughter of NFL star Shaquil Barrett drowned after falling into a swimming pool at the family's Tampa Bay residence. While police did not disclose the details surrounding the incident, they did confirm the 2-year-old girl's death was "purely accidental."
Reed said he received an influx of calls for swim lessons after Barrett's family tragedy was made public. He said he hopes that as people enter the summer season, parents prioritize their kids' water safety.
"This is an inevitable thing that as your child grows, you know you're going to have to do," he said of swim lessons. "Treat this as a school, like you would for their education. It's even more important in a life-saving aspect."
Reed added that after a few lessons, the young girl who repeated the mermaid mantra is now swimming the length of her backyard pool.
"I'm one proud swim instructor," Reed captioned a video showing the girl's progress.
5 layers to keep kids safe around water
In addition to swim lessons, the National Drowning Prevention Alliance recommends parents practice five layers of protection to keep kids safe in the water.
Those five layers are:
1. Barriers and alarms, like fencing around pools and alarms on doors and windows that open to the pool so an adult is alerted when they're opened.
2. Supervision that is "close, constant and capable," which is critical for water safety, according to the organization.
3. Water competency, meaning that both adults and children should know how to swim. The National Drowning Prevention Alliance recommends talking to your child's pediatrician about when to start water safety or swimming lessons.
4. Life jackets, which are necessary whenever "on or around open and natural bodies of water and when boating," the organization states.
5. Emergency preparation that includes keeping a phone poolside to be able to quickly call 911 and learning and practicing how to perform CPR, according to the Alliance.
Editor's note: This was originally published on June 7, 2023.