People have a huge appetite for food content on social media and fast feasts are becoming increasingly trendy on TikTok.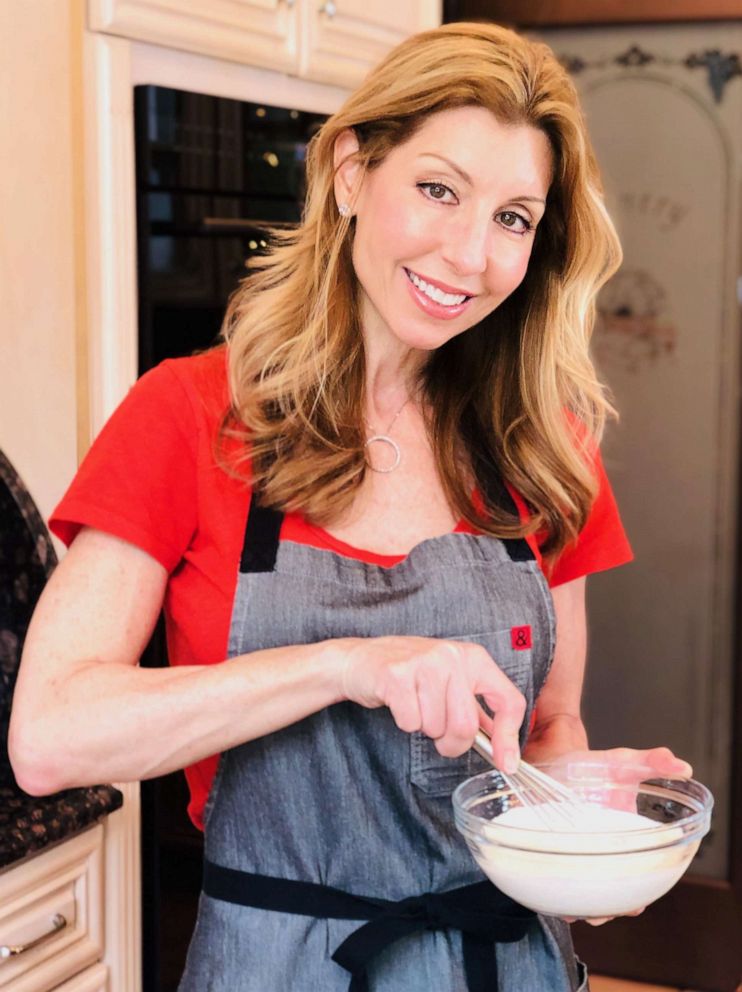 One chef with over 2.3 million followers on the short-form video sharing platform joined "Good Morning America" to give viewers a Taste of TikTok with a recipe and tips to try in their own kitchens.
Shereen Pavlides of "Cooking With Shereen" is best known for making all of her delicious dishes completely from scratch with a dash of comedy as she cooks.
Check out her full recipe for a delicious and healthy chicken and vegetable dish seasoned with a Middle Eastern blend of savory dried herbs and spices.
Grilled Chicken with Za'atar Zucchini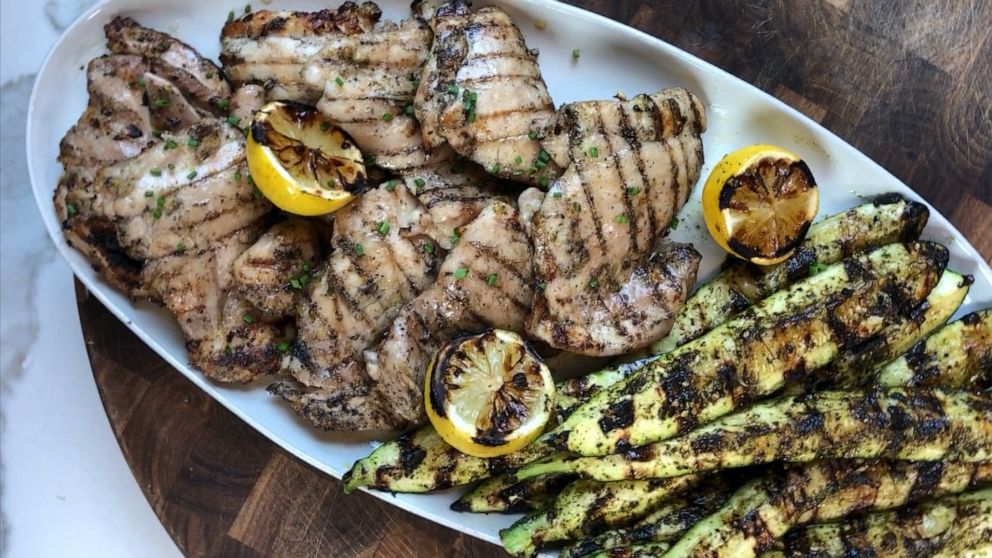 Serves: 4 - 5
Ingredients
1 3/4 pounds boneless, skinless chicken thighs - fat trimmed
1/3 cup Cypriot or Greek olive oil + extra - divided
3 garlic cloves - finely grated
2 lemons - finely grated zest of 1 lemon
3 medium zucchini - quartered, lengthwise
Kosher salt / fresh finely ground black pepper
2 tablespoons Za'atar
Sliced chives
Directions
Place the chicken thighs into a large bowl and add 1/3 cup olive oil, garlic, zest and toss to evenly coat. Cover and marinade in the refrigerator, about 4 hours.
Remove the chicken to room temperature, 25 minutes before grilling, to remove the chill.
Heat your grill over medium to medium-low heat.
Drizzle the zucchini lightly with oil to evenly coat and season with salt and pepper. Season the chicken with salt and pepper and both sides.
When your grill is well heated, oil the grill grates with heavy-duty paper towels. Place the chicken on one side of the grill and the zucchini on the other side. Grill the chicken until cooked though and juicy, 2 - 5 minutes on each side. Grill the zucchini 5 - 6 minutes, flipping halfway through cooking.
Remove the chicken to rest, 8 minutes. If you need to further cook the zucchini, lower the lid until tender, another couple minutes. Control the heat as need. Don't burn them!
Slice both lemons in half, crosswise and place them onto the grill, until lightly charred, 1 - 2 minutes. It makes them pretty and helps to loosen the juice when squeezing.
To prepare the za'atar paste, add the za'atar into a medium bowl with 2 tablespoons olive oil and stir to moisten the spices. Remove the zucchini from the grill and squeeze two lemon halves over the zucchini and brush, slathering the za'atar paste over the zucchini.
Serve family style with remaining lemon halves to squeeze over the chicken. Garnish the chicken with chives.
Shereen's Chefie Tips
Rinse your knife in cold water to keep garlic from sticking
"If you take your knife and hands -- run it underwater, that way when you're mincing, chopping, your garlic, it won't stick to your hands or knife," she told "GMA."
Add fresh citrus to mellow out harsh garlic flavor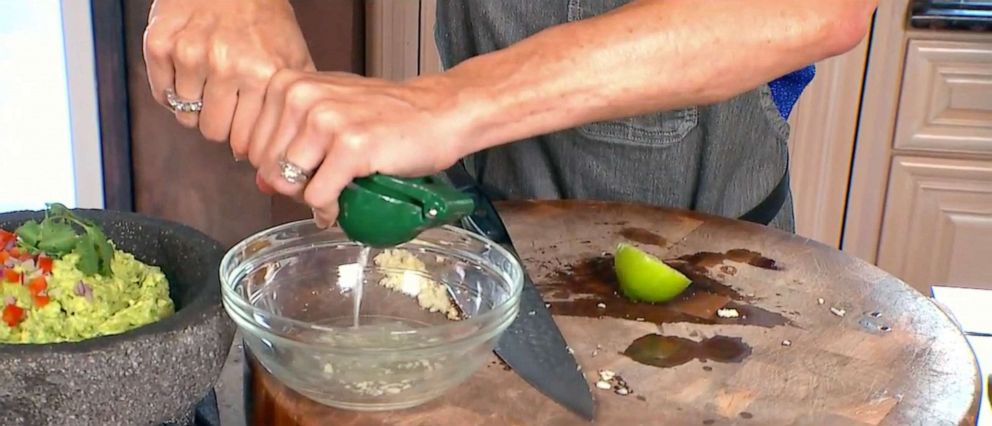 After rolling a lime or lemon to loosen the juices of the citrus, Pavlides suggests squeezing it over top of the raw garlic to mellow out the pungent flavor.
"You get all the beautiful flavor of garlic , but you don't get that harsh after flavor," she said. "We love garlic but we don't want it to stay with us."
Scoop flour when measuring for more accurate baking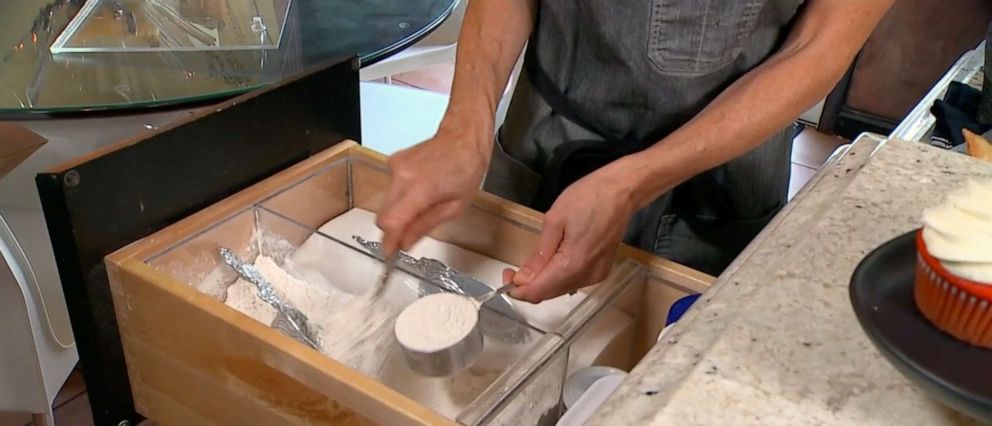 "If you go in and dunk the cup it's going to give you a heavier weight -- and dense cakes," she explained of how most home cooks measure flour. "The most accurate way to measure is to spoon it or with a scoop and then take a flat surface and sweep the top -- it'll give you moist, tender, delicious cakes every time."
Recreate this recipe and try out chef Pavlides' hacks at home and tag "GMA" on social media!