If you're looking for treats that are extremely spooky and extremely unconventional this Halloween, look no further than Christine McConnell.
McConnell developed a following on her Instagram account with her creepy culinary creations and is now the host of the new Netflix series "The Curious Creations of Christine McConnell."
Just in time for Halloween, McConnell shared with us how to make some of her scariest treats including her Vampire Milkshake, Poison Apple Punch and Caramel Nut Brown Recluse Spiders.
Get the recipes for all of McConnell's curious creations from her book, "Deceptive Desserts: A Lady's Guide to Baking Bad," that will scare your trick-or-treaters and friends.
Vampire Milkshake
Warning: These will turn your mouth red to make it look like you're a vampire IRL.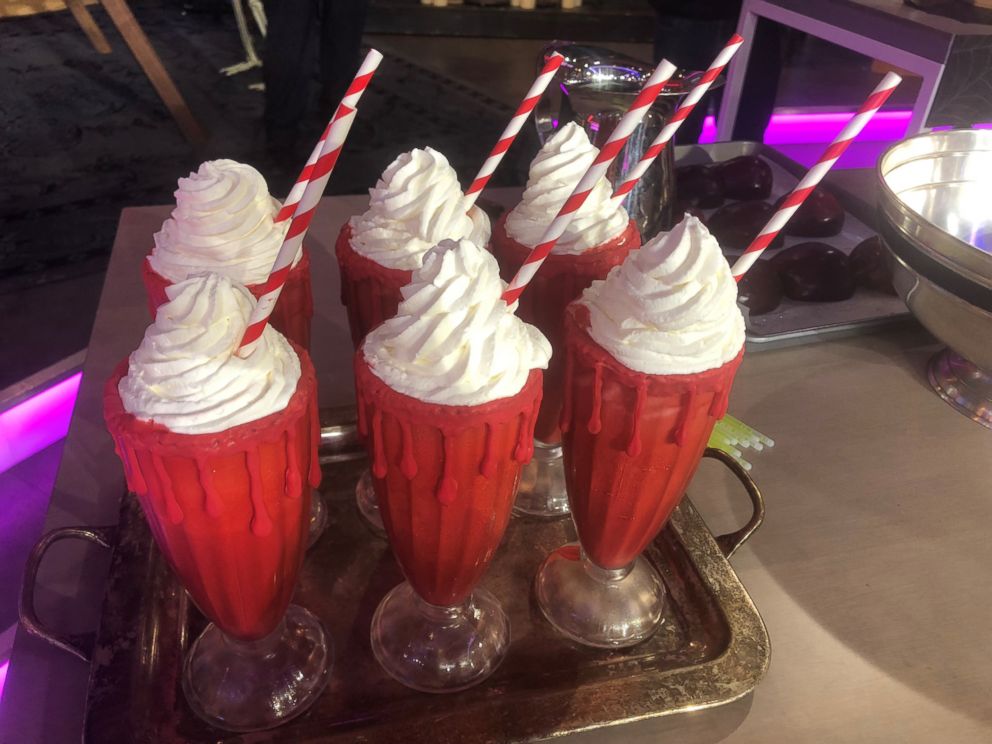 Ingredients:
6 cups chocolate ice-cream
3 teaspoon vanilla
1/4 cup sugar
2 1/2 cups milk
2 bottle red food coloring
You also need:
Vintage shake glasses
Straws
Whipped cream
1 cup blood red melting chocolate
Directions:
Melt blood red chocolate and dip rim of glass in upside down.
Pour remaining chocolate into piping bag and pipe around rim allowing to overflow into ominous drips.
In a blender combine half of all remaining ingredients and blend.
Pour into two glasses, set in freezer, repeat with remaining ingredients.
Set out all four and top with whipped cream and straws. Enjoy!
Poison Apple Punch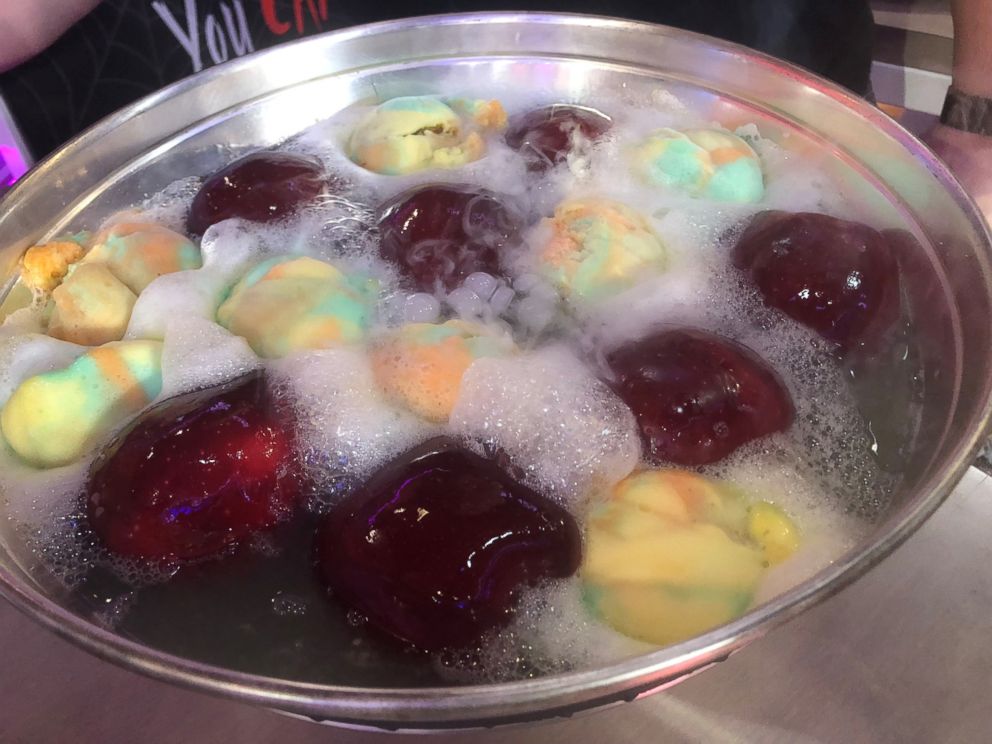 Ingredients:
2 lbs dry ice
5 green glow-sticks
1 Carton lime green sherbet
1 2-liter bottle of 7-Up
5 glossy red apples
Directions:
This ones pretty simple! Scoop as much sherbet into your punch bowl as you would like.
Slice apples in half and drop in. Pour 7-Up or another clear carbonated drink of your choosing in (sometimes off-brands work better with the dry ice).
Once the kids are near, break glow sticks; just till they crack inside; don't puncture or break exterior case. Drop them in!
As the last step break off a few chunks of dry ice and plop them in.
The effect is dazzling and guaranteed to have all the kids talking excitedly before slipping off to dreamland.
Caramel Nut Brown Recluse Spiders
These very creepy and real-looking brown recluse spider candies are more difficult to recreate. Try if you want a challenge!
Yield: 5-8 Spiders
Total Time: 3 hours and 30 mins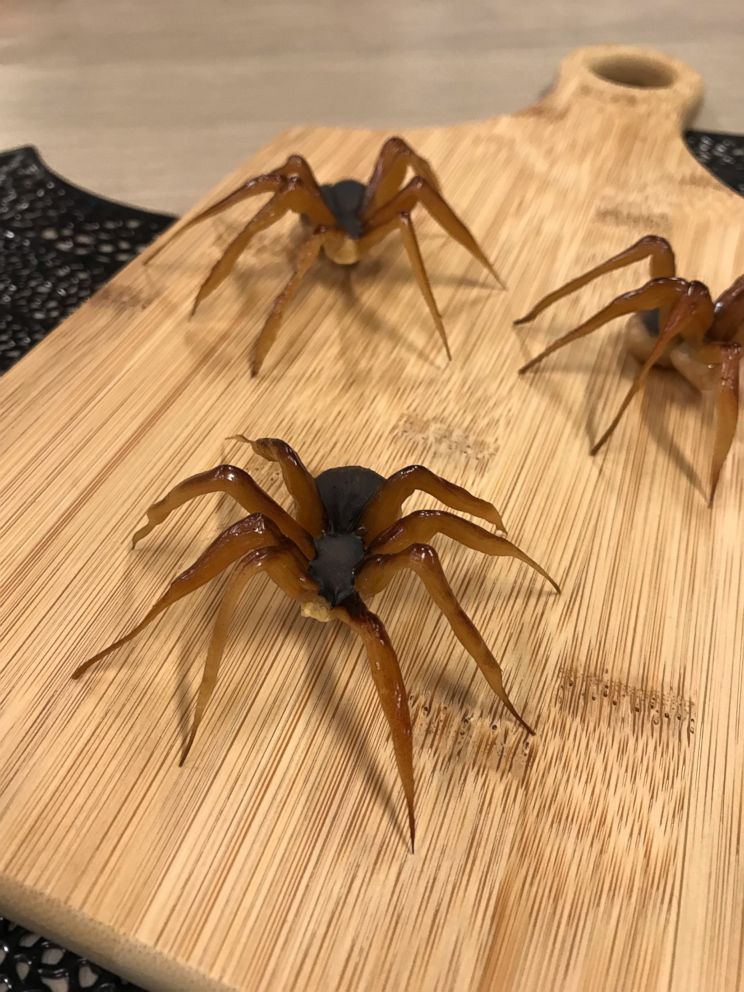 Ingredients:
1 standard bag of white macadamia nuts
1 standard bag of plain peanuts
1 standard bag werther's original candy
1 standard can edible brown spray food coloring
Directions:
Heat oven to 310 degrees and space half bag of unwrapped candies on two parchment lined baking sheets. Melt until just softened (Around 5-7 minutes) and pull off bits and stretch into 1" - 1 1/2" spider legs. You'll have to keep placing baking sheets into the oven to reheat and I won't lie—this part is tedious.
Once your poor, semi-burned fingers feel like snapping and you just can't make any more, the fun begins! Using any small nuggets of candy left on your sheet, use a pair of long stemmed tweezers and torch to heat. Glue one macadamia nut and half of one peanut together. You can adhere these on a flat parchment-lined surface OR you can glue the peanut upwards on a slight angle and make spiders that look as though they're ready to pounce!
Use a brûlée torch or hand held lighter to heat base joints of spider legs and apply 8 to each nut cluster. Once your spiders are adequately horrifying, spray the tops with a quick burst of food coloring spray and prepare to terrify and amaze your guests.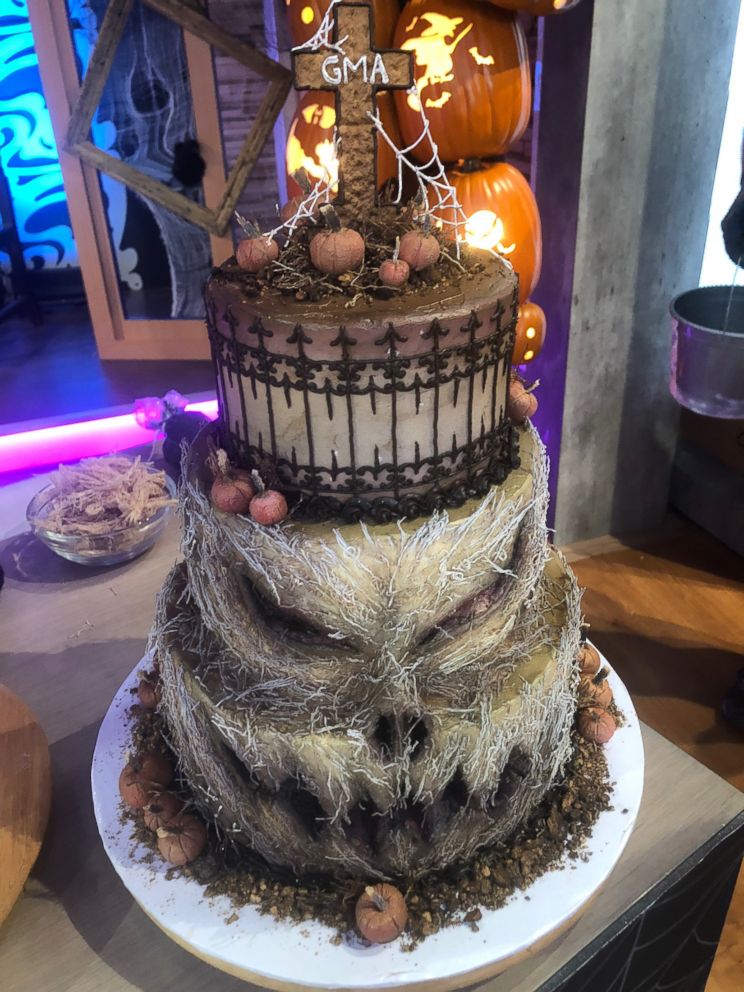 Recipes reprinted with permission from "Deceptive Desserts: A Lady's Guide to Baking Bad."
Visit Goodmorningamerica.com/halloween for tons of last-minute Halloween hacks from DIY glitter and unicorn pumpkins to makeup tutorials, trendy last-minute costume ideas, recipes and more!
Editor's Note: This story originally was published on October 31, 2018.