How to make pancake cereal at home
This National Cereal Day swap the spoon and milk for one of these festive, tasty treats.
Cereal has ingrained itself as a breakfast staple, but its versatility lends itself to recipes beyond the bowl with everything from desserts to cripsy coating for savory dishes like chicken tenders and more.
Famed celebrity pastry chef Christina Tosi, founder of Milk Bar, famously introduced the world to her signature cereal milk ice cream flavor back in 2008 to much fanfare that has developed into a full menu of delcious cereal treats.
And the craze is far from over. There's Kith Treats, a cereal ice cream bar tucked inside the sneaker and streetwear retailer's locations across the country, featuring kid favorites like Frosted Flakes, Cocoa Puffs, Cap'n Crunch, Cinnamon Toast Crunch as toppings and mix-ins. Milk & Cream Cereal Bar, another ice cream and cereal specialty shop, opened its doors in New York City in June 2017 and offers up whimsical and Instagramable combinations.
Kellogg's has its own permanent flagship cafe in New York City complete with a DIY cereal station, specialty cereal drinks, and other sweet and savory concoctions.
But you don't have to visit a specialty store to tap into that childhood nostalgia.
Check out the below recipes for some simple cereal desserts to sweeten up your day.
Cereal Marshmallow Bars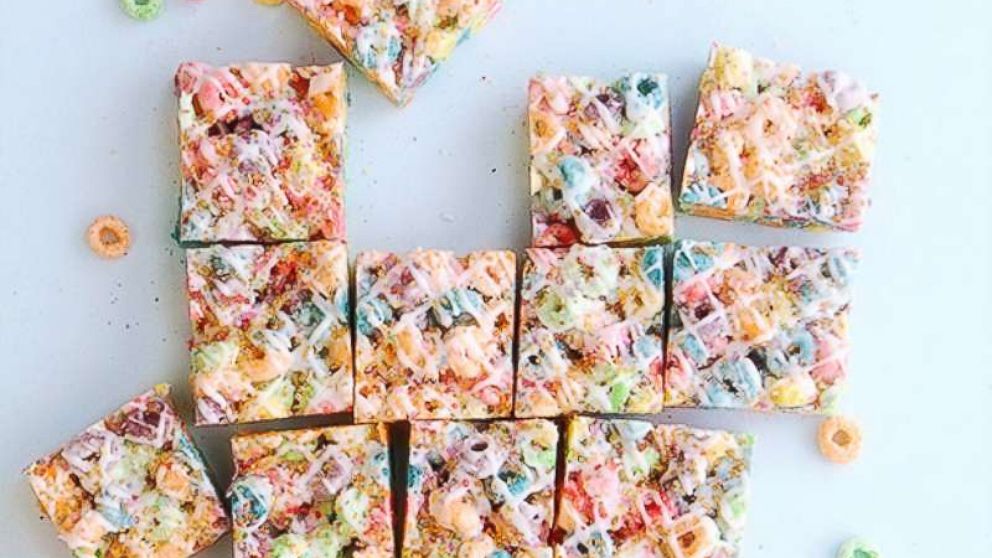 Naomi Robinson, author of "Bakers Royale," riffs on the classic Rice Krispie treat in this verison made with Fruit Loops and topped with colored sugar. Get the full recipe here.
Serves: 10-12 servings
Ingredients:
2 tablespoons butter
5 cups (9 oz) mini marshmallows
6 cups (6.5 oz) Fruit Loops
Glaze
1 cup powdered sugar
2 tablespoons milk
2 tablespoons colored coarse sugar or sprinkles
Directions:
Preparation: Spray a 9x9 pan with non-stick spray. Set aside.
Stir and melt butter and marshmallows in a large saucepan over medium high heat. Stir in Fruit Loops and mix until fully combined. Pour mixture into prepared pan, using your hands to flatten. Set aside for 1-2 hours.
In a separate bowl, combine powdered sugar with milk and stir to combine. Using a spoon, drizzle glaze on top of cereal bars and dust with colored sugar or sprinkles.
Blackout Chocolate and Peanut Butter Cheerio Bars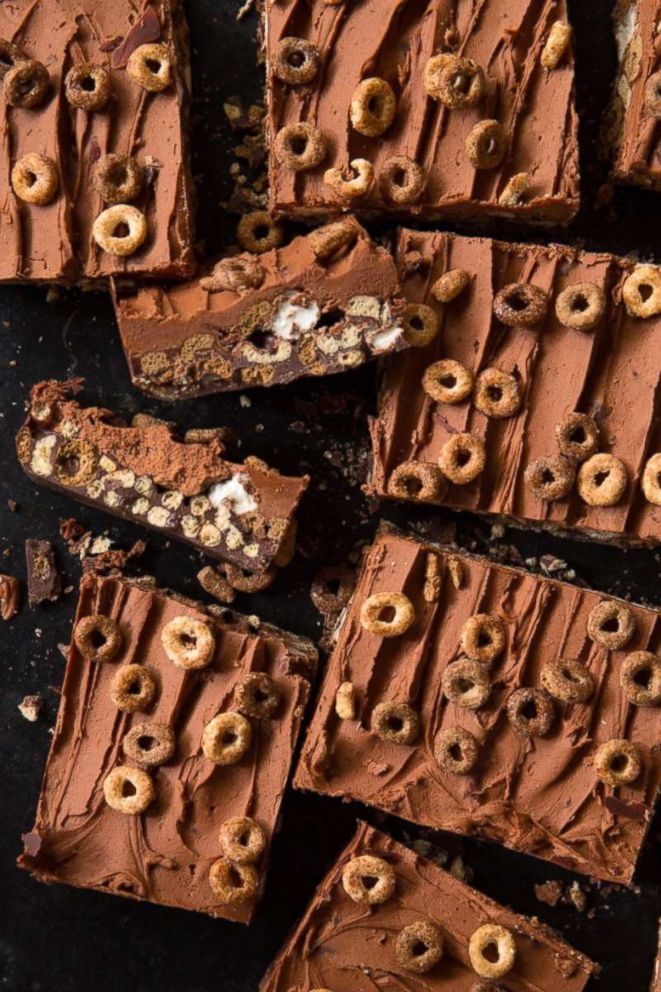 Matt Robinson, the food blogger behind Real Food by Dad, shares his recipe for blackout chocolate and peanut butter Cheerio bars. Get the full recipe here.
Serves: Serves 8 - 10
Ingredients:
4 cups Chocolate and Peanut Butter Cheerios cereal
1 cup mini marshmallow
12 oz. chocolate
2 teaspoons molasses
Frosting
12 tablespoons unsalted butter
1/3 cup malted milk powder
2 tablespoons unsweetened cocoa power
2 teaspoons vanilla extract
2 oz. semi-sweet chocolate, melted and cooled
2 cup powdered sugar
Directions:
To make base: In a large bowl, combine and mix together cereal with mini marshmallows; set aside. Add chocolate and molasses to a microwave safe bowl. Heat chocolate in 30-second bursts, stirring until chocolate is smooth and melted. Add cereal mixture to chocolate mixture until evenly coated. Scrape mixture into 9x9 pan and spread mixture to a level finish. Transfer pan to the refrigerator.
To make the frosting: Add butter to a stand mixer bowl fitted with a paddle attachment. Scrape down the bowl, add malted milk powder and cocoa powder. Beat on low until just blended then turn mixer to high and beat until well blended. Add remaining vanilla extract and melted chocolate and beat until blended. Add powdered sugar and beat on low until just blended, then turn mixer to high and beat until frosting is fluffy.
Assembly: Remove pan from the refrigerator and top with frosting. Evenly spread frosting to cover the surface. Sprinkle a handful of cereal on top.
Cinnamon Toast Crunch Chocolate Mousse with Cinnamon Crumble
Dulce Delight shared a recipe for Cinnamon Toast Crunch Chocolate Mousse with Cinnamon Crumble. Get the full recipe here.
Cereal and Potato Chip Bars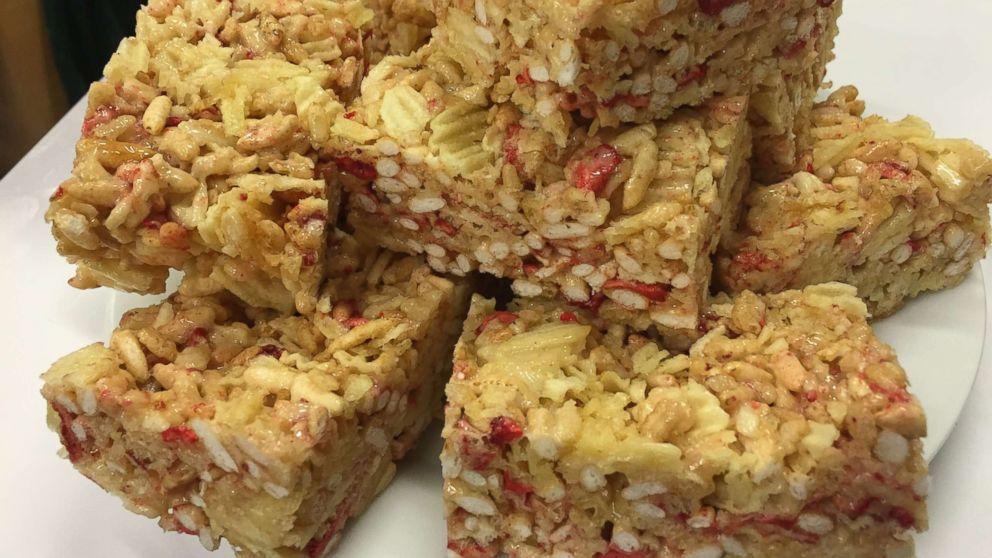 Put a twist on sweet desserts by adding a salty snack like potato chips. Maile Carpente, the editor-in-chief of Food Network magazine, shared her recipe with "GMA" for cereal and potato chip dessert bars. The recipe can be made with Honey Nut Cheerios, Kix cereal or you can try fruity ones, like Froot Loops or Trix. Get the full recipe.
Nutella Krispie Cereal Treats
Oh Bite It! pairs Nutella with Rice Krispies in this dessert. Get the full recipe.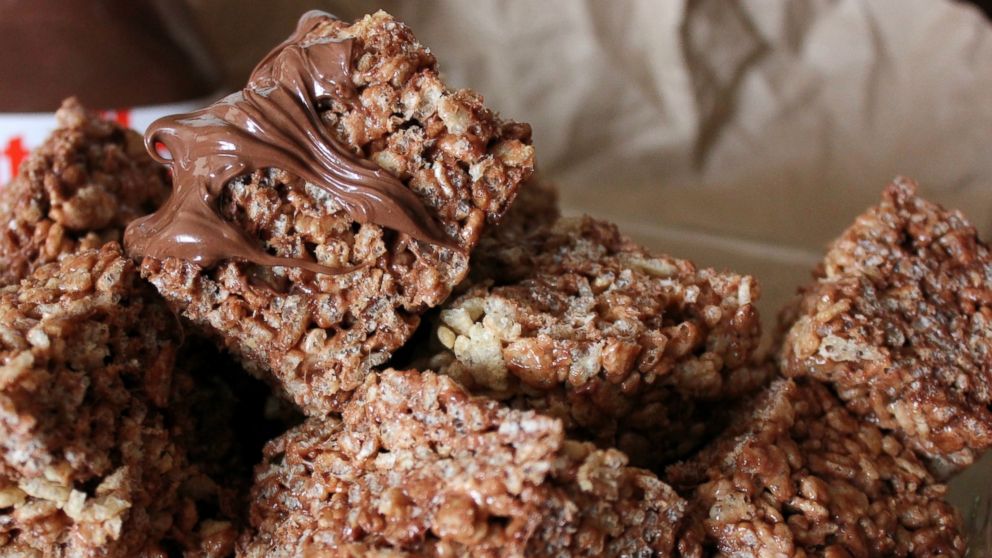 Ingredients:
6 cups of Rice Krispies
40 regular sized marshmallows
3 tablespoons butter
1 cup of Nutella
Directions:
In a double boiler over medium heat, melt the marshmallows and butter. Stir until smooth and then swirl in the Nutella.
In a large bowl add the Rice Krispies and then mix in the marshmallow Nutella mixture. Stir with all you have!
Pour the mixture into a greased pan and let set until cool.
Buckeye Chex Mix
Get snacking. GluedToMyCraftsBlog.com shared a recipe for a nutty and sweet Chex Mix with chocolate, peanut butter and crunch.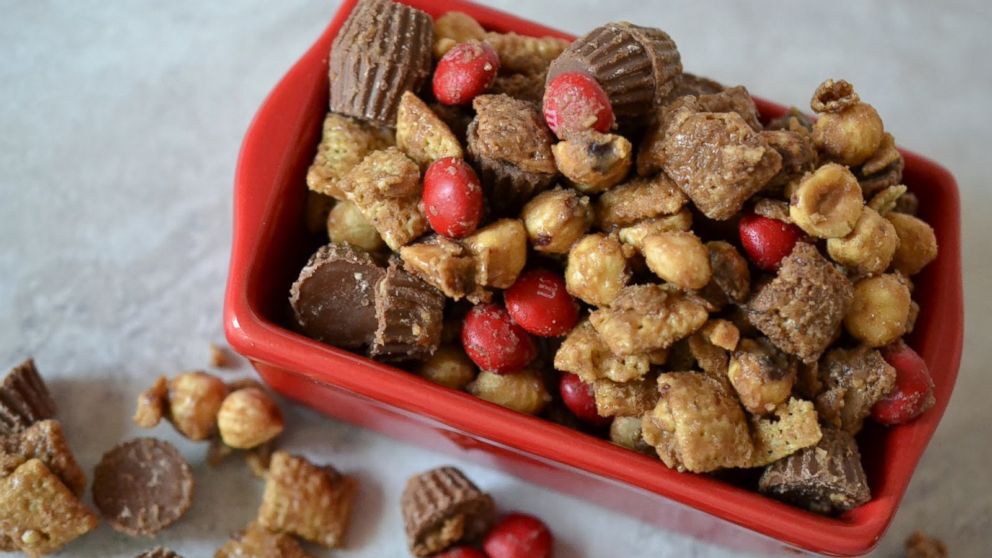 Ingredients:
6 cups chocolate Chex mix
1 cup hazelnuts
1/2 cup peanut butter
1/4 cup brown sugar
1 tbsp butter
Mini Reeses Peanut Butter Cups
Red M&Ms
Directions:
In a large bowl, mix together your cereal and hazelnuts. Set aside.
In a small saucepan, melt together your peanut butter, brown sugar and butter, until slightly boiling.
Pour mixture over your cereal and mix well until everything is well coated.
Place bowl in fridge for ten minutes, so mixture can cool down.
Once cool, pull bowl out of fridge. Stir in Reese's peanut butter cups and M&Ms.
Store in air tight container.
An earlier version of this story was originally published on March 7, 2018.