Labor Day is around the corner, which means it's time to upgrade your grill game and close out summer with a twist on crowd pleasing classics.
Celebrity chef Ryan Scott and chef Doug Adams joined "Good Morning America" to share simple techniques that take ordinary recipes on the grill to the next level. Plus, you can prep most of the meal ahead of time and still have a chance to relax on your holiday and hang out with your guests.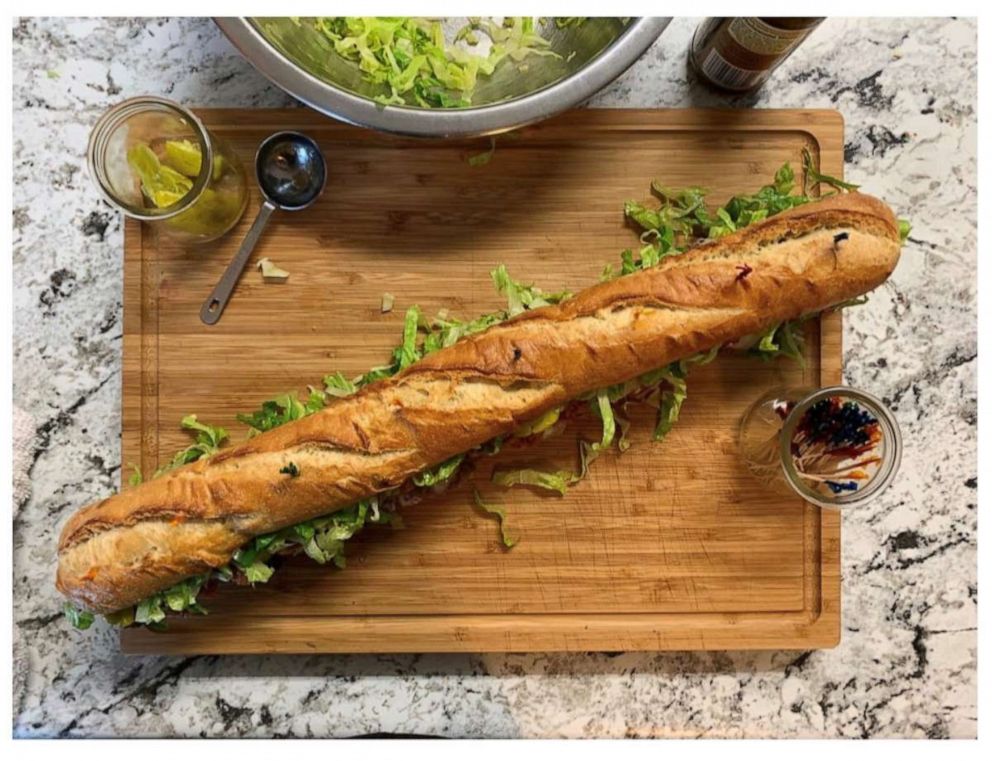 Check out their best tips and full recipes below and share your favorite on social media with "GMA" this Labor Day weekend.
Italian Slider Party Hoagie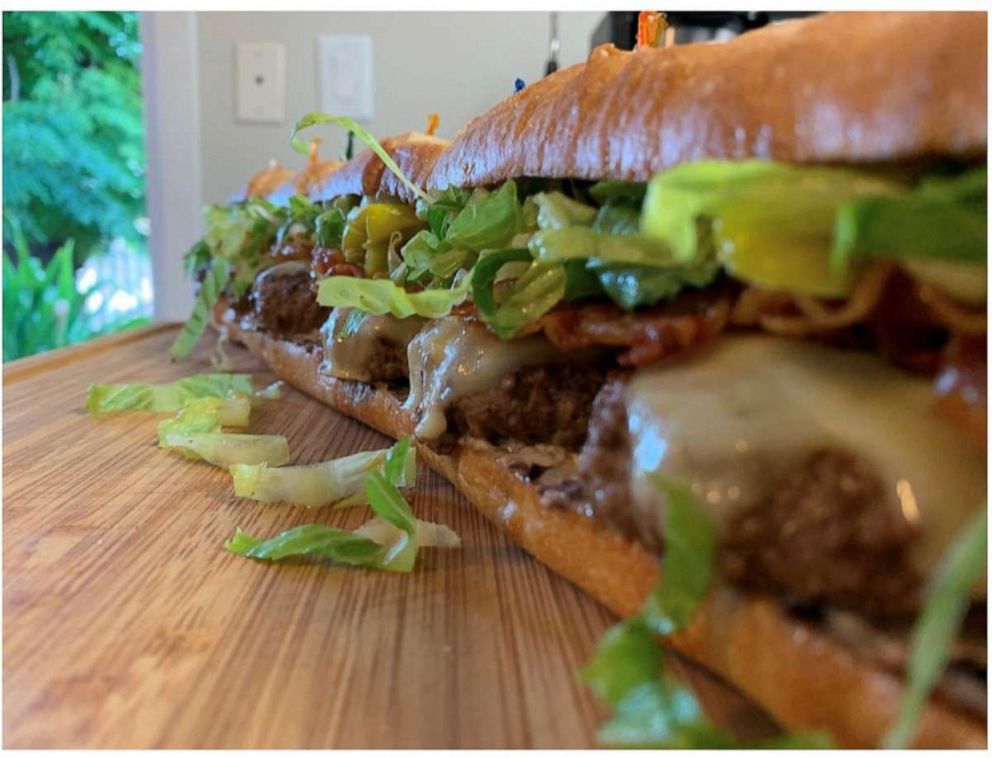 Chef Scott shared a few suggestions for what make this versatile recipe so simple and special.
Slide your patties into the freezer: Usually it's best to pull out a large hunk of meat to take the chill off of it for at least 45 minutes before it hits the grill. But with sliders, like the ones in Scott's hoagie, you want to put a quick chill on them for at least 45 minutes to an hour in your freezer. Sliders can overcook quickly, so putting them in the freezer for at least an hour allows you to get that perfect pink medium rare on your screaming hot grill.
Season and clean the grill with an onion: Cut an onion in half and wipe it across the grates, it will perfume the grill and clean it at the same time.
Interchange ingredients easily: Scott said you can swap out the protein with pork patties, grilled chicken breast or even shrimp. "This recipe is a vessel for you to change it to whatever you like," he said.
Technique tip: Choose a high quality Italian dressing that only has oil, vinegar, and seasoning in the ingredients list. You can make your own of course, but store bought is great for saving time as long as you choose the right brands. Also, when shopping for your bread, try to find a baguette that is on the softer side, not a super crusty loaf. The sandwich will eat a lot easier that way!
Swap Option: If you don't like olives, try sun dried tomatoes or roasted garlic for the aioli; Mediterranean flavors that go great with the Italian dressing, peppers and provolone.
Why I love this recipe: I love a good sub, and this one is perfect for sharing on game day, or for any big gathering. The Italian flavors make this different from your usual sliders, and the sheer size of the thing is super impressive!
Serving Size: 6-8
Total cook time: 35 minutes, prep 15, active 20
Ingredients:
For the olive aioli
1/4 cup pitted Kalamata olives
1/3 cup mayo
Pinch ground black pepper
1/4 tsp garlic powder
For the hoagie
1 pound ground beef
1 24-inch long soft baguette or long skinny hoagie (you can also use 2 foot-long hoagie rolls)
1 pack thin sliced pancetta (about 6-8 slices)
4 slices provolone cheese
2 cups shredded romaine lettuce
4-8 pepperoncinis, stem removed and sliced in half lengthwise
1 ripe tomato, sliced thin
1 tablespoon Italian dressing
Directions:
To make the olive aioli chop the olives by hand or in a food processor until chunky. Add the mayo, garlic powder and pepper, mix to combine and set aside.
To make the slider hoagie start by dividing the ground beef into eight equal parts and shape each one into a patty. Set onto a sheet pan and put in the freezer.
Spread the pancetta slices on a parchment-lined sheet pan and put in a 375 degree oven for five to seven minutes to crisp up. It will look like small, delicate bacon. Set aside.
Split the baguette or hoagies horizontally. Butter or oil the inside and toast in the broiler or on the grill.
Take the raw sliders from the freezer. Coat them with oil and season with salt and pepper. Cook them on a hot cast-iron, grill pan or outside grill on high heat for three to four minutes on each side for medium rare/medium. Put a half slice of provolone on each slider and melt in thebroiler or on the grill with the gas off and lid closed for one minute.
Spread the olive aioli on the bottom half of the toasted bread. Arrange the sliders on top of the aioli, snuggled right up against each other (eight sliders should fit exactly on one standard length baguette). Top the burgers with crispy pancetta, tomato slices, and sliced pepperoncinis.
In a small bowl, toss the shredded lettuce with the Italian dressing. Top the sliders with a mound of dressed lettuce and put the top half of the toasted bread on top. Use frilly toothpicks to secure the sandwich, using one per slider patty.
Slice off the servings by the slider, or two for the hungry guys and gals!
Potato Salad Dog with Crushed BBQ Potato Chips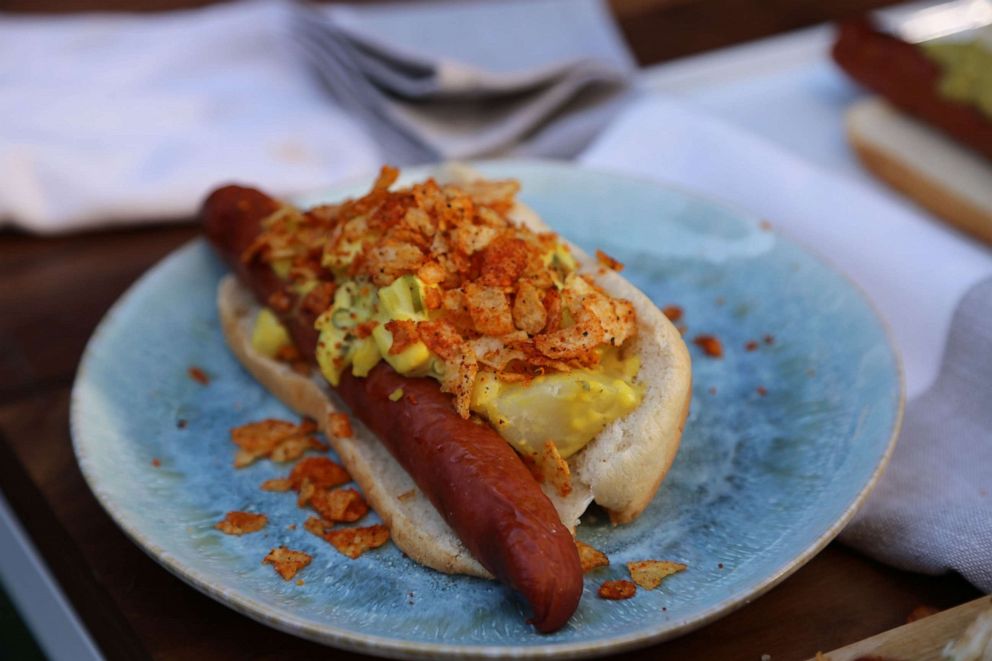 Doug Adams, the chef and partner of two popular Portland eateries, Bullard and Abigail Hall, shared his top tips for an amped up hot dog.
Use a high-quality hot dog: Adams said he likes Olympic Provisions, which is local in Portland, but there are many other brands that are all-natural. Just look at the ingredients. The less there are listed, the better.
Top dogs with sides: The sky is the limit with toppings, so use all those side salads you prepared for the BBQ. The chances are if it tastes good on the side, it will taste good on top of the hot dog as well.
Make extra seasoning: Adams created a rub for the potato chips, but home cooks can double the recipe and keep using it whether for another snack item like popcorn or on proteins like chicken, shrimp or pork.
Ingredients:
Potato salad:
3 pounds of russet potatoes, large dice
4 hard boiled eggs, chopped
1 cup mayonnaise
1/2 cup yellow mustard
3/4 cup chopped dill pickle
1 TBS pickle juice
1 TBS coarse black pepper
1 tsp salt
1/4 cup finely sliced scallion
BBQ Spice mix:
3/4 cup toasted and ground coriander
3/4 cup toasted and ground cumin
1 cup toasted and ground fennel seed
1 cup cayenne
1 cup paprika
1/2 cup black pepper
1 cup brown sugar
1/4 cup light roast coffee grounds
1 bag of Kettle Potato chips
Directions:
For the potato salad, boil water in a large pot and add potatoes. Simmer until the potatoes tender. Do not overcook. Drain and let the potatoes cool.
In a large bowl, mix the rest of the ingredients in with cooled potatoes.
For the BBQ potato chips, mix the spices and potator chips together.To assemble, place the hotdog in a bun and top with a quarter cup of potato salad. Crumble BBQ chips on top.
Grilled Corn Dog with Roasted Poblanos, Cotija Cheese and Cilantro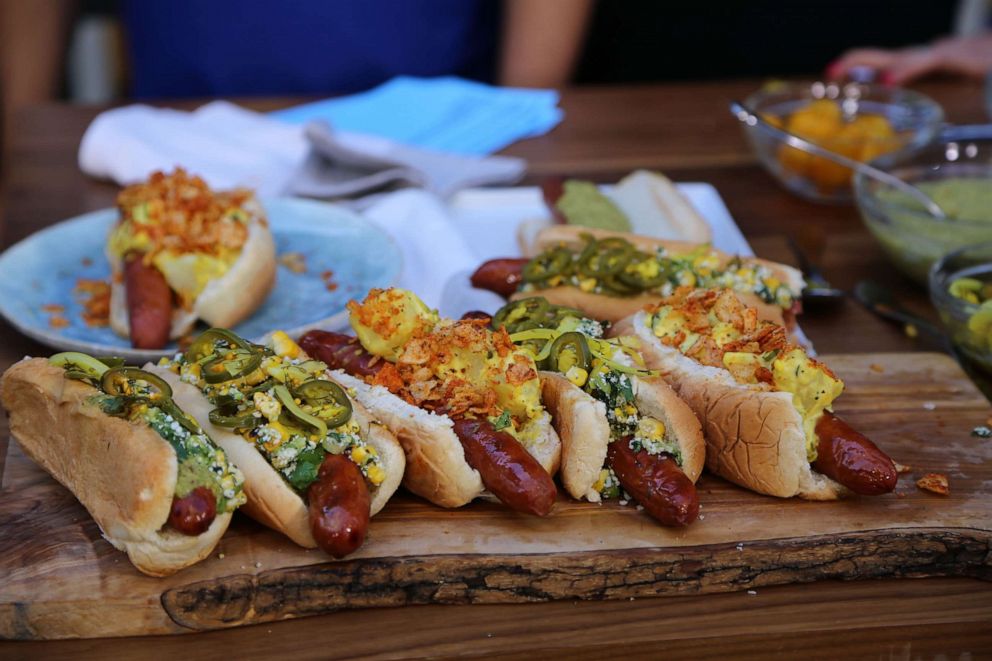 Ingredients:
Jalapeno Bread and Butter Pickles
1 quart jalapenos, sliced
1 sweet yellow onion, julienned
4 ea cloves of garlic
2 quarts apple cider vinegar
1/2 cup sugar
1/4 cup salt
1/2 cup yellow mustard seeds
1 bay leaf
2 star anise
1 TBS turmeric powder
1 bunch dill, chopped
Creamy Poblano Dressing
1 bunch cilantro
1 bunch scallion
1 1/2 cup blend oil (3/4 cup canola/ ¾ cup olive oil)
3/4 cup lime juice
1 Tsp cayenne
4 poblanos, roasted, peeled and seeded
Directions:
For the pickles, put the jalapenos, onion and garlic aside in a bowl.
In a medium sized pot, bring the rest of the ingredients to a boil and immediately pour the hot brine over the jalapenos, onion and garlic. Let cool to room temperature and refrigerate.
Combine all ingredients in a blender and puree until very smooth. Season with salt.
Grilled Corn Salad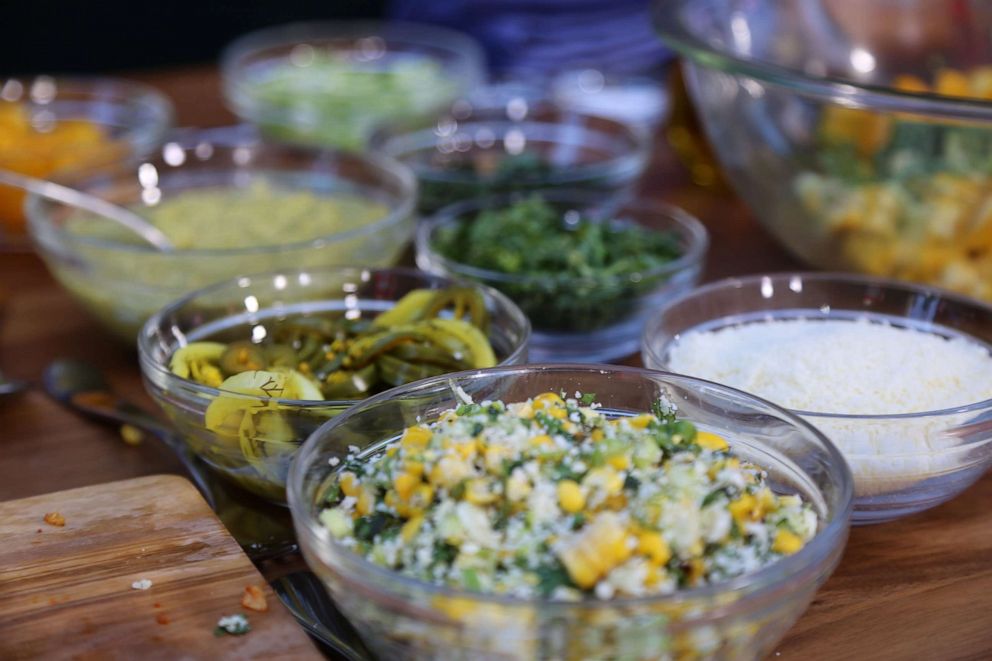 Ingredients:
4 ears of corn
1 cup basil, chopped
1 cup cilantro, chopped
1 cup sliced scallions
1 cup cojita cheese, crumbled
2 limes, juiced
1/2 cup EVOO
salt and pepper
Directions:
Clean and remove husk from corn. Char the corn on the grill until very tender. Cut the kernels off the stalk, and let cool
Combine corn with the remainder of the ingredients.
Assembly:
Put hotdog in bun. Put a quarter cup of the corn salad on top of the hotdog. Drizzle two tablespoons of the creamy poblano dressing on top. Garnish with two tablespoons of pickles.