Viral food videos feed our voracious appetites for viewing interesting social media content every day, but there's much more than meets the eye behind these craveable, clever culinary scenes produced by top creators.
Nicole Keshishian Modic has found success in the space as KaleJunkie where she dishes up healthy recipes, tests out viral food trends on TikTok and Instagram to her over 1.5 million combined followers and opens up about her relationship with food to encourage others how to find a wholesome balance.
Behind the viral creator: KaleJunkie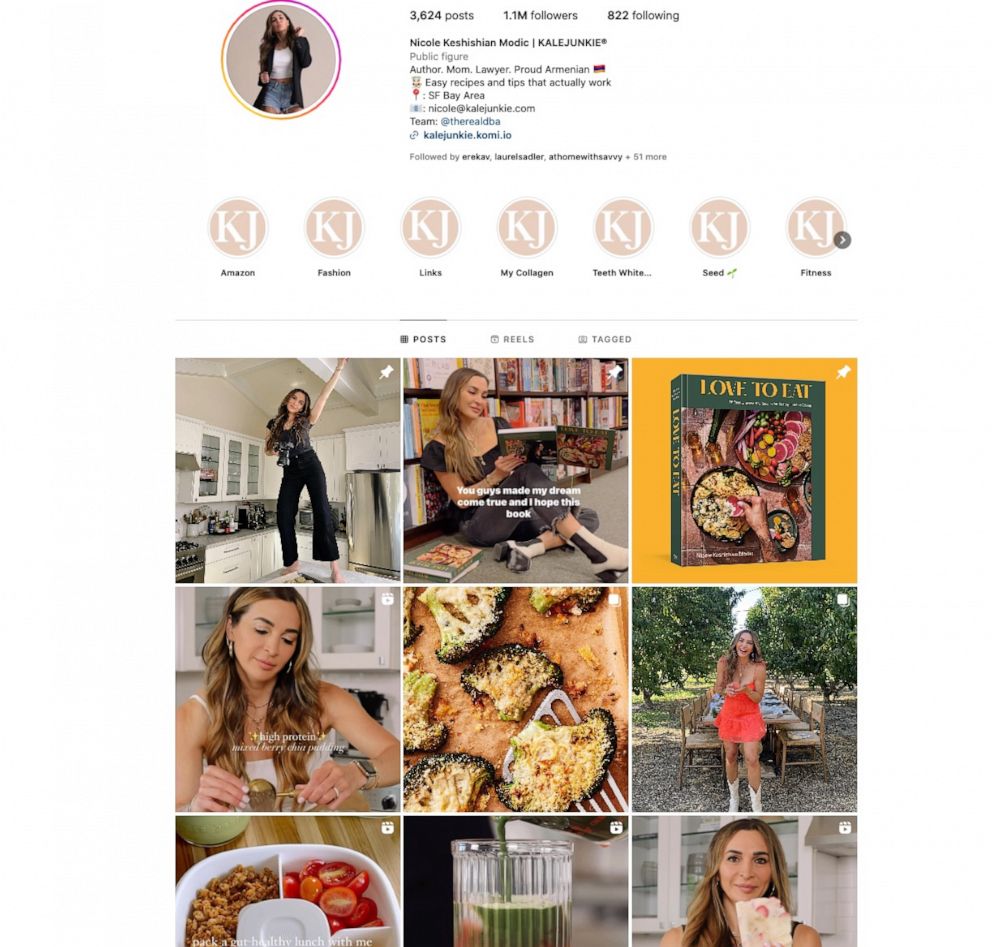 From her first viral recipe in 2018 for "life-changing tahini chocolate chip cookies" to a more recent five-minute spicy cucumber salad that reached 12 million views on TikTok, Modic's momentum has been what she considered "a slow burn" that was worth the wait for the community she's built along the way.
At first glance of the creator's vibrant food page, you're met with upbeat, informative cooking reels and drool-worthy food posts that garner hundreds of thousands of likes per day. But first timers or new followers may not know Modic's initial motivation behind the account. In March 2015 the former employment defense lawyer started food blogging for fun and within three short years, left her stressful, unfulfilling legal career in San Francisco to pursue this passion project full time.
"It was just a hobby on social media where I was testing out other creators' recipes, sharing them as I was healing my own relationship with food," Modic told "Good Morning America." "What nobody knew was that behind the scenes, I was struggling -- I had bulimia, I had binge eating disorder and it was made worse by the stress of my career -- I never saw a light at the end of the tunnel, I felt stuck."
One night Modic's husband Greg walked in on her binge eating in bed: "I was mortified, but that was an 'aha' moment for me because that was the first time in my life that somebody that I loved and cared about so much saw me in a really vulnerable state. And from that moment on, my secret was no longer a secret. And that was really freeing for me."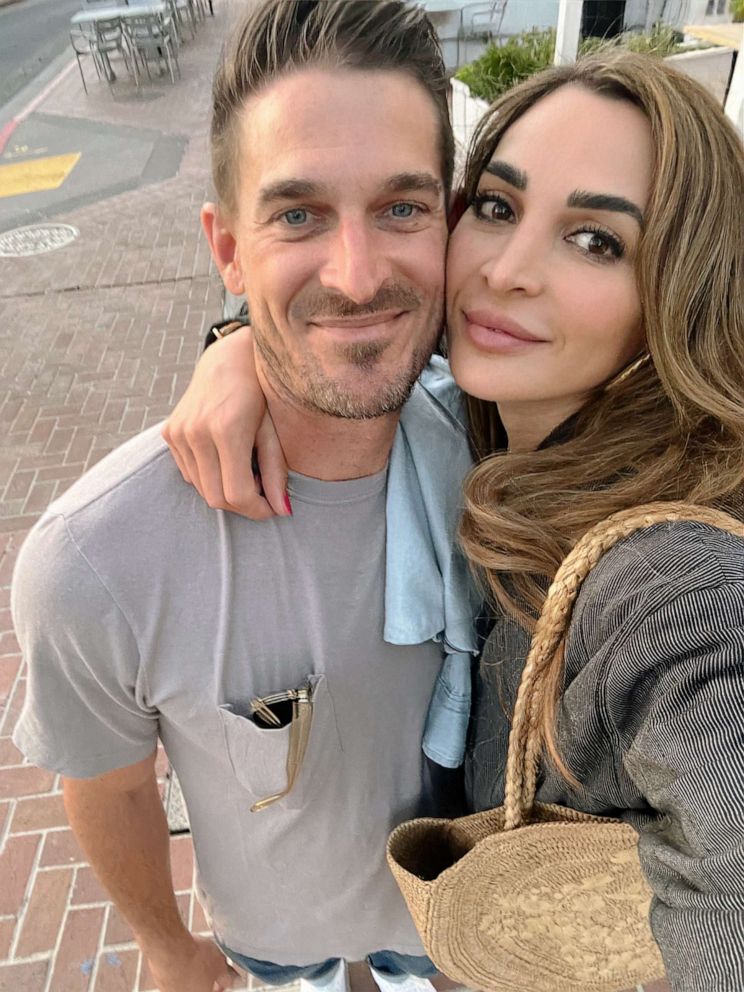 Getting a handle on healthy eating through social media
"I was under this impression that I had to eat all the green salads all the time, all the juice, all the kale. So, when I was starting my Instagram account, I was like, 'I'm going to call it KaleJunkie as a representative of all these things that I was eating,'" she said of her handle's origin story. "As I really dove deeper into this idea of intuitive eating and eating in line with what my body is really asking for, it kind of evolved over time."
"This is just a hobby, but my life is being transformed by eating with foods made with more nutritious ingredients -- 'I'm onto something,'" Modic recalled thinking when she first started out. "Things I used to binge on and overdue I was making more nutritious and would not be triggered by them anymore. That was the start of healing my relationship with food, ironically, through food."
Modic created a community using her KaleJunkie platform as a space to "tell people I was struggling and what the recovery journey was like," at which point she said her Instagram DMs blew up. "A lot of women and teenage girls came to me and said, 'I'm struggling too, I'm embarrassed ... what did you do?'" Modic said. "That gave me this sense of purpose. I knew that I wanted to leave my career in law and help anybody that was suffering with their relationship with food, because I knew that if I could overcome something that was a huge part of my life for 15 years, that other people could to."
"My Instagram started to grow organically, I was falling in love with content creation, but I was still practicing law and somehow juggling the two," she said of the times that predated influencer marketing as we know it today. Then one spring day in 2018 Modic quit her job to pursue KaleJunkie full-time: "I never looked back."
These days her account is "less about the eating disorder recovery journey, though it is such a huge part of who I am" and instead focuses on creating original food content from easy viral dishes to time-saving kitchen hacks.
While she still loves to eat "a nice loaded salad," Modic said, "I also love real food. "So, although I'm no longer a kale junkie exclusively, that name stuck with me. And it signifies part of my journey. I don't want to change it. I feel like too often we run away from our history and our struggles and where we've been, but that is all who we are."
A full-time food creator's recipe for success
"A day in the life of KaleJunkie is always different," Modic said, "but I've tried to streamline my processes over the last couple of years because I realized that I worked 24/7." Once a week she's in the kitchen recipe testing; Two to three days a week she shoots video and photos cooking through those recipes, all while doing her own editing; She also writes companion blog posts for her website and social media posts. And last year she squeezed in time to publish her first cookbook, "Love to Eat: 75 Easy, Craveworthy Recipes for Healthy, Intuitive Eating."
"I always leave room for a last minute trend to pop up into my content calendar," she said. "So, when I see something that looks really fun and exciting -- I've got to move everything off the plate to try to be on the forefront of capturing that."
Like many of her fellow food creators, Modic noticed that more and more "trends originate on TikTok" so she will "study what's going on" and "try to think of my own trends here and there to be a trendsetter as well."
With the exception of a new kitchen assistant, Modic said "I handle all of it myself because I feel like I put a personal touch on everything and I can't relinquish control of some things that I think make my content special."
"I work in the kitchen every single day and motivation goes up and down. But when I see the joy that it brings to people's faces, that is definitely the inspiration that keeps me going," Modic said of the messages from excited home cooks who fall in love with how easy it can be to make a sea salt tahini chocolate chip cookie or kale avocado couscous salad. "The whole goal is to introduce people to a healthy lifestyle and let them know that you don't have to sacrifice taste or the joy that food brings to people's lives."
"If I'm being really honest, balance is really hard. I am a mom, I have two small boys. This is my job, the content that I create and the recipes that I create is my passion. So, trying to find that ever-elusive balance between all of it is difficult," Modic admitted.
Social media milestones of KaleJunkie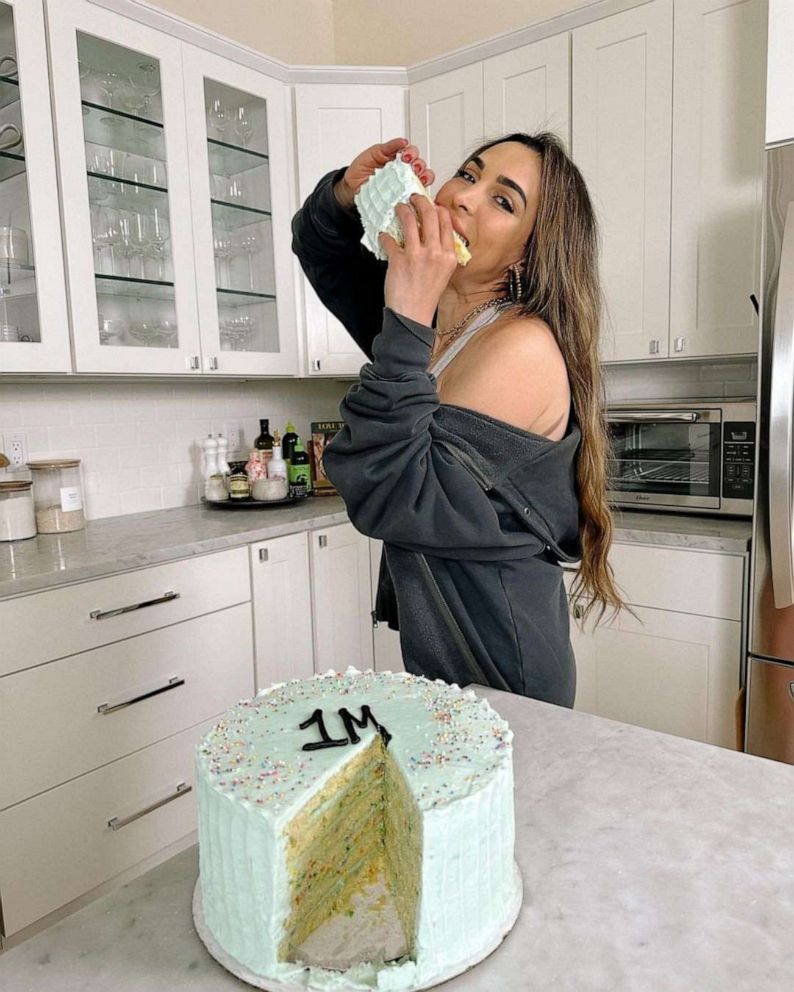 Earlier this summer, Modic celebrated a major social media milestone -- hitting 1 million followers on Instagram -- which brought with it a flood of gratitude for her consistent grind over the last eight years.
"I have to be honest -- I was really emotional. I am not one of those people that blew up overnight," she reminded. "I've put in the work daily -- researching, doing food photography classes back when Instagram was all about photography, teaching myself how to use a camera and shoot a DSLR for my videos. Also, finding the courage over the years to come out from behind the camera, and show my face in videos," which she noted was difficult for someone "who had suffered with an eating disorder."
"It really hit deep because it was a commemoration -- a reflection of growth," she continued. "I felt really honored that I have a community that place their trust in me, that find my content valuable enough to recommend to their friends to their families."
Best and worst viral food trends as tested by KaleJunkie
With billions of views on food and recipe search terms on social media, Modic is always one of the first food influencers to showcase whether what's buzzed about is actually worth your time.
She looked back with "GMA" at some of the best bites and worst flops over the last couple years, noting that the secret sauce for a recipe to take off on TikTok or Reels is "simplicity" -- dishes that "are really accessible and easy for people to recreate at home" using minimal ingredients with a quick cook time and customizable without altering the overall outcome.
Modic has noticed a few trends that continually take off, including "snack ideas, things people can make in a pinch, things that are high in protein, things that have wellness benefits," to name a few.
"My favorite is still those little salmon baked 'sushi' cups -- they're not traditional sushi -- they're these little muffin cups with rice and then cooked salmon or whatever filling you want," she said. "Those took off and were just so delicious."
She also enjoyed the "pickle in a blanket" that used just two ingredients -- "a piece of cheese that you melt on your griddle and you add a pickle and you roll it up -- that was actually pretty delicious."
As for the less appealing creations, Modic was not a fan of "the cottage cheese ice cream trend" that "taste-wise was kind of iffy," and because she said with her past unhealthy relationship with food, she is in a place now where "if I want ice cream, I'm gonna go to the the ice cream store get a nice scoop of ice cream."
Separating the creator from the content
"When content falls flat, it's really tough -- sometimes it's very hard to separate your self worth from a piece of content that you put out into the universe," Modic said.
Over the years she has learned when to walk away: "I just say, 'you know what people that are not content creators go to work every day and some days are great days at work and some days are not as great.' It's the same thing as a content creator." She also said she leans on fitness in the form of walks and Barry's Bootcamp in particular to "sweat and take my mind off work."
Modic said building the KaleJunkie community with people who have followed her journey "that have kind of grown up with me over the years and know my life" mean the most from this journey. "I take it really seriously. It's not just a job, it's my livelihood," she said. "I take great pride in that."
Having grown up in Los Angeles in a traditional Armenian household that placed value on looks, weight and diet culture, Modic said her message to others after years of evolving her relationship with food, is that it's all about balance.
"You don't have to restrict anything in your life," she said. "You can eat healthy, eat nutritious foods, but always make room in life for the things that bring you joy -- a balanced lifestyle is the best lifestyle -- the most important thing is that you're happy and that you have balance."