Grocery stores are battling for your Thanksgiving dollar
Even the most meticulous host may still be finalizing their Thanksgiving plans, and with the help of retailers, restaurants and brands like Butcher Box or Williams Sonoma, the holiday meal can be ordered ahead so all you have to focus on is heating, plating, serving and saying what you're most thankful for.
There is absolutely no shame in the order-ahead game, so stop stressing about learning to spatchcock -- although if you really want to, see how Martha Stewart does it here. Especially if it's your first time hosting the holiday feast, look to one of these delicious and easy options to tackle turkey day with ease.
Where to order ready-to-eat Thanksgiving turkey and dinner
Check out these online options that will ship direct to your dining room, or at least to your doorstep.
Be sure to check each vendor individually for updates on order cut off times and other local shipping or delivery information.
ButcherBox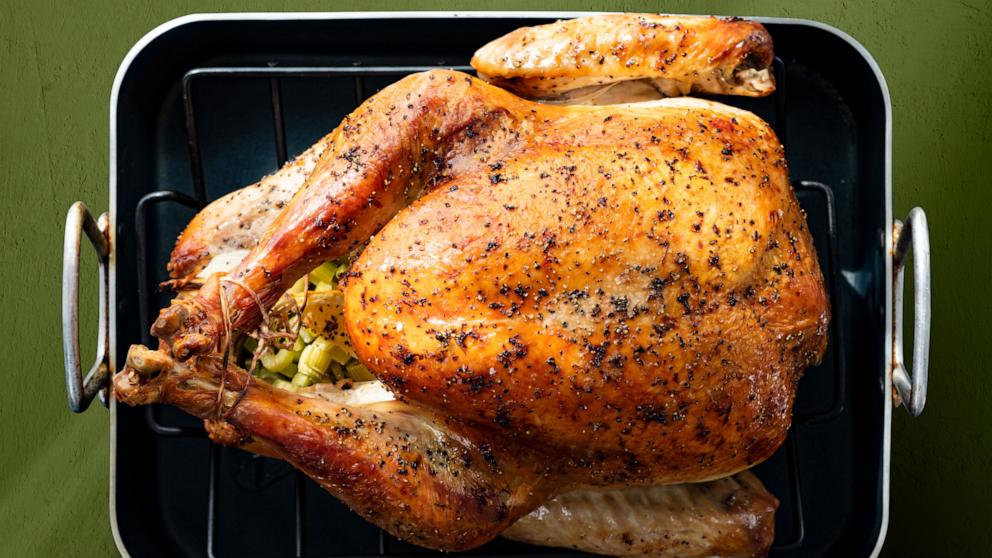 Tuesday is the final day to order a high-quality turkey from ButcherBox, and through the end of the day, any first time customers will be able to claim a free turkey in their box.
The all-natural, no artificial ingredients, young turkeys are available in three sizes: Small, 10-14 pounds for $65; Medium, 14-18 pounds for $79; and Large, over 18 pounds. For those who don't want a whole bird, ButcherBox also offered just the turkey breasts this season.
ButcherBox told "Good Morning America" that small turkey sales are up 150% so far this year and that more customers have ordered multiple turkeys, which the meat purveyors predict is a result of increased table sizes, multiple celebrations or a desire for more leftovers.
The monthly meat delivery subscription service also has an entire guide to Thanksgiving dinner complete with planning advice, timelines and recipes for the perfect turkey, plus even more ideas for what to make with any delicious leftovers.
For fans of other proteins instead of poultry, ButcherBox also offers ham, lamb and ribeye roasts, which the brand said has doubled in sales compared to this time last year. More than 40% of customer survey feedback said they will be serving ham this year either their primary protein or an additional option.
Pricing varies based on the chosen subscription plan, protein and size. See the site for additional ordering details.
Blue Apron
Customers of the subscription meal box can order a Classic Thanksgiving Box, which includes fully roasted turkey breast, homemade gravy, sides and dessert for just $131.98. It serves six to eight people.
The Thanksgiving box order must be placed by 12 p.m. EST on Wednesday, Nov. 15 for delivery by Thanksgiving.
Plus, first time customers can receive free shipping and discounts on future orders.
Williams Sonoma
Get a pre-brined, pre-roasted whole turkey and let your oven take a break until it's time to reheat on Thanksgiving with an all-natural turkey from Willie Bird ranch in Sonoma County, California.
The bestselling and time-saving bird can be ordered directly through Williams Sonoma, available in two sizes: 7-10 pounds or 10-13 pounds for $149.95 to $179.95.
The pre-roasted turkey ships chilled with ice packs to be refrigerated or frozen upon receipt, and should be placed in the fridge 48 hours before reheating with full instructions from the culinary team at Williams Sonoma when it comes time to serve.
Another great option for hosts looking to skip a whole bird this year is the Willie Bird Herb-Roasted Turkey Breast, a boneless breast infused with basil, thyme, fennel and lavender, which serves 10 to 12 people and is available for immediate or Thanksgiving delivery windows.
Grocery stores selling fully cooked Thanksgiving dinner
Whole Foods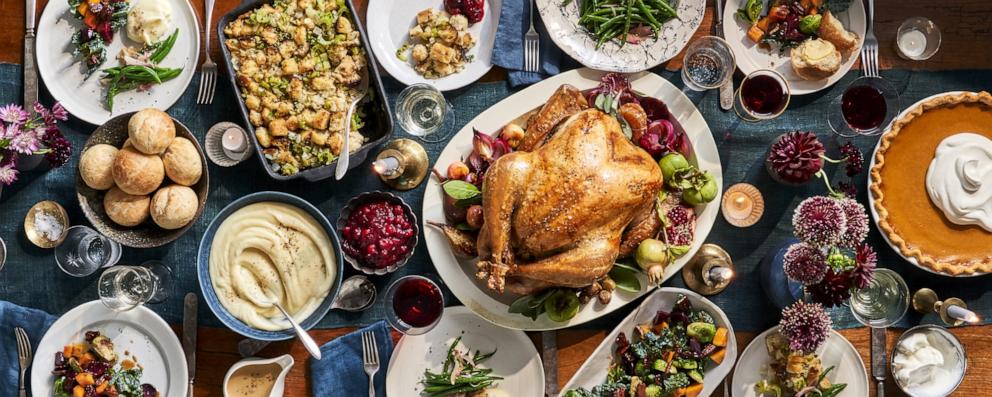 The supermarket chain has a variety of fully made Thanksgiving dinner options: a roast turkey meal for four people complete with gravy, mashed potatoes, stuffing, cranberries and gravy, coming in just shy of $100; roast turkey dinner for eight people with a bit larger bird at $169.99; and a feast for 12 people that adds more sides and a spiral cut ham for just under $400.
There are also fully cooked, ready-to-serve a la carte options for various turkeys, including their heirloom roasted turkey, which comes in medium or large, to serve 8 or 12 people.
The grocery store noted that orders must be placed a minimum of 48 hours ahead of the pickup date and time, and by Nov. 21. Cancellations require a 48-hour minimum notice and menu items, prices and availability may vary by store type and location.
Pickup for pre-orders begins Nov. 17 through Thanksgiving Day.
Restaurants, fast food and other easy Thanksgiving dinner options
Boston Market
The fast food chain is offering a variety of holiday menus with hot and ready-to-serve buffets, as well as individually plated meals from now through Dec. 31, 2023.
Boston Market has three platters available: Premium, Deluxe, and create-your-own, with customizable options to choose from, including turkey, rotisserie chicken and glazed ham. Prices vary.
All catering orders can be made by phone and more information is available at local restaurants and online.
GoldBelly
With a variety of restaurant partners, the delivery platform has an entire section dedicated to turkey day.
The Cajun Turkey Company, for example, will ship its fully-cooked famous Cajun fried turkey meal for eight people that will arrive ready-to-heat-and-eat three days from time of ordering.
Deadlines for shipping and pricing vary by restaurants and location, so check each offer before purchase.