This pianist was tipped $60,000 by a stranger
Courtesy Carlos Whittaker
Tonee "Valentine" Carter, a 66-year-old pianist at Hartsfield-Jackson Atlanta International Airport, was recently given the biggest tip of his life after a passenger waiting for his flight called on his Instagram followers to support the musician.
Carter plays at a piano bar in Concourse A every week from Monday to Thursday, and his setlist includes a variety of music, from covers to original songs.
"I love all genres of music," Carter told "Good Morning America." "I love doing jazz. I love doing pop, wop, soul music, classical -- I do it all. If you ask me for something from the '30s or '40s, I got you. If you ask me for some gospel music, I got you. If you ask me to shake some booty music, I got you."
On July 21, Carlos Whittaker, a motivational speaker and author of "Enter Wild," was heading back home to Nashville, Tennessee, when he happened upon Carter.
"My speaking event in Memphis got canceled so I had to reroute back home, which is why I ended up being in Atlanta for like an hour-and-a-half," Whittaker, 47, told "GMA."
Whittaker said he noticed Carter giving his all in his performance even though there weren't many people paying attention to him. So, Whittaker decided to sit down and listen to him.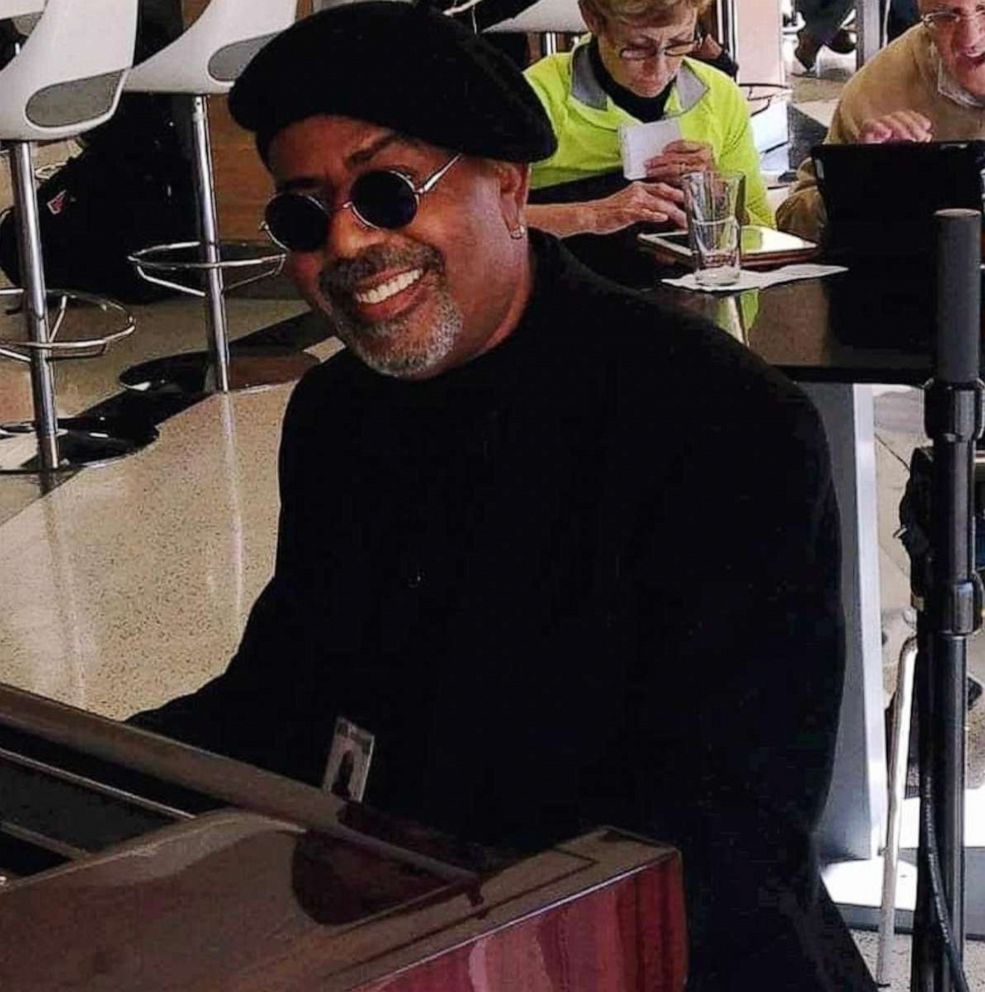 "I used to be a musician," he said. "I was the opening band for a bunch of bands and nobody ever paid attention to me. So when I saw that nobody was really listening to him, my heart was like, 'Ah, I get it.' I just wanted to let him know that I was listening to him and that somebody sees him."
Whittaker said Carter's music moved him, and so, he walked up to Carter to speak to him and get to know him better. The pair spoke in between songs, sharing their personal stories with each other, and then Whittaker came up with an idea: he wanted to give Carter the biggest tip he ever received.
With over 200,000 followers on his Instagram, Whittaker called on his "InstaFamilia" to help raise money. He said he initially expected to raise around $2,500 -- he and his followers had previously raised money for various causes in the past.
"What I didn't know was how far outside of my social media this thing would go," Whittaker said.
They raised $10,000 within 30 minutes, he said.
Whittaker documented the moment in which he told Carter about the tip in a video that he posted to Instagram. In the video, Carter appears to be in utter disbelief as Whittaker tells him about the money, and he starts to cry.
"I didn't believe it," Carter told "GMA." "But it was real."
The magic didn't stop there. As he boarded his next flight, Whittaker asked his followers to continue donating if they could.
"By the time I landed in Nashville, it was at like $25,000, and by the time I talked to him that evening, it was $44,000," Whittaker said.
In total, Whittaker received $61,000 in donations for Carter.
"I was overwhelmed," Carter said of his reaction to the second set of tips. "I started bawling again."
A lifelong love of music
Carter doesn't have a single favorite genre of music but some of his favorite artists are Prince, Luther Vandross, and AC/DC.
His passion for music began early on. He traces it back to when his father, who was also a pianist, took him to a Ray Charles concert when he was 6 years old.
"I was done," he said. "That was when I knew that was what I wanted to do. I wanted to do what Ray Charles does."
Music has always moved Carter, who says he'll tear up whenever he hears particular notes, phrases or chords. Even the soundtrack of an animated show can pull at his heartstrings.
"I have three brothers and two sisters," Carter said. "We would sit around every single day watching Mickey Mouse. When it would go off the air, that song would come on and I would start bawling ... It wasn't because it was going off the air. It was because the music was so beautiful."
After graduating with a degree in music from Tennessee State University, Carter went on to have a career in music. He worked at a record store and performed at nightclubs before eventually becoming a pianist on a cruise ship.
But in 2008, after working as a pianist on cruises for 11 years, Carter found out he had kidney disease. He said doctors told him that his kidneys were functioning at 10%.
"There's a physical every time you go on the ship," he said. "I took my last physical and they told me I had kidney issues so I couldn't work on the ship anymore."
Despite having to be on dialysis every evening for nine hours, Carter said he's able to "live a full life."
In a stroke of fate, the airport came calling that same year. At first, Carter said he wasn't keen on it but he decided to give the job a chance and play for an hour.
"I went out to play for an hour but I ended up playing for three hours because I was having too much fun," he said. "Thirteen years later, I'm still here."
Carter felt compelled to stay after seeing the impact of his music on people passing through the concourse.
"It's the little things," he described. "When you see somebody come in, sit down, and they're looking crappy and nobody's talking to each other and then I just happen to play the right song at the right time and all of sudden, feet are patting, the hands are tapping the table and the smiles are coming. It's something unreal."
A desire to give back
Carter's plans for the money go beyond himself. Other than getting an oil change for his car, he said he has no intention of keeping it all and that he wants to use it to help others.
"That money's not mine," he said. "I'm going to be paying it forward."
Carter said he intends to make donations on a quarterly basis to the American Kidney Fund and that he has spoken with his accountant to grow the money even more.
"I'm going to be helping people for years to come," he said. "God made me a steward of that money and I ain't letting him down."
As for Whittaker, he and Carter keep in constant contact with each other. Sometimes it's just via text message, but often, it's longer phone calls where they bounce ideas off each other.
"I'd love to see his talent used for even bigger reasons," Whittaker said. "He's literally the kindest human."
"We're not friends," Carter said. "We're family now."