After winning her 11th career medal at the Tokyo Olympics to become the most decorated American track and field athlete of all time, Allyson Felix received an Olympic-sized welcome home.
Felix, who won gold and bronze medals in Tokyo, shared a video on Instagram of her being welcomed home to California by her family, including her 2-year-old daughter, Camryn.
"I missed you," Camryn, who was not allowed to travel to the Olympics with her mom due to COVID-19 restrictions, can be heard saying in the video.
Felix also shared a message to her daughter in a second Instagram post, writing, "Every mom has a legacy in the making – mine is my daughter Camryn. As an Olympic Athlete, activist and mom, my legacy is more than medals – it's changing the world for my daughter and every daughter out there."
The Tokyo Olympics marked Felix's fifth Olympics, but her first as a mom.
The sprinter earned a gold medal in the 4-x-400 meter and a bronze medal in the women's 400-meter, pushing her past Carl Lewis' 10 medal record.
Felix, 35, has now won 11 medals across five Olympics -- seven gold, three silver and one bronze.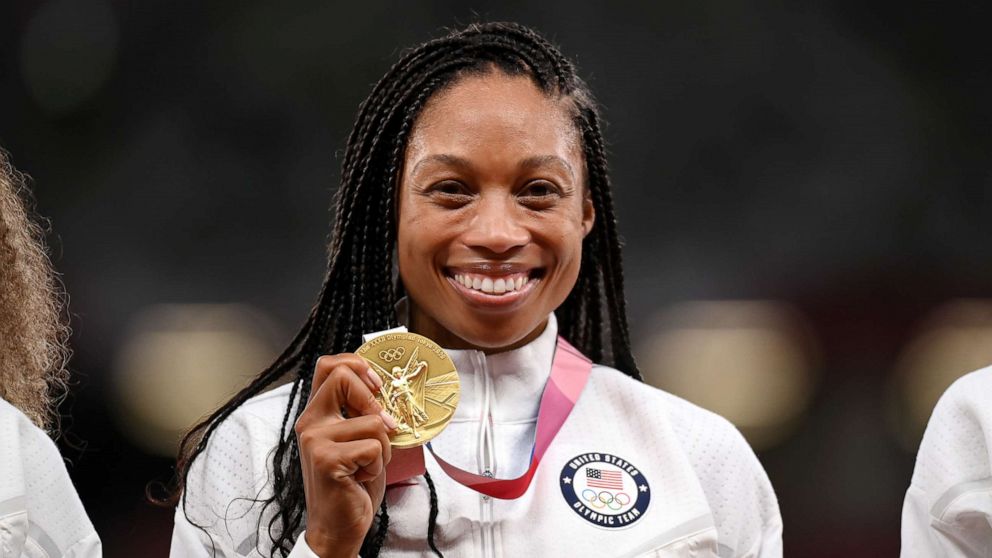 When Felix scored an Olympic berth in June at the U.S. Track & Field Olympic trials in Eugene, Oregon, Camryn joined her mom on the track immediately after the race.
Qualifying for the Tokyo Olympics, which Felix has said will be her last, marked an exceptional accomplishment for Felix, who faced life-threatening complications when she gave birth to Camryn in November 2018.
Then one year after giving birth, Felix left her former sponsor Nike, alleging that female track stars were penalized contractually by the brand for being pregnant. In May 2019, Nike said it would change its pregnancy policy and do more to protect female athletes' pay during and after pregnancy.
Just before the Olympics, Felix launched her own lifestyle brand Saysh that she says was inspired by her experience with "gender injustice" during her journey to motherhood.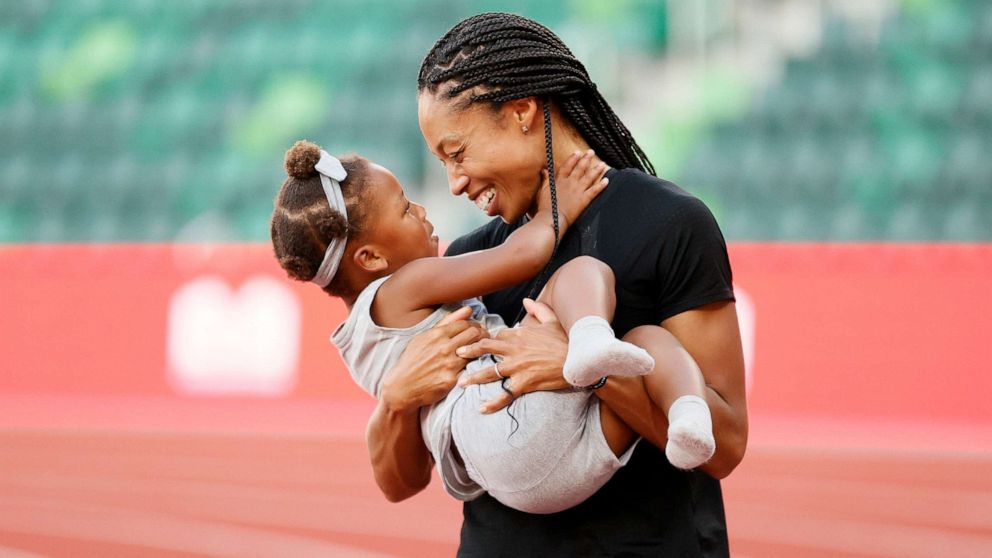 "When you see me run, know that I'm not running for medals. I'm running for change. I'm running for greater equity for each of us. I'm running for women," Felix wrote in an Instagram post debuting the brand. "More than anything, I'm running toward a future where no woman or girl is ever told to know her place."