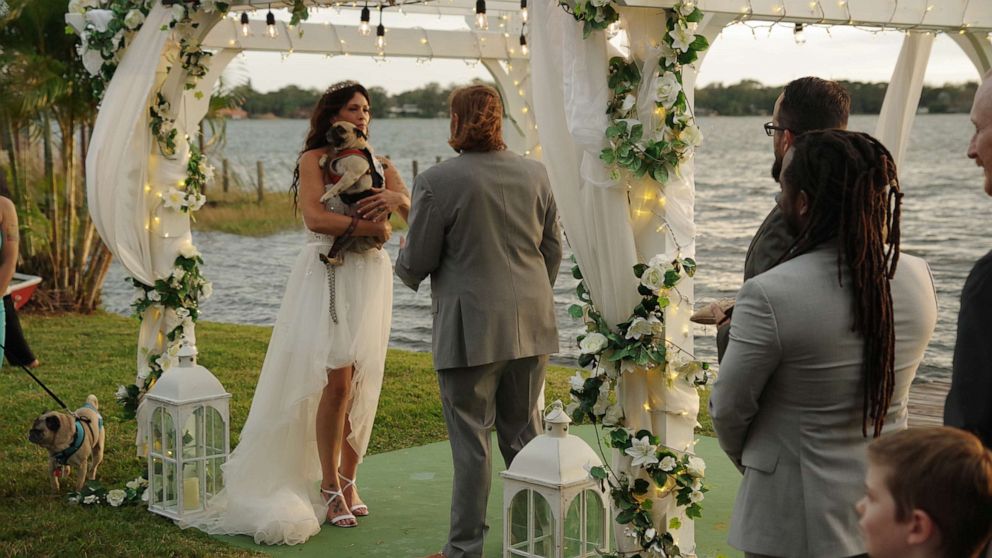 When Michelle Dodds and Mike Singler started planning their wedding, the Florida couple both knew incorporating Michelle's late brother, Jeffrey "Jay" Nelson Dodds, a pug lover, into the most important day of their lives was a must.
Because Dodds shared her brother's love for the breed, she and Singler, who exchanged vows Jan. 4, decided to forgo traditional flower bouquets for their bridesmaids, instead replacing them with something more personal: pugs!
Each of Dodds' seven bridesmaids was accompanied down the aisle with a rescue pug from Pug Rescue of Florida, a non-profit organization for pugs and pug mixes.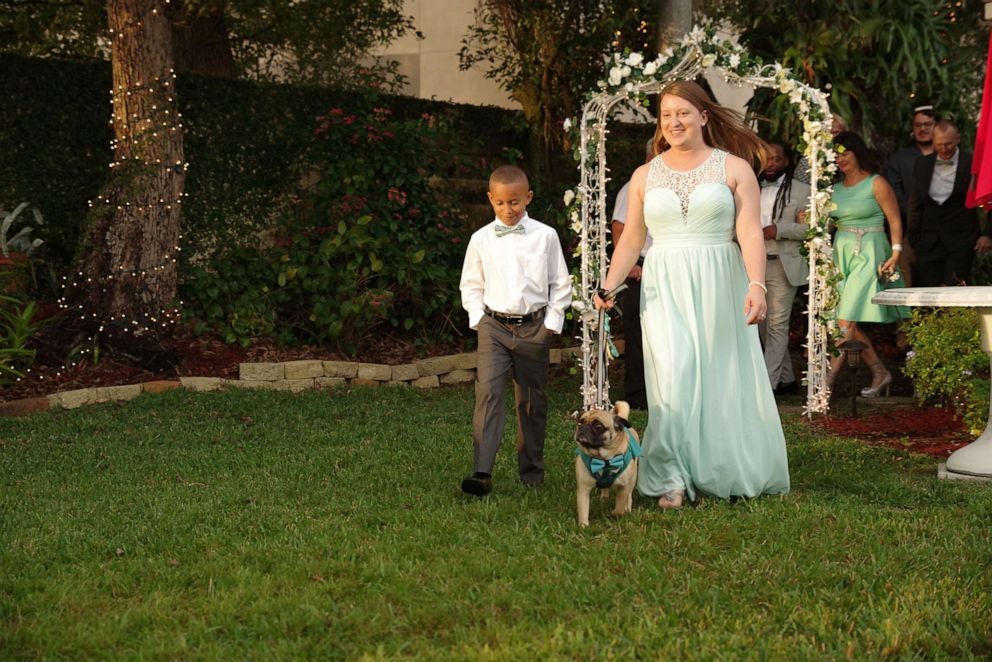 Each dog was decked out in bow-ties and matching leashes.
Before Dodds lost her brother unexpectedly in 2017, their relationship had been extremely close. Jay affectionately referred to Michelle as "sister" and she called him "brother."
"It was our thing," she said.
Michelle welcomed Jay's pug, Knockers, into her home and her life, which includes two other dogs as well.
"Brother gave me Knockers prior to him passing due to he was always out of town for work," she said.
Because of their bond and love of pugs, one of Michelle's best friends and bridesmaids came up with the idea to bring pugs into the ceremony. Michelle said she immediately reached out to the rescue organization.
"There are a lot of agencies out there that are struggling and can use the help," said her friend, Bobie Polite. "Michelle's got one of the biggest hearts I've ever known. ... I'm glad she chose pugs because of her brother."
Michelle kept the pugs a surprise until her wedding day. Leah Grissom, also part of the wedding party, felt the tribute to Jay was a special way to have his presence felt on the big day.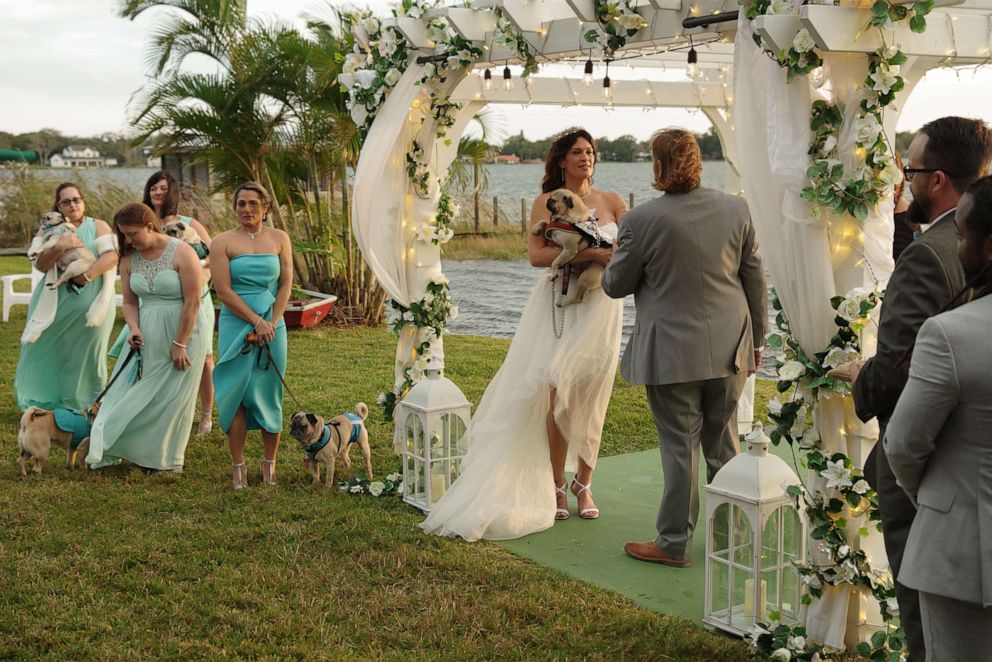 "She and Jay were inseparable -- she still talks to him daily," Grissom said. "I think it's beautiful and matches Michelle perfectly. She's unconventional, sassy, lively and loves her pugs!"
By choosing to honor her brother this way, the couple also hopes to bring awareness to animal rescue groups. Three of the seven pugs, Baby Boy, Darcy, and Hank, are currently up for adoption. The others were on loan, having been previously adopted from Pug Rescue of Florida.
Christine Chouinard, the Orlando area coordinator for the organization, said she thought it was a "cool idea" when first approached by Michelle, especially since this was the first wedding they were asked to take part in.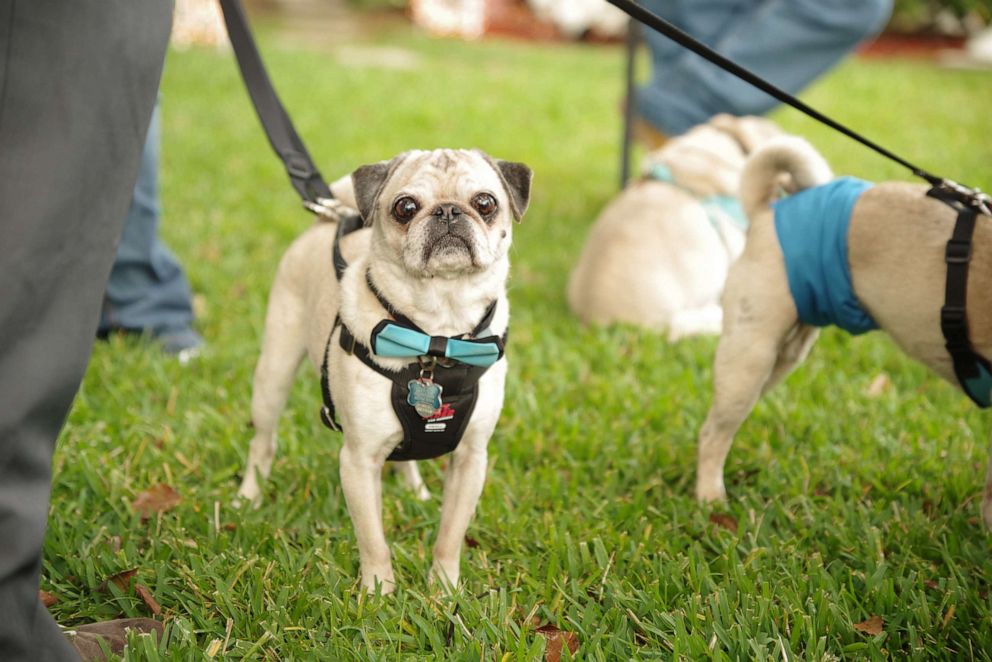 Prior to the ceremony, Chouinard was one of the rescue organization members invited to speak to the wedding guests.
"We shared with them why Michelle chose to have pugs in her wedding and tell them a bit more about Pug Rescue of Florida," she said. "We are a volunteer-run organization and rescue over 200 pugs each year, regardless of health or age."
As the newly married couple prepare to start a new chapter in their lives, Michelle knows that Jay would be so happy -- especially if the rescue pugs could find their "furever" homes from the event.