Ukrainian refugees share what it's like living in Berlin on World Refugee Day
Nearly 6 million people have fled Ukraine since Russian forces invaded the country nearly 16 months ago, according to the UN Refugee Agency. Among those millions were a handful of refugees who spoke to "Good Morning America" to share how they are navigating a new life in a foreign land while their homeland remains under attack.
For 23-year-old Sofy Istkovskaya and millions of other Ukrainians, life changed in an instant on Feb. 24, 2022, when Russian forces launched their invasion of the capital city of Kyiv.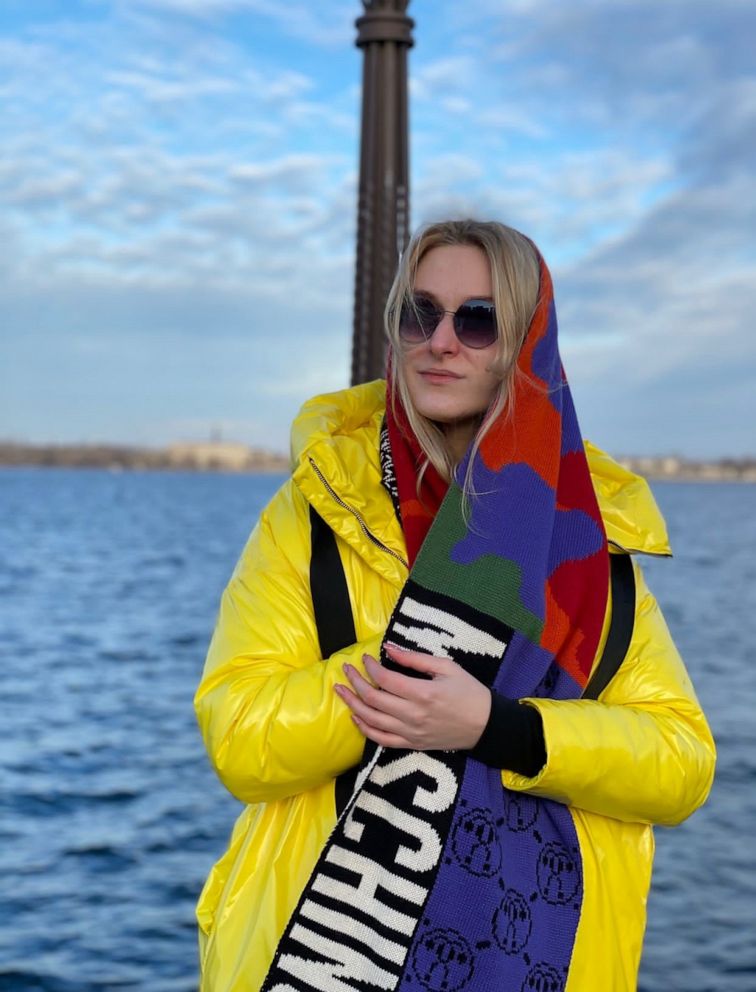 "I remember that night like, it was really hard to for me to fall asleep, and then I heard like a super loud bomb and first emotion, you can't believe it and you're like, 'No, no, please no," Istkovskaya told "Good Morning America" co-anchor Robin Roberts in Berlin.
Istkovskaya said she just remembers "hundreds of thousands" of people sheltering in the railway stations.
"A lot of people crying, kids. So much, so much pain, so much worry," she said, "People didn't know what to do, what is going to be next."
Istkovskaya said her parents urged her to seek safety, while they would stay behind in Ukraine.
"You can't imagine how it hurts when you hear from your mother and father, like, you need to stay alive. It breaks your heart every time when you repeat this phrase in your head," she said.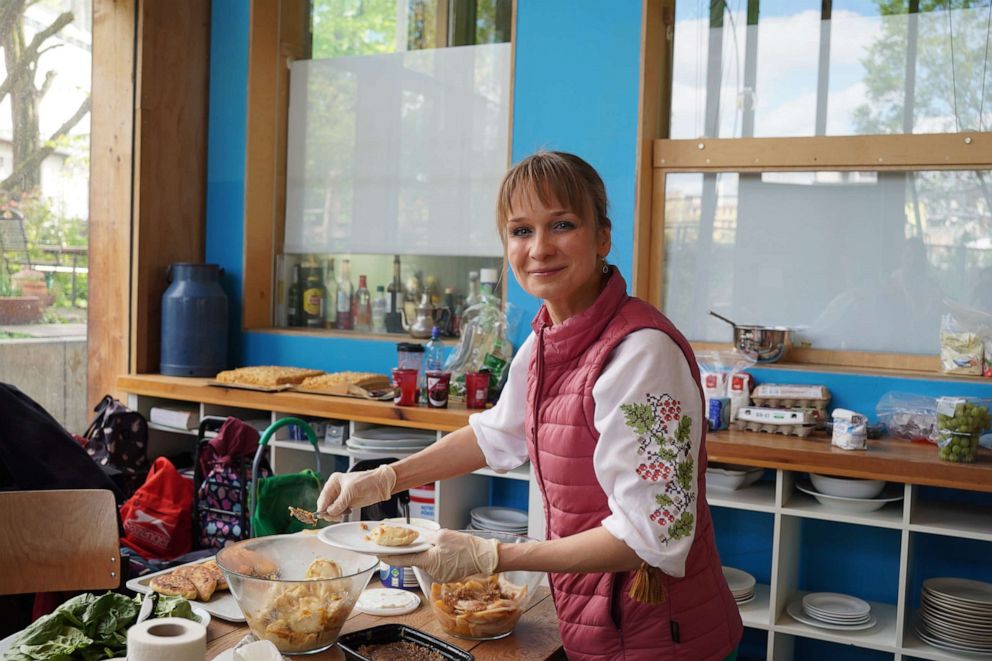 Like many others, Istkovskaya fled to Berlin. Now, she is one of over a million refugees still living in Germany. As the war rages on in Ukraine, Istkovskaya said remaining in Berlin feels like a complicated "double life."
"One part of my soul, the biggest part, stays in Ukraine," she said. "On the other hand, I'm here right now in Berlin … I have this amazing opportunity to build a new life. But it feels so surreal."
Nataliia Kovalenko, another Ukrainian refugee in Berlin, fled Mariupol with her young daughter. She spoke to "Good Morning America" with the help of a translator.
"It was actually because of my daughter, children they shouldn't hear the war, they should be in a safe space. That's why it wasn't a choice itself. I need to go because of my daughter, I need to bring her in a safe space," she said.
Adding, "The most hard [part] is you go and you don't know where you go. Nobody is waiting for you there. We thought nobody would help us there."
Berlin Arrival Support (BAS) emerged as a group to receive and help provide Ukrainian refugees with food, accommodation and counseling when they enter Berlin. The group told ABC News that 400 refugees are still arriving at Berlin Central Station each week.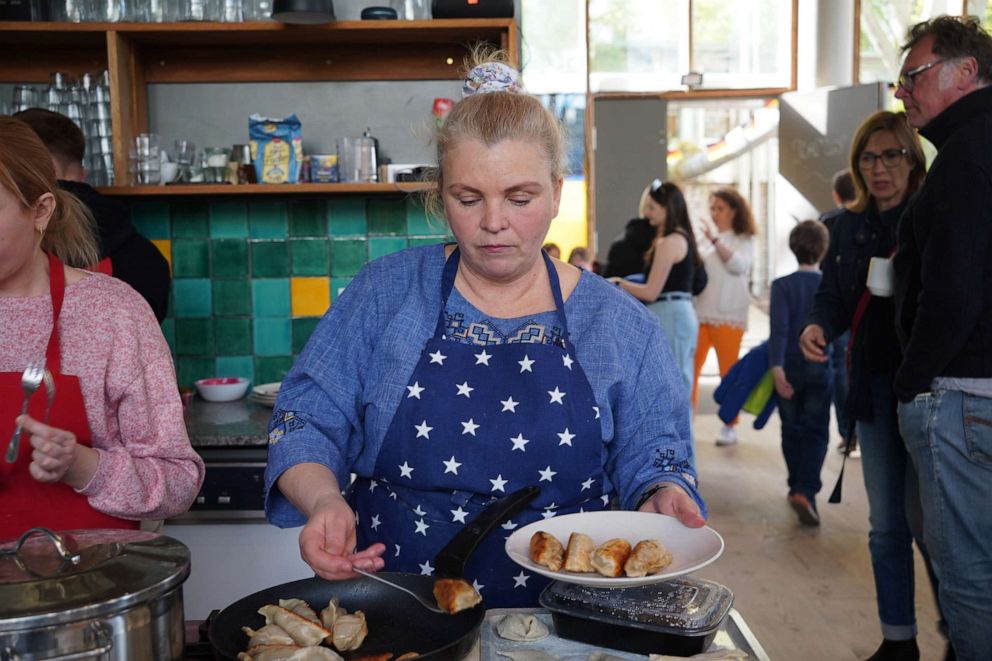 Volunteer Nelli Isaieva, who is also a refugee, said she found purpose in volunteering with the organization.
"Since I can speak Ukrainian language and English language, it's very useful for volunteering here in Berlin," Isaieva told "Good Morning America." "And also when you do something for someone else, you're helping yourself."
Kovalenko also answered the call to action and has since begun hosting monthly community meetups at Café Ukraine for other refugees. Since its inception, Café Ukraine has brought together over 4,500 people and hosted 55 events. Now, its goal is to create a more permanent intercultural center in Berlin.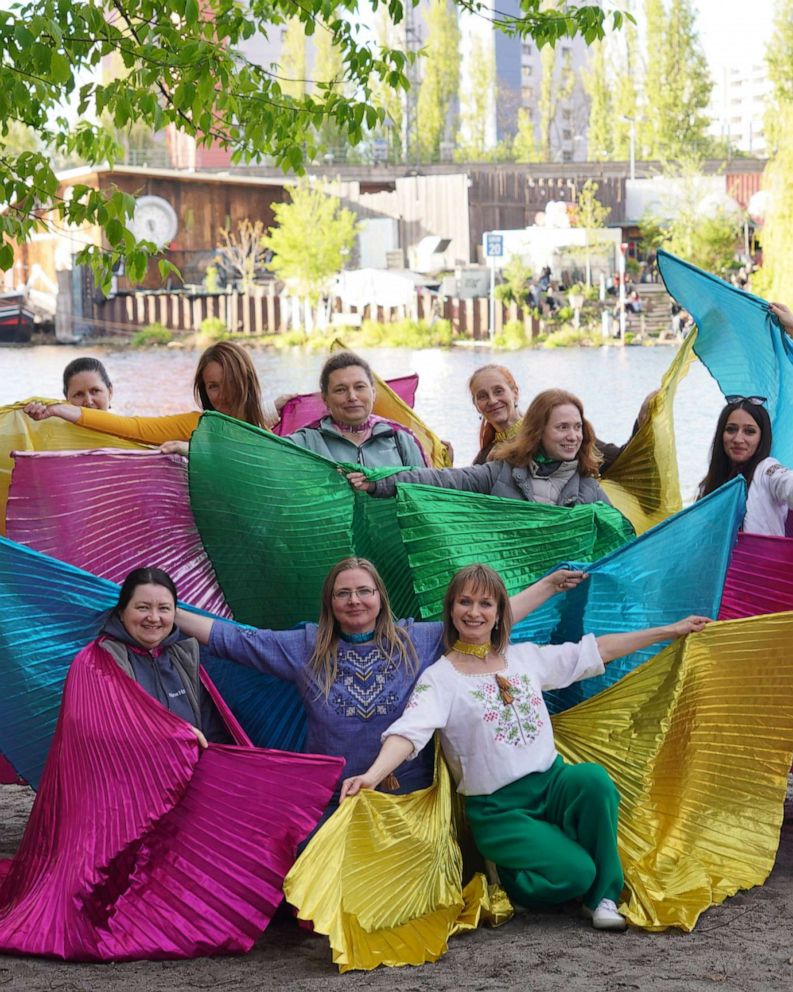 Participant Viktoria Nikolaienko said that Café Ukraine is a place for people to gather and cook national cuisine, celebrate events, host workshops and spend time together.
"For me, Café Ukraine is a place where I can find my people all together," she said. " When you come here, you feel at home."
The feeling of home often comes as a welcome relief for many refugees. However, Istkovskaya said her message to the American people is "Please don't get used to our pain. Please don't forget the war is still not over."
"We'll never forget, we will always remember the price we are paying right now for our independency and future … I really can't wait to come back to the free Ukraine without war," she said. "So please just don't forget, we still need your help. And need your support. That's my only message."