How the pandemic is empowering people of color to embrace their natural hair
This report is part of "Turning Point," a groundbreaking month-long series by ABC News examining the racial reckoning sweeping the United States and exploring whether it can lead to lasting reconciliation.
Black women have long faced certain prejudices against natural hair in professional and academic settings. But recently, a movement online is inspiring and empowering many people of color to embrace their curls, coils and waves.
Since quarantine began, many stylists have seen a shift among women who have opted for their natural hair.
"So many women are either getting braids or cutting their hair off," celebrity natural hairstylist and inspirational beauty speaker Felicia Leatherwood, told "Good Morning America." "But a lot of them are learning how to love their natural tresses and which products to use."
When the pandemic hit, Leatherwood started sharing her hair care tips for natural hair and was surprised by how many women turned to her for help.
Through her Instagram live videos, she's been able to talk to dozens of women about the impact of their natural hair on their lives and the journey many of them are embarking on for the first time.
"I have heard so many incredible stories," said Leatherwood. "And I'm talking about stories that make you laugh, and then the stories that make you cry. You learn that people honestly have gotten mistreated even within their own family for having a certain type of texture of hair."
Natural hair over the years
Natural hair is defined as hair of those from African descent or peoples of the African diaspora that has not been straightened or altered by chemical products, according to the book "Untangling the Roots of Black Hair in America."
And according to experts, the acceptance and rejection of Black hair can be rooted in slavery.
"There was a caste system where hair was weaponized and can actually speak to the status that someone would have on plantation life," explained Dr. Afiya Mbilishaka, a professor at the University of the District of Columbia and natural hairstylist in Silver Spring, Maryland. "Going from a historical view, people who had longer or straighter hair were given domestic tasks, while people who had shorter or tightly coiled hair tended to be delegated tasks on the field."
"Within that process, it was really internalized within Black culture and Black families that longer or straighter hair meant more status," she added.
Today, the divide in hair among Black women is still present and is evident in how they're treated in the workforce based on their hair -- a layer of discrimination facing Black women dubbed as "Texturism."
"People who tend to have looser curl patterns do have higher status in certain situations versus women who have more coiled curl patterns," said Mbilishaka. "Research actually suggests that Black women who have looser curl patterns are more likely to get certain jobs, maybe even accepted into certain programs."
According to a 2019 study by Dove and the Crown Coalition, Black women reported being 30% more likely to receive a formal grooming policy in the workplace. The survey also found that hairstyles related to Black identity, including locs, braids and natural curls are perceived as less professional.
It's a scenario that many women, who chose to wear their hair natural, know all too well.
When Imani Cabassa, a 25-year-old who worked at a health department office in 2018, got box braids, one of her coworker's supervisors made an inappropriate comment about her hair.
"He saw me and he kept saying, hey check it out, you got these Bo Derek braids," Cabassa told "GMA." "I had to look it up because I had never heard of it before, but when I looked it up, Bo Derek braids were essentially like cornrows with the beads on them. So, I was just like, no, that's not what I have."
And Kelsey Edwards, a 25-year old business consultant says that she has noticed several instances where she is perceived differently in the professional realm based on how she styles her hair.
"On LinkedIn when my hair is in a straight profile picture I get more inquiries about job offers versus or opposed to having a curly profile picture," Edwards said, adding that worrying about how her hair will be received at work is exhausting.
Because of these situations, the study conducted by Dove found that Black women are 80% more likely to change their natural hair to meet social norms or expectations and are 1.5 times more likely to have reported being sent home because of their hair.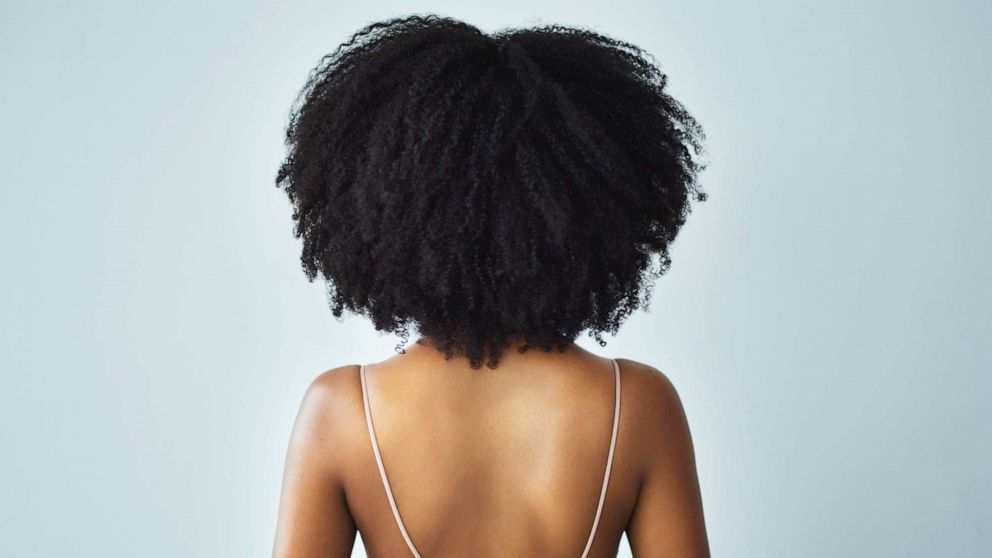 The fight to protect natural hair
To fight the prejudice against natural hair in professional and academic settings, some states have taken action to ban race-based hair discrimination.
In 2019, California passed the CROWN Act -- Create a Respectful and Open Workplace for Natural Hair -- to ban discrimination against people with natural hairstyles in the workplace. Six other states including New York followed suit soon after.
Celebrities have also spoken in support of the bill, including Gabrielle Union, Marsai Martin, Uzo Aduba and Keke Palmer who all teamed up with Glamour magazine to rally behind women who have experienced natural hair discrimination in the workplace.
And thanks to the internet, Black women have been able to come together online in a virtual setting to promote hair acceptance and exchange valuable information.
"With this second natural hair movement that's happening right now, the Internet has played a critical role," said Mbilishaka. "This is basically a space for Black women to communicate about hair care, the best products to use on hairstyles, how to minimize tension, even how to make your own hair products."
For women who are still deciding whether to go natural or not, Leatherwood is encouraging them to start.
"This is the best time to be at home and to even make little hair mistakes on your way to figuring it out," she said. "You don't have to run out the door and do it. So if your hair starts off here and it shrinks back, this is a good time to find out."
While the process may seem daunting at first, Leatherwood says to be patient with it.
"Be patient, don't take it so seriously," she said. "And if you need me, I'm around. We could figure it out together."