Harry Styles releases video for new song 'Treat People with Kindness'
courtesy of Dazed Media, photographed by Rafael Pavarotti
Harry Styles is adding another title to his multi-hyphenate career: beauty brand founder.
The singer recently introduced "Pleasing" to his millions of fans in a post where he's posing on top of a motorcycle while wearing flared lilac pants and a slit tank top by Gucci for the winter 2021 cover of Dazed photographed by Rafael Pavarotti.
"Find your pleasing," he captioned the image. Styles also tagged his new beauty line's Instagram page that already has over 872,000 followers since announcing on Monday.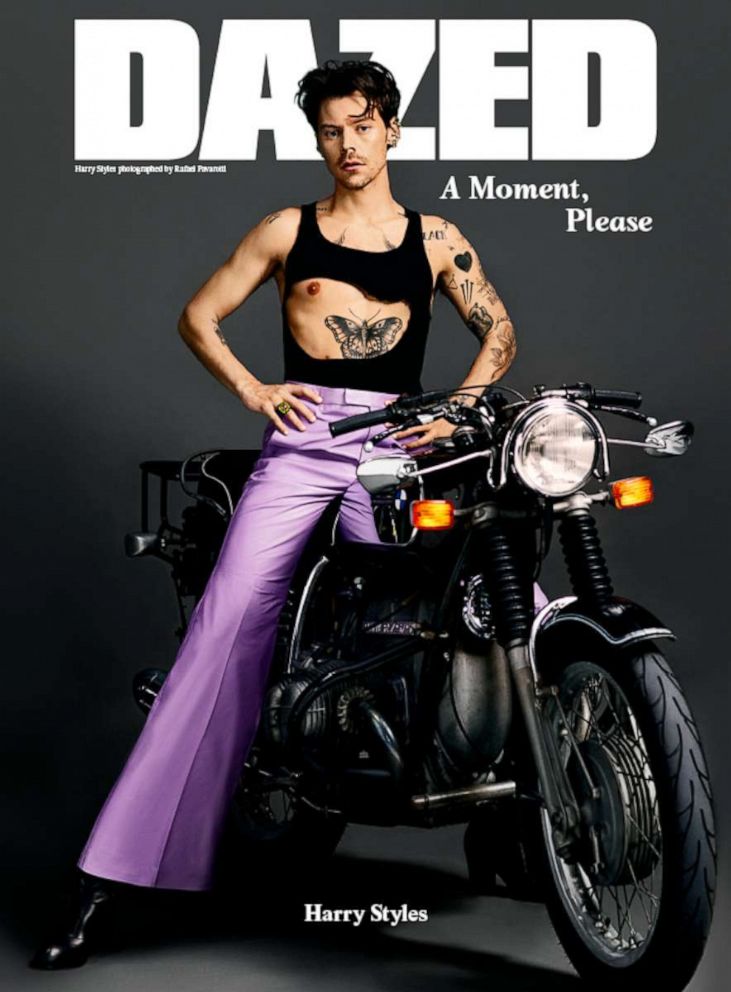 The collection currently includes nail polish and skincare and is inspired by "the way nature adorns itself and the multitude of unique identities in our community," according to a statement.
"I wanted to find a way to explore more ideas and have more opportunities to collaborate with people who were inspiring me; that's how Pleasing was born," Styles said in a statement. "Starting the brand with beauty felt exciting because creating great products is a unique way to make people feel good."
The first release, Perfect Pearl, includes a serum, nail polish and a dual-ended lip/eye serum, which prices ranging from $20 to $65.
The Pearlescent Illuminating Serum is formulated with illuminating pearl capsules as well as hydrating ingredients such as Beta-glucan, Panthenol and Vitamin B. Styles shared that the formula was inspired by Japanese female divers who collected pearls for Morimoto by only using a net.
"Their skin looks so fresh, shining in the sun, and I wanted a product that would give that feeling," Styles said in a statement. "The serum brightens skin over time, but it also immediately smooths out the appearance of your skin, like you've just come from the cold ocean."
"I don't think being beautiful or feeling beautiful is about looking good," Styles told Dazed. "When people are happy and glowing, they're radiating. And that's what I think the products do, it's about helping you feel beautiful."
The collection is available for pre-order online until Nov. 28 and will be available for general sale on Nov. 29.