Kate Middleton and Prince William thank medical workers fighting COVID-19
Chris Jackson/Getty Images
For the past few days,Kate, the Duchess of Cambridge, and Prince William, the Duke of Cambridge, have been on a Royal Train tour to pay tribute to the work of "those who have gone above and beyond to support communities across England, Scotland, and Wales" during the coronavirus pandemic.
Throughout the tour, Kate, the Duchess of Cambridge, has stepped out in a number of stylish outerwear looks accompanied by patterned face masks and accessories.
For one of the final stops of the tour in Cardiff, she wore a full-length, double-breasted Alexander McQueen coat along with a tartan-patterned scarf as she toasted marshmallows with students during a secret Santa exchange.
During this special event, the duke and duchess also learned how the students' mental health has been in this challenging year.
On Monday, she was spotted wearing a crewneck sweater, a blue and purple floral print face mask, a navy-toned coat and pearl drop earrings while meeting volunteers who have supported elderly members of their local community throughout the COVID-19 pandemic at Batley Community Centre in northern England.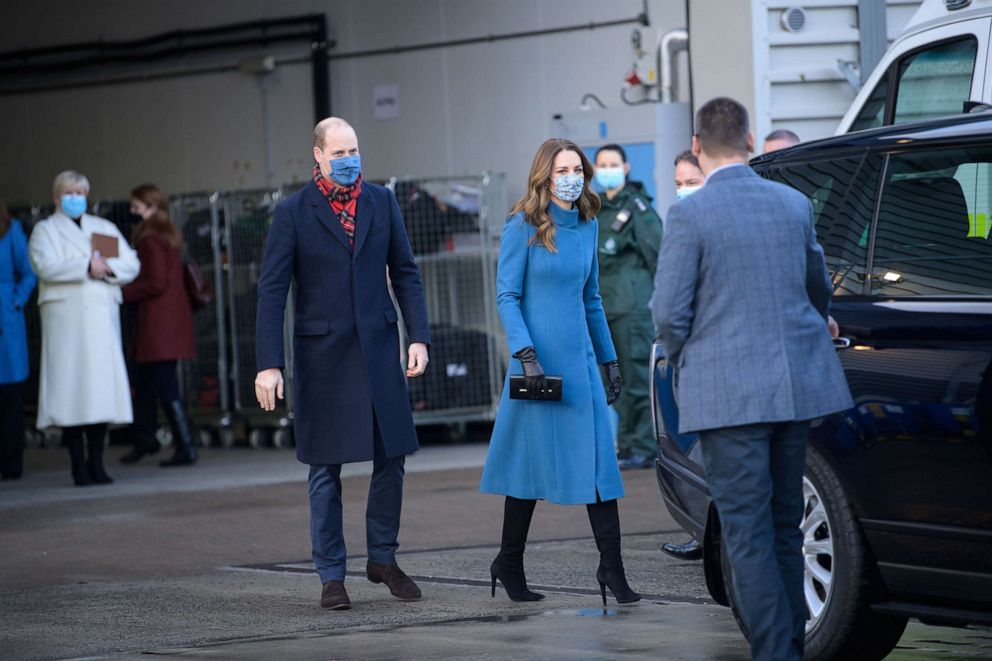 Earlier in the day, the duke and duchess met paramedics and staff of the Scottish Ambulance Service to thank them for their efforts throughout the pandemic. The royal couple also acknowledged the toll the pandemic has taken on the physical and mental well-being of emergency responders.
For this stop, she wore a vibrant blue Catherine Walker coat paired with another floral print face mask as she arrived in Edinburgh for the first stop of the tour. She was first seen wearing this topper in Norway in 2018.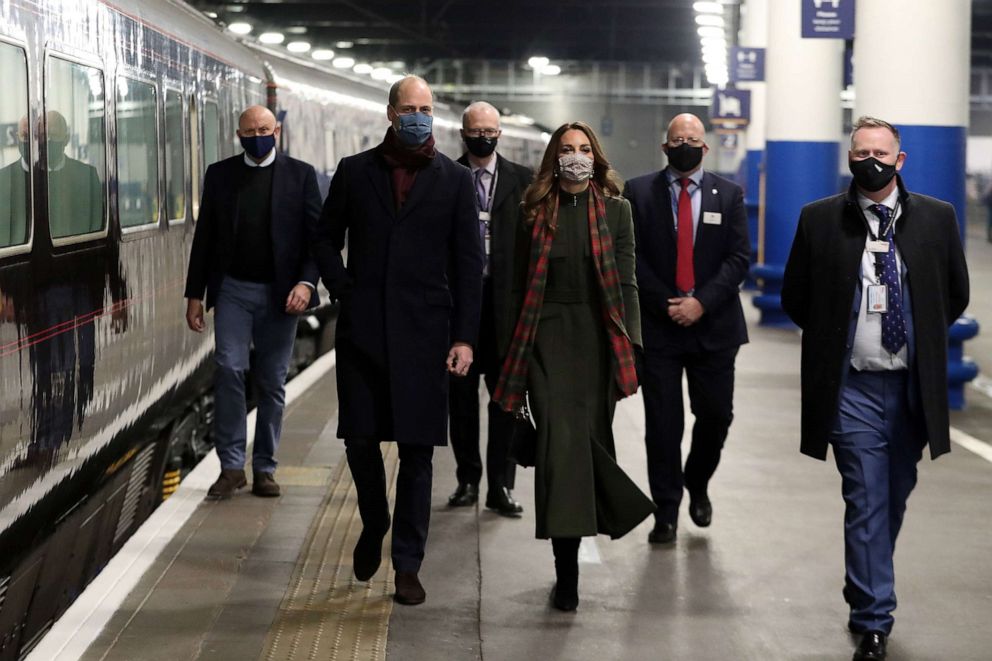 To kick off the tour, she wore the emerald Alexander McQueen coat that she also wore during her trip to Bradford in January. She paired it with a red and green scarf, a floral print mask and black boots.
"We hope you can join us here, in thanking these amazing individuals and organisations along the way, in what has been a challenging year for the nation," Kensington Royal wrote in a post along with a video of the royal couple prepping to depart in London.