Color your roots at home the right way
While officials have encouraged social distancing in addition to many closed businesses due to the global coronavirus crisis, many have been learning ways to adjust to the "new normal."
Kelly Ripa gave us a glimpse into how she is adjusting and brought up a point that many others have to begin to wonder: "How will I maintain my hair color?"
The "Live with Kelly and Ryan," host posted a photo on her Instagram stories where she wrote "Root watch, week one." You will also notice a peek of gray hair growth at the roots of her bright blonde hair.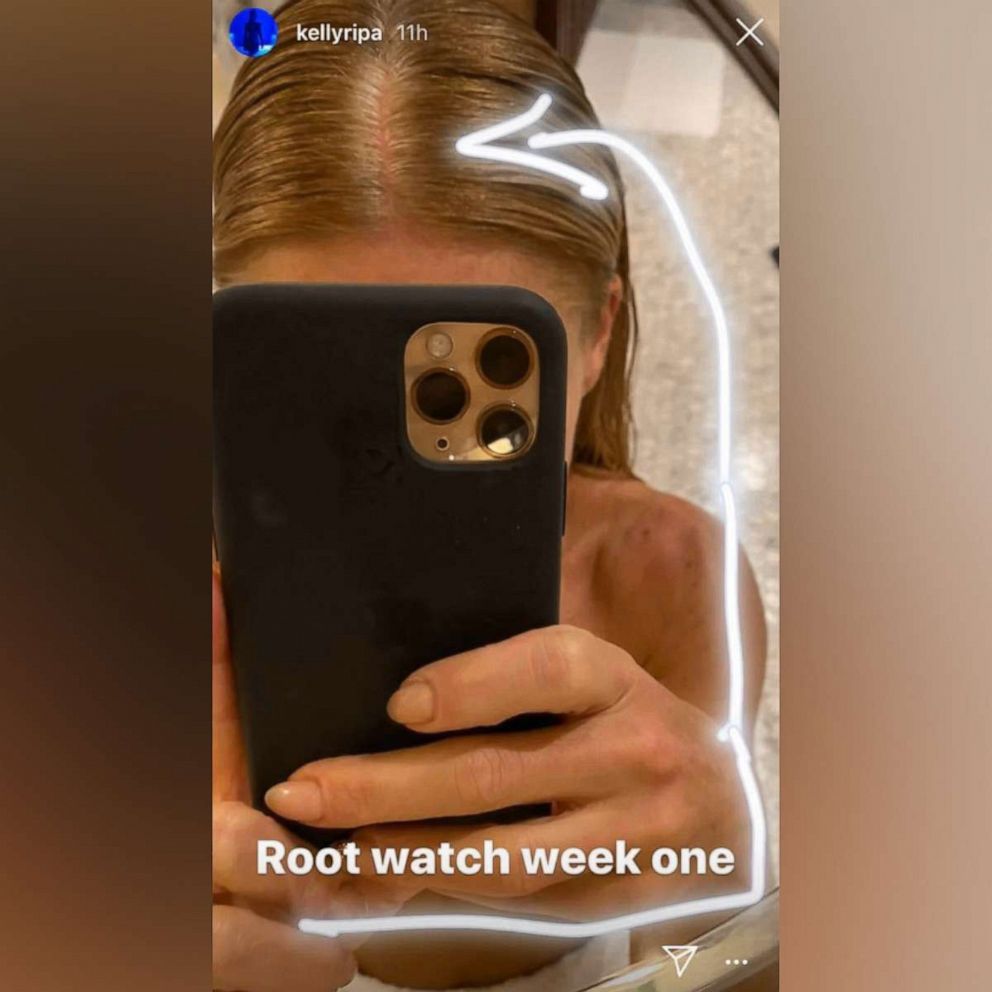 As many business salons have been government-ordered to shut down amid COVID-19, the privilege of maintaining the upkeep of your hair color is a minor inconvenience that many of us can live with to slow the spread.
However, while you are self-isolating there are ways to maintain hair color from home in addition to virtually supporting hair colorists who have been impacted by coronavirus-related guidelines. For starters, it's best to check-in with your go-to colorists and salons to see how they are doing. Many stylists have also made ways for clients to donate to them, set up one-on-one consulting, or buy products as well as gift cards from them available online.
"The two things stylists beg for clients not to do at home would be cut and color," hair colorist and owner of Red. By Rubyredroots salon Barri Gibson told "Good Morning America." "Clients performing these tests on their hair will only lead to more work for their stylist once they return to the salon, and corrective color and cuts can be expensive."
Gibson advises staying away from hair oils as well as excessive heat styling as both can contribute to the stripping of your hair color. "Oils don't allow for your hair to receive nutrients, they suffocate the hair strand and the scalp especially on finer textures -- causing buildup that can eventually dry the hair and scalp.
"The best thing you can do now for your color maintenance is to try to avoid using box color," colorist and salon owner Rita Hazan told "GMA." "It's better to have roots than orange hair." She suggests trying a root touch-up product such as her Root Concealer Touch-Up Spray Temporary Gray Coverage.
Hazan, who has worked with celebrities such as Beyonce, also sent out at-home color kits that included bottles, bowls, brushes, gloves and formula for each of her clients as she strongly does not want them to turn to box dye.
Hazan's instructions for at-home color are on Instagram stories as a Highlight called "TUTORIALS."
If you are open to experimenting with box color, celebrity hairstylist Derick Monroe advises to pick a shade that is easy to retouch and doesn't require you to step out of your comfort zone to complete at home."
"There are various great at-home hair color brands, such as Dark & Lovely, which offers 18 shades to choose from," he adds. "You definitely need color-treated shampoo and a moisturizing conditioner. Also, consider a protein treatment to strengthen hair after any chemical treatment like hair color."
"Talk to your colorist and see if they can jump on a quick FaceTime consultation," Redken celebrity colorist Tracey Cunnigham told "GMA." "It's always better to reach out to your colorist, instead of obsessing over your roots at home and making a rash decision you might regret."
Cunningham adds, "there are professional take-home root retouch kits, like Redken Root Fusion, that your colorist can prescribe based on your hair color and send to you at home. Lean on your colorist to virtually walk you through the application in real-time and make sure you're following their advice. Plus, asking your colorist for a safe solution while most salons are closed is a great way to show support. For me and my team, it is all about working together and being available for our clients in a safe way during these times."
There are also many free videos on YouTube that demonstrate how to color your hair from home.