On the last day of February, Estefania Alvarado was experiencing a whirlwind of emotions, but mostly she was feeling excited. Her baby boy, who had been in the hospital since he was born last August, was finally getting discharged.
"I couldn't sleep the night before," Alvarado told "Good Morning America. "I was so ready. It's like, I finally get to take my baby home because I've been a mom for six months but I haven't had my baby with me."
Alvarado, along with her own mother, headed to Peyton Manning Children's Hospital in Indianapolis, where her 6-month-old son Giorgio had been in the neonatal intensive care unit for the last 190 days. Giorgio's team of doctors, nurses and hospital staff gathered to see him off, lining the hospital hallway and cheering with blue pompoms.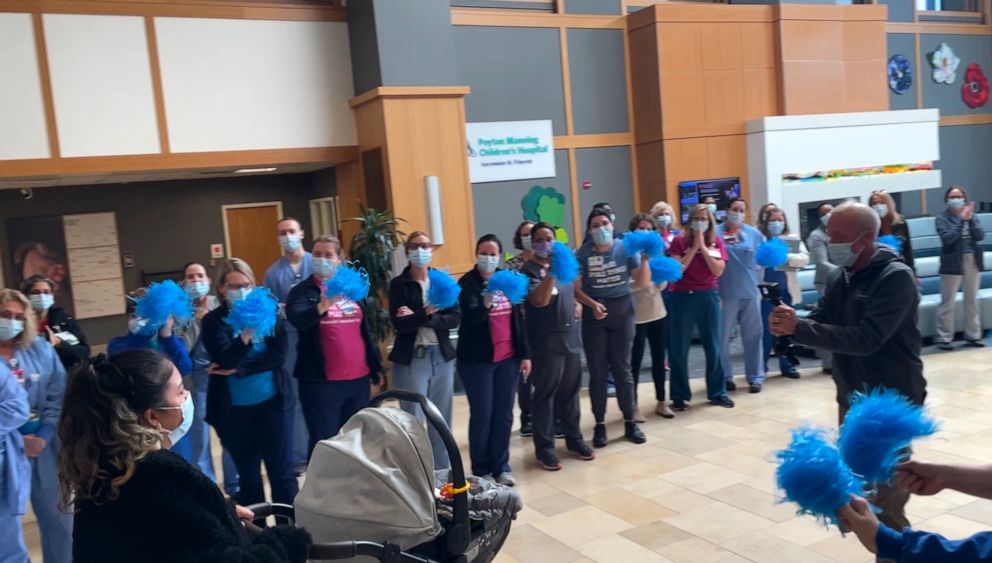 "All of them were there. Some of [the staff] were off and they even took the day to come in. So I just felt the love and I think not just for us, but for my kid, which is the most important thing," Alvarado recalled.
"It was the best day of my life," the 30-year-old added.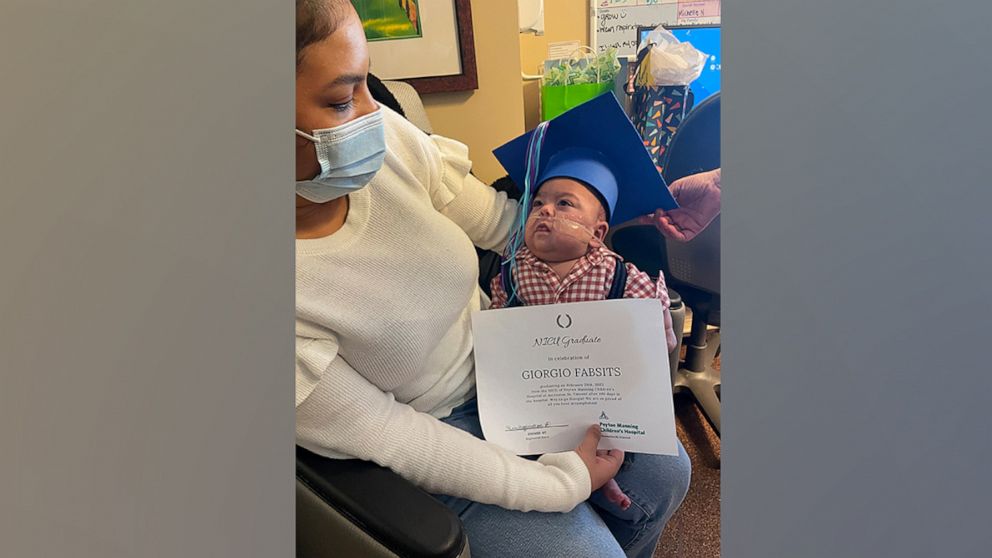 Alvarado and her partner Richard Fabsits welcomed Giorgio on Aug. 22, 2022. It was unexpected for the couple as Alvarado told "GMA" she was only six months pregnant at the time and had been feeling fine.
"I went to work. It was a normal day for me," said Alvarado, who works for a fragrance company. "Basically, when I got to my job, I used the bathroom. I noticed there was some bleeding. I called my doctor and she was like, 'Oh, just come in. Don't worry. Sometimes, things like that happen.' And I didn't feel any pain."
When Alvarado was seen at a local hospital in Carmel, Indiana, a doctor there broke the news to her that things weren't going to go as planned.
"Another doctor came in because my doctor was going to leave and she checked me and she was like, 'Oh my gosh.' She's like, 'You're not going home.' She's like, 'You're dilated three centimeters already,'" Alvarado said.
Alvarado was transferred to Peyton Manning Children's Hospital at Ascension St. Vincent, and three days later, Giorgio was born via cesarean section at 23 weeks and 5 days gestation.
"He came out actually crying, so immediately me and mom knew at that moment … I don't know if it's a mother or dad's intuition, but we knew he was going to make it," Fabsits, 33, said. "However, it was quite the roller coaster."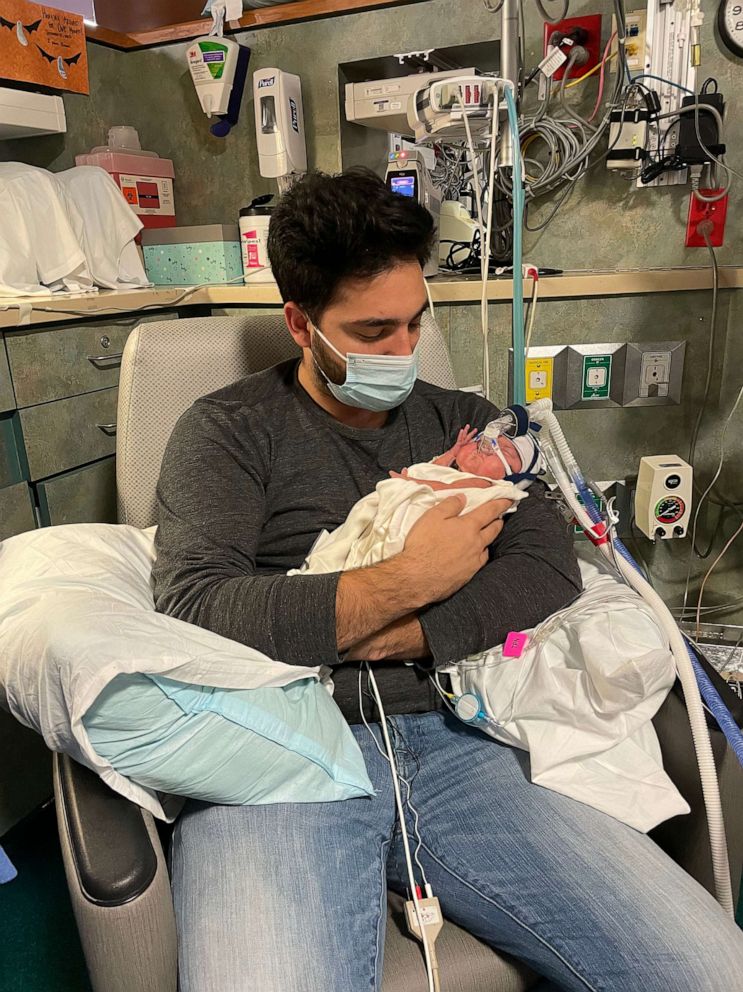 According to his dad, Giorgio was born with various health issues, including a hole in his heart, a birth defect called patent ductus arteriosus, or PDA, where a heart valve doesn't close as it should, and a brain bleed. The baby boy also had to be treated for at least two septic infections, a skin infection called cellulitis, and seizures, among other developments, and had to undergo tests and surgeries for months.
Alvarado and Fabsits said they would visit Giorgio, who they call their "miracle baby," every day at the hospital and never gave up on their son, even when there were times no one knew whether Giorgio would make it to the next day.
"I feel like what kept us alive, me and dad, is our faith. We prayed every day," Alvarado said. "We had each other, we had our family. So to be honest, even though we went through what we went through, I do feel blessed, because I know there's some people that don't even have that."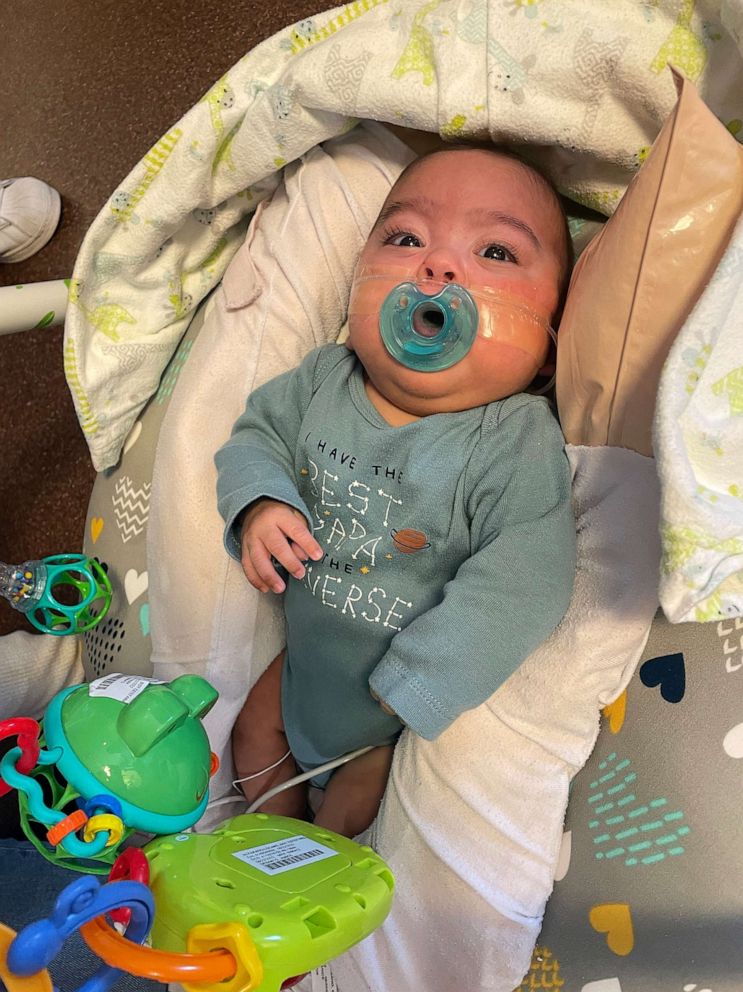 The first-time parents said they wanted to share Giorgio's story publicly to offer hope to families, especially to other NICU parents facing the unknown with their kids, and to encourage parents to advocate for their child's care.
"The utmost, No. 1 thing that has pushed me through is intuition," Fabsits said. "A parent's intuition is unmatched. A doctor knows their field and they know that the medicine that they need to provide, and they know their treatments, and they need to operate when they need to, but a parent's intuition is something that can't be beat because you have a connection with your kid."
Speaking to other parents experiencing similar situations, Alvarado added, "I want them to know that there is light at the end of the tunnel. It might take a long time but there is. Just keep praying and advocate for your kids. But there is a light at the end of the tunnel and it's a great feeling."
They also said they want Giorgio to know he's been a strong child from the get-go and that from their view, his future looks bright.
"I just want Giorgio to know that he's got loving parents that would do absolutely anything for him and that he is the strongest person I know," Fabsits said. "In the six months he's lived, he has went through so much, more than I have in my entire life and that no matter what, I know he can power through anything and to keep that mindset and that fight that he has, because he is absolutely a miracle to us and to the world. And I know he's going to do great things."