'GMA' Buzz Pick: 'Skye Falling' by Mia McKenzie
ABC News Photo illustration,
Celebrating and reading LGBTQ stories doesn't stop at the end of Pride Month.
With the wide variety of books on LGBTQ literature that exist today, whether they're written by an author of the LGBTQ community or simply have LGBTQ characters, these books are helping others learn about the community, the history of the gay rights movement and, importantly, how to be an ally.
"There's no better way to learn empathy and be an ally," said Alvin Orloff, manager of Dog Eared Books in San Francisco's historic Castro District. "[Reading is] an enjoyable way to be an ally and to put yourself in someone else's shoes."
"GMA" spoke with Orloff and Lenix Pecikonis of Lavender Library in Sacramento, California, a volunteer-run lending library archive and community space, who shared a list of books to help adults and children become LGBTQ allies.
"Kids often ask really poignant questions that as adults and as parents, we might not always be completely ready to answer," added Pecikonis. "Books often provide us a way to share and provide information in age-appropriate language to help them understand. Whether it's, 'Why does my family have two dads?' or using they/them pronouns, there's a whole spectrum that's allowing kids to see the diversity of what life can really be like now that LGBTQ people are much more accepted in society."
Read on for some of their book recommendations: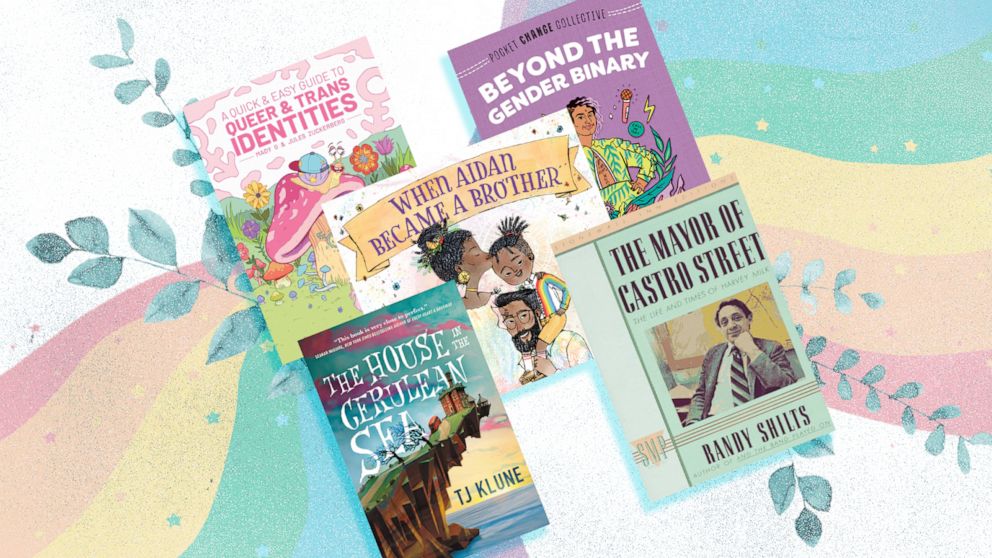 Fiction
"She of the Mountains" by Vivek Shraya with illustrations by Raymond Blesinger
"Stone Butch Blues" by Leslie Feinberg
"Johnny Appleseed" by Joshua Whitehead
Nonfiction
"A Quick and Easy Guide to They/Them Pronouns" by Archie Bongiovanni
"A Quick & Easy Guide to Queer & Trans Identities" by Mady G with illustrations by Mady G., Jules Zuckerberg and J.R. Zuckerberg
"Gender Queer: A Memoir" by Maia Kobabe
"The Mayor of Castro Street" by Randy Shilts
"Stonewall: The Definitive Story of the LGBTQ Rights Uprising that Changed America" by Martin Duberman
Young Adult
"Aristotle and Dante Discover the Secrets of the Universe by Benjamin Alire Saenz
"The House in the Cerulean Sea" by JT Klune
"Juliet Takes a Breath" by Gabby Rivera
Children's Books
"When Aidan Became a Brother" by Kyle Lukoff, with illustrations by Kaylani Juanita
"Julian is a Mermaid" by Julia Love
"Not Quite Narwhal" by Jessie Sima
Looking for more LGBTQ+ books to read not just for Pride Month, but all year long? Check out the list below from our friends at Goodreads who shared new LGBTQ books that were released this year.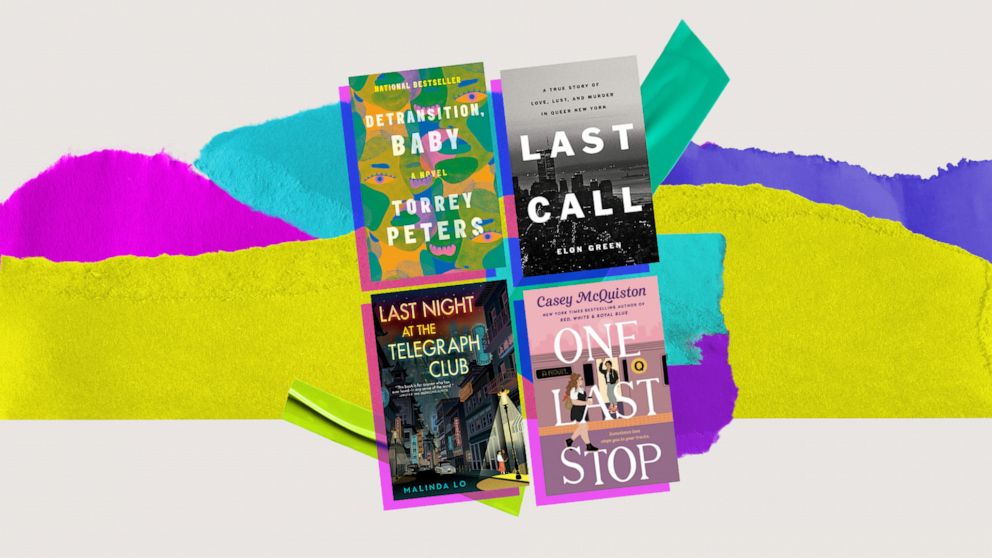 'One Last Stop' by Casey McQuiston
This curveball romance features twentysomething New Yorker August who discovers that her subway crush -- a gorgeous punk rock girl named Jane -- is displaced in time from 1970s Brooklyn. Finding love is hard enough without time-travel complications.
'Last Night at the Telegraph Club' by Malinda Lo
This young adult novel is set in 1954 Chinatown, San Francisco. Lily Hu and Kathleen Miller decide to take a big chance by visiting the famous lesbian bar Telegraph Club. Amid Red Scare paranoia and the constant threat of bigoted violence, the two young women risk everything for a chance to bring their secret love into the light of day.
'Detransition, Baby' by Torrey Peters
Peters' debut novel chronicles the lives of three New York City women, transgender and cisgender, whose lives intersect amongst a painful breakup, an unwanted pregnancy and a momentous decision.
'Last Call' by Elon Green
This true crime novel focuses on The Last Call Killer, who preyed upon gay men in New York at the turn of the last century. Because of the sexuality of his victims, New York's sky high murder rates, and the AIDS epidemic, his murders have nearly been forgotten. Green brings them to light here.
'Rainbow Milk' by Paul Mendez
This coming-of-age story follows nineteen-year-old Jesse McCarthy as he struggles to escape his economically depressed hometown and repressive religious community. Set in turn-of-the-millenium London, "Rainbow Milk" caroms wildly through notions of art and music, masculinity and spirituality, class and race, and the relentless march of time.
RuPaul, Melissa Etheridge, Todrick Hall, Bobby Berk and more nominate people making history now. See the full list.