Cardi B throws mic after fan tosses drink at star during performance
Brian Prahl/SplashNews.com
Police have opened a battery investigation after Cardi B threw her microphone into the crowd when a concertgoer tossed a drink at her during a recent show.
In a video making the rounds on social media, the Grammy-winning rapper is seen throwing a microphone at an audience member who tossed a drink at her during her performance at Drai's Beachclub in Las Vegas on Saturday.
Cardi B was performing her 2017 hit "Bodak Yellow" in the clip when she gets a good dousing of the liquid, then angrily throws the mic at them while appearing to have words with the person. The fan was escorted out by security.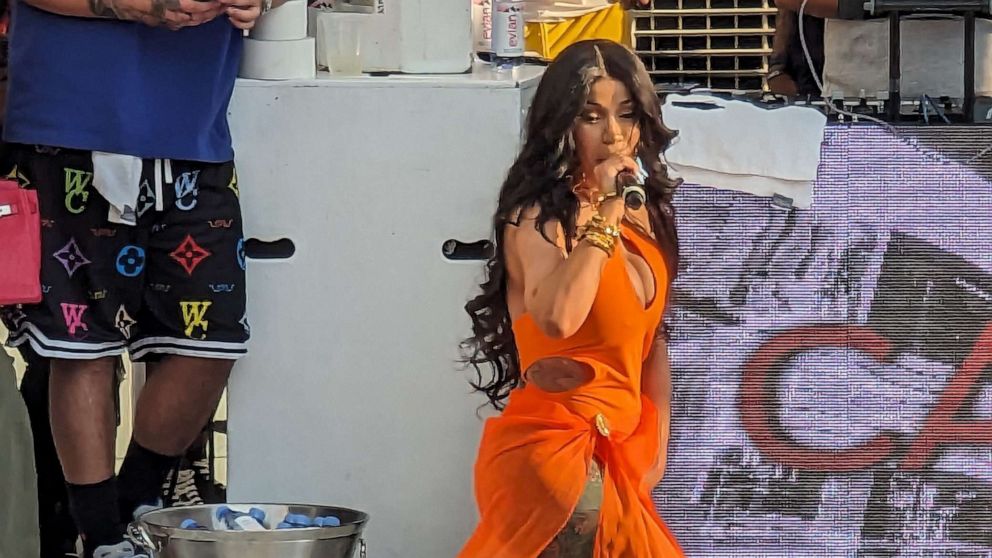 A separate video showed that Cardi B told fans she was hot and to throw her some water. It's unclear at what point in the show this video was recorded.
Cardi B addressed the incident Sunday on Stationhead, saying, "A [bleep] got [bleep] assaulted. When water and ice get thrown in your [bleep] face and hit you mad hard. What happened yesterday was blatantly disrespectful."
This is just the latest example of fans throwing things at artists while they're performing onstage. It has happened in recent weeks to artists like Bebe Rexha, Harry Styles, Kelsea Ballerini and more.
"Artists have had enough. I mean, I think that's evident," said Kelley L. Carter, an ABC News entertainment contributor and senior entertainment reporter for Andscape.
Carter added, "So much remains to be seen about how incidents like this might change the concert experience, but I do ... I think there's definitely going to be a zero-tolerance policy that's officially going to be put in place."