'Cheer' star Jerry Harris arrested on child pornography charges
Jim Spellman/Getty Images, FILE
"Cheer" star Jerry Harris was arrested Thursday and charged with one count of producing child pornography, the United States District Attorney's Office in the Northern District of Illinois announced.
Harris, 21, has been accused of enticing an underage boy to produce and send sexually explicit videos and photographs of himself, according to a criminal complaint filed in U.S. District Court in Chicago.
The complaint also states that the alleged victim, who said that he was first contacted by Harris in December 2018, informed Harris during a conversation on social media that he was 13 years old at the time. Harris has been accused of making similar requests of the alleged victim's twin brother as well.
An attorney for Harris did not immediately respond to ABC News' request for comment. His attorneys also declined to speak to reporters while leaving court on Thursday.
Harris is scheduled to appear in court for a detention hearing on Monday. If convicted, the TV personality could face 15 to 30 years in prison.
USA Today reported Monday that the FBI had executed a search warrant at Harris' home in Naperville, Illinois, amid allegations that he'd solicited sex and sexually explicit photographs from minors. At the time, a representative for the FBI would only confirm that the organization was conducting "court-authorized law enforcement activity in the area," and offered no additional comment.
A spokesperson for Harris denied the allegations in a statement provided to ABC News.
"We categorically dispute the claims made against Jerry Harris, which are alleged to have occurred when he was a teenager," the spokesperson said. "We are confident that when the investigation is completed the true facts will be revealed."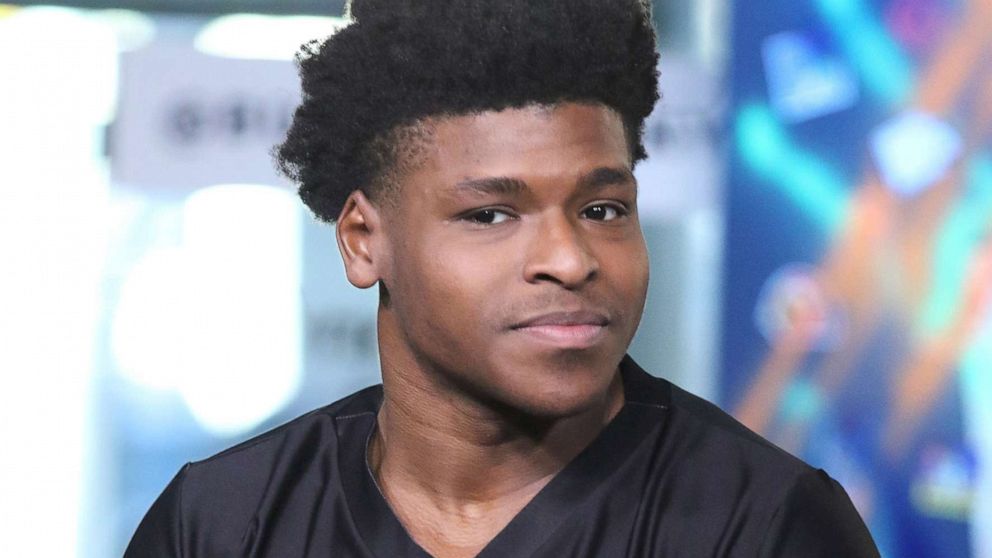 The chief legal officer for Varsity Brands, a company that supports the cheerleading industry, reported to police in Texas and Florida last month that he had learned of "inappropriate sexual conduct" allegations made against Harris, according to USA Today. The outlet also reported that in the correspondence with police, the Varsity Brands representative, who described the "Cheer" star as a former employee, included screenshots of private social media activity that mentioned the name Jerry Harris.
The newspaper also reported the alleged victim's mother reported Harris' alleged activity in May to U.S. All Star Federation, the national governing body for all-star cheerleading, but was ignored until she filed a second report nearly two months later. She and her sons filed a lawsuit on Monday in Texas against Harris, Varsity Brands, the U.S. All Star Federation and the Cheer Athletics gym where Harris cheered.
"Somebody needed to do something in order to prevent him from continuing to initiate these kinds of relationships with other boys," the boys' mother, Kristen, told "Good Morning America" earlier this week. Kristen's name was withheld for privacy reasons.
"Cheer," which debuted on Netflix in January, is a reality show that follows the Navarro College Bulldogs Cheer Team, an elite group of college cheerleaders. The show was nominated for six Primetime Emmy Awards this year.
"Like everyone we are shocked by this news," a Netflix spokesperson told ABC News in a statement. "Any abuse of minors is a terrible crime and we respect the legal process."
ABC's Ryan Burrow reports for ABC News Radio: