Why Dolly Parton says now was the right time to release her 1st rock record
November 17, 2023, 1:44 pm
Dolly Parton may be the undisputed Queen of Country, but she has fearlessly switched gears with her first rock 'n' roll album, "Rockstar."
"I really had to be rock 'n' roll," Parton told Robin Roberts for "Dolly Parton – From Rhinestones to Rock & Roll," which aired Nov. 7 on ABC. "I did not wanna do this country. I did not wanna do this rock half-ass. I thought, 'If I am going to do a rock album, I'm gonna have to really, really, really work at it.'"
Switching up genres may have been something Parton would have worried about if she were younger, but at 77 years old she said, "I ain't afraid of much anymore."
"I've always said my desire to do something is greater than my fear of it, and so that was the attitude that I had with this," she added.
Parton said she had put aside her desire to do a rock album, but said the opportunity presented itself when she was inducted into the Rock & Roll Hall of Fame last year -- after initially attempting to turn down the opportunity before graciously accepting it.
"God is good to me, and timing is everything, as they say," she said of the chain of events. "So I just jumped into it."
Parton called putting together "Rockstar" a fun challenge and said she believes her fans will follow her wherever she goes -- even outside of country music.
"I think they're proud for that, and I think they know that that's something I wanted to leave for my legacy and to leave behind, so I don't think I'm gonna have any flak from my country fans," she said. "I mean, how could they resent me? And if they do, well, tough."
Pat Benatar -- who, along with her husband Neil Giraldo, performed their song "Heartbreaker" with Parton -- said, "Dolly was born to rock."
"It doesn't matter what avenue and which genre of music she chose to do it, she always rocked it," Benatar said. "She was just going to be who she was, the way that she dressed, the way that she looked."
Benatar continued, "That was all of her choices and that is what rock 'n' roll is about -- being yourself and not listening to anything that anybody ever says to you. You just do what you do because that's who you are."
On reluctantly asking for collaborations
While "Rockstar" contains nine original songs, the bulk of it -- 21 songs -- consists of her covering rock classics, and often teaming up with the artists who originally recorded them. When assembling the Avengers of rock music to collaborate with, Parton said she had to do something she hates to do: ask for favors.
"Now, I'll do anything people ask me, but ... when it comes to me asking a favor from somebody, I'm just real backwards about that. It makes me feel like I'm hittin' on 'em," she joked. "But they were all good about it."
Parton said she was "so thrilled" when her fellow artists agreed to collaborate with her, admitting she "was worried that they wouldn't."
Sting said he was "thrilled" when Parton chose "Every Breath You Take" to put on her rock album -- and that was even before she asked him to sing on it with her.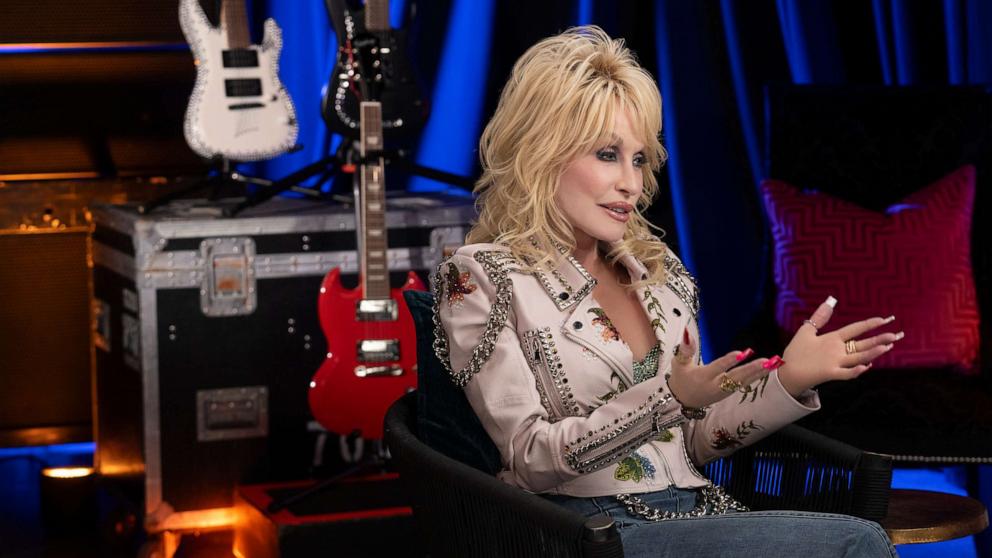 "When Dolly asks you to do something you don't even consider it. You just say, 'Yes, ma'am,'" the former Police frontman said. "I mean, it's as simple as that. She's a legend."
Parton said it was "such a great honor" to sing with Sting, who she said "did some of the most amazing harmonies" on the track with her.
When it came to asking Melissa Etheridge to collaborate with her on one of the original tracks for "Rockstar," a track titled "Tried to Rock and Roll Me," Parton kept it humble.
"The first thing I got from Dolly was an email. 'Hi, Melissa. It's Dolly. Remember me?'" the "Come to My Window" singer recalled. "Like you would forget Dolly Parton. I chuckled and went, 'Yes, of course I remember you,' and said yes instantly. I mean, I didn't even have to hear the song."
Parton said doing "CMT Crossroads" with Etheridge in 2003 was "one of my favorite musical things that I've ever done," so asking her to be on the record was an easy decision. "Not only did she sing her butt off, she played that guitar," Parton said. "And man, she is so good."
On songs that honor her friends
Parton also used "Rockstar," in a way, as an opportunity to honor some of her friends, such as Linda Ronstadt and the late Kenny Rogers.
She took on Ronstadt's song "You're No Good" with Emmylou Harris -- one-third of the legendary threesome including Harris, Parton and Ronstadt, who released the powerhouse "Trio" album in 1987 -- and Sheryl Crow joining her on the track.
Though still with us, Ronstadt has been open about how a degenerative condition known as progressive supranuclear palsy has robbed her of her ability to sing, telling CNN in 2020, "It's just impossible."
Parton said she chose "You're No Good" because it's one of her favorite songs Ronstadt recorded and she "wanted to do a tribute to her." Bringing Harris on board was a no-brainer, saying they're "like sisters," and Crow, whom she called "one of the most generous, sweet people," was chosen due to her friendships with Ronstadt and Harris.
"That was as close as I could get to the Trio," Parton said.
Reflecting on her time singing with the Trio, Harris said their voices "joined together to make ... a fourth voice," saying they "shimmered together." She also praised Parton for the energy and warmth she allows others to bask in when around her.
"Dolly moves through the world with such grace and humor and authenticity," Harris said. "It's almost like they need just the Dolly Hall of Fame and she's the only one in it."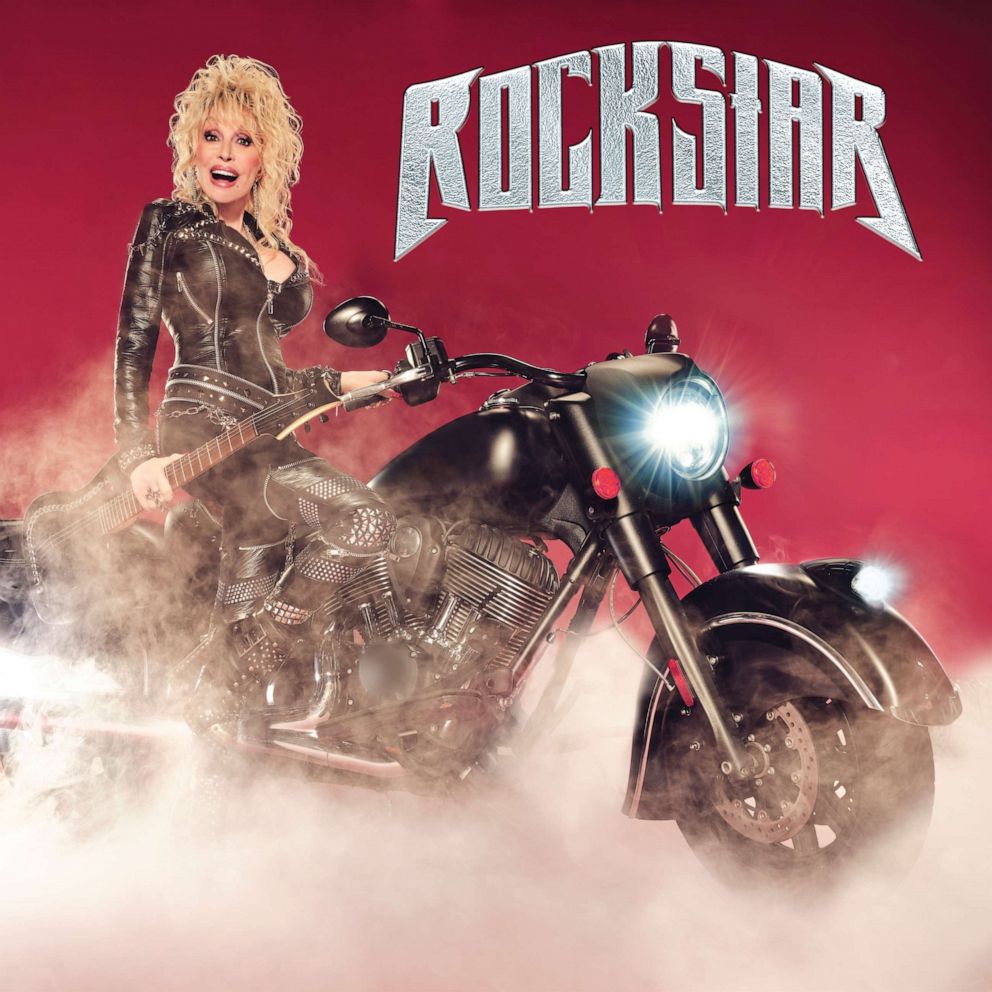 When it came to Rogers, who sang the beloved duet "Islands in the Stream" with Parton, she sang "Open Arms" with Journey frontman Steve Perry on "Rockstar."
Parton said her husband Carl Dean told her years ago she and Rogers needed to perform the song together, saying it would be their biggest hit. That sadly never happened, and Rogers died in March 2020.
"I missed my chance on that," she said, noting she did get to sing the song with Perry, who wrote it. "I will always think of Kenny too when I hear that."
Parton said she viewed Rogers "like a brother" and reflected fondly on their music together, saying "we really had that magic sound."
On working with legends from all generations
Parton sings with everyone on "Rockstar" from "fairy goddaughter" Miley Cyrus to Paul McCartney.
With McCartney, she took on one of the Beatles' biggest hits, "Let It Be," saying she has "always loved that song" and felt a "spiritual" connection to it. After recording it herself, thinking there was no way she could ever get McCartney on the track, she reached out.
"He said, 'Well, I'll not only sing on it, I'll play the piano,'" she recalled him telling her on the phone. Next up came securing Ringo Starr to play the drums, which he said he was happy to do, and the addition of two surprise guests: Peter Frampton and Mick Fleetwood, who were in the studio when Starr was recording.
"I think Mick did percussion and of course Peter Frampton was there playing some guitar," she said. "So that was just a meant-to-be kind of thing."
Also written in the stars was Parton doing her version of Cyrus' smash hit "Wrecking Ball." "That's one of my favorite things in the whole album," she said.
Parton said she'd had discussions to get together with Cyrus for supper to let her hear the entirety of "Rockstar" just between the two of them before it was released.
"She wanted to hear it with me, just the two of us," she said, adding that she wanted to "see what she thinks about it because I do think she's the rock chick of now. I think she is just the greatest."