Kate, the Duchess of Cambridge, had a full regal moment Wednesday at a white-tie reception at Buckingham Palace.
Wearing a tiara and long-sleeved velvet gown, Kate, 37, was the center of attention at the British royal family's annual Diplomatic Reception.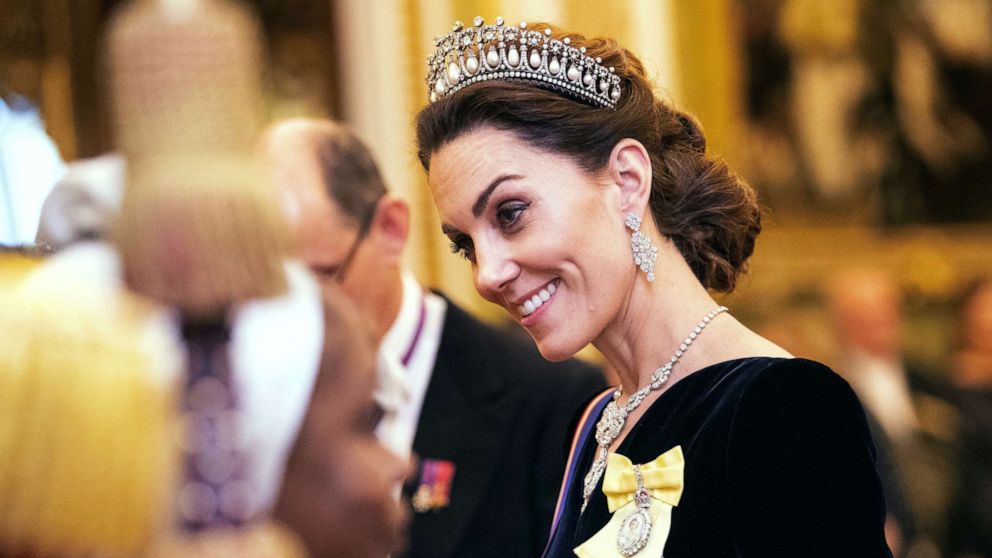 The duchess donned the Cambridge Lover's Knot tiara, which she has worn on multiple occasions including last year's Diplomatic Reception.
The tiara was created by Queen Elizabeth's grandmother, Queen Mary, in 1913, and was also a favorite of Prince William's mother, the late Princess Diana of Wales.
Kate also matched her dazzling jewels with a navy velvet Alexander McQueen gown, one of her favorite designers and the same fashion house that designed her wedding dress in 2011.
Other members of the royal family appeared in show stopping looks. Queen Elizabeth wore a gown by her longtime dresser Angela Kelly along with the Vladimir tiara, encrusted with emerald and diamond drops. The Duchess of Cornwall wore a cream embroidered gown by Bruce Oldfield and the Boucheron tiara.
The Diplomatic Reception is described by ABC News royal contributor Victoria Murphy as "possibly the glitziest event in the royal calendar."
Members of the royal family mingled with 1,000 invitees, including government officials like ambassadors and high commissioners to the U.K.
The event also marks the beginning of a Christmas vacation for the royals. It is reportedly Duchess Kate's last official engagement for 2019.
Queen Elizabeth and the royal family are soon expected to head to Sandringham, the queen's country estate, for Christmas.
At least three members of the royal family though, will be missing from this year's celebrations.
Prince Harry and Meghan, the Duke and Duchess of Sussex, and their son Archie will spend this Christmas, Archie's first, with Meghan's mother, Doria Ragland.