Actresses Jane Fonda and Lily Tomlin are bidding farewell to their Netflix show, "Grace and Frankie," after seven seasons.
The show, which first aired on Netflix on May 8, 2015, follows two wives who are dumped when their husbands fall in love with each other.
"It's also a bittersweet little sadness," Tomlin told "GMA" in an interview with Fonda.
"Just out of the blue, too, a couple of days ago, Lily said, 'I miss Grace and Frankie,'" added Fonda. "And I knew what she meant."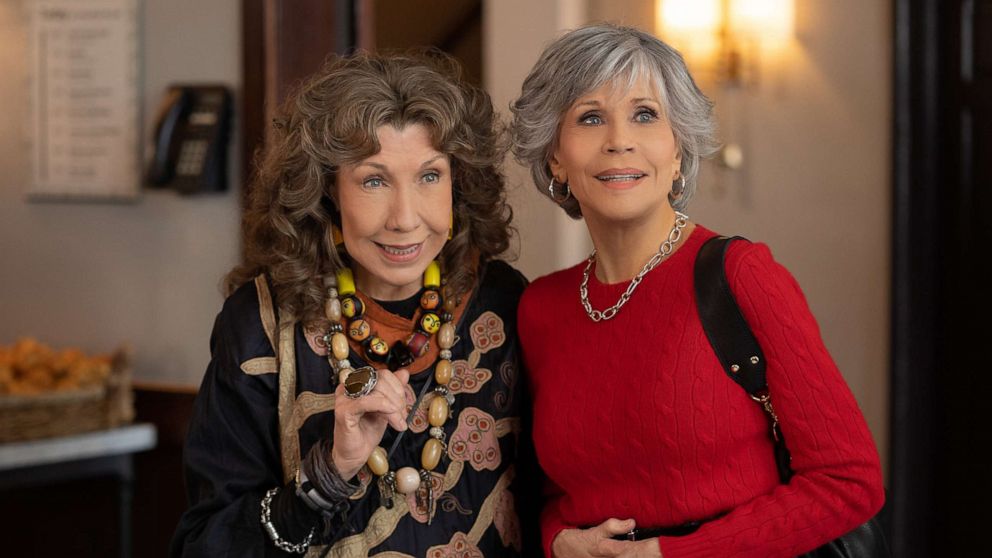 In the show, their characters initially disliked each other. But out of that unlikely bond grew a friendship, which they say many women related to.
"For too long, women of a certain age were relegated to a track suit and a wig hat and being sort of the object of much of the humor," Tomlin said. "Male stars might be 50 or 60 years old, but their girlfriends or their lovers were maybe 19 or 22. And women were only acceptable, desirable if they were like that. And the whole society accepted it."
In addition to age, the show also tackled memory loss and the fear of dying. Above all, the show also spoke about friendship and women supporting other women.
"I was thinking, 'How great to be able to say this on a show that's being shown around the world,'" Fonda said. "Women loving on each other doesn't have to be sexual. We're not always fighting each other and competing. That made me so happy that I could be in a show like that."
Now, with the show coming to a close, Tomlin and Fonda shared what fans can expect from the last season, including a cameo from Dolly Parton.
While they couldn't give too much away about how Parton ended up on the show, the two actresses did say more about what their friendship means to them.
"With the show finishing, I won't have her in the trailer next door to me," Tomlin said of her co-star. "I'm gonna miss her every day. It's kid of like losing her a little bit, you know."
"I have a physical emptiness when she's not around," Fonda added. "I miss her physically. It's -- I'm happy to say, I mean it's really nice to love somebody that you spend so much time with."