The evolution of Taylor Swift's music
Omar Vega/FilmMagic via Getty Images
Keith Urban and Nicole Kidman are major Swifties.
The couple attended Taylor Swift's Eras Tour concert Sunday night in Philadelphia and Urban took to TikTok on Monday to share a video of the couple dancing and singing along to "Style."
"We love ya, Taylor Swift," Urban wrote in the caption.
In the video, the "Brown Eyes Baby" singer added in on-screen text, "shout out to Taylor, her team, and ALL of the Swifties who showered us with sooooo many friendship bracelets."
"We had the best night!" he added. "Your show is f---ing phenomenal T."
Urban panned his camera to a view of the stage in the final few seconds of the video when Swift starts singing "Blank Space" and wrote in on-screen text, "big 💛💛💛 from all of us."
The Grammy-winning singer also took to his Instagram stories to share an image of all of the friendship bracelets Swift's fans gifted them.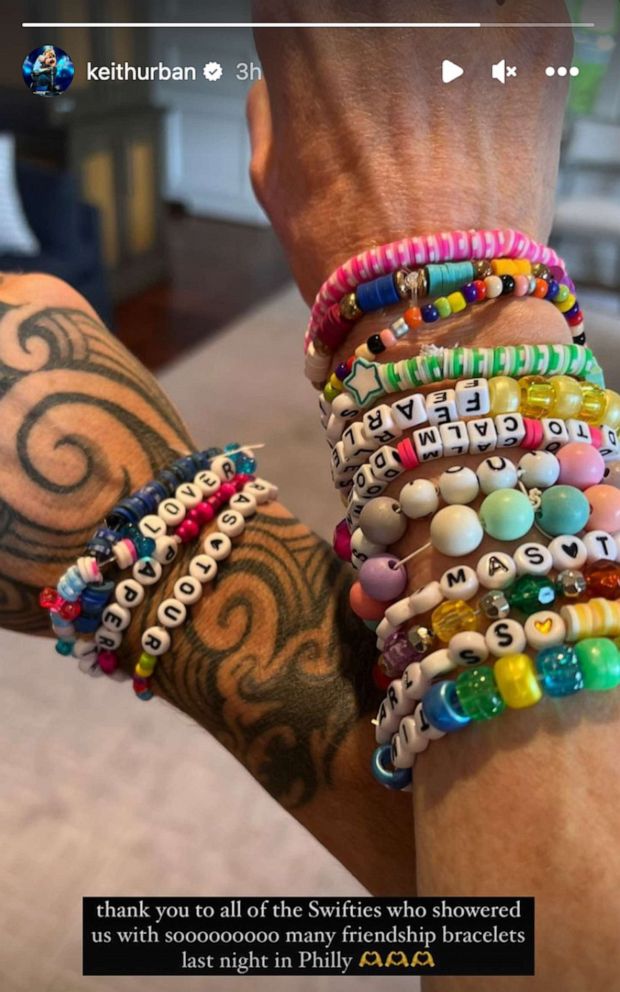 Urban and Swift have worked together on songs in the past.
In 2021, Urban was featured on Swift's song, "That's When (Taylor's Version)," on her "Fearless (Taylor's Version)" album.
The singers were also featured on Tim McGraw's 2013 album, "Two Lanes of Freedom," for the song, "Highway Don't Care."
In 2015, Urban was a surprise guest performer during Swift's 1989 World Tour where they sang his songs, "John Cougar, John Deere, John 3:16" and "Somebody Like You."