Nine months after a volunteer firefighter was killed in a tragic car crash, his newborn daughter and fire department paid tribute to him in a touching photo shoot.
On April 4, 2019, Brett Korves, a 10-year veteran of the Swansea Fire Department in Swansea, Illinois, was killed in a car accident on his way to work.
"Brett woke up that morning, and he went to work … we had our son, we had our house, we were doing everything the right way," Brett's widow, Alex Korves, said. "Then, some person decided to hit my husband while going 94 mph."
"It will be hard for [our family] the rest of our lives," she added.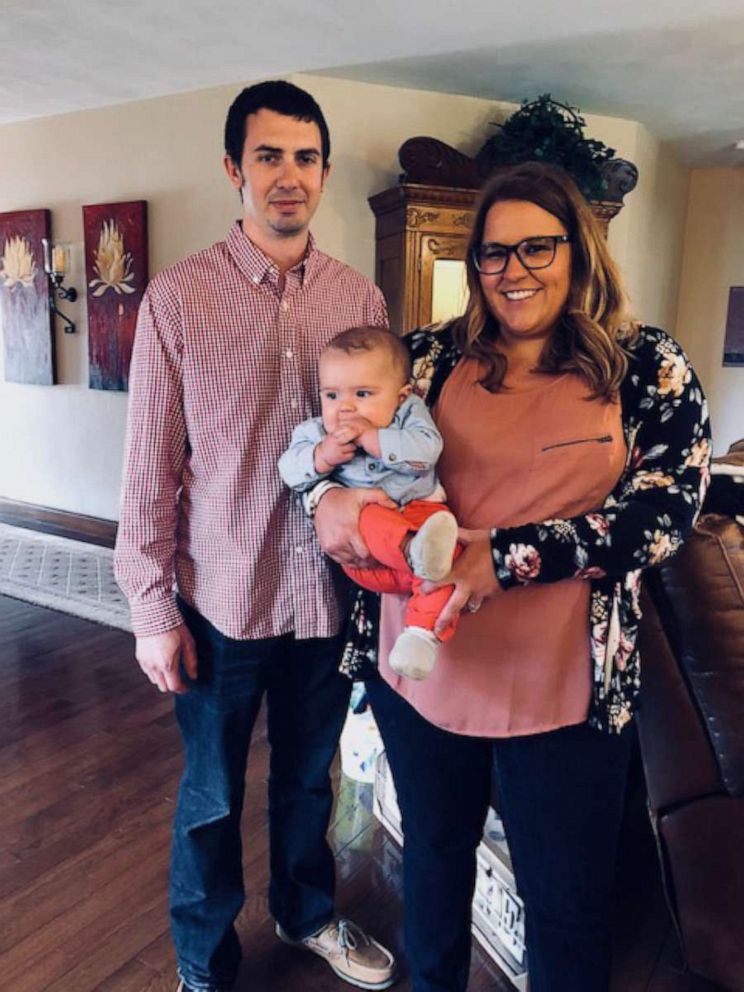 Brett, 30, who was known for his volunteerism, and loving commitment to his friends and family, left behind a 2-year-old son named Brock, and, unknowingly, an unborn daughter. Just weeks after her husband's death, Alex Korves discovered that she was pregnant with their second child.
"At first, I'm not going to lie. I was freaking out," said Alex Korves. "I was very excited to have just one more piece of Brett, but I was also very nervous to do this by myself."
Alex Korves gave birth to a baby girl on Dec. 12, 2019, and named her after her dad: Brett Grace Korves.
Samantha Kallal, photographer and owner of Sugarfoot Photography, caught wind of Korves' story and offered her a free newborn photo shoot.
"I wanted to do anything I could to help them. I specialize in newborns and it felt like the way I could do something for her," Kallal told "GMA." "The [Swansea Fire Department] is right by my studio, so I would drive by it on the way to work and think about it. I just wanted to reach out."
Since Brett was a third-generation Swansea firefighter and devoted to the department, Alex Korves and Kallal chose the firehouse as the location for the photo shoot and invited his colleagues to participate.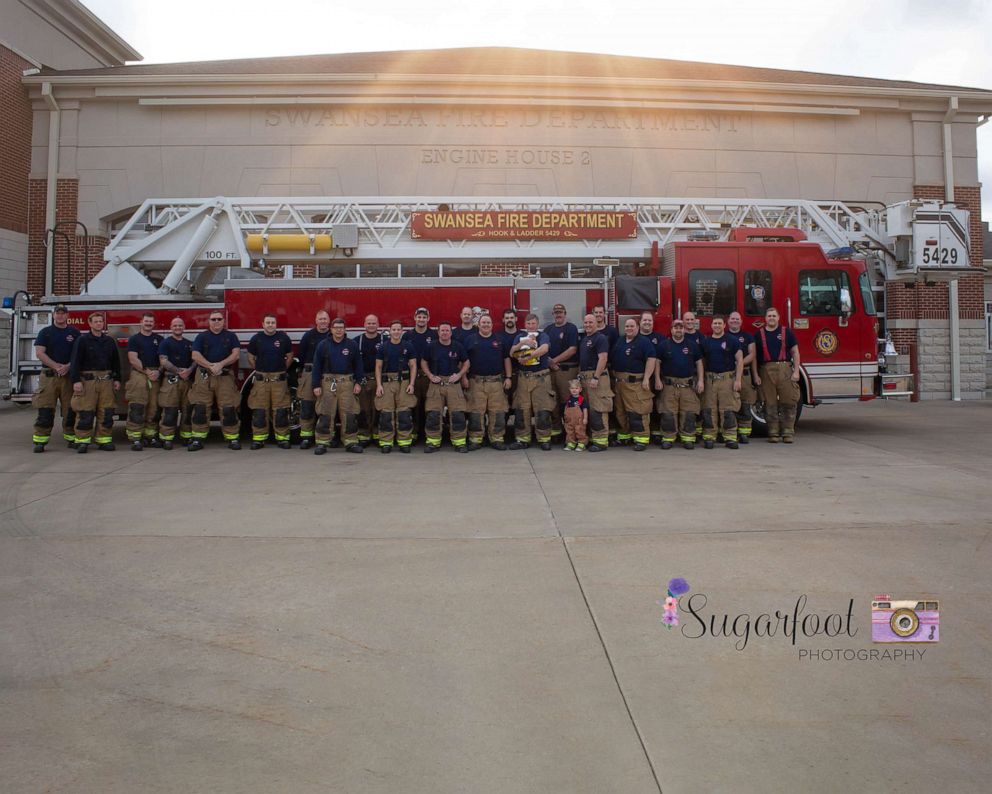 "We expected two or three guys to show up, and then we would just take a couple of quick pictures before going to my studio. But that morning we showed up and 26 of them were there, smiling and ready to go," said Kallal. "I figured we were onto something special."
On the significance of that moment, Alex Korves said, "I just want Brett Grace to realize that even though her father has passed … she has all this outpouring support from all these men, too."
Brett Grace slept peacefully during the photo session, posing with her father's gear and with the crew.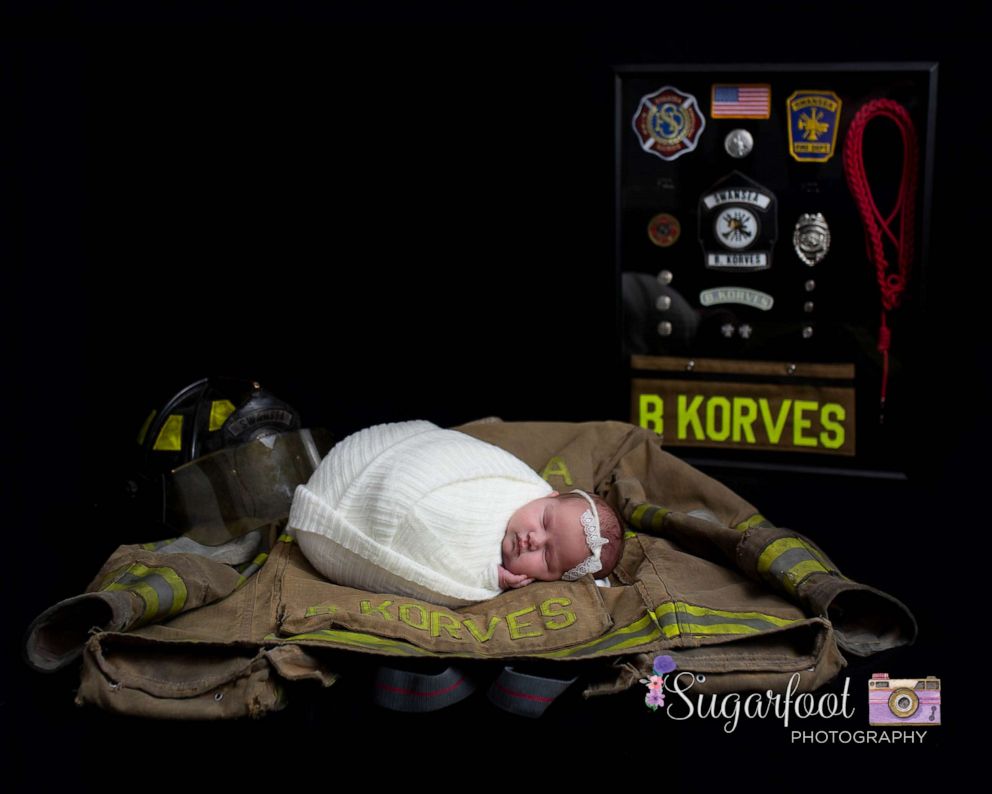 Brett's father, Jack Korves -- who is a lieutenant at the Swansea Fire Department -- cradled her in one of the photographs.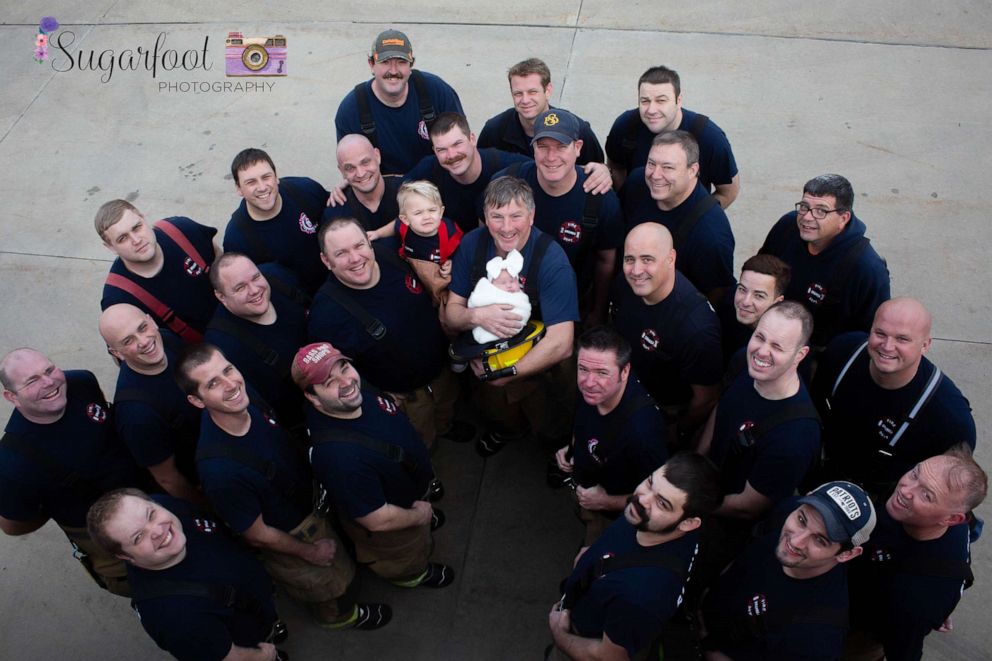 Her big brother also smiled for photos while sporting firefighter "bunker pants."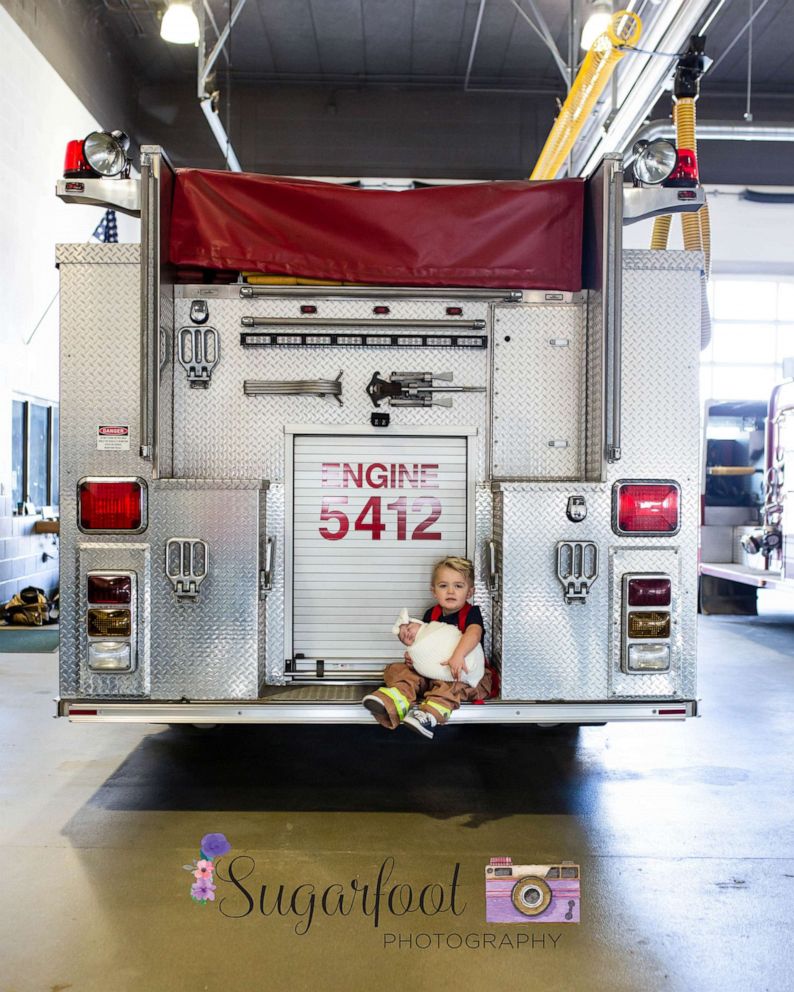 The sweet photographs, shared on Facebook on Jan. 8, generated local buzz and online attention. Alex Korves said she's glad her story has touched so many people, but she hopes it will also raise awareness to keep Brett's memory alive.
In December, Brett's siblings, Todd Korves and Kayla Bishop, launched a foundation called Brett's First Responders in the memory of their late brother. According to the foundation's Facebook page, the mission of Brett's First Responders is "to help families of first responders who were not injured in the line of duty and develop a scholarship program for people seeking to become firefighters."
"I guarantee the first thing Brett would have said was 'Let's get back to work,'" Todd Korves said. "And that's what we want to do to keep him alive as much as we can."