Back-to-school season comes with a seemingly never-ending checklist of things to get kids out the door and to their desk with supplies, full bellies and a packed lunch, all before the bell rings. Now, thanks to social media, many parents are tapping into tips that can make part of that process a little smoother.
Three mom-fluencers, each known for their creative kid's lunchbox routines, joined "Good Morning America" to share their helpful hacks at the start of the new school year.
Scroll below to check them out.
Fun food cutouts for kids' lunchboxes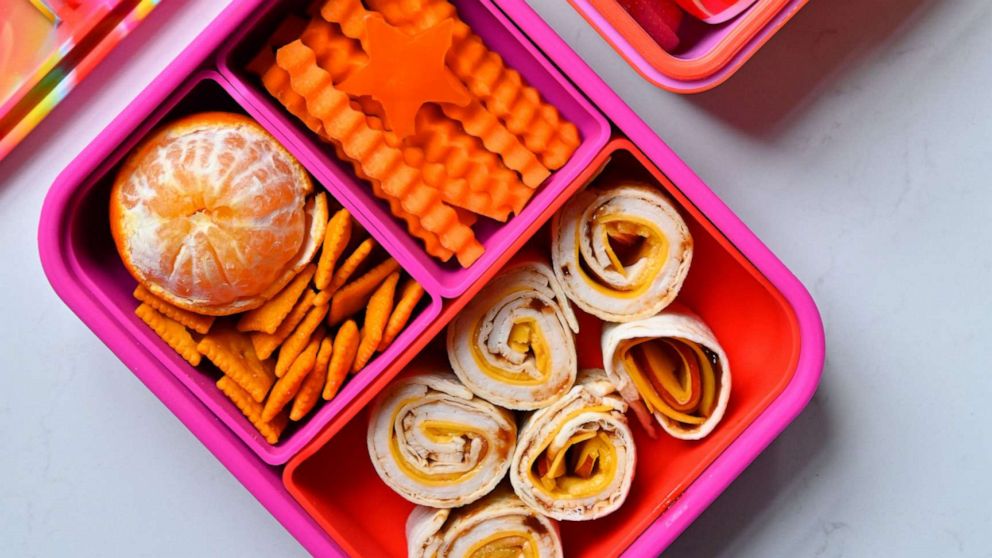 Food photographer, cookbook author and mom influencer Kelly Pfeiffer, also known as "the queen of lunchboxes," told "GMA" that her focus "has always been on simple, colorful ways to make the lunchbox appealing."
"Create a color-themed lunchbox to build in variety throughout the month," Pfeiffer said. She shares inspiration on Instagram to show how she builds in variety and focuses on different colors at the grocery store each time you're shopping.
"For example, during #YellowWeek you might grab yellow bell pepper, bananas, and golden beets. But during #OrangeWeek you'd gravitate towards sweet potatoes, carrots, mandarins, etc," she explained.
Pfeiffer also suggests using three simple kitchen tools to make fruits, vegetables and sandwiches more appealing for younger palates. A crinkle-cutter, star cookie cutter and a melon baller are the key components to creating fun shapes for kids snacks and lunchboxes.
First up, she makes "watermelon fries" using the crinkle-cutter. Next, she uses the star cut-out on the top piece of bread for a fun surprise on a sandwich.
Finally, Pfeiffer uses a melon baller to create spherical fruit shapes that are bite-size and perfectly poppable.
She also said serving "a hearty breakfast" is key to kids bringing home a fully eaten lunchbox.
"When I know my daughter has had a great start to her day with a hearty breakfast, I'm less worried about how much of her lunch she's actually finishing," Pfeiffer said. "I love making egg bites, veggie waffles, yogurt parfaits, etc. in the morning."
Recipes to sneak veggies in a snack
Many parents have difficulty getting their children to love veggies and finding ways to incorporate them into lunches. So, Lily Payen suggests sneaking them into a snack they already love.
The mom of three behind the popular food blog Feeding Tiny Bellies, said "try your best to dedicate a day to batch-making a few simple recipes. Freeze them and pull them out to pack when you need them during the week."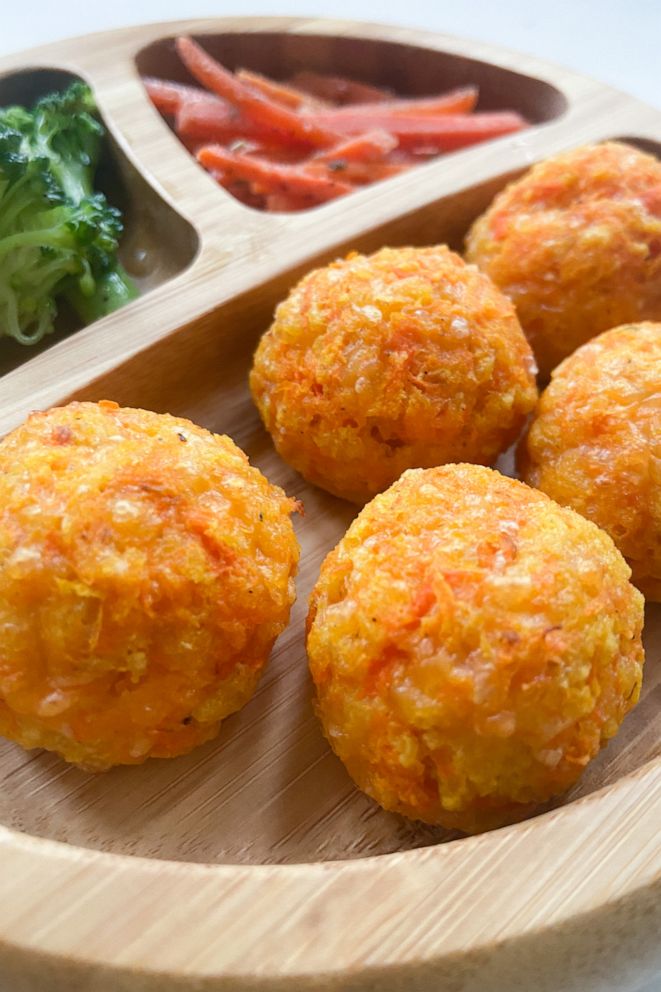 Ingredients
1 cup finely grated carrots
1/3 cup grated cheese
1/4 cup panko breadcrumbs
1 egg
1/4 teaspoon garlic powder
1/4 teaspoon onion powder
1/4 teaspoon salt (optional)
1/4 teaspoon black pepper (optional)
Directions
Preheat the oven to 400 F.
Shred the carrots using the smallest size hole on a box grater. Use your hands or a towel to squeeze out as much moisture from the carrots as possible. You may also place the carrots over a sieve and use the back of a spoon to press down on it to remove the moisture.
Add the carrots to a bowl along with the other ingredients. Mix well until combined.
Scoop out tablespoon-sized portions and roll them into small balls. Place the balls onto a parchment paper-lined pan.
Bake for 15 minutes, or until the edges start to slightly brown.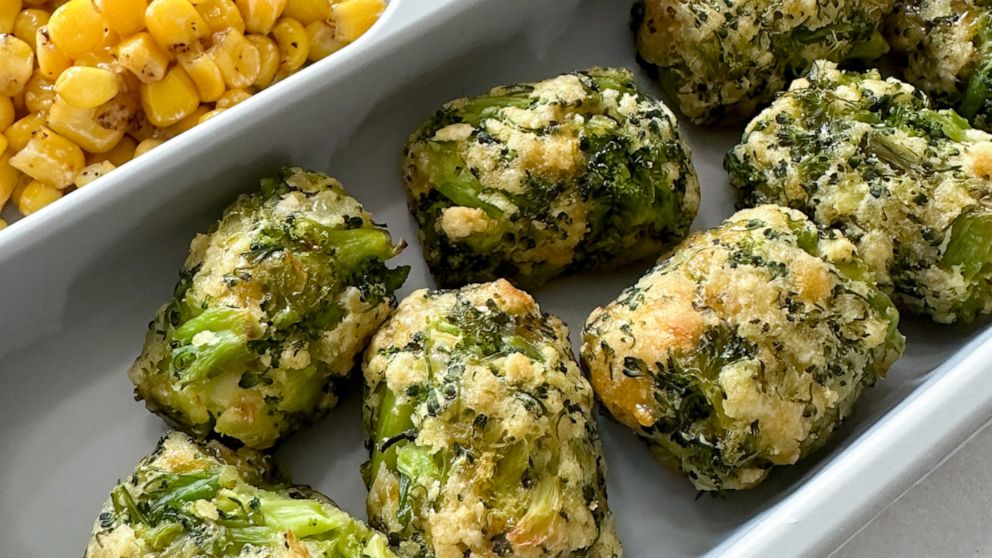 Ingredients
12 ounces broccoli florets
1 cup shredded cheese
1 egg
2/3 cup panko breadcrumbs
1/4 teaspoon garlic powder
1/4 teaspoon onion powder
1/2 teaspoon salt optional
Directions
Preheat the oven to 375 F.
Add broccoli florets to a microwave-safe bowl with 2 tablespoons of water and microwave on high for 2-3 minutes, or until the broccoli is tender. You may also boil the broccoli in a small pot of boiling water for 3 minutes. Drain and finely chop into small pieces. I used kitchen scissors to finely chop the florets, but you may also use a food processor if you prefer smaller pieces.
Add the breadcrumbs, shredded cheese, egg, onion powder, garlic powder, and salt to the bowl with the broccoli. Mix until well combined.
Scoop out tablespoon-sized portions of the mixture and shape them into a tot shape. Place the tots on a parchment paper-lined baking pan.
Bake the tots for about 20-25 minutes, or until the edges begin to slightly brown. Shake the pan halfway through for even browning.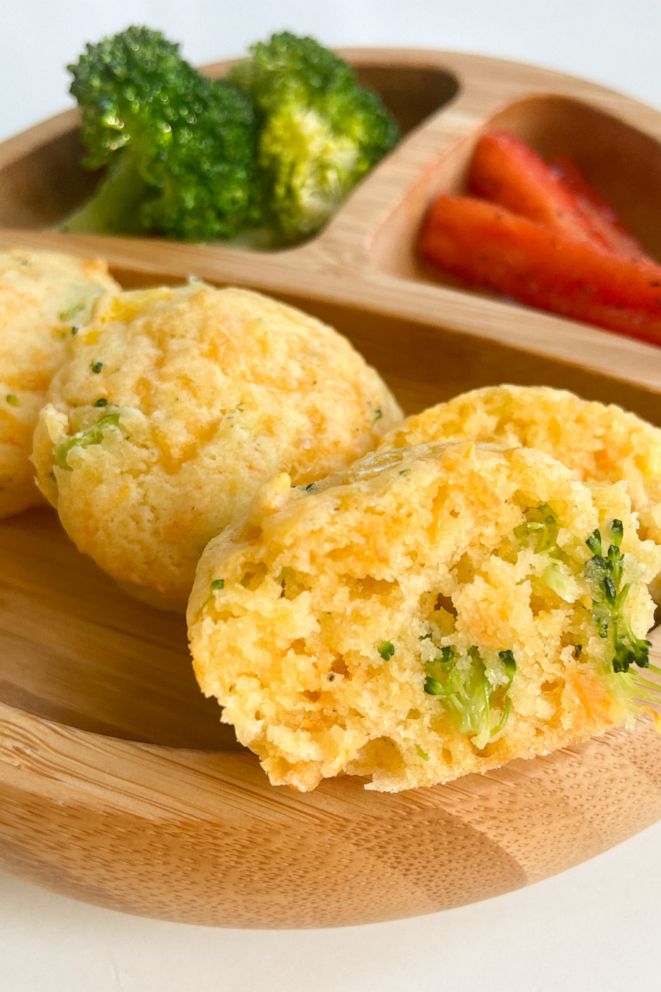 Ingredients
1/3 cup grated carrots
1/4 cup finely chopped broccoli floret heads
1/4 cup corn kernels
1 egg
1/2 cup milk
1/4 cup mild tasting oil/melted butter
1/2 cup shredded cheddar cheese
1 cup all purpose flour
2 teaspoons baking powder
1/2 teaspoon salt
1/8 teaspoon black pepper
Directions
Preheat the oven to 350 F.
Whisk together the egg, milk, oil, and cheese in a bowl until combined.
Add in the chopped/grated vegetables and mix until incorporated.
Add in the dry ingredients (flour, baking powder, salt, and pepper) and mix just until they are incorporated into the batter. Do not over mix.
Scoop out tablespoon-sized portions into a mini muffin pan. I was able to make 24 mini muffins.
Bake the muffins at 350 F for 15 minutes, or until a toothpick comes out clean. Let them cool in the pan for 5 minutes and transfer the muffins to a wire rack to finish cooling. Let the muffins cool completely before serving.
Teaching lunchtime skills
Mom, nutritionist and creator of Snacks with Jax, Sarah Osbon, urges parents to try a different kind of meal prep before sending little ones off to school, especially for the first time.
"Make sure that you let them see their lunch box before they start school," she suggested. "A few days before school, practice and make sure they know how to unlatch their lunch box and open it up."
Check out Osbon's additional tips for parents of new students on how to make lunchtime successful, below.
Pouches: "If you pre-open the pouch just enough for them beforehand, they'll be able to open it again on their own."
Lunchboxes: "There are so many different types -- make sure you're showing your kids how to open and close it properly."
Juice boxes: "Make sure you show them to hold the sides of the box when you stick your straw in so that they don't squeeze it all out or spill when it's time to open at school."