As we all prepare to spend time indoors to do our part to "flatten the curve" amidst the spread of novel coronavirus, a good book is the perfect way to unwind, distract yourself and pass the time.
Zibby Owens, the host of award-winning literary podcast, "Moms Don't Have Time to Read Books," gave "Good Morning America" 22 books to read while you're stuck at home.
"I may be homebound with my four kids for the foreseeable future," Owens writes, "but that doesn't mean I can't escape by jumping into these sensational new releases."
Owens shares why these books are perfect escape for your quarantine read.
Read along with us and join the conversation on our Instagram account – GMA Book Club and #GMABookClub.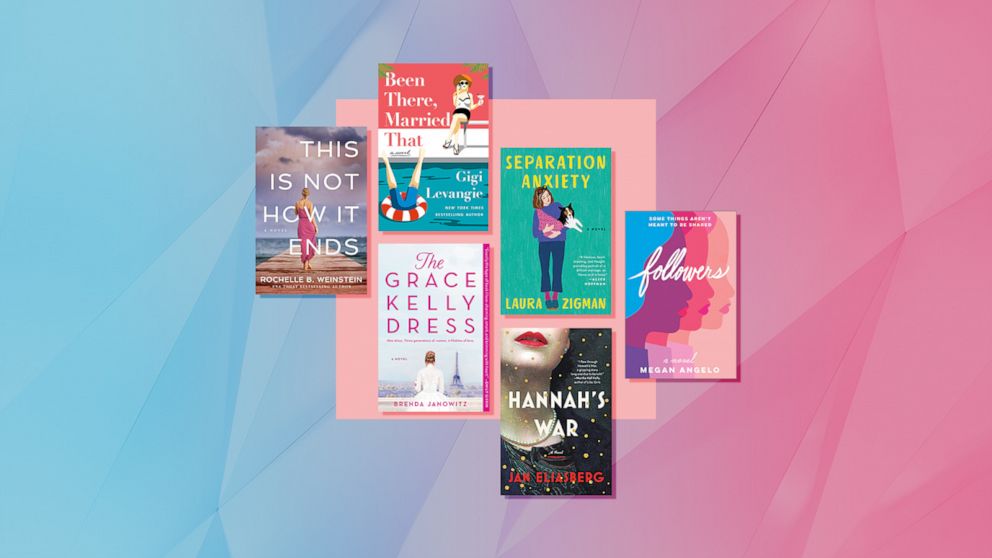 Fiction:
"Separation Anxiety" by Laura Zigman
Bestselling author Laura Zigman splashes back on the literary scene after a decade-long hiatus with this poignant, intimate look inside the struggling marriage of a couple whose only son is about the leave the nest. Yes, the mom copes by starting to wear her dog in a sling. No judgment.
"Been There Married That" by Gigi Levangie
A satirical look at the uber-wealthy in Hollywood, "Been There Married That" is a hilarious, biting comedy about divorce with kids, success, ambition and family. Author Gigi Levangie is actually Imagine Entertainment exec Brian Grazer's ex, but this is "fiction."
"Followers" by Megan Angelo
Told in alternating chapters between today's world and life in 2051, Megan Angelo's debut novel, "Followers," examines what it really takes to become an influencer and what can happen to those who attain that power.
"A Good Neighborhood" by Therese Anne Fowler
Two neighbors' lives intersect in this thought-provoking, fast-paced New York Times bestselling tale of a town that becomes embroiled in the fates of two of its young and the misunderstanding that threatens to destroy their community.
"My Dark Vanessa" by Kate Elizabeth Russell
In her compelling, unforgettable debut novel, Kate Elizabeth Russell establishes herself as one of the greatest authors of a generation. Her timely tale about the intimate relationship between a high school student and her middle-aged teacher raises important issues of abuse, love, power and what it means to be a victim.
"Hannah's War" by Jan Eliasberg
Based on the life of Lise Meitner, a World War II Jewish physicist who wasn't credited with her work creating the atomic bomb, "Hannah's War" cinematically tracks the life a brilliant woman during a heated time in history.
"The Grace Kelly Dress" by Brenda Janowitz
In Brenda Janowitz's sixth book, three generations of women converge around a wedding gown and the power of a single item. Lush fabrics, lace and leather combat boots combine in this intimate portrait of the changing landscape of brides.
"This is Not How It Ends" by Rochelle Weistein
A love story, "This is Not How it Ends" is a particularly relevant and optimistic title given life in these social-distancing, terrifying times. A hurricane in a beach community reflects the inner storm in one woman's heart as she questions her marriage, loyalty, friendship and what it means to love.
Memoir:
"The Upside of Being Down: How Mental Health Struggles Led to My Greatest Successes in Work and Life" by Jen Gotch
Irreverent and instantly lovable, Jen Gotch shares her personal struggles with bipolar and anxiety disorders in a relatable, diaristic tone. She details the challenges and ultimate triumph of founding a multimillion dollar thriving business based on bringing joy to others, called Ban.do.
"Smacked: A Story of White Collar Ambition, Addiction and Tragedy" by Eliene Zimmereman
New York Times journalist Eilene Zimmerman turns her reporter's eye on her ex-husband's drug overdose and hidden addictions in the face of his workaholic tendencies in the high-pressure world of corporate law.
"As Needed For Pain" by Dan Peres
The former editor-in-chief of Details magazine in the heyday of the glossy world, Dan Peres shares his prior addiction to opioids and paints a stunning picture of a high-functioning addict who was only saved by what seemed like magic.
"Everything I Know About Love: A Memoir" by Dolly Alderton
From the loss of her close friend and her eating disorder to dating struggles and late-night benders, international bestselling author Dolly Alderton shares all in this coming-of-age tale written in bite-sized chapters.
"Nobody Will Tell You This But Me" by Bess Kalb
A unique take on a close daughter-grandmother relationship, Bess Kalb's story is a beautiful tribute to her recently deceased grandmother, Bobby. Told in her hilarious grandmother's voice, Bess's memoir chronicles her family's story and the love story between these two fabulous women.
Parenting/Advice:
"Ready or Not: Preparing Our Kids to Thrive in an Uncertain and Rapidly Changing World" by Madeline Levine
Now's the time for this book; the world could not be more uncertain. Psychologist and New York Times bestselling author Dr. Madeline Levine gives actionable strategies to help kids coping with anxiety based on research and her personal experience.
"Don't Overthink It: Make Easier Decisions, Stop Second-Guessing, and Bring More Joy to Your Life" by Anne Bogel
Anne Bogel, the creator of the popular "Modern Mrs. Darcy" blog and the host of podcast "What Are You Reading Next," has written her third book, this one designed to help overthinkers and ruminators stop in their tracks. Her entertaining anecdotes, like accidentally cooking a melon instead of a spaghetti squash, make the book un-put-down-able.
Thriller:
"The Red Lotus" by Chris Bohjalian
No. 1 New York Times bestselling author Chris Bohjalian has given us yet another sensational, expertly written thriller, this one about a couple who goes on a bike tour adventure in Vietnam, a mysterious disappearance and the fight to stay alive.
"Please See Us" by Caitlin Mullen
Debut novelist Caitlin Mullen spins a chilling tale about a young woman in Atlantic City, New Jersey, who attempts to uncover the source of a rash of murders of other young women, just like her.
"Reputation" by Sara Shepard
What if every email you'd ever written was suddenly online -- and public? This nightmare scenario occurs in "Pretty Little Liars" author Sara Shepard's latest thriller and leads to many unexpected outcomes in this university town.
"You Are Not Alone" by Greer Hendricks and Sarah Pekkanen
A millennial jumps in front of a subway. A woman watches, helpless. Bestselling duo Greer Hendricks and Sarah Pekkanen write an edge-of-your-seat, gripping story about what follows when these -- and many other -- lives intersect in tragedy.
Nonfiction:
"The Genius of Women" by Janice Kaplan
Former editor-in-chief of Parade magazine and producer of over 30 TV shows, Janice Kaplan follows up her bestselling book, The Gratitude Diaries, with this in-depth analysis of what makes a genius, why there have been fewer women geniuses than men, and which trailblazers deserve that monicker.
Young Adult:
"Anna K" by Jenny Lee
A modern take on Leo Tolstoy's "Anna Karenina," "Anna K" is a "Gossip Girl" meets "Big Little Lies" tale of wealth, privilege, love and loss with lots of designer labels.
Middle Grade:
"Black Brother Black Brother" by Jewell Parker Rhodes
A biracial couple has two sons: one who presents as white, the other black. Based on Dr. Jewell Parker Rhodes' own family experience, this memorable, insightful story about identity, family, revenge and fencing will delight and educate middle graders and their parents.
Read along with us and join the conversation on our Instagram account – GMA Book Club and #GMABookClub.