A self-described "Black cowgirl" is combining her love of horses and books to inspire kids to read more.
Caitlin Gooch, 28, said she felt compelled to launch Saddle Up and Read when she learned about literacy rates in the United States, as well as that of North Carolina, where her nonprofit is based.
According to a 2019 report by the Nation's Report Card, only 36% of fourth graders in the state read at proficiency level or higher and that rate lowers to 33% for eighth graders.
"When talking to other people, I just realized that there are children being passed along and they can't read," Gooch told "Good Morning America," and said that even some of her own classmates couldn't read well, but no one knew until after graduation.
With experience working in child care and education prior to launching Saddle Up and Read, Gooch said she noticed no matter where she went, children didn't enjoy reading and doing things like spelling tests.
"They hated it," she said. "And it was just like, 'Why do you all hate this so much?' You have to know how to read."
The unique idea to mix horses and reading came naturally to Gooch, who has grown up around horses her entire life. Her family owns a farm with horses -- 8 of them are hers -- and her father taught her how to ride when she was 3 years old.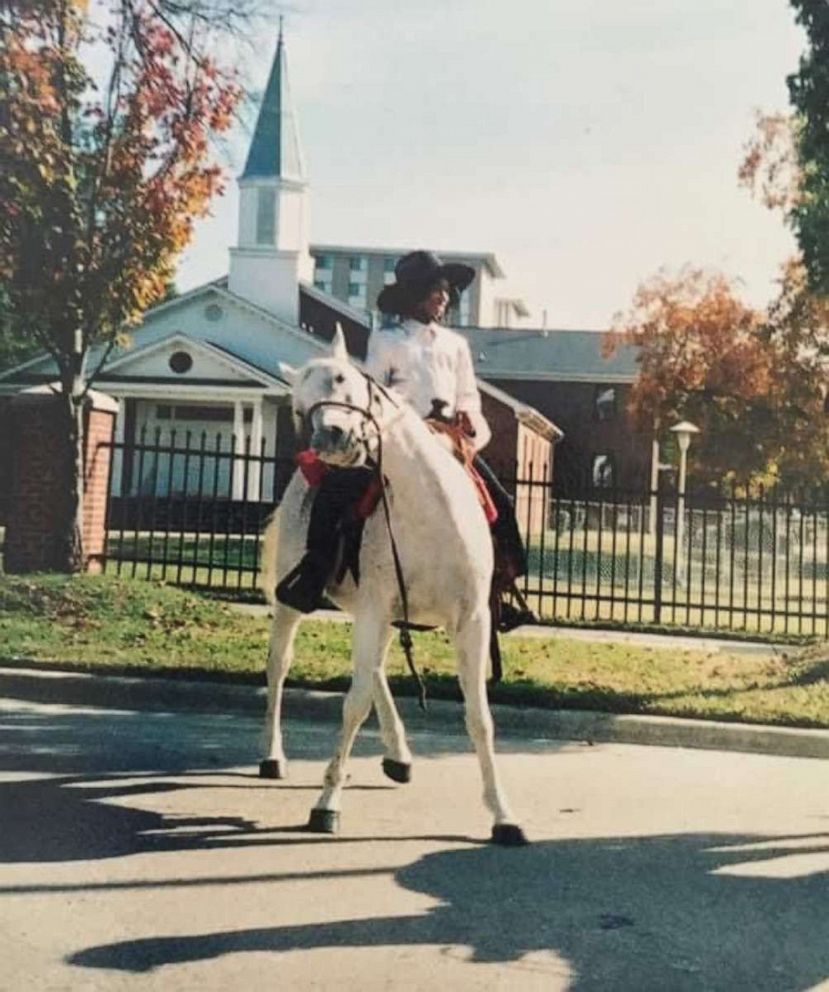 "Kids get excited when they realize they can actually sit or stand there and read a book to a horse," Gooch said.
The nonprofit's first program was in 2017, when Gooch worked with Wendell Community Library to offer a monthlong raffle. When children checked out three or more books, they were entered into a drawing and the winners received a certificate, a horse pillow, and the opportunity to visit the Gooch family farm and interact with the horses.
Prior to the COVID-19 pandemic, Gooch's said her nonprofit gave children the chance to visit her family's farm -- which offers horseback riding -- and read to the horses there.
"It was so much fun -- we would have like, 30 kids just running around with books," Gooch said.
However, Gooch had to pivot when COVID-19 no longer permitted large gatherings. She used social media to find a truck and trailer to create a mobile unit that would pop-up around various locations in North Carolina.
"So that was like a total upgrade," Gooch said. "Things have changed a lot."
While Gooch favors parks as locations for the mobile unit, the decision on where to set up shop comes from research, such as a community's needs and the literacy rates of a particular area.
In addition to funding the initial operation on her own, Gooch currently lives in Chesapeake, Virginia, with her husband and three kids but still makes the six-hour, round-trip journey to North Carolina every weekend.
"I just had a baby in a pandemic," she said. "I was reading and traveling up until she was born. She was born in March 2020 and I was still going around and reading books to kids."
Gooch plans to start a program for children who have been suspended or expelled from school. She said she hopes that by completing her program, a child's suspension would not be on their permanent school record, something that could negatively impact their academic career, she said.
"If kids get behind, they're always going to feel behind unless they get immediate and extensive intervention," Gooch said.
Additionally, Gooch hopes to find land to open up her own equestrian center, where she can operate her reading nonprofit and a separate business in which she teaches classes on horsemanship and horse safety. Her plans also include an on-site literacy lodge where kids can hang out and learn about gardening and agriculture.
"Overall, it's going to be a safe space -- a positive space -- for kids," she said. "That is what I want."
Gooch said she wants to provide opportunities for people of all backgrounds and abilities.
"If you're a Black child or a Hispanic child, if you're deaf, if you're paralyzed, if you use a wheelchair or if you have leg braces -- whatever -- you're welcome here no matter what," she said.