10-year-old becomes youngest to climb Yosemite's El Capitan
When Diana Kinard and Dawn Frazier first met at a marathon in 2019, they quickly bonded over one goal on their bucket lists: to climb Mount Kilimanjaro.
Together, the two came up with the idea of a collective that's "inspiring Black women to embrace their next chapter of growth through travel and shared experiences," according to their website. They bounced back and forth for an official name, but settled on Shades of Favor to reflect their determination and faith to accomplish this goal.
"We decided that we were favored because we were still able to even think about doing something like [climbing Mount Kilimanjaro]. This was in our thought process and it scared us but we still were intrigued by it. We were still encouraged," said Frazier.
"And the fact that we're all different shades, we took that into consideration," Kinard added. "Even when you see us all together, you see all these beautiful hues."
In August, they believe they became the first group of Black American women to climb Mount Kilimanjaro -- the largest free-standing mountain in the world. But their intention wasn't to make history.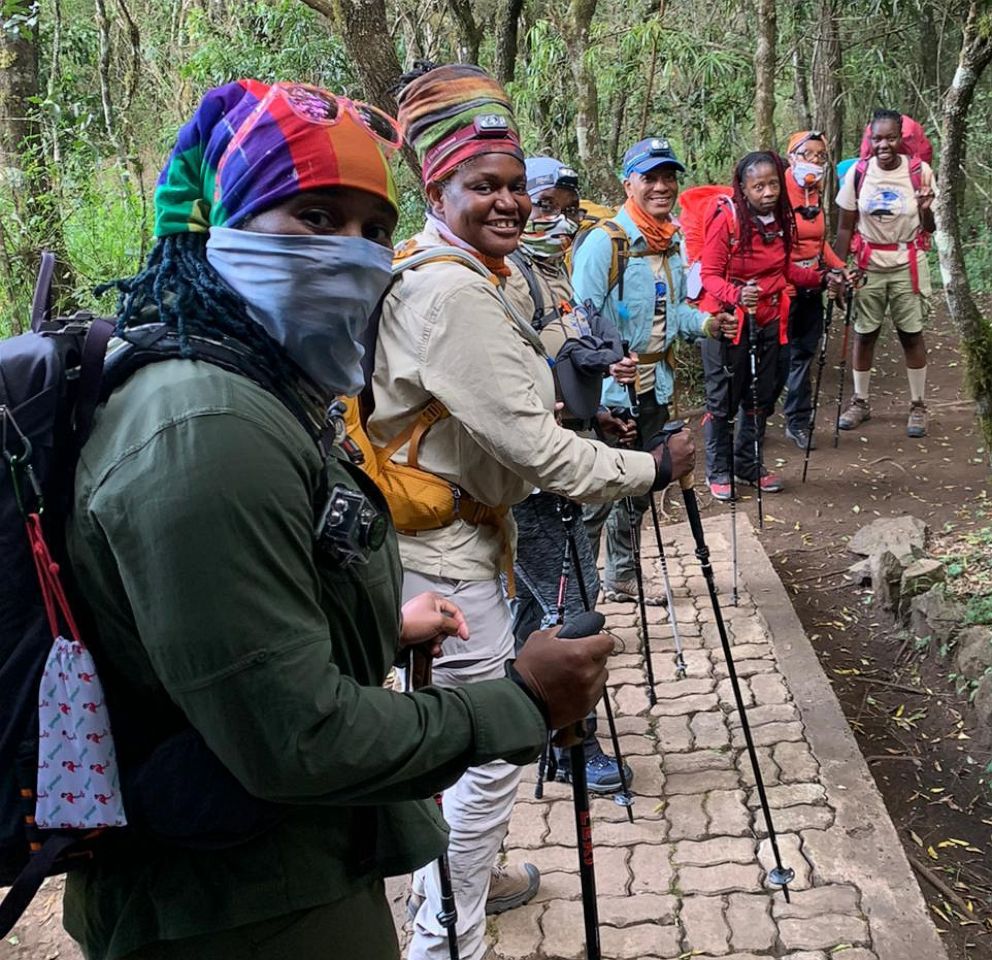 "We wanted to create a safe space, so when we're doing something that hard that we could be ourselves and have the conversations that would probably only be comfortable with certain groups," said Frazier.
There were some challenges to planning the trip. Of the original 23 women who planned on going, nine actually joined the group -- all over the age of 40.
"COVID hit, then people started dropping off, which was understandable. Dawn and I are still going, if y'all want to step out on faith with us, let us know," Kinard said.
Before making the climb, the group knew that training would be essential to success and prepared for about four months.
"We knew through all the research you need to be in the best shape of your life," Kinard said.
We destroyed all those stereotypes on that mountain.
The group started bonding even before the climb as they shared workout routines in anticipation of the journey. Kinard said they began to push and motivate each other.
They began the climb on Aug. 18 at 2:30 a.m. and took six days to reach the summit from their entry point. Kinard and Frazier hiked to Uhuru Peak, the highest point, which sits at 19,340 feet.
While it wasn't an easy task, the two women say they gained so much on the journey, including friendship with a supportive group of Black women.
"It was so amazing to just sit around the table, eat dinner with the whole group [and] talk about everybody's day," Frazier said.
"Every day you saw something beautiful or a plant or flower that you know you're not going to see anywhere else in the world," Kinard added.
During their travels, Kinard said they also got to experience Tanzania. "The people are so warm and they were so happy," she said. "They were so happy to see us. We got that everywhere we went."
The group of women are still in contact. Kinard and Frazier are currently planning to check off another item on their bucket list: a trip to Machu Picchu in Peru.
"We destroyed all those stereotypes on that mountain. We get along, we talk, we're honest with each other," Kinard continued. "We had doctors, nurses, entrepreneurs, brokers … all kinds of different careers but we all came together and got up that mountain, and it was an amazing thing."