Sometimes, a picture is all it takes.
For Sherry Lankston, a mom of two in the Seattle area, a regular social media check-in turned into an unexpected road trip and a new family member when she stumbled onto a Facebook post in February by Joy Ollinger, a lieutenant with the San Diego Department of Animal Services.
Ollinger, who also serves as an animal shelter manager, had shared photos and a note about Harvey, a young husky who was looking for a permanent home.
"[Harvey] has a facial deformity so he was getting overlooked all the time and I started having him in my office to get to know him a little better. And then I started posting him on my personal Facebook and that's how Sherry saw him," Ollinger told "Good Morning America."
Ollinger, who said Harvey was named after the comic book character Harvey Dent, "because the two sides of his face don't match," had grown fond of the one-year-old pup and wanted to shine a spotlight on the "very intelligent" dog who loved to "put his paws up on the desk" and snuggle while she was in the office.
"In the entire time Harvey was here, he never got any interest," Ollinger said. "He was never asked about or taken on an interact by anyone until Sherry came along. And he was a shelter favorite and a volunteer favorite so he got lots of time out in the play yards with the volunteers and he got time in my office, but he had zero interest by adopters."
When Lankston first saw Harvey, she was instantly smitten.
"It's that face where he's just like smiling, his tongue lolling out and he just looked like the happiest, goofiest dog," Lankston recalled. "Just so goofy, and I was like, 'Oh, I love this dog already!'"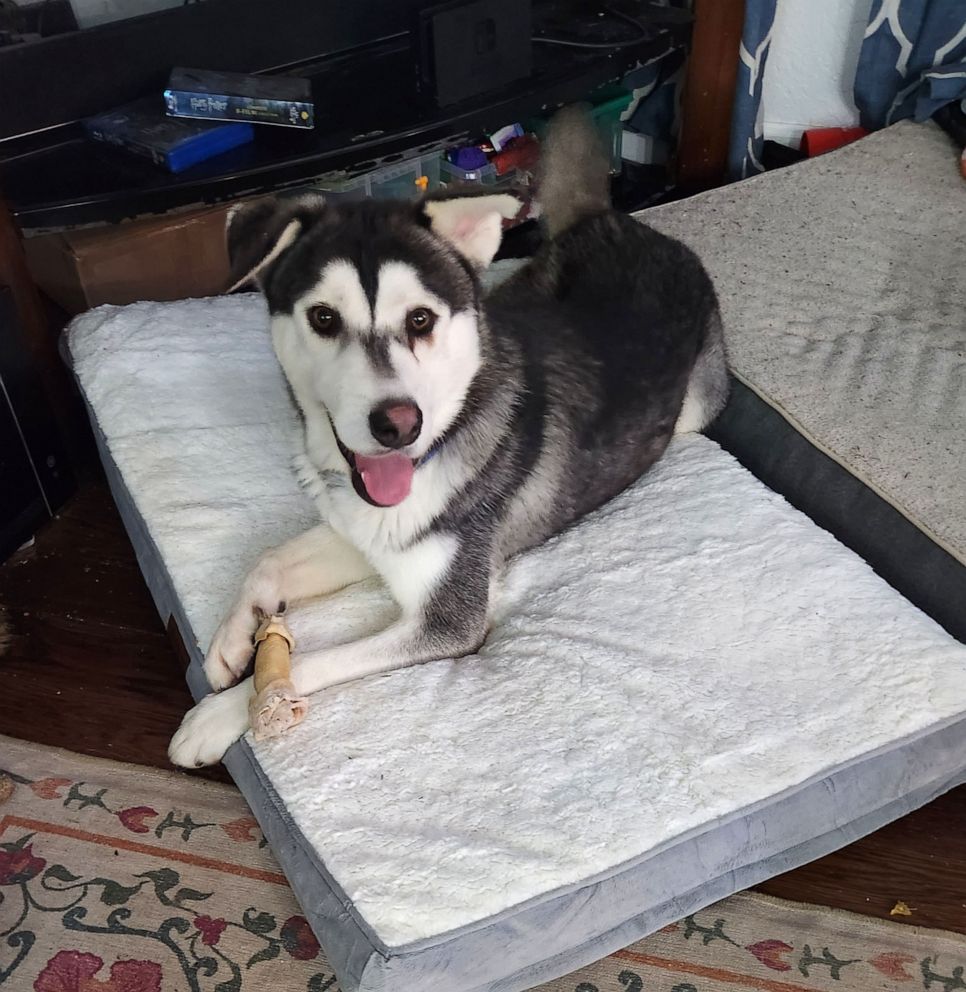 Lankston quickly sent a message to Ollinger but the only problem was that she and her family were two states and over 1,300 miles away. While Ollinger and her team were trying to figure out how to potentially transport Harvey north, Lankston decided to bring her sons, who were going to be on their mid-winter school break, and their dog River on an impromptu road trip.
"I was like, 'You know what? We're coming.' We're gonna do it, might as well road trip and took a day to pack and left the next morning," Lankston said. "Three days later, we were there."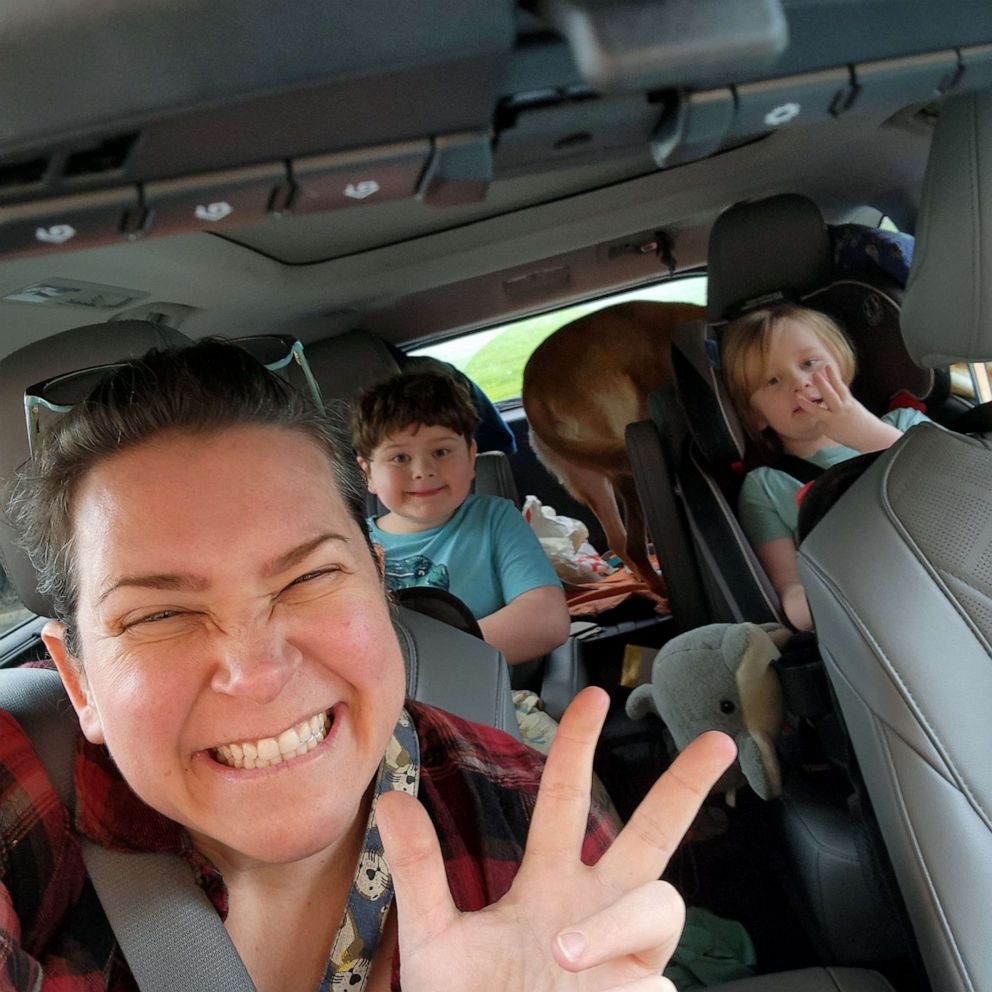 "We made an adventure out of it to go down because I wanted this to be a good memory for the boys and for me," the mom of two added.
It could've all turned out differently but as luck would have it, Harvey, whose "lopsided face" doesn't impact his health in any way, ended up being a perfect match for Lankston and her family.
"I think what really sealed the deal was meeting him in person that first time," Lankston said.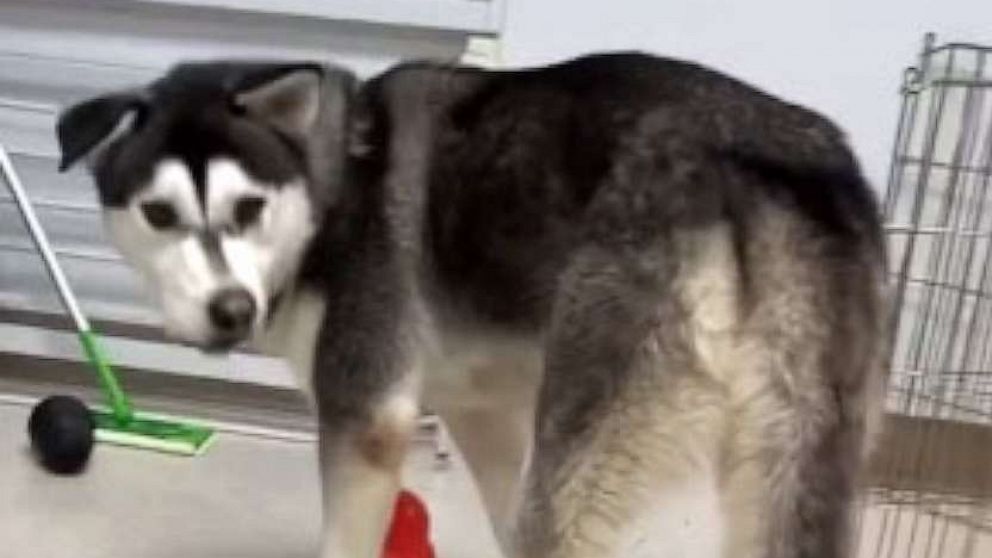 "I had each of the boys come stand next to me and Harvey walked over and he sniffed each of their hands, and kind of like nestled into them," she recounted. "And I was like, 'Alright!' That right there, just seeing how sweet he was with my kids right off the bat, that answered everything I needed to know."
Lankston's husband, who had to work while his family road tripped, was also able to fly down to San Diego and meet Harvey before Lankston drove him back home with the rest of the family. Ollinger said the family's in-person meeting appeared destined to work out.
"When [Harvey] met her husband, he walked up to him and leaned against his leg. Just seemed like it was meant to be," she said.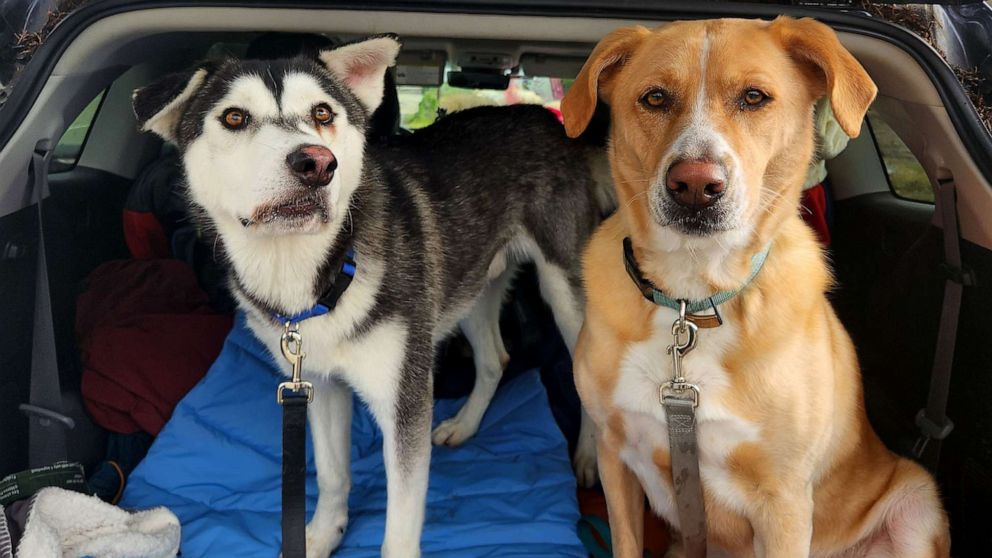 Although Harvey's adoption story may be unusual, Lankston said she hopes it can inspire other families to consider adopting or helping animals in need.
"You do not have to drive 2600 miles to find a new best friend," she said. "I mean, that's a lot. … It just happened to work out that way for us."
"If you can't adopt, you can foster. If you can't foster, you can volunteer. If you can't volunteer, you can donate. And if you can't donate, you can share a story. Every single person can help an animal in need. It doesn't take much at all," she added.